We're living in a time of great innovation and widespread uncertainty. After several years of mass hiring by many tech giants and startups, we now see mass layoffs as companies cut costs before a looming recession. For people working at companies that have already been impacted by layoffs—or where they are feared—and for the tech industry as a whole, the impact is significant. Employee morale can plummet as people fear for their jobs, which has a knock-on effect on employee engagement, productivity, and retention.
According to a survey by Gallup, in 2022, employee engagement reached its lowest level since 2015. The poll revealed that 32 percent of employees were engaged in their work, 18 percent were actively disengaged, and the remaining 50 percent were neither engaged nor actively disengaged.
Employee disengagement is directly linked to attrition. As people lose interest in their work, they disconnect from the company and start looking elsewhere for other opportunities. To prevent this from happening, companies need to find ways to engage and motivate their people, including showing them that they are valued and providing incentives for them to stay and continue to contribute to the company's success. Being transparent about the company's plans and roadmap can also go a long way in gaining your people's trust and loyalty.
Using HR tech to drive retention
Providing an exceptional employee experience is crucial for retaining your people during uncertain times. An HR platform that supports the entire employee lifecycle, from onboarding to offboarding, will help you boost retention by providing unparalleled insights about the state of your company and employee sentiment. These insights will help you identify where you can improve and ultimately increase retention.
Bob is an HCM and engagement platform that helps you put your people first. Bob includes detailed employee profiles that help you get to know your people better, timelines that show their milestones and internal mobility, and tools that promote collaboration, wellbeing, and DEI&B. Bob also includes an extensive suite of modules and features, including Compensation Management, Performance management, Workforce Planning, and salary benchmarking, helping you keep all your people data in one place and create the best employee experience.
Read on to discover six ways that Bob helps you address issues that can lead to employee turnover. With Bob's features and modules, you can engage and motivate your people, providing a winning employee experience that will boost retention, even during uncertain times.
1. Ensure fair pay using Bob's Compensation Benchmarking Powered by Mercer
A study by the Pew Research Center revealed that low salaries are the top reason people leave their jobs. To mitigate this and retain your top talent, conduct regular pay equity audits (PEA) to review your people's salaries and check for pay discrepancies between people in similar roles and at similar levels of seniority. This helps you ensure that you're paying your people fairly and not discriminating according to age, gender, ethnicity, or any other factor.
Another critical thing to pay attention to, in addition to equitable pay, is whether you are compensating your people according to the current market rate. A carefully constructed salary policy shows that you are committed to your people, will pay dividends in increasing their loyalty to the company, and will help you attract and retain the best talent.
HiBob and Mercer have a strategic alliance that provides Mercer's compensation data directly in Bob. This data is compiled from over 300,000 employees across 50 countries and is updated quarterly to keep it current. Plus, the data has been customized for Bob users, providing a global benchmark dataset that includes only the job sectors, industries, and company sizes that are relevant to our customer base.
With Bob's Compensation Benchmarking Powered by Mercer, you can benchmark your salaries against the market pay rate and adjust accordingly. This way, you can ensure competitive salaries to help retain your people.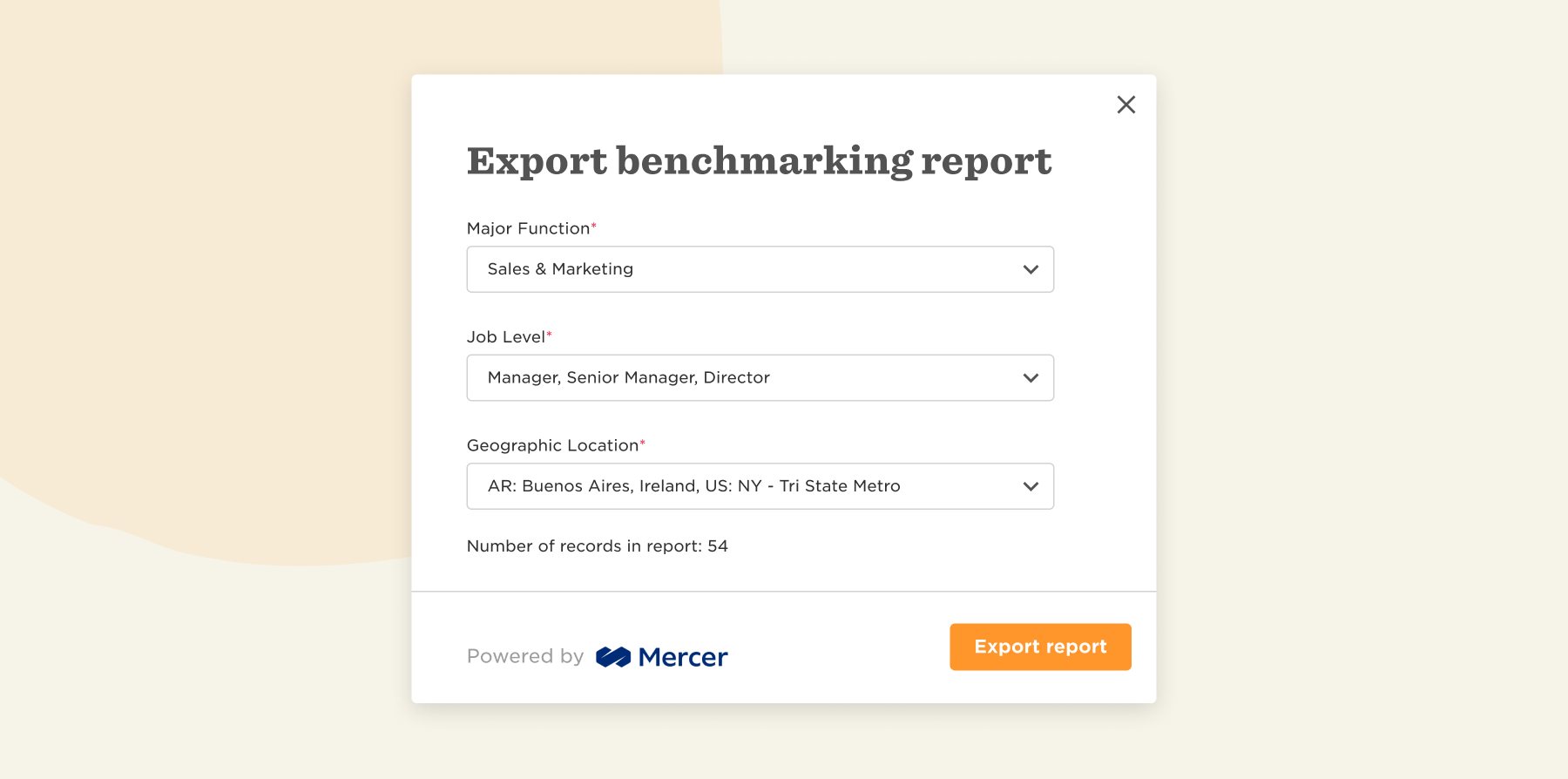 2. Provide incentives that drive retention using Bob's Compensation Management
Awarding financial incentives such as raises, merit increases, and bonuses is a sure way to please your people, but their impact is short-lived and won't necessarily increase retention for the long term. Plus, many companies freeze these types of awards during times of uncertainty and recession as part of company-wide cost-saving. However, there are many alternative ways to reward your people that will put less pressure on financial resources and may do more to drive long-term loyalty.
Take a look at your overall compensation package and see what you can offer your people that they will appreciate and that will help drive retention. You could increase your benefits package by providing them with additional PTO for a better work-life balance, private medical insurance, or stock options that vest over time. Another idea is introducing milestone-based bonuses or raises that people receive after working with the company for a certain amount of time, such as every two years or on their fifth work anniversary.
Whether you want to compensate your people through monetary rewards or equity, Bob's Compensation module makes it easy. Designed for multi-national companies, Bob's Compensation module supports multiple currencies, localized currency views, and multiple pay periods, enabling you to reward your people wherever they are working. Award equity among designated employees or across the entire company seamlessly, without using spreadsheets or emails. All compensation data and approvals can be viewed and tracked in one centralized location for clarity and ease of use.
Plus, if you have purchased Compensation Benchmarking Powered by Mercer, you can view salary benchmarks for each employee within the Compensation module, helping you ensure fair and competitive salaries for your people that will positively impact your retention rate.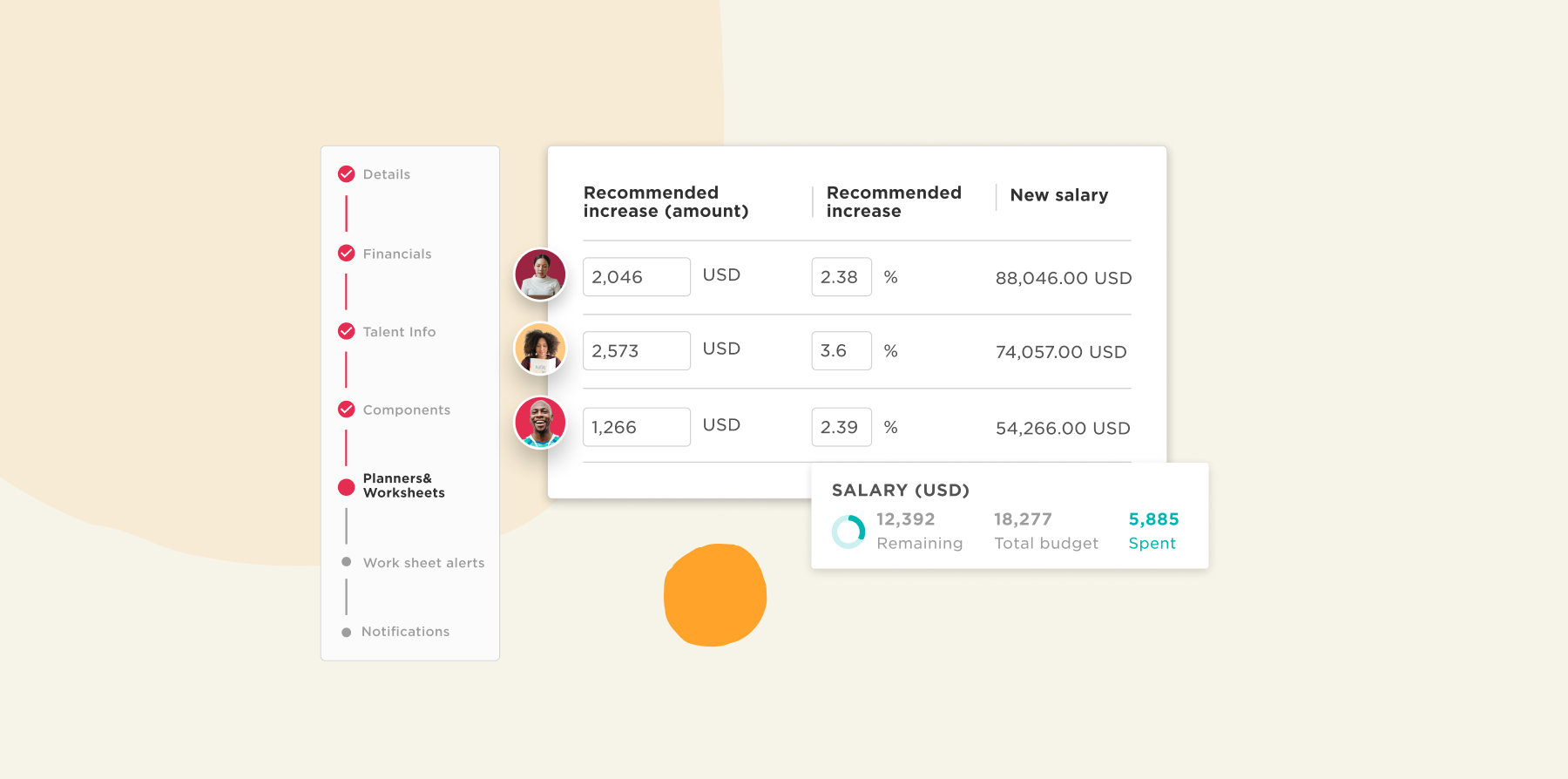 3. Create a culture of recognition using Bob's engagement tools
It doesn't cost anything to show your people that you appreciate their work, yet in many workplaces, recognition falls short. According to a report published by Gallup and Workhuman®, two in five employees say they don't receive enough recognition at work, and 81 percent of leaders say that recognition is not a priority at their company.
A culture of recognition is one where showing gratitude and giving praise is part of the fabric of the company. It's human nature to want to feel recognized, and recognition helps people feel valued and that what they do matters. Employee recognition is directly linked to retention and can be more effective than financial incentives. According to the same research by Gallup and Workhuman®, employees that are recognized for their contributions are 56 percent less likely to look for a new job.
Create a culture of recognition at your workplace and show your people that you value them and their contributions. Bob's Shoutouts and Kudos are a great way to highlight your people's accomplishments—from completing a special project to receiving a promotion—and celebrate them company-wide on your Bob feed. Kudos are saved on your people's timelines for them to look back on and accessible to their managers, who can view their accolades when evaluating them during a performance review cycle. And your people can join in the celebration by reacting with emojis and comments, creating a culture of recognition.
Bob also lists work anniversaries and birthdays on its homepage so that everyone knows when their peers are celebrating a special day and can send them good wishes.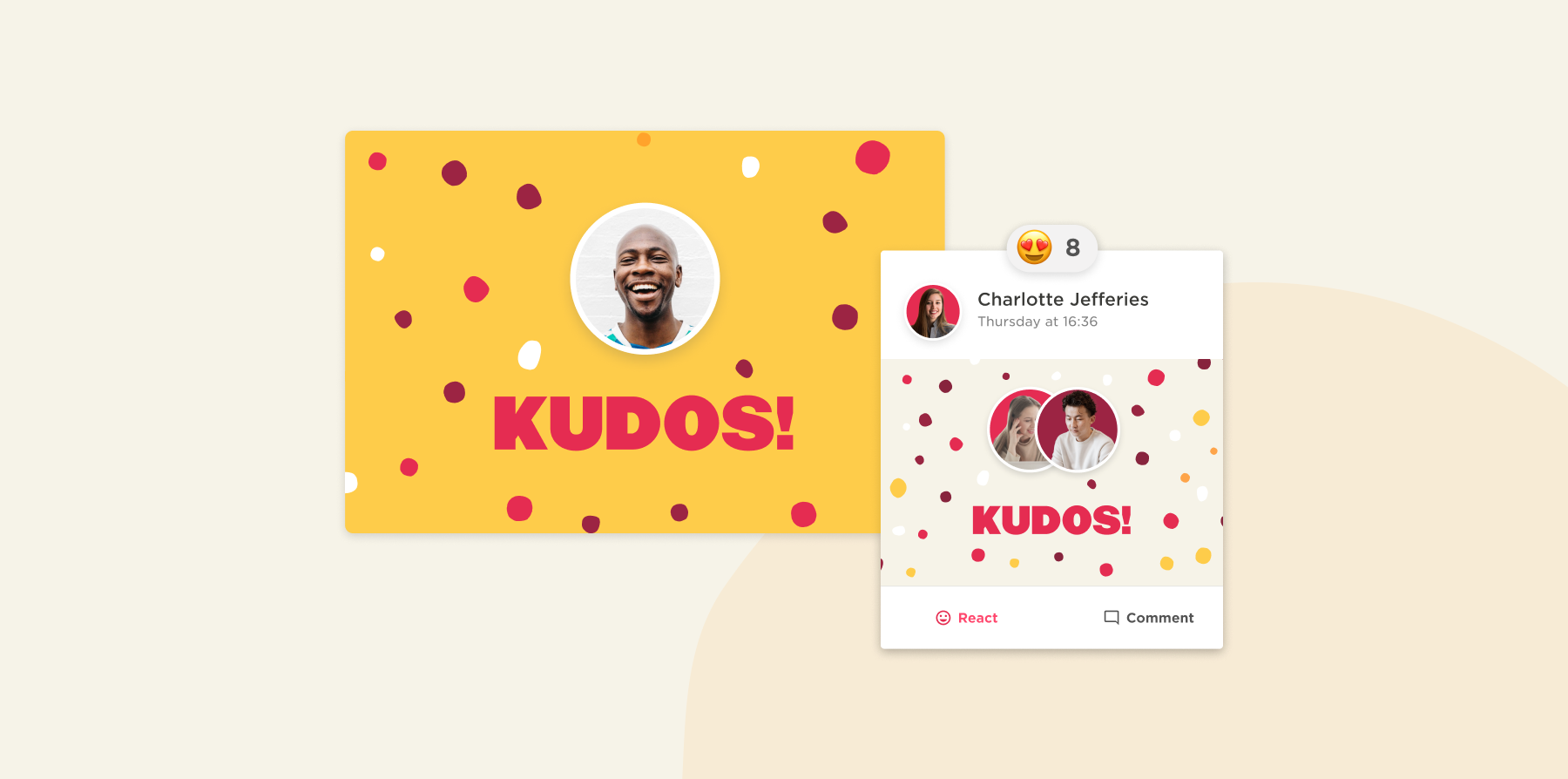 4. Inspire and motivate your people with Bob's Talent module
Employees who aren't motivated in their roles are more likely to seek opportunities elsewhere. This can be mitigated by ensuring frequent contact between managers and their direct reports, including constructive feedback on their performance and career development plans that motivate them to succeed.
However, at many companies, this type of feedback is only given once or twice a year during performance review cycles and can be a negative experience that is anything but motivational. A Gallup survey found that fewer than 20 percent of employees feel inspired by their performance reviews and that disengaged employees cost US companies a total of $1.6 trillion a year.
Bob's Talent module provides several tools companies can use to inspire people to grow and succeed. These include continuous feedback tools such as 1-on-1s and goal-setting where managers and employees can align expectations, document progress, and gain visibility of an employee's performance when filling out performance reviews.
Bob's Talent module also includes 360-degree performance reviews incorporating feedback from every angle; self, manager, and direct reports, providing a more holistic and less biased performance appraisal process. Conduct formal performance reviews at a frequency of your choice—annually, biannually, quarterly, or even monthly—in line with your company's culture and objectives. Create a positive experience that puts employee growth first. This will go a long way in empowering your people to stay with your company.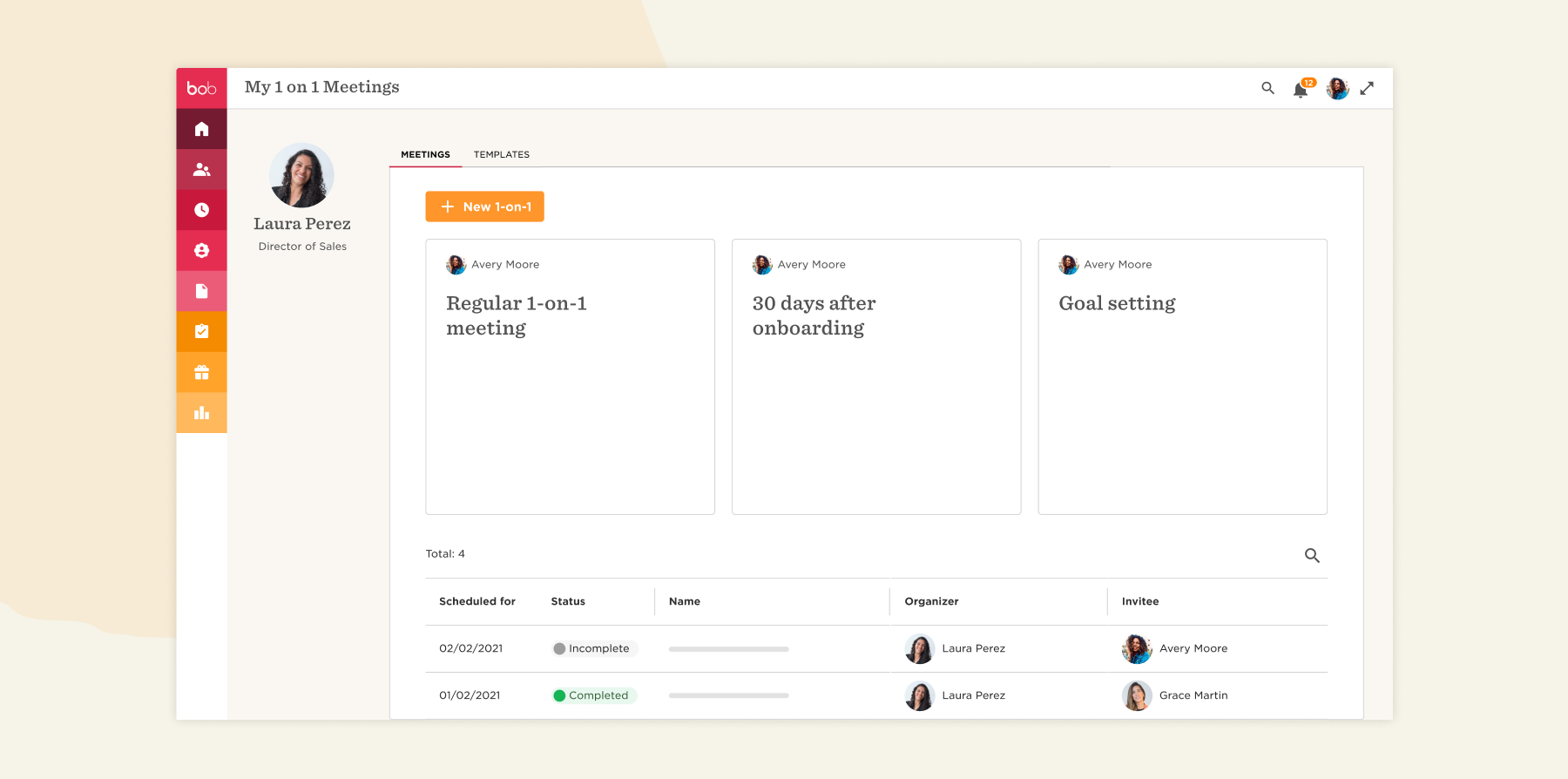 5. Prioritize upskilling by integrating Bob with the leading LMS
One of the most valuable things you can do to reward your people for their contributions and dedication is to offer them growth opportunities. This includes upskilling through training courses, mentoring, and entrusting them with additional responsibilities in their day-to-day work.
Research conducted by HiBob revealed that millennials rated "opportunities to learn and grow" as one of the top three factors to retain them. So, prioritizing learning and development by offering upskilling courses and a career development plan can pay dividends in helping to retain your top performers.
Bob integrates with the leading learning management systems (LMS), including 360 Learning, Learnster, and Go1, enabling you to seamlessly incorporate your people's learning and development within their flow of work. Whether your people are working in-person or remotely, these integrations allow you to assign tasks to complete relevant courses via the leading LMS as part of a workflow, such as during onboarding or as part of a career advancement plan, and keep track of completed courses as your people move forward towards their goals.
Recommended For Further Reading
6. Promote your people from within using Bob's Workforce Planning
Few people would argue that one of the best ways to retain your top talent is by promoting them to more senior roles within the organization. The 2023 Future of Recruiting Report revealed that employees of companies with high internal mobility stay 60 percent longer than those with low internal mobility. However, many companies continue to hire from the outside rather than promote from within when an open position becomes available.
Promoting from within shows your people that you value their contributions to your company and that hard work brings sound rewards. Creating career advancement programs with the ultimate goal of promotion shows them that you are committed to their growth and serves as a great motivator that fosters loyalty. Even in an uncertain economic climate, your people will be less likely to jump ship.
Promoting from within also benefits your company. It's less expensive than hiring externally; your existing employees are already familiar with the industry and product and have proven to be a good cultural fit. Plus, companies known as employers that provide career advancement opportunities will be more attractive to prospective future recruits. It's a win-win situation for all.
Bob's Workforce Planning gives you a single view of your organization's current and planned positions, enabling you to strategize internal mobility and plan for different scenarios. Having data on your current workforce, including growth, internal mobility, and backfill per team, department, or site, provides you with insights that can help you create career advancement plans for your people and ultimately increase retention company-wide.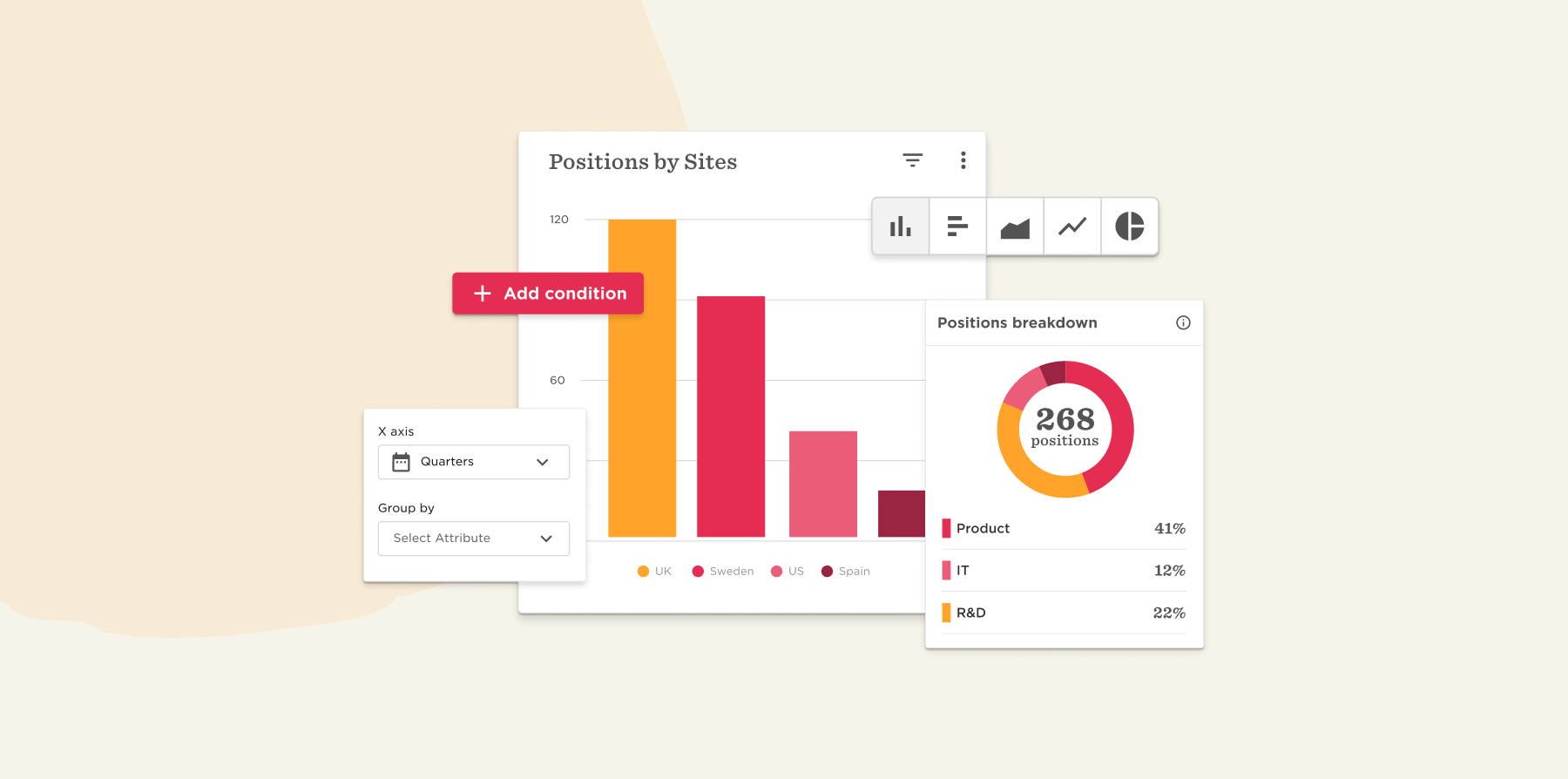 Create a work environment where your people want to be
In times of uncertainty and with threats of a recession looming, people may start to get nervous and look around for opportunities that they feel are more secure or offer them a better salary or title.
Don't wait for your people to submit their letters of resignation. Provide incentives for them to stay by offering them competitive salaries, upskilling opportunities, improved benefits and company equity, opportunities for advancement, and a culture of recognition and appreciation. These actions will go a long way in motivating your people to work hard, increase their loyalty to your company, help them to be proud of their place of work, and ultimately decide to stay. Creating a workplace where these things matter will also help you hire the best talent when the economic climate turns around.
---