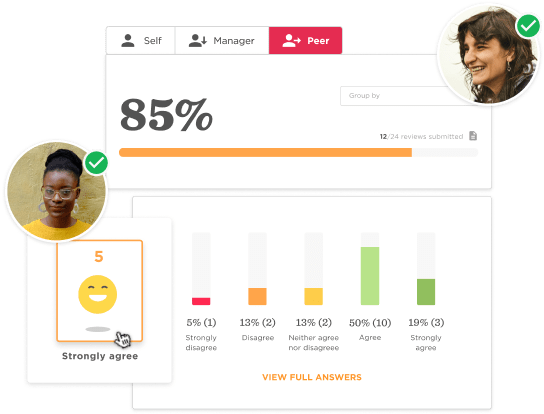 Now's the time for
Empower your employees to grow, develop, and succeed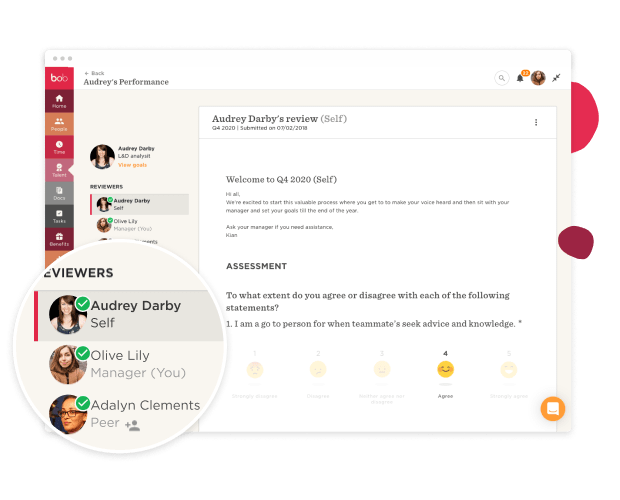 One centralized platform
Everything you need to conduct 360° performance reviews
Bob provides a 360° view of your people by incorporating their complete career timelines, Bob activity, goals and achievements into the performance review, giving you the tools for a fair and unbiased review.
In a few clicks, you can also collect reviews from every angle: self, manager, and direct reports. You can even empower your people to take an active role by selecting their own peer reviewers to gain input that is especially valuable to them.
The entire review process can be conducted easily within Bob, moving seamlessly from one stakeholder to the next, with no need for emails or spreadsheets.
Get started

→
We love Bob's flexibility. The other HR systems tell you how to manage performance. That was not our objective. We wanted to create and develop skills for leaders and allow employees to have a voice and a dialogue with their managers. Bob gave us the flexibility to do that.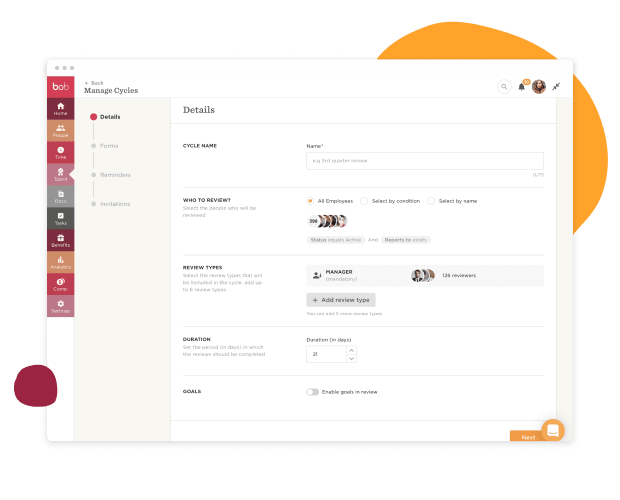 Seamless review cycles
Performance reviews your way
With Bob, you get to choose how to run your performance reviews. Stay agile and in control of every aspect of the review process to ensure accurate, seamless cycles.
Setting up, duplicating, and previewing new performance cycles is easy. You can make adjustments throughout the cycle and customize your settings, reminders, and messages.
You decide which team members are involved in the review process and whether reviews are anonymous. You can also track progress at each stage and send reminders if the process slows down.
Learn more

→
See Bob in action
Learn how bob can improve your HR processes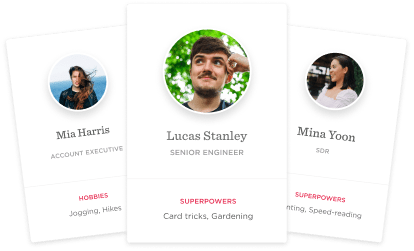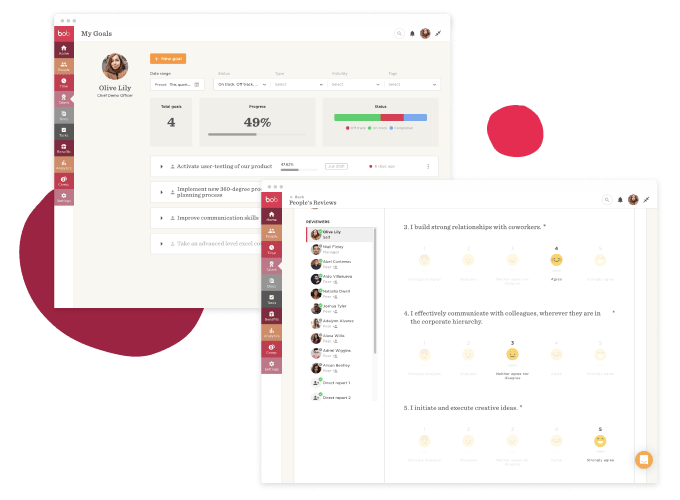 Actionable goals
Empower your people to succeed
Empower growth by setting clear, attainable goals for your employees. In Bob, you can establish goals and growth plans to help employees progress and succeed. Not only will these goals support employees, but they'll also help managers and employees align their expectations.
Depending on how your business functions, you can set goals as part of a team-, department-, or company-wide strategy. Goals can also be tracked as part of a performance review, to keep employees on track and set them up for success.
Ready, set, grow

→
Valuable insights
Make the right people decisions
Managing performance reviews in Bob generates data that provides valuable insights about your employees, managers, and your teams. This data enables you to track their progress and address any issues and concerns early.
View results as you choose, slice and dice, and generate reports filtered by system-wide data. You can also analyze results in context, with all question responses from your reviews in one aggregated view. Plus, because all of your people data is in Bob (compensation, employee timeline, personal data, and more), you can connect performance to other relevant data points for customized and hyper-relevant insights.
Let's go

→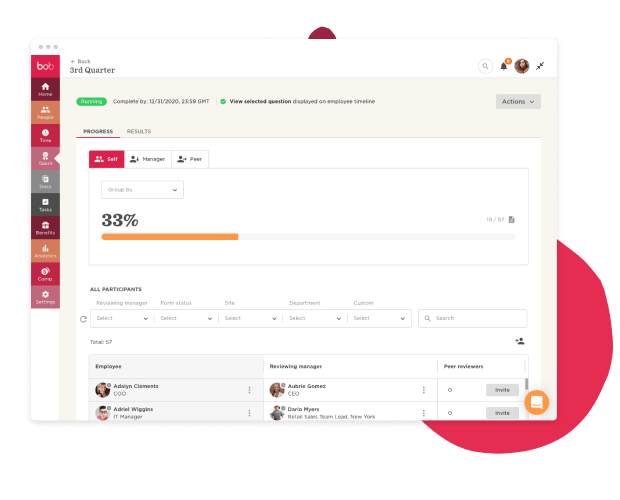 Performance reviews
For your employees near, and far
Running performance reviews in Bob is simple and intuitive, no matter if your teams are working in the office, remotely, or spread across the globe.
All employee data, including career timelines, Bob activity, goals, and achievements, is saved within Bob, providing you with the tools you need to conduct a fair performance review experience and empower your people for success.
Plus, you can easily set up new performance cycles within Bob, customize them per site, and define which team members (no matter their location) will be part of the cycle.
I'm ready

→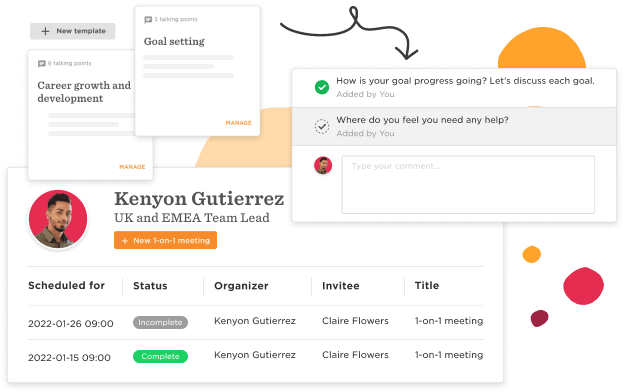 1-on-1s
Prioritize check-ins
Establishing regular 1-on-1s between managers and employees is a key component of a successful ongoing feedback model. Using Bob, managers can schedule 1-on-1s with their employees using out-of-the-box or custom templates, which allow employees to contribute to the agenda for a collaborative experience.
Check-ins can also be automatically scheduled for significant employee lifecycle milestones, such as 30-60-90-days after onboarding or a performance review. With careful preparation, automated scheduling, and a central place to track it all, 1-on-1s facilitate meaningful dialogue and help increase retention. 
Get started

→

Learn how to
Engage your people and supercharge your practices
Does Bob include 360-degree performance reviews?
Yes, it does! Bob's performance reviews support self-reviews, peer reviews, manager reviews, and upward reviews to give you a 360-degree view of your people and the tools to create a fair and unbiased review process.
Can you use Bob's performance reviews for remote and hybrid employees?
Yes, you can! Bob's employee performance reviews are simple to use, whether your people are working in the office or remotely. All performance-related data such as goals and achievements are saved in Bob enabling you to conduct a fair review either in person or via video conferencing that will empower your people to succeed.
Does Bob's performance management module support continuous feedback?
You bet! Bob's employee performance management includes continuous feedback tools such as goal setting and OKRs and 1-on-1s that help you keep an open line of communication between managers and employees and ensure that everyone stays on track.