Ask any doctor, and they'll tell you, a growing child is a healthy child. The same can be said for companies. A company that is growing, adding new employees, new locations, and expanding into new product lines is a healthy company that is positioned to succeed.
Is your company growing? When you review your headcount over time, are there more employees that are leaving than joining?
To answer this question, you need to measure your company's growth rate.
Growth rate measures how much a company has grown or receded over a specific period of time. A positive number shows a positive growth rate, i.e., that the company is growing. A negative number reveals a negative growth rate, which means that the number of people leaving is greater than the number of new employees joining the company.
How to calculate company growth rate
You can calculate the growth rate in your company by comparing the number of employees at two different points in time and dividing that number by the number of employees at the second time interval. The growth rate is usually expressed as a percentage.
The formula for calculating growth rate is as follows:

So, let's say, for example, you wanted to measure your company's growth rate in 2020. You will need the number of employees you had in January 2020; let's say there were 210, and the number of employees you had in December 2020, let's say there were 345 employees.
You calculate the growth rate as follows:
(345 – 210) / (210) x 100% = 64%
This shows a growth rate of 64%; therefore, your company grew 64% during 2020.

Why should you measure your company's growth?
Just as other business units within a company have data relating to revenue or sales, HR should have data relating to employees and company growth. This includes HR analytics and KPIs on headcount, employee turnover, attrition, and terminations.
Having access to easily understandable data on employee turnover and attrition provides you with insights about the company, such as the reasons employees are leaving and if more people are leaving than are joining.
Using KPIs in Bob helps you to:
Define any areas that require attention
Build a strategy to fix the problem
Revisit the metrics to see if the strategy worked
With Bob, you can seamlessly generate reports on different KPIs and present the hard data to other decision-makers, such as management, the C-Suite, or the Board. This way, you can communicate any potential risk to the company and build a strategy to address it.
Measuring company growth in Bob
Using KPIs in Bob's analytics section, you can get an overview of your company over a defined period, or you can slice and dice the data according to different groups such as site, department, gender, age, and tenure, for a more in-depth analysis.
Bob uses four KPIs for measuring company growth: headcount, growth, new employees, and terminated employees. Let's take a look at them one by one.
1. Headcount
Headcount refers to the number of employees in your company and enables you to see how this number has changed over time.
You can define a date range for the data and the view (monthly, quarterly, or yearly.) Finally, you can choose how to group the data. You can select "none" for a picture of the entire company, or you can group by site, department, tenure, age, gender, etc. By clicking the three dots on the right, you can also filter the data by metrics such as nationality or job title. You can also add customized filters to view metrics that are important to your company.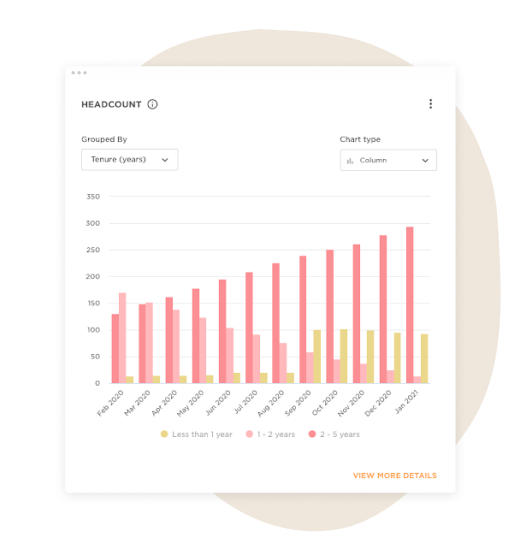 2. Growth
The growth rate is expressed as the difference between two values in time, presented as a percentage of the first value. Bob calculates your company's growth rate without the need for formulas and mathematical calculations.
As with all of the KPIs, you can define the date range, view, and group the data. It is easy to see at a glance if the growth rate is positive or negative, as compared with the previous month.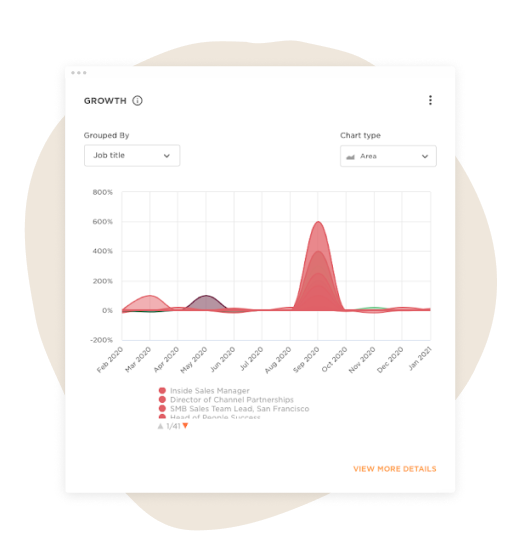 3. New employees
This KPI shows you the new joiners to the company. You can view which months new employees joined the company and group them by age, gender, job title, department, and more.
This KPI helps you see which departments and sites grew the most in the past year and can be measured against the company's expansion plans.
You can also evaluate how diverse your hiring has been and whether there was an improvement over the months/year.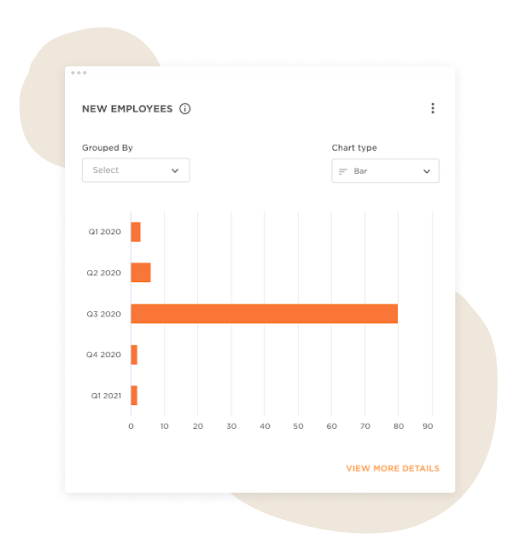 Recommended For Further Reading
4. Terminated employees
This KPI examines employees who left the company. You can view terminated employees based on the reason they left, labeled "leave type" in Bob, which includes predefined options: mutual, voluntary, involuntary, end of contract, retirement, and furlough. This KPI provides the data for companies to differentiate between employee turnover, including all employees who left the company, whether they chose to leave or were terminated, and attrition, which refers only to those employees who voluntarily decided to leave. A high level of attrition may indicate an underlying problem within the company.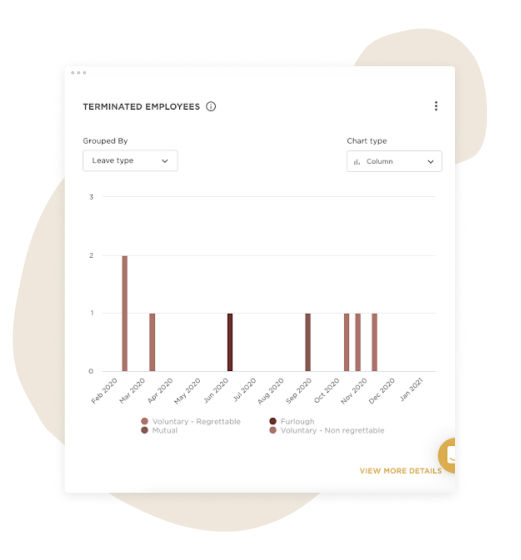 You can also view terminated employees by leave reason. You can customize this group according to reasons that are important to your company, but Bob also includes some predefined reasons such as compensation, location, and role.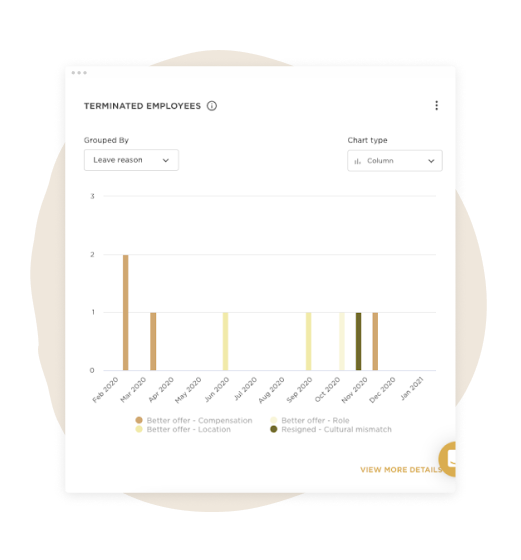 This KPI provides you with essential insights into why their employees have left the company. If, for example, people are leaving due to getting a better offer from another company, it may indicate that the company is underpaying their employees and needs to review their compensation packages.
Conclusion
Examining company growth, including headcount, new employees, and terminated employees, provides HR with the data and insights to better understand their organizations' health.
bob's KPIs explore all aspects of the company, giving HR hard data for reporting to other stakeholders, and ultimately create change that will benefit the company and maximize the employee experience.
---