You know that you need an HRIS system to help save your HR team time, make processes more efficient, and benefit from valuable data-based insights. But choosing which HRIS software to work with is a much trickier decision.
There are many HRIS options on the market, each of them offering its own advantages and disadvantages and best serving different types of organizations. To help you make the right choice on the first try, we've put together a complete guide to choosing the HRIS software that best fits your company's needs.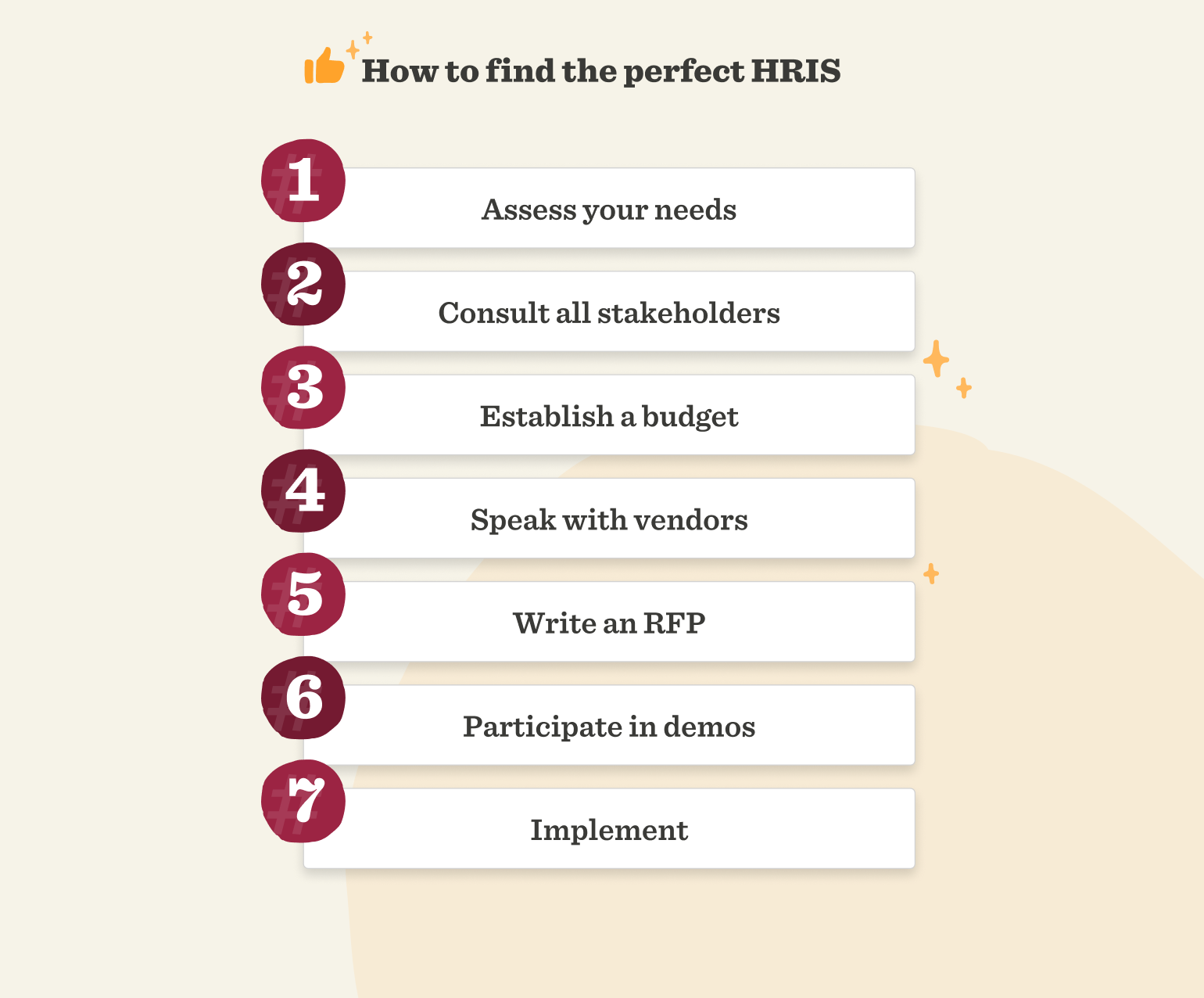 Step 1: Determine/assess your needs
Your first step is to understand exactly what you're looking to achieve with your HRIS system. What repetitive tasks do you waste the most time on? What would you like to see automated? Which types of data do you need help organizing, tracking, and analyzing?
You'll also need to think about the size of your organization and your HR team. How many people are you looking to serve with your HRIS? Answering these questions is a critical first step to help narrow down your HRIS search.
Step 2: Consult all stakeholders
Getting new HR software affects people throughout the organization, including–at the very least–the entire HR team, IT, and managers. Before you get too far into your SaaS HR software selection, take some time to speak to anybody who this choice might impact. Allow them to share their own needs and concerns and consider them when choosing an HRIS.
Step 3: Establish a budget
Next, you'll have to determine the budget for your new HRIS. This can become one of the main factors you'll have to consider when looking at different HRIS options. At this stage, it can be helpful to clarify which HRIS features are a must-have and which you're willing to compromise on, if necessary.
Step 4: Speak with vendors
With steps one through three complete, you can move on to speaking with different HRIS vendors about the solutions they offer. During this stage, check with as many vendors as possible so that you can compare and contrast information. Ask each vendor the following questions:
Which HRIS features are offered
What security measures are in place
How and where data is stored
How the HRIS integrates with systems you currently use
The availability of tech support
The total cost of the HRIS, including initial fees, subscription costs, implementation costs, and maintenance costs
The ROI of the HRIS
It can be helpful to create a table to help you compare and contrast all of the HRIS choices you look at.
Step 5: Write an RFP (request for proposal)
Once you've done your research and developed a clear understanding of what you're looking for, you can create a Request for Proposal (RFP). Here, you'll write out all your requirements in straightforward language to send to vendors. Their responses will clarify which vendor has viable solutions that meet your needs. Once you've received your vendor responses, you'll be able to identify the top candidates and schedule a demo.
Step 6: Participate in demos
Demos are a crucial step in helping you choose the right HRIS platform. Allow any HR staff members who will be using the HRIS to participate in the demo so they can weigh in with their opinions.
Try to approach the demos with an open mind. Even if one option stood out at the beginning, you might find that another becomes the clear frontrunner when you actually try using the software.
Recommended For Further Reading
Step 7: Implement
Once you've tried out all of your top contenders, you're ready to decide which HRIS you'd like to implement. Now it's a matter of creating an implementation timeline and communicating with your vendor about the type of support you'll need and receive from them. With proper communication and cooperation, you should be able to transition into using your brand-new HRIS smoothly.
Choosing an HRIS system that works for you
By following these seven steps, your organization can choose an HRIS that will help boost your productivity, keep you organized, and even let you have some fun when you're working with it! With a wide range of products on the market, figuring out how to choose an HRIS can feel overwhelming at times. That's why it's important to home in on what's important to you.
---