As an HR professional looking to save time and gain valuable insights, you know that the ROI on an HRIS system can be sky-high. But knowing which HRIS system to choose is a bit trickier. Not every type of HRIS is the right fit for every HR pro or organization, and picking the right SaaS HR software is an important first step toward enjoying its time-saving and efficiency-boosting benefits.
We've created this guide to help you learn about the different types of HRIS systems available. Here, we'll share what makes each one unique, which kinds of organizations and HR teams we recommend them for, and why. Let's dive in.
The 5 different types of HRIS systems
There are a few things all HRIS systems have in common. They offer the benefits of automation, self-service, centralized databases, and talent management to help HR professionals best perform their functions, ultimately benefiting the organization. Beyond that, each type of HRIS offers a different set of features. Here is an overview of the five types of HRIS systems and who will benefit from them the most.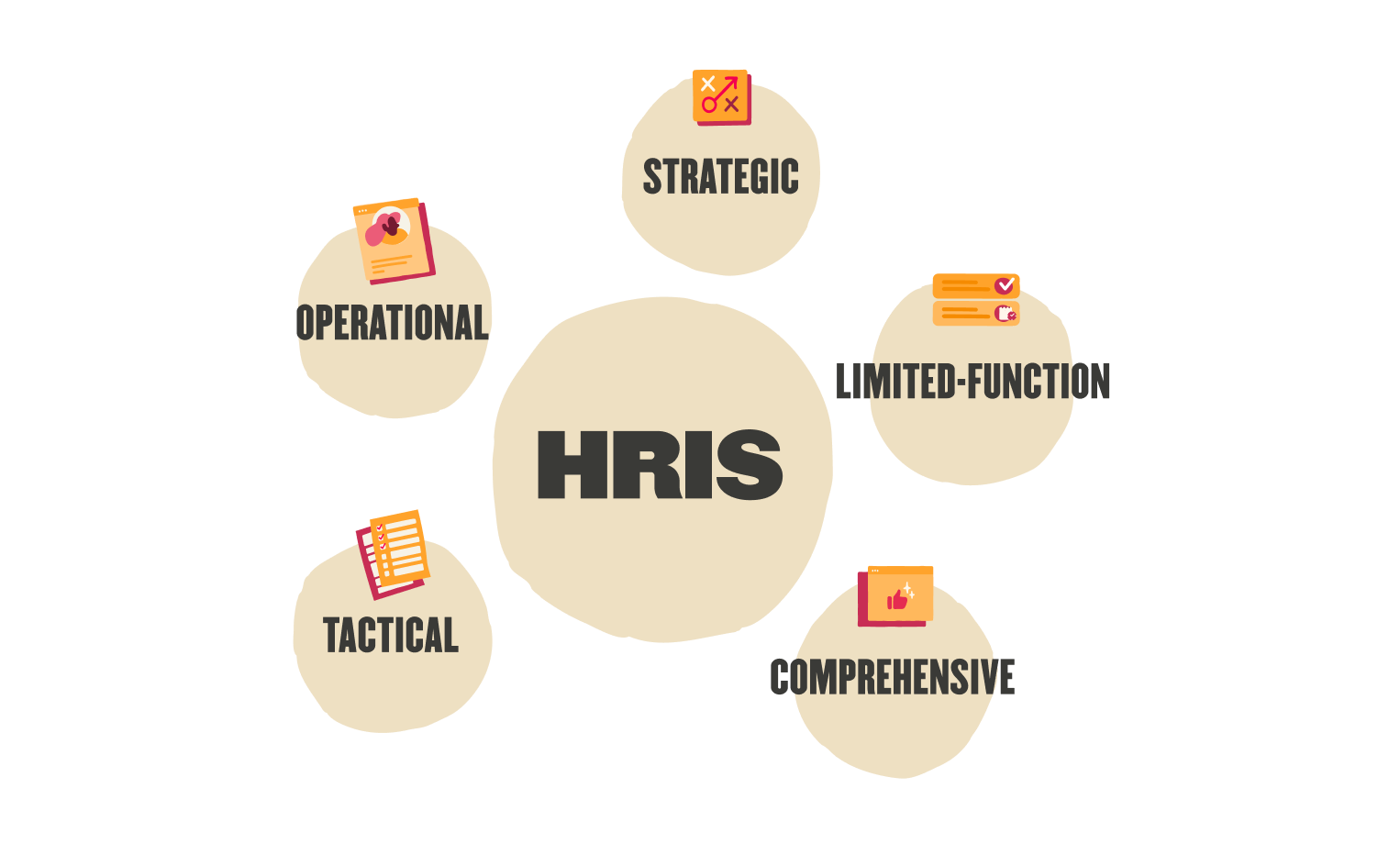 Operational HRIS
Operational HRIS systems collect and report human resource data such as employee records, position details, and performance appraisal information. They're used to help provide HR managers with the data they need to perform tasks such as performance management, promotions, hiring, and internal personnel changes.
Operational HRIS systems can be helpful in a variety of organizations as they help with standard HR functions. If you feel that your HR team spends too much time on repetitive people management tasks or digging around disorganized files and spreadsheets for employee data, an operational HRIS system could be the right choice for you.
Tactical HRIS
Tactical HRIS systems are involved in processes related to the use of resources. This includes things like recruiting, training, compensation, vacancies, and so on. These are more useful for making big-picture decisions about things like resource allocation, job analyses, and development. In addition to internal figures, tactical HRIS systems also deal with data such as union information, competitor data, government requirements, etc.
Tactical HRIS systems are best for organizations that need assistance making macro-level decisions about what to do with resources and less for those who need support with smaller day-to-day tasks.
Strategic HRIS
Just like it sounds, strategic HRIS systems help with strategic analysis and decision-making. They assist HR professionals in functions like goal-setting and future workforce planning. Strategic HRIS systems can help with awareness regarding available labor resources and proper workforce planning by managing data like market information and operations budgets.
Strategic HRIS systems are especially useful for organizations looking to expand or grow strategically. If you want to rely on concrete figures to make intelligent, strategic, data-driven decisions for your company's future, it's a good idea to consider a strategic HRIS.
Comprehensive HRIS
A comprehensive HRIS is somewhat of a combination of the above types, involved in all things HR, including operational, tactical, and strategic matters. These work as a streamlined database and platform to offer easy review and management of a variety of HR-related tasks, including:
Employee information
HR files
Open positions
Recruitment and hiring details
Job analysis and design
Employee safety guidelines
Skills inventory
Compensation and benefits
Training and development
Performance management
A comprehensive HRIS functions as a one-stop shop for storing and displaying any information needed to perform nearly all HR functions. While they may be a bit pricier or require more training and resources to run, comprehensive HRIS systems can offer many valuable features that can ultimately transform how an HR department runs.
Recommended For Further Reading
Limited-Function HRIS
Unlike a comprehensive HRIS, a limited-function HRIS serves one purpose only. They're not necessarily made for strategic planning or management. Instead, their functions are more concrete and granular.
The exact function of each limited-function HRIS depends on the particular system. For example, there might be an HRIS created specifically for employee training or benefits management.
Limited-function HRIS systems are generally better suited for smaller companies as they are often inexpensive, easy to operate, and can be used comprehensively by even a single HR manager.
Which HRIS is right for your organization?
Ultimately, the best way to determine which HRIS system suits you best is to develop a complete understanding of your organization's goals, where your HR team needs the most support, and what kind of ROI you should expect to get. Once you know your needs, you'll be best able to identify what type of HRIS can help you meet them.
---