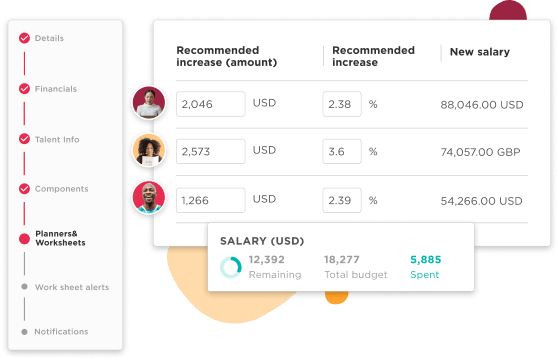 Simplify a complex process
A flexible intuitive global compensation management software

533 reviews | 4.4
119 reviews | 4.6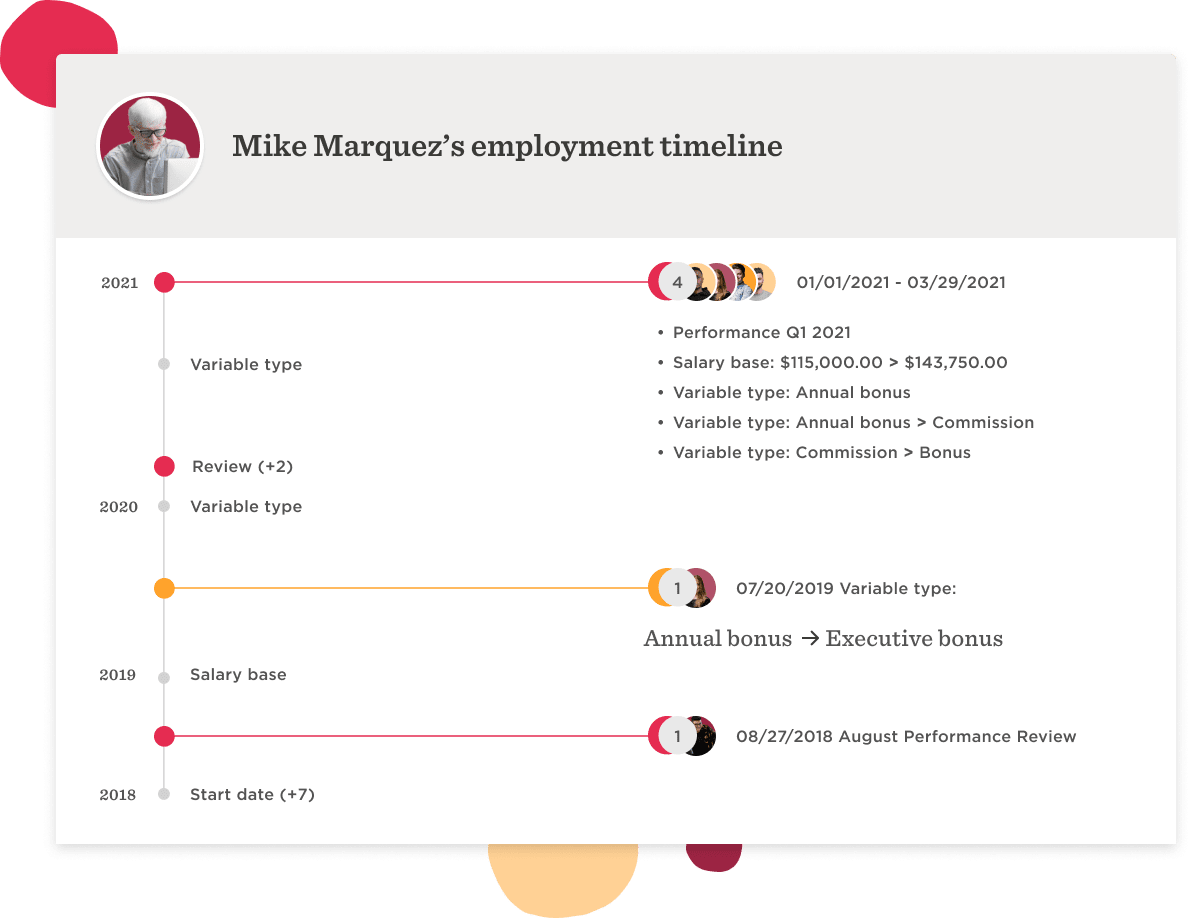 Single intuitive platform
All your people data in one place
Managing a compensation plan requires multiple stakeholders and considerations, including employees' performance, salary, tenure, and the last time they received a bonus or raise. 
Streamline your process with Bob's Compensation Management software by keeping all stakeholders—such as HR, finance, C-levels, and managers— on the same page. Easily access updated data on salary, tenure, and performance, providing the full picture for making meaningful, equitable decisions.
Plus, with all of your people data already stored in Bob, you don't have to worry about working with endless spreadsheets and IT to gain access to what you need. Consider your compensation process simplified.
Learn more

→
I'm sure that we saved a week of work running compensation in Bob. This leaves us more time to focus on talent development and help our people managers grow and develop their teams.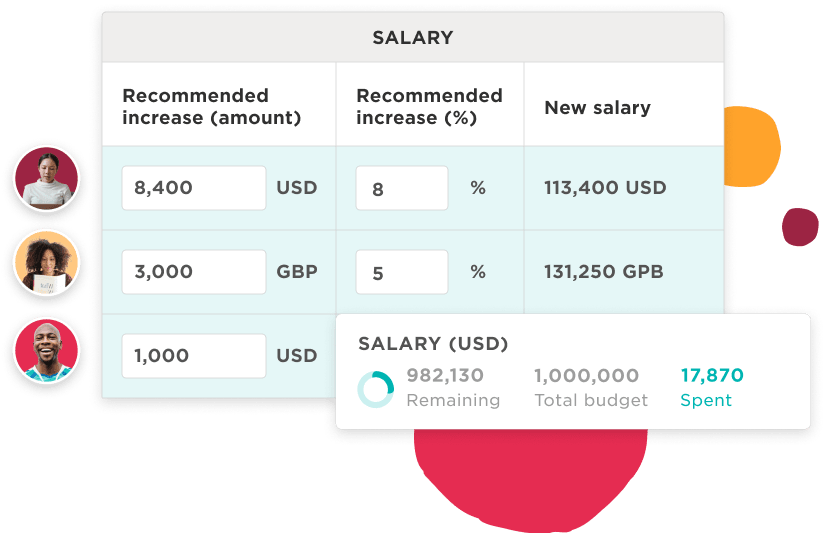 Flexible configuration and localization
Compensation management the way you like it
Bob was built with flexibility in mind for fast-growing, global companies with dynamic or non-traditional organizational structures.  
Simplify the allocation of base pay, bonus, and equity plans across your international teams through multiple currency management, localized currency views, and local salary benchmarks*. Define role permissions and perform bulk actions to ease the process. 
Manage any number of currencies and pay periods and include everyone who needs to be part of the process—from regional HR to site managers and C-levels.
*externally sourced, not included in Bob
Let's do it

→
See Bob in action
Learn how Bob can improve your HR processes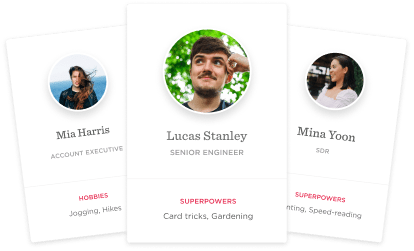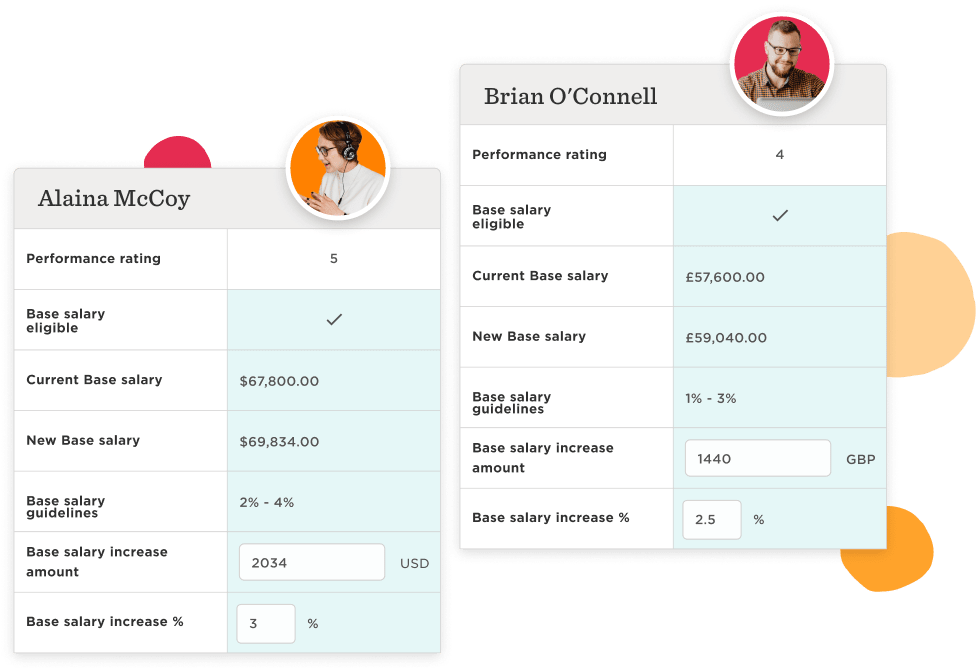 Easy salary reviews
It's that time of year
Time for salary reviews? Move into an easy, efficient, accurate salary review process with Bob's Compensation Management software.
Plan and set up salary reviews with a set of recommendations, alerts, and guidelines to empower managers to make smart compensation decisions. Track progress to know where things stand at all times while keeping HR, finance, C-suite, and managers on the same page. 
With an intuitive, powerful, and engaging consumer-style UI, it's easy for HR, C-suite, and managers to plan and execute compensation processes for your company.
Learn more

→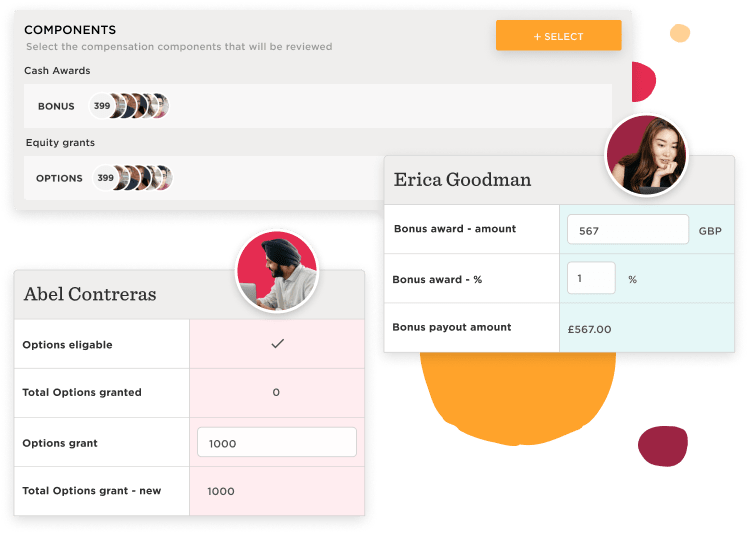 Simple bonus and equity allocation
Seamlessly allocate rewards among your people
Allocating bonuses and equity is easy with Bob. Forget spreadsheets and emails, Bob's compensation worksheets make it simple to review and distribute bonuses directly within the platform. 
Want to share company equity among designated employees or the entire company? Define a budget and decide how you want to allocate bonuses, whether based on performance or company-wide. 
Managers can even view data and personalized guidelines on each employee and collaborate in real-time with approvers, from directors to finance.
Let's get started

→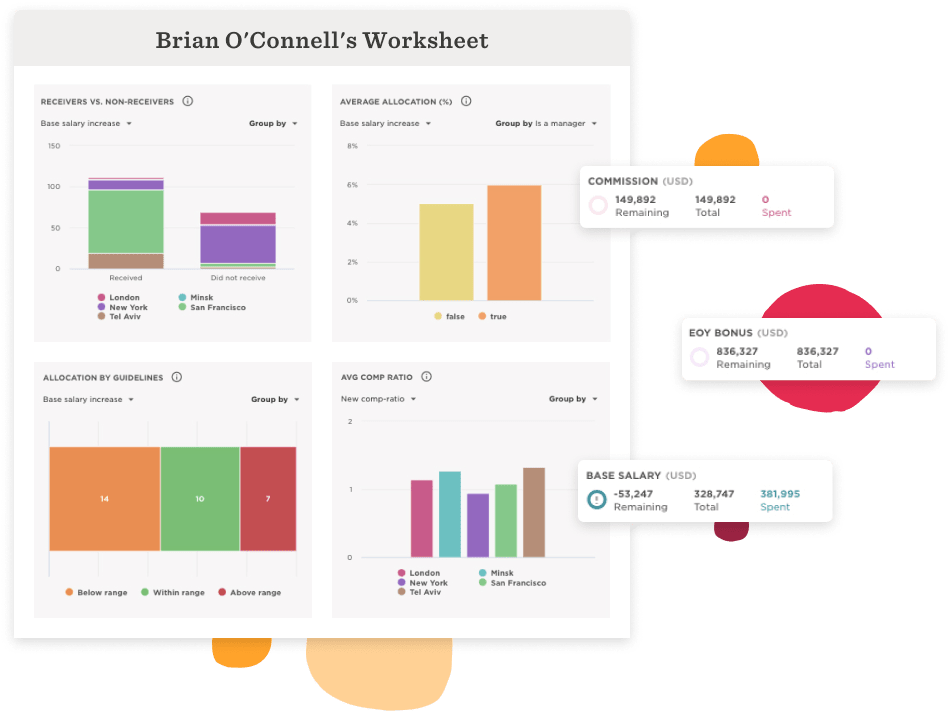 Drive with data
Empower your managers to make smart decisions
Give your managers the data they need to make sound compensation decisions in a sleek and simple UI. Help them to easily identify high performers, flight risks, issues with pay parity, and employees who are due for an increase.
Making smart compensation decisions is easy with Bob's comp worksheets: managers get information on each team member's compensation history, along with guidelines, eligibility rules, recommendations, and even external salary benchmarks. In-worksheet collaboration with other stakeholders further helps the decision-making process, the impacts of which are seen instantly through live insights and alerts.
With Bob's compensation software, managers have everything they need to drive pay parity across teams.
One, two, three, go!

→

Bob's streamlined dashboard simplifies the most complex compensation process.
How does Bob help you streamline compensation management?
Bob's compensation management software enables HR, finance, C-suite, and managers to seamlessly collaborate on salary reviews, bonuses, and equity allocation through a single, transparent platform.
Does Bob's compensation management module support multiple currencies simultaneously?
Yes it does! Bob's compensation management is a global solution that supports any number of currencies and pay periods.
How does Bob's compensation management help to drive smart compensation decisions?
Bob's compensation management tool includes comp worksheets that provide managers with important compensation data such as, compensation history, guidelines, performance results, recommendations and external salary benchmarks, helping to drive fair decisions and ensure pay parity.