When we set ourselves a goal, both in our personal and professional lives, we actively plan to achieve something. The more seriously we take the goal, and the more planning involved, the more likely we will follow it to completion.
In psychology, goal-setting is an essential tool for self-motivation and achievement. In the late 1960s, Edwin A. Locke's pioneering work on goal-setting found that employees who receive clear goals and relevant feedback are more motivated and, ultimately, perform better than those without assigned goals. Goal-setting is also associated with higher levels of self-confidence, self-esteem, and independence.
But, to be effective, goals should be formalized and measured. Many companies use the OKR framework for this purpose.
What are OKRs?
OKRs are Objectives and Key Results. The Objective refers to what you want to achieve, your goal. It should be clear, significant, action-oriented, and inspirational.
Key Results (KRs) are steps used to achieve the objective. Effective KRs are specific, measurable, time-bound, and achievable. At the end of the designated time, the KR should be reviewed and either marked as completed or not completed.
Using OKRs, companies can move from a state of stagnancy to a state of growth.
Goal setting in Bob
Goals are worthless if they are set and then forgotten. Bob's goals provide companies with a dedicated place for setting goals and tracking their progress. All goals made in Bob are stored and ready for future reference, such as during a performance review or a compensation review cycle.
bob's Goals are found under Talent and follow the OKR goal-setting mentioned above. First, you need to define the overall goal or Objective and then break it down into Key Results—the specific steps required to achieve the desired outcome.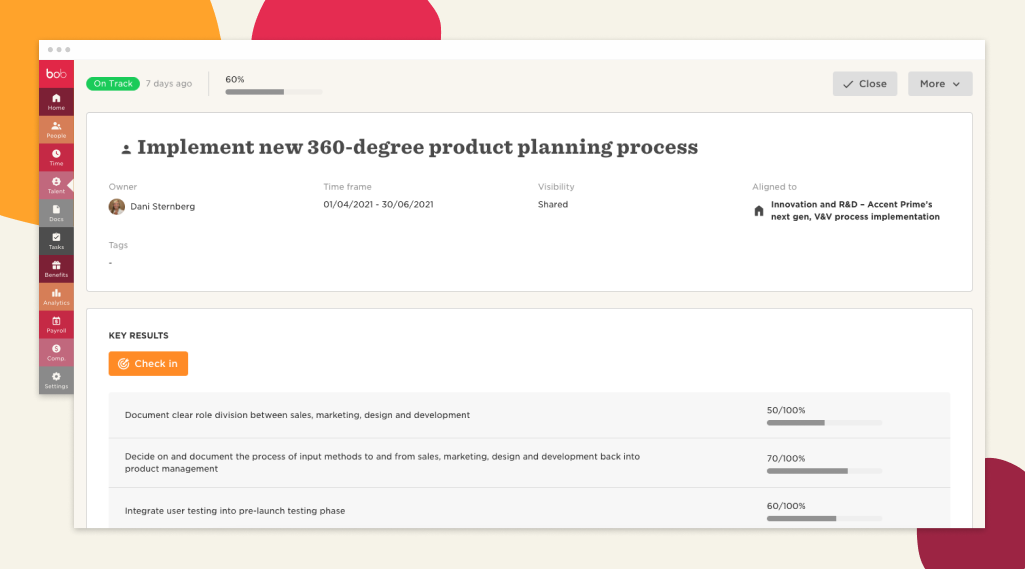 As employees work on a specific goal, they can adjust their progress by clicking "Check in" and changing the numeric score assigned to a Key Result. There is also the option for managers and employees to designate a goal as either On Track (active) or Off Track (that you have encountered a roadblock) and to leave comments. This way, everyone can stay aligned.
Each check-in and the comment thread are documented within the goal and can be reviewed when evaluating an employee's performance and achievements.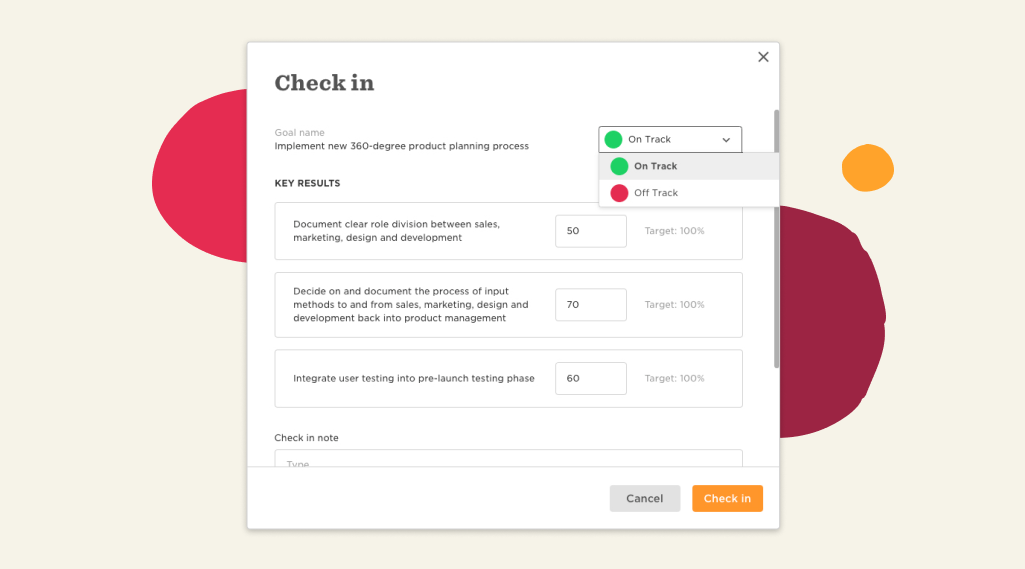 Goals are for everyone
bob's goals are built for companies. They support individual (personal) goals, departmental goals, and company goals. There is also the option of connecting these different goals, so employees can see how their personal goals impact company goals. Seeing how their work contributes to the company's success helps to increase employee motivation and engagement.
Individual Goals
Individual goals are set between employees and managers as a collaborative effort. They should focus on an employee's professional and personal development and be clearly defined, measurable, and include a deadline for completion. Individual goals can be aligned with departmental and company goals.
People's Goals list each employee and their goals, along with their progress and status. Managers can use People's Goals to view their employees' goals and check their progress on one screen. They can also "nudge" anyone who is behind on their goals as they approach their deadline.
Departmental Goals
Departmental goals are goals assigned for each department within the company. As with individual goals, departmental goals have an objective, timeframe, and key results. Any team member involved in a goal can write comments, but only the goal owner can check in and change its progress. Departmental goals can be aligned to company goals.
Company Goals
Company Goals are defined by management and include goals that contribute to company growth and success, such as hiring or sales goals or improving its Employee Net Promoter Score (eNPS). Company goals may be visible to the entire company and can be aligned with departmental or individual goals.
For all types of goals, companies can choose whether to be fully transparent, with all goals open and visible to the entire company or to restrict visibility. This decision is often dependent on the company culture.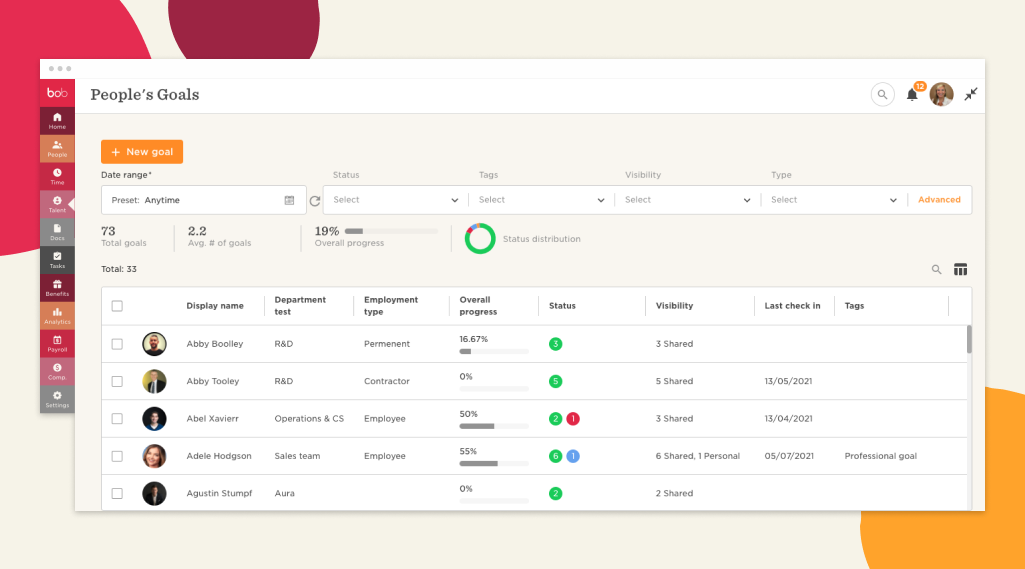 Connecting goals to performance
bob's Goals can be easily integrated into performance reviews, creating a more focused and less biased process. When setting up a performance review cycle, managers can select "enable goals in review," which brings up a side panel listing the employee's goals and their progress during a specified timeframe. This gives the manager easy visibility of an employee's performance, enabling them to write an accurate, unbiased assessment of their strengths and achievements.
By connecting goals to performance, managers can also provide their employees with continuous feedback and check-ins, rather than waiting for a performance review given once or twice a year. Many companies prefer this to formal performance reviews, and Bob's Goals help keep the conversation focused.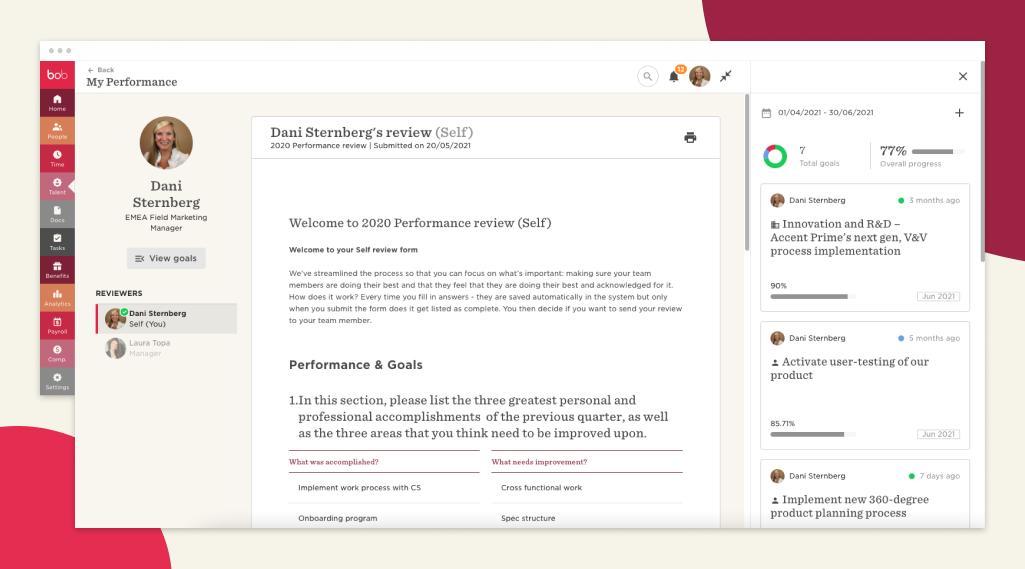 Recommended For Further Reading
Connecting compensation to performance
In companies where compensation is tied to performance, Bob's Goals can help. When running a compensation review cycle in Bob, select an employee and "enable employee goals" to list their goals and achievements on the same screen. Having this information at hand helps managers and other decision-makers to make fair decisions on awarding merit increases or bonuses.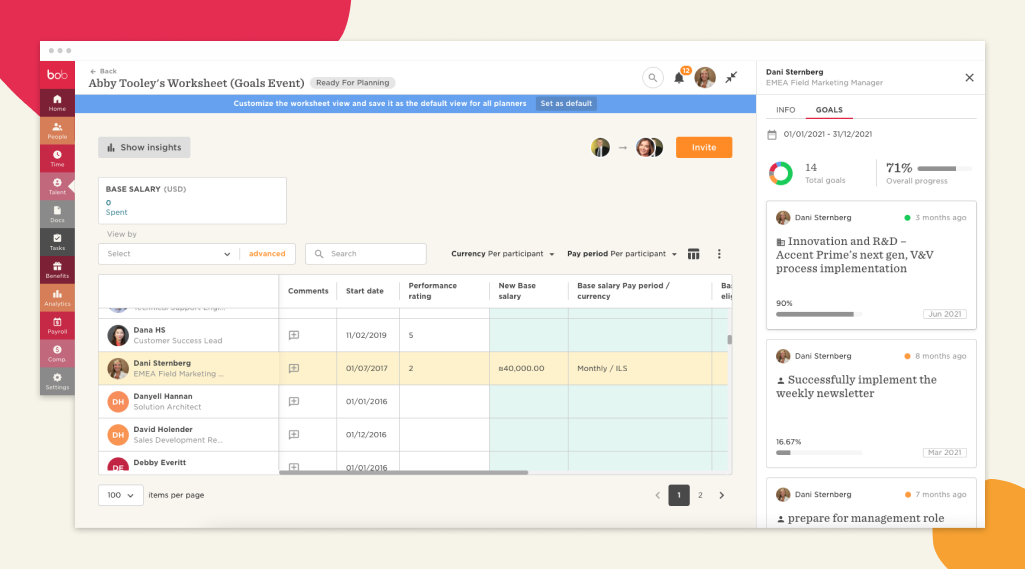 Goal-setting for success
Goal-setting is a proven strategy for boosting performance while also increasing employee engagement and motivation. Bob's Goals help companies formalize goal-setting with clearly defined objectives and key results, simple monitoring, and open dialogue. Plus, they seamlessly integrate with performance reviews and compensation cycles, helping you make unbiased decisions, and setting up your employees for success.
---