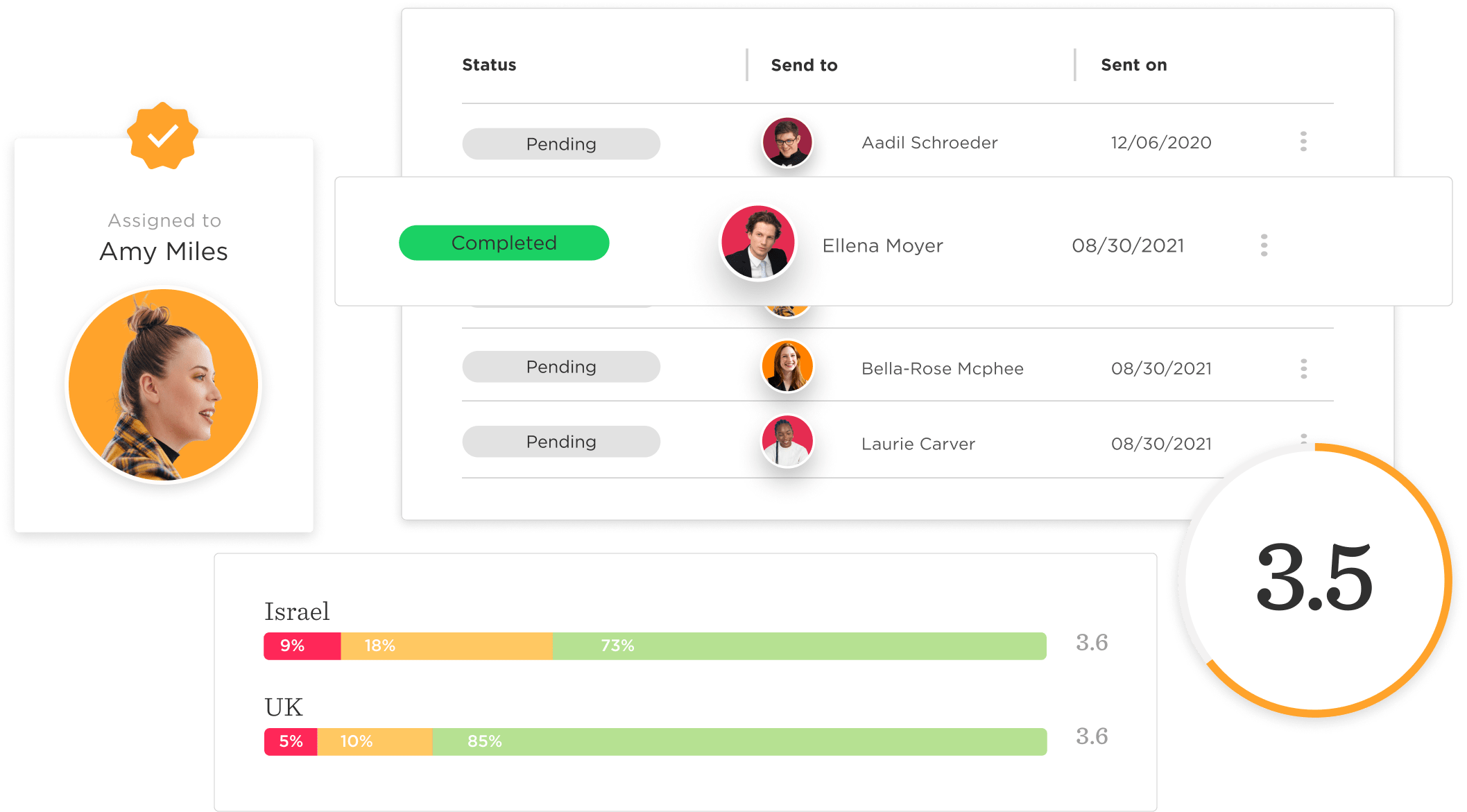 Understand your people with
Keep your finger on the pulse of your business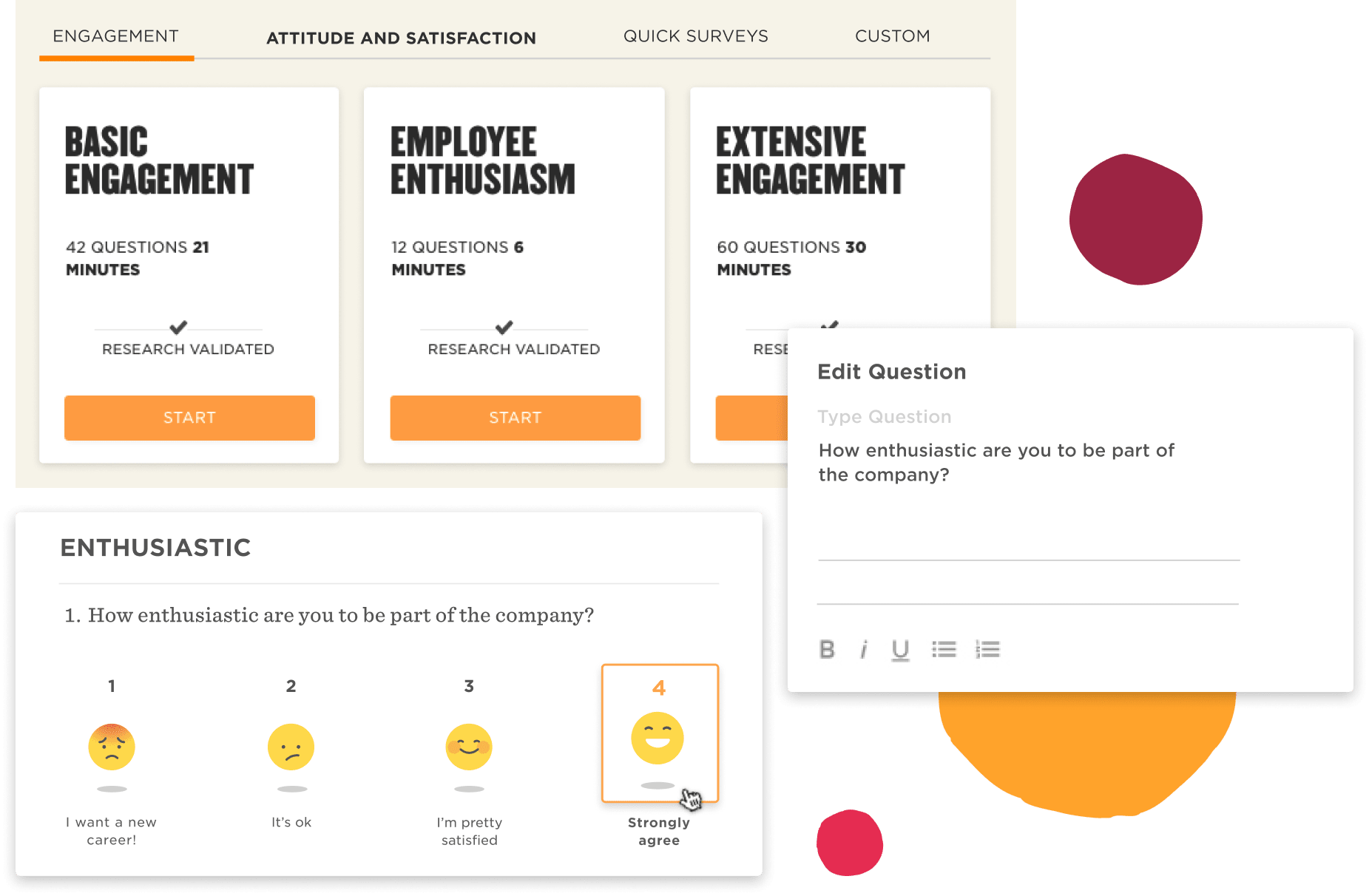 Company surveys
Measure employee satisfaction
Conduct anonymous employee engagement surveys to discover how your people feel—from employee satisfaction to benefits—the sky's the limit. 
Our extensive library of templates covers a wide range of topics to help you make a positive change for your organization. You can also design your own survey by either editing one of the templates, or building it from scratch. 
Select the question format and choose your audience from all employees, employees filtered by group, or by name. 
In a world where your people may be working in a remote or hybrid work environment, asking for regular feedback encourages engagement and helps you stay current on employee morale.
One, two, three, go!

→
Bob's engagement survey was spot on. It was really nicely done, and we run it every six months.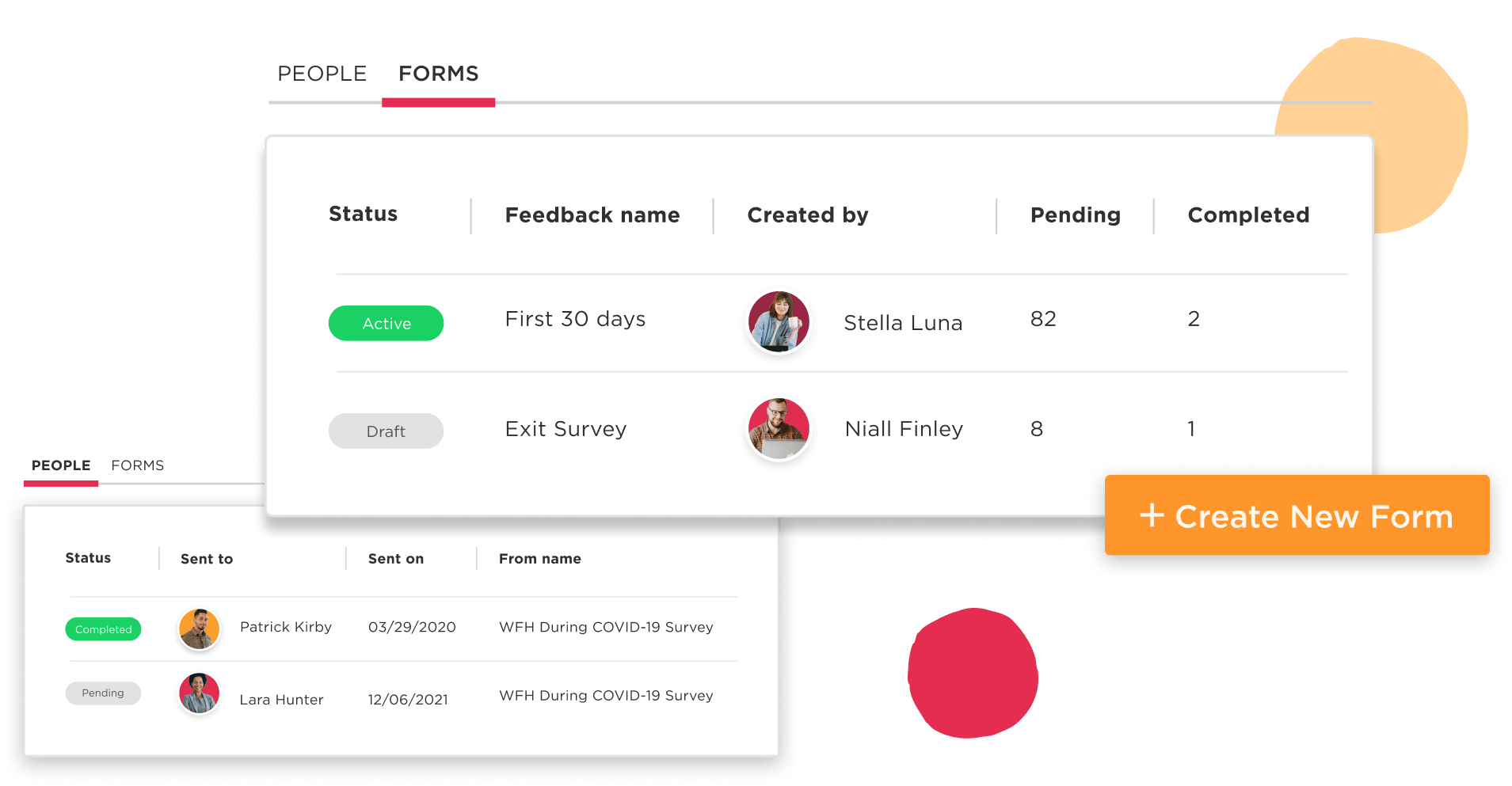 Employee lifecycle feedback
Engage your employees with a 360-degree approach
Improve employee satisfaction, build a feedback architecture, and create a culture of being heard by tracking employee feedback at different milestones and lifecycle events. Use surveys at the end of the probation period, first anniversary, or following resignation to collect invaluable real-time insights about the moments that matter most to your people. 
Gain valuable feedback on a new hire's onboarding experience by conducting regular surveys. Schedule them according to your chosen timeframe.
Learn more

→
The HR platform that sees the big picture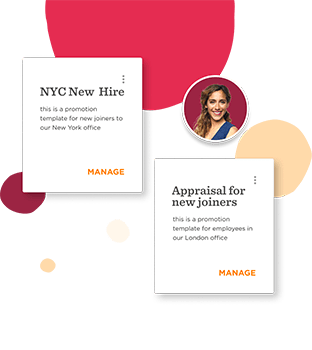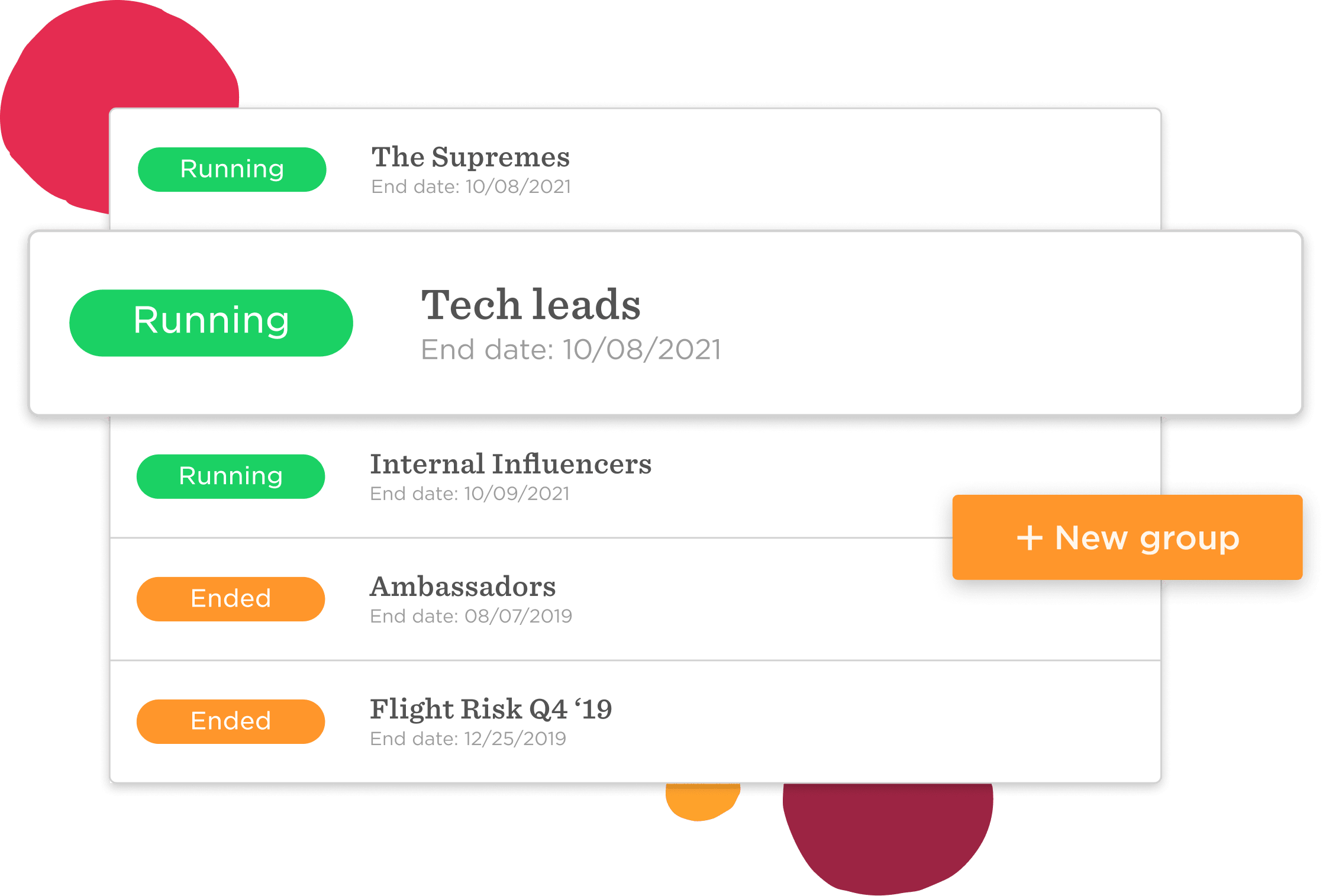 Talent groups
Get the lowdown
Discover more about your people by asking your directors, managers, or all employees to answer questions like: Who is your top motivator? Who are your ambassadors? Who embodies your company's values? 
Gain actionable insights into your employees without making assumptions or comparing them by a single metric. See who gets endorsed and who's at risk according to their peers. 
Let's go

→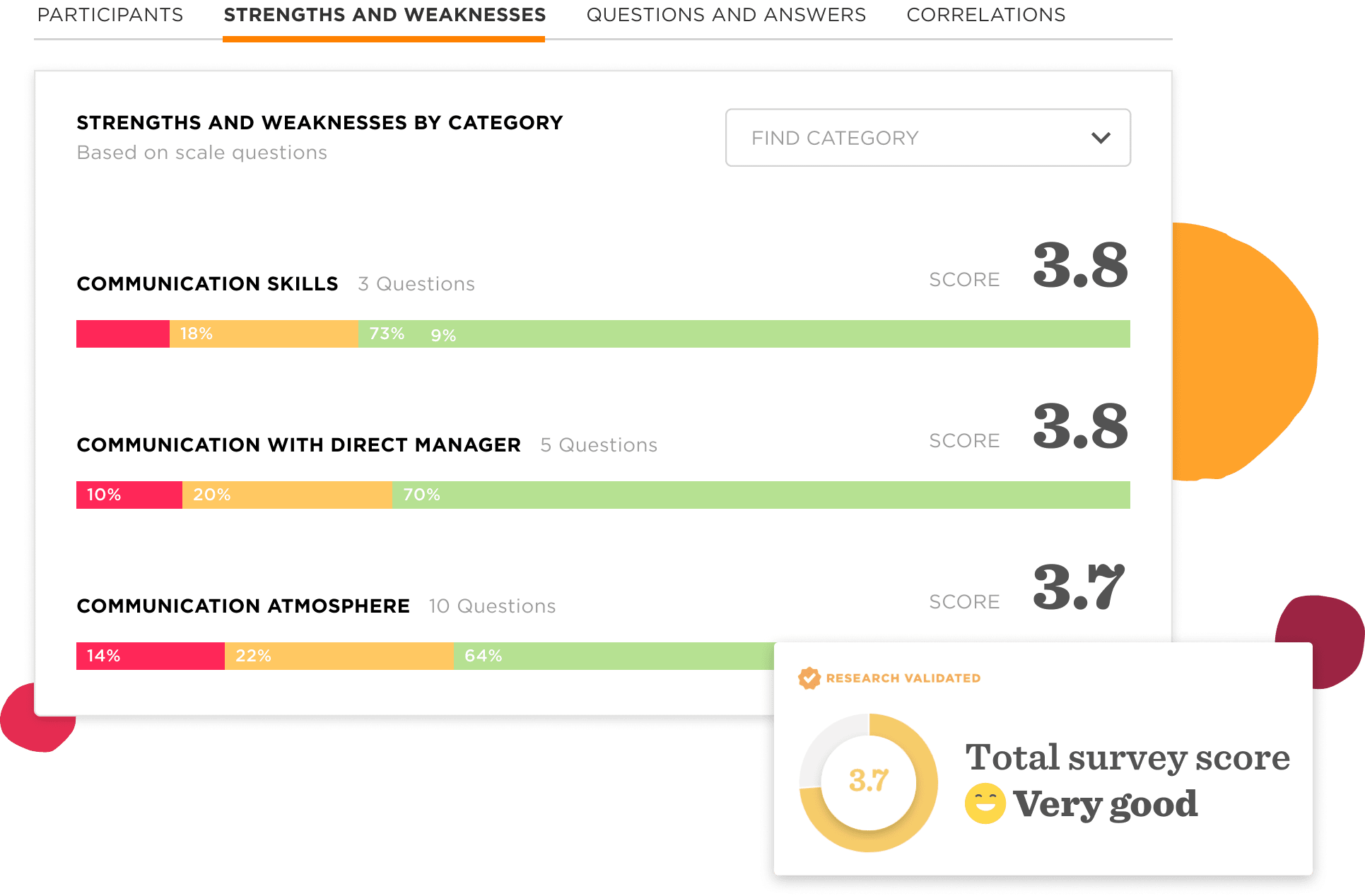 Data and insights
Gain insights on employee trends
View all your survey data in one place. Review a breakdown of survey participants and view the total survey score, which reflects whether your survey generated an overall positive result.
Gain insights through analyzing employee feedback, identifying strengths and weaknesses by category, and issues that require attention. You can view a breakdown of how employees answered each question and their average score.
Slice and dice results for deeper insights by team, site, gender, tenure, and more.
Get started

→

Better understand your business and the people who make it run