One-on-one meetings between managers and their direct reports have always been important for aligning expectations and keeping an open line of communication. But with more and more people working hybrid or remote and with fewer face-to-face interactions at work, these meetings have become all the more crucial.
One-on-one meetings can be done in person or via video conferencing and provide an opportunity to discuss a wide range of topics—current projects, general feedback, career aspirations, and more—while also enabling managers and employees to get to know each other better and facilitate an enhanced working relationship. Rather than taking a top-down approach, these meetings should be collaborative, with both managers and employees benefitting from the experience. 
One-on-one meetings are a key component of a successful ongoing feedback model and contribute to employee retention. To be most effective, they should happen on a regular and continuous basis, whether weekly, bi-weekly, or monthly. This way, employees and managers have a dedicated time to talk and stay focused, align expectations, and set priorities without worrying about miscommunication or projects falling by the wayside.
Introducing 1-on-1s in Bob
Understanding the incredible value that one-on-one meetings give managers and employees, we have created a shiny new feature in Bob within the Talent module, 1-on-1s. Now, managers can set up and invite their direct or second-level reports to one-on-one meetings. Both managers and employees can contribute to planning meetings, including writing agendas, preparing action items, and writing notes directly from within Bob. Plus, Bob contains an archive of all completed one-on-one meetings so both managers and employees can easily access them for reference purposes.
Bob also provides out-of-the-box templates for running your one-on-ones. These include templates and suggested talking points for different types of one-on-one meetings: regular check-ins, career growth and development, goal setting, year-end performance reviews, and onboarding. You can use these templates as-is or customize them to fit your organization and specific needs. Or, if you prefer to create your own templates, your company's admin can do so via Settings.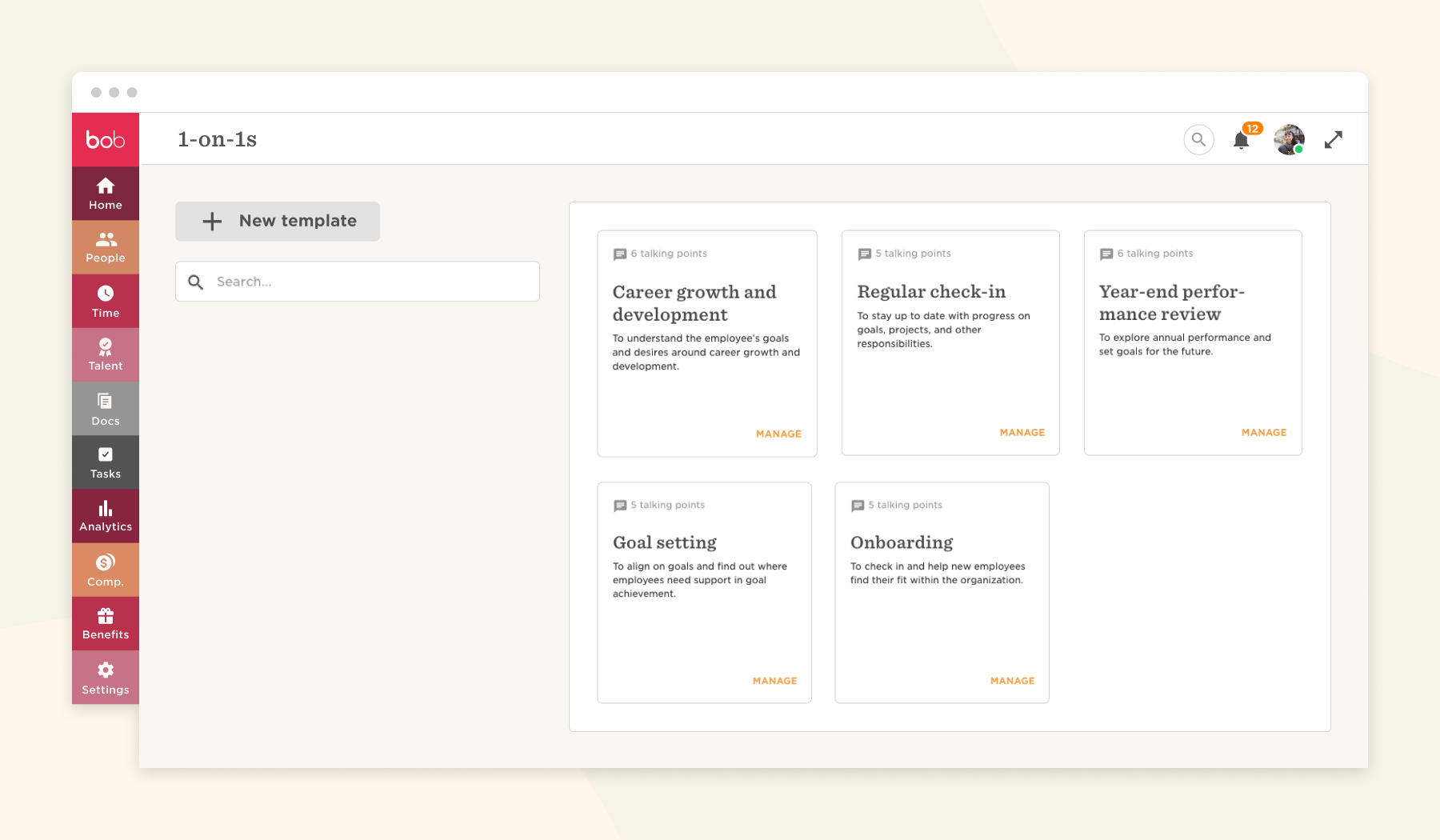 Getting started with Bob's 1-on-1s
Only managers can schedule 1-on-1 meetings in Bob. Click Talent > 1-on-1s and then My 1-on-1s. Then click +New 1-on-1 meeting to create a new meeting.
Here, you can select the person you want to invite to the one-on-one, give the meeting a title, and choose the date and time. You can also choose an agenda template to help you plan the meeting. Once done, click Save.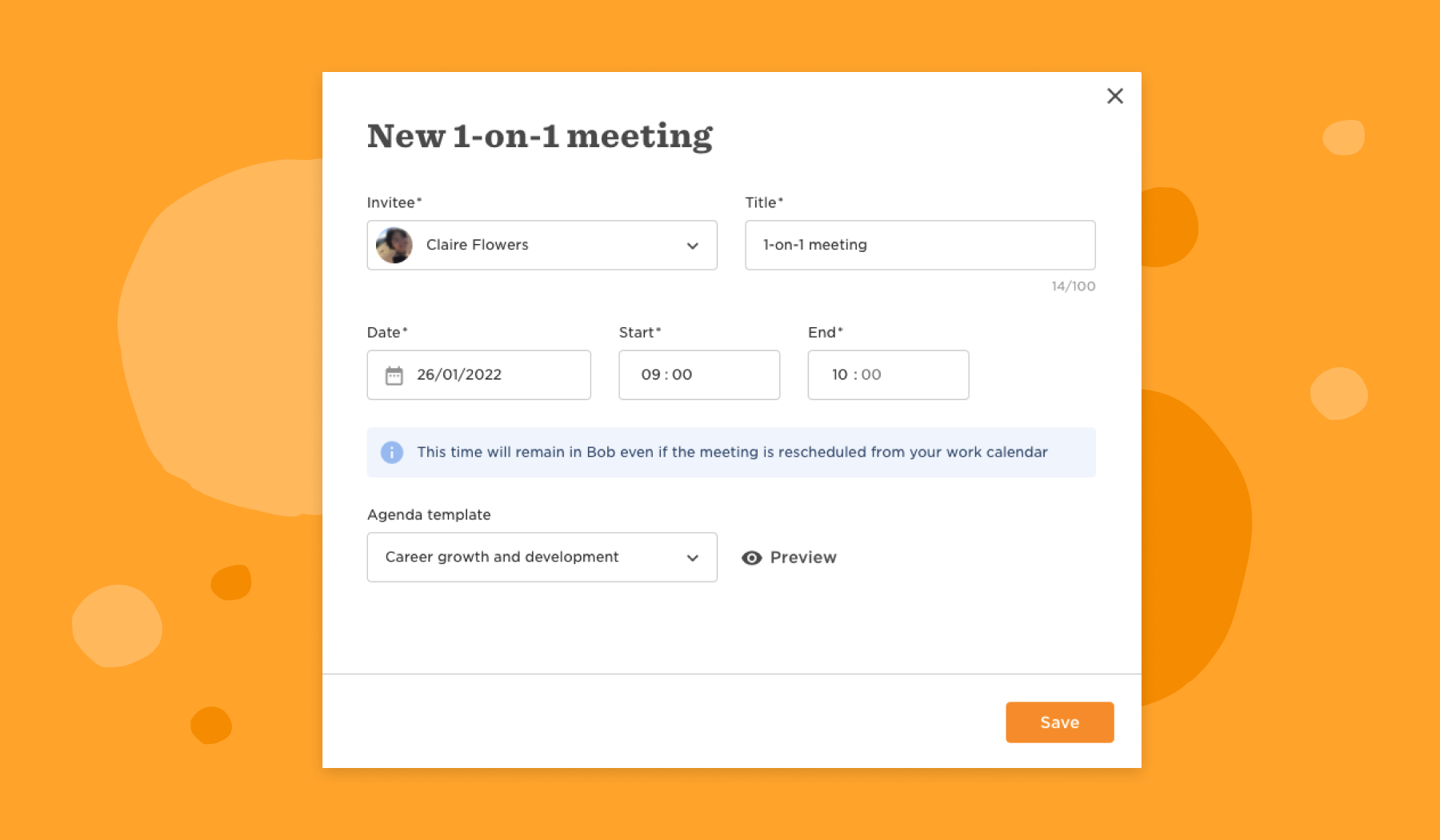 Your meeting is now in draft mode, and you can start planning it. If you selected one of the agenda templates, you'll see a list of suggested talking points relevant to that type of meeting. You can write comments on any talking point by clicking the + icon. You can also delete a talking point or add a new one. 
If you didn't select one of the templates, you'll see a space where you can add your own talking points. There is also space to write notes that are visible to the invitee and private notes that are visible only to you.
When you are ready to send the invite, click the Invite now button located at the top of the screen. This action will send the meeting invitation, which the invitee will receive as a calendar invite.*
Once the manager has sent the meeting invitation, the full meeting agenda is available in Bob for both manager and employee. Here, they can add comments on talking points and notes (shared and private) to prepare for the upcoming meeting and use them as a guide during the meeting itself. Once the meeting is over, the manager can mark the meeting as done by selecting the Mark complete button.
All 1-on-1s, past, and future, are organized and stored within Bob in My 1-on-1s and accessible for both manager and employee to reference as needed.
*Only with a calendar integration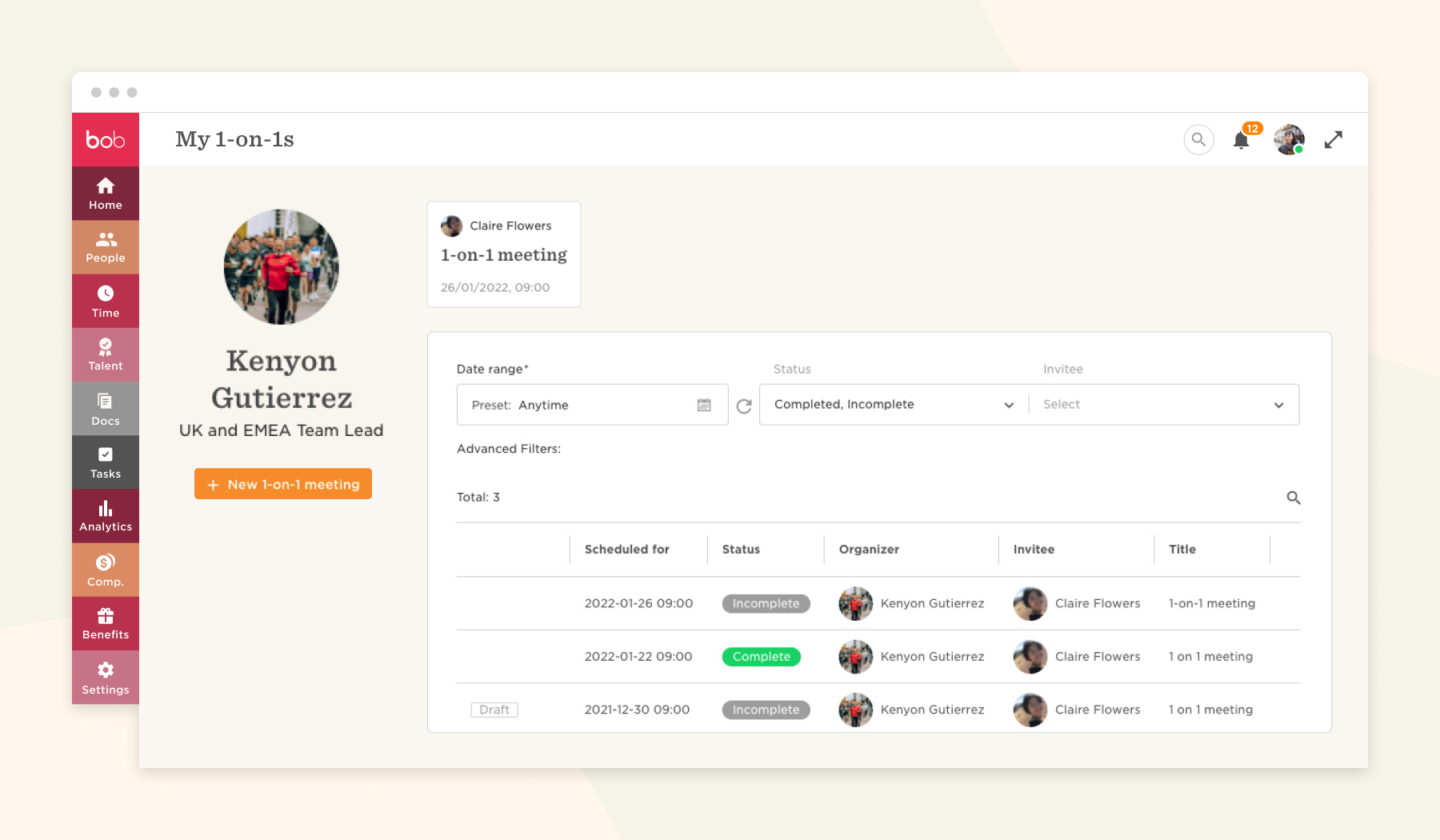 Scheduling 1-on-1s within a workflow
Some one-on-one meetings are relevant to a specific employee event—for example, 30-60-90-day check-ins for new hires as part of onboarding or a year-end performance review.
When setting up a new workflow, HR can now select scheduling a 1-on-1 as one of the automated tasks. When setting up a meeting as part of a workflow, you are required to choose one of the agenda templates, as this connects the meeting to the specific workflow. Using 1-on-1s as part of a workflow ensures that check-ins are scheduled ahead of time for employee lifecycle events. It also helps create more structured meetings with an organized meeting agenda and talking points, where both parties know what to expect.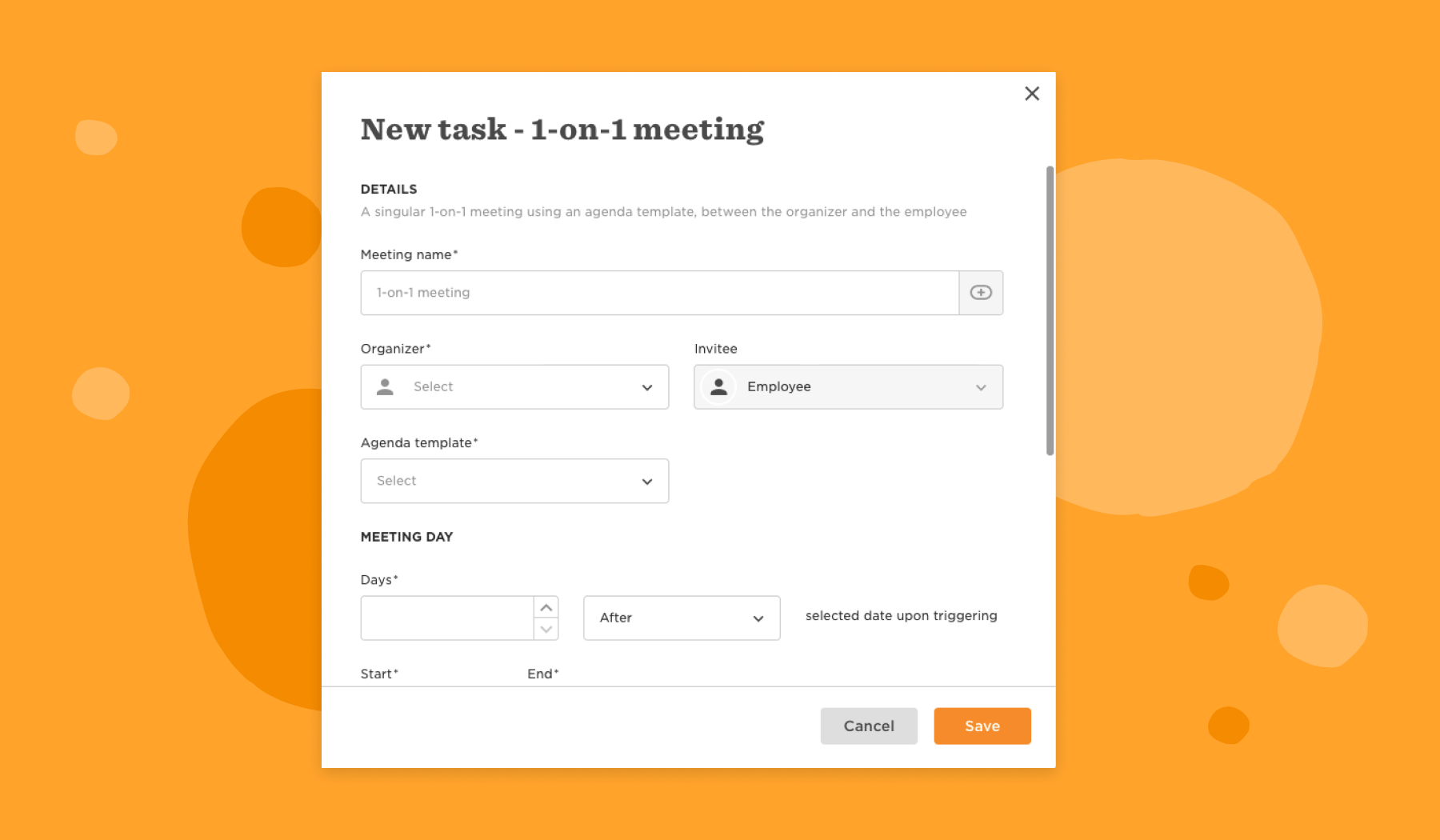 Once the manager has set up and invited the employee to a 1-on-1, they will receive an invitation on their calendar and via email as with any other meeting. All scheduled and completed 1-on-1s are also listed within Bob. 
Recommended For Further Reading
Bob is the HR platform for all your people
1-on-1s is the most recent tool added to Bob's performance management and helps managers and employees follow up on projects, align expectations, and create better working relationships—which contribute to employee retention. 1-on-1s are just one example of how Bob's capabilities go far beyond other HR platforms. Bob isn't just an HR platform for HR. Bob supports everyone in the workplace—from HR to managers to employees—ensuring that they have the tools they need to manage their day-to-day processes efficiently, stay engaged, and be empowered to grow and succeed.
---