What is HR tech?
HR tech (Human Resources technology) is a broad term that refers to the software and hardware technology used to automate essential HR functions. HR tech functions as co-pilot, helping HR professionals streamline time-consuming tasks, including:
Filing
Communication services
Data storage, organization, and analysis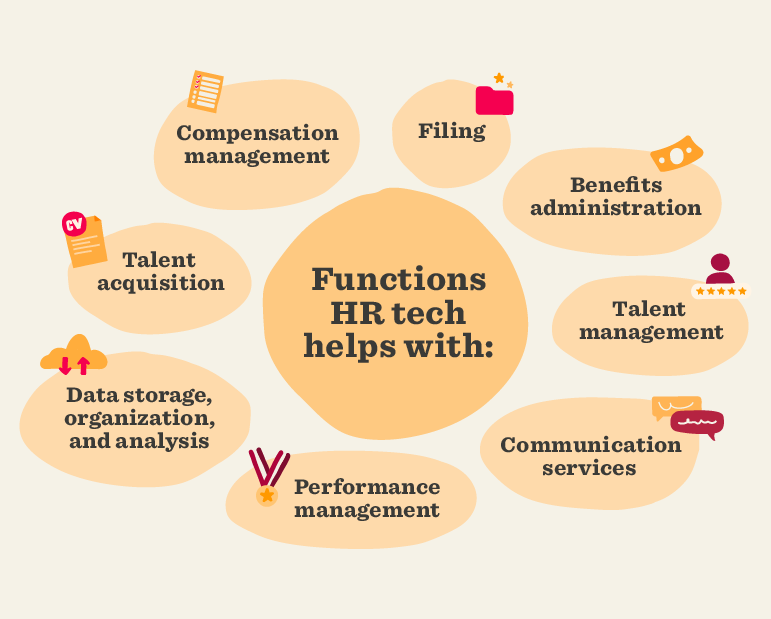 Why should HR leaders care about HR tech?
HR tech doesn't just reduce paper clutter and admin work—it helps manage the entire employee lifecycle. In companies with hundreds or even thousands of professionals, HR tech has become indispensable. With this managerial assistance, HR professionals can focus on improving recruitment practices, supporting managers, and boosting engagement, retention, and productivity.
What can HR leaders do to use HR tech effectively?
HR leaders can embrace new tech developments through adequate preparation. The following pointers can help HR maximize HR tech to drive success in the sink-or-swim work world:
What are some types of HR tech companies?
HR Tech companies come in all shapes and sizes. Some software may focus on a single HR function, such as:
Payroll management
Talent management
Performance management
Other HR tech software, such as HR platforms, offer a one-stop shop that manages everything, from recruitment and onboarding to engagement and productivity.
HR tech conferences
To stay up-to-date on the continuous advances in tech, you can attend HR conferences. These provide a forum for HR professionals to network, sharpen skills and knowledge, and discover new workplace trends. Here are five major HR tech conferences to check out:
Transform. This symposium focuses on integrating tech innovation and entrepreneurship through a people-driven approach.
SHRM's annual conference. SHRM's all-encompassing educational networking experience is the conference to attend if you can only make it to one.
SHRM Inclusion. This conference emphasizes DEI&B principles to help HR leaders support a more inclusive workforce.
From Day One. This forum offers online and in-person events to help you build stronger relationships with your people by establishing your company values.
Inspire HR. This Tennessee-based conference is the place to network, hone your HR skills, and get inspired.
What are HR tech trends you should know about?
Every year there are new tech trends that surface and gain traction. Let's take a look at three current and common trends:
Self-service technology. People like easy access to their paperwork, whether it's a pay stub, tax form, or healthcare document. When you train professionals to use employee self-services, they won't need to contact HR for help. They'll be able to take care of the admin work themselves.
Remote work options. Technology has catalyzed a shift towards remote work. While remote work is still evolving, Zoom, various types of HRIS, and collaborative platforms such as Slack have played a significant role in allowing people to work and take a day or more to work from the comfort of home.
Work-life balance. Wellbeing has become a priority for many professionals. Working from home can improve work-life balance, but it also poses new challenges. HR tech allows HR, managers, and team members to connect, build relationships, and address mental health issues that may arise from workplace stress or remote working conditions.
Global hiring. As remote work becomes more commonplace, many companies are hiring people internationally to save costs and access a bigger talent pool. Global hiring comes with a variety of compliance headaches, but there are HR tech companies and Employer of Record (EOR) service providers that use software to make hiring around the world as simple as hiring locally.
Recommended For Further Reading
How can HR tech improve company culture?
The current work culture depends on HR tech for survival. HR tech provides a framework for remote professionals to build community and enables managers and HR to direct onsite and remote teams. HR tech has also removed the administrative burden from HR leaders, so they can direct attention to improving the employee experience, increasing engagement, and nurturing a healthy company culture.
Why should HR tech be part of modern HR strategy?
Technology is embedded in the work world, from drafting documents to analyzing data. Just like every other department, HR needs tech to help optimize its work and bring value to the company. While tech involves a learning curve and an integration process, it enables HR professionals to build a strategy that promotes the company's mission, values, and business goals.