Businesses around the world are taking a keen interest in automation. It's seen by many as an effective way of improving operational efficiency and freeing people from manual tasks that can be completed more easily—and more accurately—by an automated process.
For HR teams, automation is especially valuable, as it can free up your resources to concentrate on higher-level tasks that help move your human resource strategy forward.
"Helping employees and managers resolve challenging workplace issues is why many people go into HR in the first place," PwC's learning strategies leader Mike Pino told SHRM. "By taking them away from data entry or cutting and pasting email responses, [automation] allows more of these valuable in-person conversations to happen between HR and the workforce."
If they're burdened by data entry and manual tasks, the HR professionals in your organization are likely craving time to pursue the thing that initially inspired them to work in human resources—connecting with people.
In this guide, we'll look at:
How automation benefits employers and employees alike
What tasks HR leaders should consider automating
Which systems are best for automating human resources
Using an intelligent automation strategy, you can help your HR team put their interpersonal and uniquely human skills to use, and take care of much of the day to day.
What is HR automation?
The Society for Human Resource Management (SHRM) defines automation as: "The use of electric or mechanized processes to perform work without—or with reduced—intervention by humans. Examples include robots that flip hamburgers, computer algorithms that eliminate human employees in medical and legal offices, and driverless automobiles and aerial drones."
Employers increasingly appreciate the value that automation brings, both in relieving employees of tedious tasks and improving operational flow. A 2022 global survey conducted by McKinsey found that 77 percent of employers were testing solutions to automate at least one business process, up from 66 percent two years prior and 57 percent in 2018.
What's the value of HR automation?
The key to a successful HR automation strategy is finding the balance between technology and human interaction. To do that, you need to understand which tasks are most suited for automation.
For many, manual or data-entry tasks are the lowest-hanging fruit. According to a Sapio Research/Asana survey, "Each week, employees waste more than 10 percent of their time duplicating efforts—four hours 38 minutes on average. Annually, that's more than 200 hours lost to manual, low-value tasks that they or someone else has already done."
Some experts predict that using the power of automation may become "the dividing line" between HR practitioners who advance and those who are automated out of their HR jobs. A partner at KPMG told the SHRM that some HR operations "have woken up and are leading a higher-purpose conversation on the trajectory of automation within their organizations. But far too frequently… other business divisions raise the issue, and HR is nowhere to be seen."
The partner at KPMG predicts that if HR doesn't step up to the automation challenge, they may find themselves being taken over by IT or other departments with demonstrated progress in embracing technology and automation.
HR processes that should be automated vs. those that should not
Research has uncovered two key areas that employees would like to see automated:
Data collection to help decrease manual data entry as well as human error. More than half of the survey respondents saw value in automating the collection, upload, and data sync of information into a system of record.
Approval processing to increase efficiency when getting sign-offs and confirmation requests, according to 36 percent of respondents.
As a result, several processes are ideally suited for automation:
Onboarding. As one of the most manual HR processes, the heavy paperwork required by onboarding is ideal for automation.
Timesheets. Tracking timesheets manually is incredibly slow: With automation, it's a breeze.
Leave requests. For straightforward leave requests, balance checking, manager approval, and record-keeping can all be managed within an automated process.
Performance management. Streamlining this dynamic process removes bias and supports accurate decision-making when it comes to performance-related goals.
Offboarding. Exit interviews are time-consuming and can often be neglected. Automation helps you obtain actionable data without the paperwork.
While most HR functions can be at least partially automated, there are five areas that won't benefit from automation:
People performance whole system architecture
HR and business strategy
Organizational effectiveness
Employee relations
Not surprisingly, all of these areas require high levels of personal interaction and engagement, making them much less suited to automation.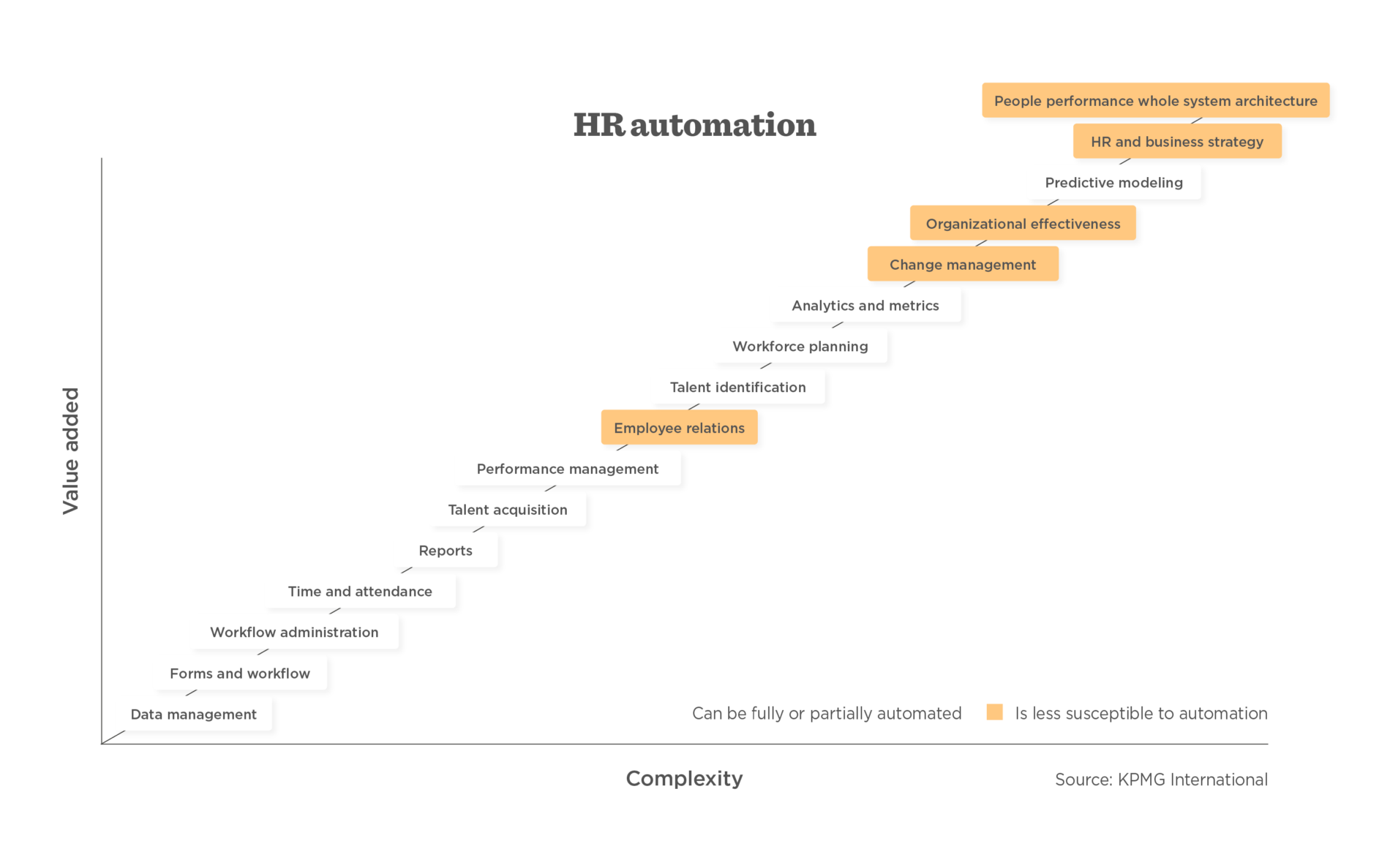 How can HR embrace automation?
For HR teams, transitioning tedious tasks to automated methods means you not only provide a better experience for HR but also provide better employee and candidate experiences. HR process automation is a way to increase consistency and efficiency across HR.
Globally speaking, up to 30 percent of jobs could be automatable by the mid-2030s. For HR teams, automation does not equate to reduced headcount. Instead, with automation, an HR team can commit more time to deliver even more value for the organization, drawing on the skills of existing team members. By embracing this reality, HR leaders can supercharge their teams' potential.
HR automation examples
If you want to identify tedious HR tasks that you can automate, start by examining the employee lifecycle. For each phase, there are likely processes you can modify to make them less manual. In fact, there are possibly several tasks you can automate entirely.
Recruitment: Recruiters can use automation to post to job boards, and can use AI to streamline text conversations with applicants as well as scan applications for crucial data and information. Chatbots can provide automated sourcing, which recruiters can then use to widen, and connect with, the pool of qualified candidates.
Onboarding: Rather than creating new offer letters for each new hire, automation can help hiring managers conduct the entire process through an applicant tracking system. Not only does this speed up the process, but it also reduces the chances for costly and embarrassing errors. Once someone is hired, onboarding automation helps transfer their data into your HRIS so that they receive benefits enrollment and other new employee information.
Training: If each employee must complete compliance or other training every year, it doesn't make sense for the learning and development team to assign that course to every employee manually. Instead, you can use automation in your learning management system (LMS) to enroll employees, track completion, and send reminders if employees don't complete the training on time.
Managing performance: Managers often gather 360-degree feedback when writing annual reviews. Collecting and compiling that data takes time. If managers have access to an automated performance management system, they can send the request and collect feedback in one spot. Likewise, automation can enable employees to create and manage their work history and records, including employment milestones, timelines, and recognition.
Organizing compensation: To simplify compensation processes, automation can enable your HR team to plan, set up, and manage compensation cycles. Likewise, a system can be set up to deliver automated alerts and notifications to ensure compensation planning is on track and on time.
Administering benefits: Whether you're offering healthcare, wellness, or voluntary benefits, with automation you can track essential information. Similarly, automation in benefits helps address employee access to information about their current enrollment and plan options.
Offboarding employees: Just as automation helps you streamline the process when someone joins your organization, it can also help when someone leaves. As an employee's status in the HRIS updates to reflect a termination, automation can help ensure they receive all the necessary documents and information about final pay, benefits, and access to their employment records. This removes the need for HR to track every termination and send unique emails to the person leaving the organization.
Looking for the perfect HR automation system
According to Josh Bersin in HR Tech 2021: The Definitive Guide, "Everything that happens at work—from the minute you leave home to the minute you clock out at night—is a step, stage, or series of activities that can be facilitated and improved by technology."
Bersin goes on to explain that, first and foremost, organizations require a system of record. Due to the myriad of applications and systems that HR teams need to use, companies need "sound architectures" to bring all these things together.
"Companies are throwing money at HR tools right now, searching for ways to transform their workforces, make people more productive and improve quality of hire, skills development, and employee engagement and retention," according to Bersin. "But this is starting to create chaos. As companies move to the new generation of tools, the number of systems they buy is going up. The average large company now has 9.1 core talent applications, and is spending $310 per employee per year, a 29 percent increase over last year."
One way to reduce this chaos is one system that connects and supports your recruiting, training, performance management, and other apps under one roof. A human capital management (HCM) or HRIS platform is the piece in the HR technology puzzle that provides the overarching architecture you need. These are "core" HR systems that help employers manage employee records, job history, performance, and training.
When organizations use the full power of an HRIS, tedious tasks can be automated. Rather than being bogged down with time-consuming processes or switching between multiple apps, integrated HRIS technology allows HR teams to focus on HR solutions to business-critical issues.
As you consider the many ways you can automate HR with an HRIS, ask each provider how its system will help you automate:
Applicant tracking
Onboarding
Training
Compensation and benefits
Employee profiles and self-service
Look for an HRIS that will help you architect and implement simple automation and increase HR's capacity and productivity.
HR automation best practices
As we've seen, the best approach for embracing automation in your HR processes is to conduct a thorough analysis of your current HR tasks. That way, you can identify those which are well suited to automation, and avoid automating tasks that are better suited to direct human intervention.
Once you've established your automated processes, it's best practice to continuously monitor and review your performance, to be sure that your team remains efficient and thorough in their work, and that your automation systems are running smoothly.
Finally, keep people and the human experience as the top priority as you implement automation. Technology paves the path for us to continue serving the people who are the heart and soul of the organization. Whether it's your employees or HR team members using automation systems, the technology needs to work for them.
Trends in automating HR processes
Many, if not most, HR organizations are adopting HR technology to help them automate their processes.
The HR technology market has been growing incredibly fast over the past few years. In 2023, Josh Bersin expects things to settle: "While roughly half of companies plan to increase their spend, the number cutting back almost doubled (from 5 percent to 8 percent), and I expect that trend to continue. And as hiring slows, so does the need for more HR software."
At the same time, core HR systems (which are rapidly being upgraded with cloud platforms) remain key, and "Talent Marketplace Platforms", "Employee Experience Platforms", "Employee Listening Platforms, "Wellbeing and Rewards Platforms"; "Coaching and Leadership Platforms", and "Talent Intelligence and Skills Tech Platforms" all remain "white hot."
Indeed, with so many elements to managing the hiring, performance, pay, and development of your workforce, there are many technology options for HR to consider when it comes to automating tedious tasks.
Automation: The future of HR?
Automation offers HR teams significant productivity and efficiency gains. Although most HR tasks require some level of decision-making, business acumen, or interpersonal skills, automation can tackle some of the most time-consuming processes.
There's no denying that technology is transforming the function of HR. Every step of the employee lifecycle still requires HR's involvement—but now you can do so as strategic partners who are supported and backed by a powerful, automated system. Now is the time for HR to engage in conversations with IT, operations, and other stakeholders to maximize automation across your organization. All the while, HR can reinforce the importance of keeping humans at the top of the agenda as part of ongoing automation efforts.
Meet Bob
The right technology is essential.
Bob is designed and developed for the new world of work. On-site, hybrid work, and remote HR leaders can drive culture, two-way communication, engagement, performance, and compensation—all while streamlining and automating their own processes. All leaders and individual contributors in the organization can benefit from Bob by using it as a data source and report generation tool for planning and tracking.
Bob's innovative UI, automated processes, and integrations with leading third-party tools ease administrative tasks for everyone across the organization and make even the most mundane work tasks pleasant, intuitive, and engaging—and not just for HR admins. Bob puts people first with culture tools that connect co-located and remote employees to their fast-growing, global companies.