What is onboarding?
Onboarding is the process of incorporating a new employee into a company and familiarizing them with the company culture and policies, so they can become an effective and contributing member of the team.
A good onboarding process is reminiscent of boarding a plane. At the beginning of the adventure, you're greeted by someone who's happy to have you. They help you find your seat and get acclimated so the flight will be comfortable and you'll get to your destination safely.
New employee onboarding programs should help new hires:
Understand their roles and responsibilities
Get comfortable in their new setting
Meet their teammates
Learn company policies and protocols
At the same time, successful onboarding improves workforce management by ensuring new hires can become productive in their new roles more rapidly.
What is the purpose of onboarding?
The main purpose of onboarding is to ensure that new hires become familiar with their roles and that they feel welcomed, valued, and supported by the company.This can reduce an employee's time to productivity—the time it takes for them to get familiar enough with their role to work effectively.
Why is employee onboarding important?
Implementing a great onboarding program is the key to achieving:
Engagement (from the very beginning)
Loyalty
The smoother the onboarding process is for the new employee, the greater the chances they will become an effective, long-term contributor to the company. Keeping an employee is cheaper than hiring a new one, so it's worth investing in quality employees right from the beginning.
What is the duration of employee onboarding?
New employee onboarding can last anywhere from 90 days to a full year. The size of a company and the complexity of the role can affect how much time and ongoing support that a new hire needs to succeed in their work.
What are the phases of employee onboarding?
Whether a new hire goes through remote onboarding or is onboarded in the office, the phases will generally remain the same:
Preboarding begins after the new hire accepts the job offer and ends on their first day of work.
Orientation typically starts on the employee's first day, and involves introducing them to the company's policies, procedures, and benefits. For in-person onboarding, it also includes a tour of the office and introductions with colleagues and managers.
Training takes place in the first three months. It gives the new hire the skills, knowledge, and resources they need to carry out their work effectively.
Integration is the final phase of onboarding, and it helps the new employee become a productive and engaged member of the team by giving them ongoing support, feedback, and opportunities.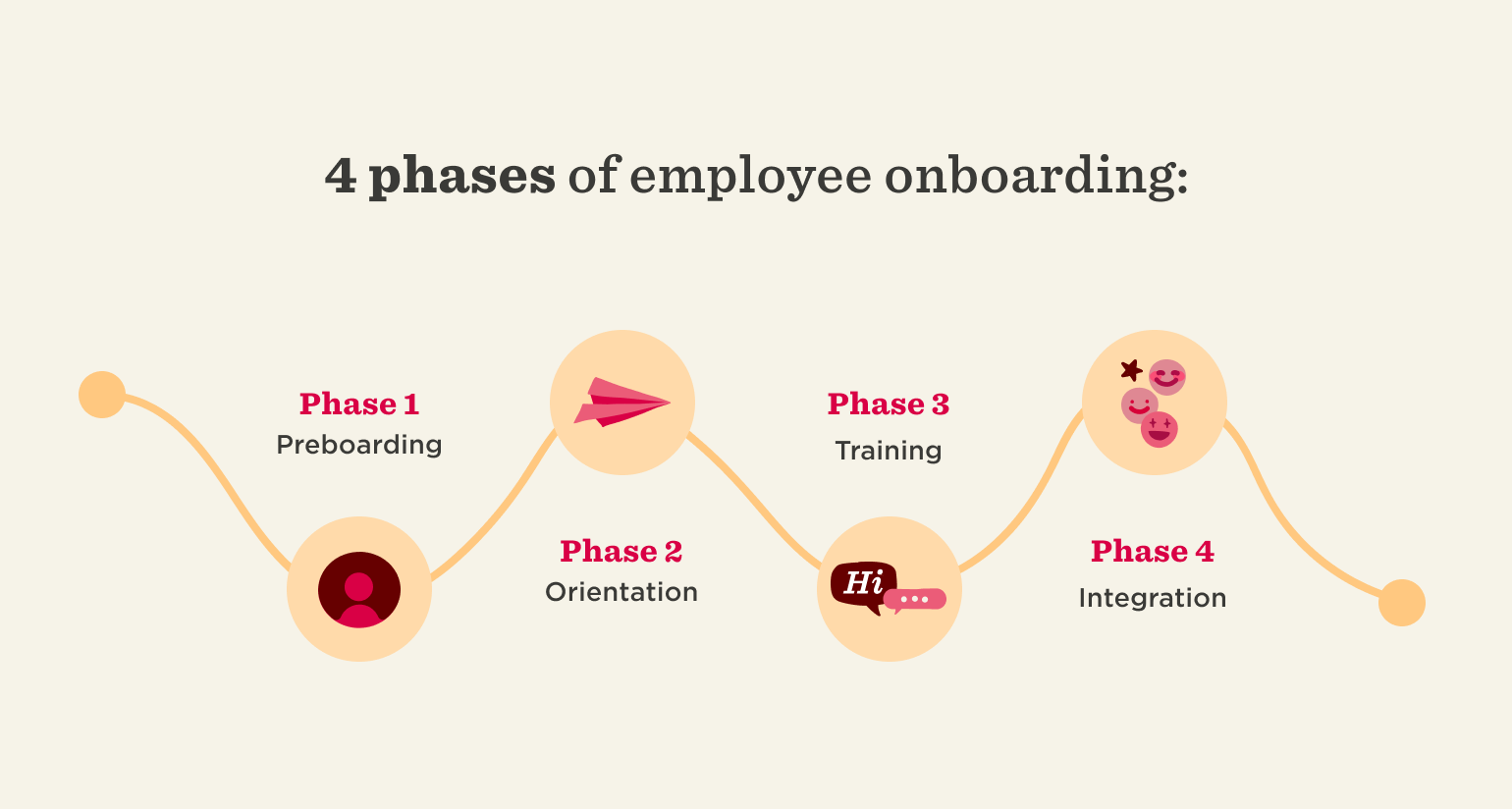 Employee onboarding best practices
It's best to welcome a new employee prior to their first day with an onboarding email template that includes:
What time to arrive
Expected dress code
Where to park
Who to meet with upon arrival
In addition, HR can send a personalized welcome letter and a small gift to initiate a positive relationship between the company and the new team member.
On a new employee's first day, HR can run an orientation in order to introduce them to the company values, mission, and culture. HR can further support a new employee by matching them up with a "buddy" to walk them through company expectations and policies. HR should also provide a new hire with the necessary passwords, links, and relevant information they will need to know to begin their new role.
An HR manager can meet with the new hire one-on-one once a week, throughout the first three months, to ensure that they are integrating well and understand their responsibilities.
It's helpful to use employee onboarding templates or an onboarding process checklist to make sure that no important aspects get missed.
How do you automate new employee onboarding?
Automating new employee onboarding can make the process easier and more efficient. It can also give new hires a consistent, positive onboarding experience.
Here are some tips for onboarding automation:
Use online tools and resources, such as videos, webinars, and e-learning modules, for training and orientation.
Use digital forms and workflows to automate paperwork.
Create an onboarding portal or platform that new hires can access to find information about the company, their roles, and the onboarding process.
Use technology to make communication and collaboration between new hires, managers, and HR easier.
Use automation tools to send reminders and follow-up messages to new employees and their managers throughout the onboarding process.
Recommended For Further Reading
What is onboarding software and how do you choose one?
Onboarding software is a tool that automates the onboarding process, making it easier for HR teams to manage and track new hires' progress. When choosing new employee onboarding software, consider:
Features: Look for software that offers the features you need to manage the onboarding process effectively, such as digital forms, automated workflows, and training resources.
User experience: Choose software that is easy to use and navigate for both new hires and HR teams.
Integration: Think about how well the software integrates with other HR tools and systems, such as your HRIS and payroll software.
Support and training: Look for software providers that offer support and training resources to help you get the most out of the software.
How can successful onboarding improve company culture?
Onboarding lays the groundwork for a smooth transition for new hires as they settle into a new job and work environment. Just as an uneasy child may need a warm welcome on the first day of kindergarten, so too will a new employee appreciate a well-planned onboarding process.
The onboarding process is the first step in building a relationship with a new employee. A company that invests in a new employee's wellbeing through a thoughtful onboarding process will be well on its way to increasing long-term employee engagement, retention, and overall job satisfaction. Ultimately, caring for employees' needs from the very beginning leads to a healthy and thriving company culture.