What is people management?
People management refers to the practice of recruiting, training, engaging, and retaining people to optimize their talent and maximize their productivity. A subcategory of Human Resource Management (HRM), people management includes:
People management strategies address people's needs, unique talents, and career objectives while supporting their alignment with company goals and values.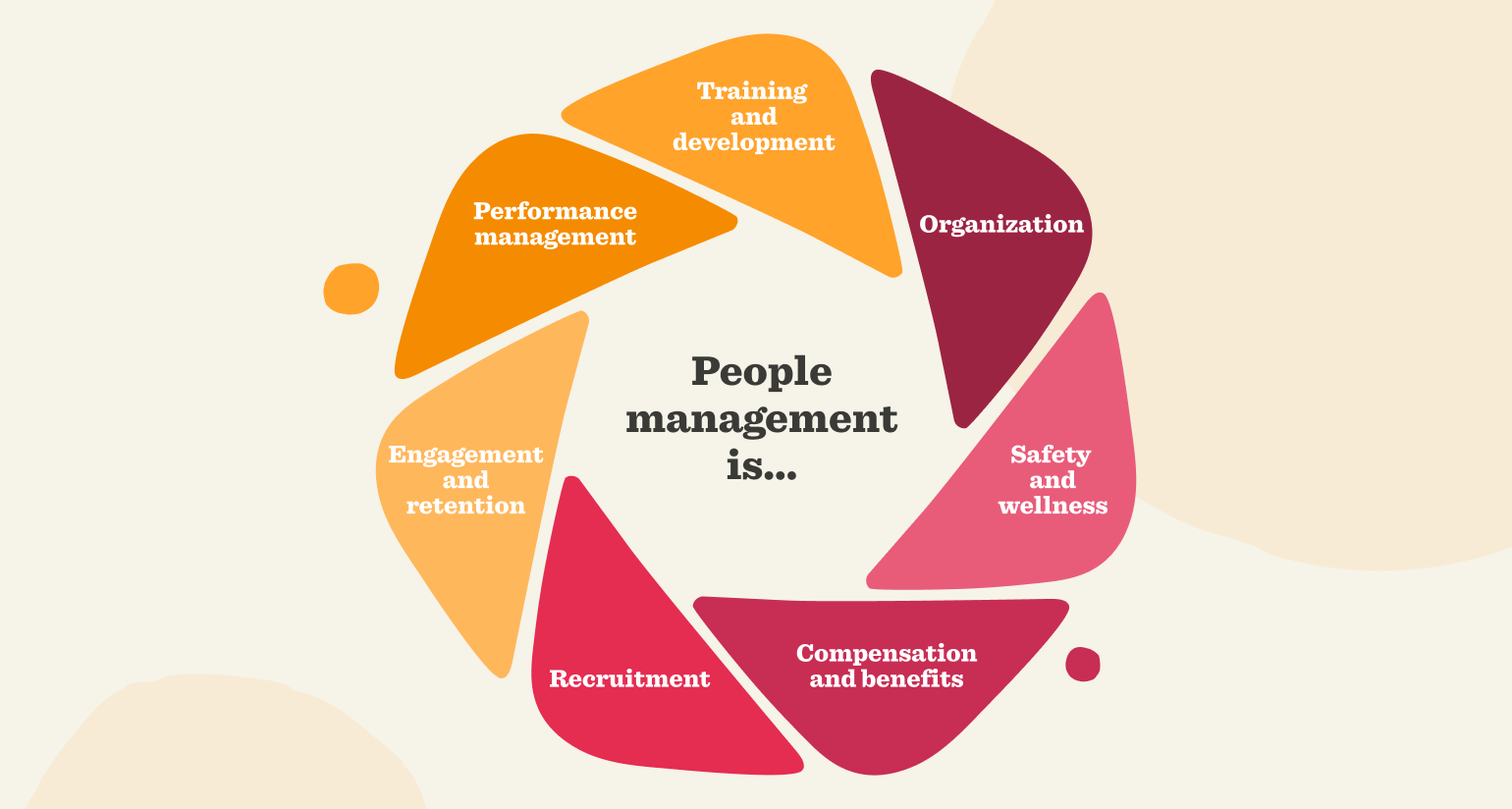 Why should HR leaders care about people management?
HR leaders and managers must have people management skills to communicate, inspire, and direct talent effectively. Successful people management practices help motivate people to work productively and passionately, leading to increased engagement and retention.
Tips and best practices for effective people management
Effective people management demands that HR leaders embody several essential work habits. Here are five core practices HR leaders can incorporate to promote successful people management:
Lead by example. By demonstrating a high level of emotional intelligence, HR leaders can set the tone for a productive and dynamic work environment. Exemplifying essential characteristics such as empathy and resilience at work shows people how they should aim to behave in the workplace.
Gauge team members' personalities. Knowing and understanding each person's unique personality and motivations enables managers to connect with people on a personal level and strategically maximize their work potential. HR coach Katherine Giacalone emphasizes the importance of identifying and mentally categorizing each person's personality for effective management.
Communicate respectfully. Clear and considerate communication is the foundation of any type of successful relationship. Encouraging people and managers to practice active listening builds trust and healthy interpersonal connections, which promote a positive culture and foster productivity. Furthermore, active listening can help managers acquire valuable, constructive feedback to improve the employee experience.
Conflict resolution. Approaching conflict with respect for the individuals involved allows managers to resolve challenging situations with integrity. Instead of passively letting a conflict spiral out of control, managers can empathetically approach people, ultimately strengthening interpersonal relationships and elevating the work community.
Offer development opportunities for managers. HR leaders can help managers develop their skills by providing development training. They can also team up with finance team leaders to introduce budgets that enable managers to take certification and knowledge courses. HR leaders can also offer mentorship programs that provide a framework for managers to learn one-on-one with internal or external management coaches.
<< Empower your managers to take an active role in people management >>
What are some key people management skills?
To excel in people management, HR leaders must cultivate the following abilities:
Empathy: If there is a number one must-have skill for people management, it's empathy. The ability to put yourself in others' shoes and feel what they are feeling will make talent feel more heard and recognized. It will also improve HR decision-making and communication, helping create a better employee experience.
Leadership: Successfully managing others requires a range of abilities that can be bundled together under the umbrella of leadership skills, including trust-building, motivating, conflict resolution, and empowerment.
Organization and analytical thinking: While much of people management requires applying soft skills, the modern organization requires HR professionals to employ an equal measure of analysis and data savviness. HR technology has become a crucial part of people management. Tech literacy and data analysis are now essential competencies for modern HR professionals.
Recommended For Further Reading
How can you leverage HR tech to improve people management?
HR technology can significantly improve an organization's people management by optimizing, streamlining, and automating most, if not all, of the tasks involved. HRIS systems come with features for everything from employee onboarding and performance management to employee appreciation and general administration, offering numerous benefits, including:
Collecting and analyzing data to help track KPIs and find insights
Automating repetitive tasks to save time
Freeing up HR pros' bandwidth for more strategic, bigger-picture thinking
Optimizing workflows to reduce errors and inefficiencies
How can effective people management improve company culture?
Investing in talent through intentional people management practices empowers them to give back to their company with high-performance work. Strategic and careful people management can encourage progress, positive employee experiences, and growth, enabling a thriving company culture.