Leading a human resources team is no small undertaking. In addition to the need for hard skills like using HR technology and vast knowledge of complex topics like benefits and compliance, HR leaders must also demonstrate an entire arsenal of soft skills, including empathy, communication, organization, and leadership.
This is why today's human resources leaders are more than payroll technicians and recruiters. They're strategic partners in helping managers and executives lead a business to success.
Oh, and did we mention that things only get more complicated when you factor in the worldwide shift toward hybrid and remote work arrangements kickstarted by the COVID-19 pandemic?
Indeed, it takes a lot to demonstrate successful leadership in HR in the modern workplace. If you want to shine as an exceptional HR leader, you should aim to develop the qualities good HR professionals share.
<<Download, save, and reference this guide to make your HR leader journey successful>>
How to step up and become an HR leader
You don't have to be a Chief Human Resources Officer to be a leader in HR. Instead, what differentiates an HR leader from any other HR person is mindset and approach. To embody leadership in HR, you should focus on honing these four abilities:
1. Master the basics
Organizations have always depended on HR leaders' expertise and knowledge of labor laws, benefits, compensation, medical and family leave, and other policies. Today's most successful HR leaders also have a deep understanding of organizational psychology, employee engagement, DE&I best practices, and more.
How to do it:
Stay up to date on the latest trends, research, and developments in HR by reading global publications and websites like Harvard Business Review and Bersin by Deloitte. It's also a good idea to read more locally relevant publications that will help you keep up with local labor laws and community changes.
Attend industry events to connect with colleagues in different organizations. You'll learn about tactics and strategies, get help solving knotty problems, receive recommendations for vendors and products, and focus on new and emerging areas of thought.
Continuous learning is a hallmark of great HR leaders, so look out for degrees, short courses, diplomas, lectures, and online learning opportunities to help you upskill your (and your team's) knowledge.
2. Embrace data
Reliance on SaaS technologies has skyrocketed as more and more organizations adopt remote and hybrid work structures. This increased dependence on tech has led to greater collaboration between HR and IT. Organizations must integrate people processes that collect and analyze data to drive strategic business decisions and improve overall performance.
How to do it:
Reduce time-to-hire by automating hiring and onboarding.
Measure productivity at the individual, team, and organizational levels by collecting data on everything from speed, effectiveness, cost, and profit.
Be proactive about predicting and preventing employee churn at an individual level. Set up programs to either re-engage or replace people to ensure smooth transitions and avoid a lull in productivity while waiting for a new person to onboard.
Select the right tools and resources you need to transform the way your organization collects and analyzes data. Be sure to do your research before selecting these tools.
Create opportunities for your people to learn how to use any tools you introduce, design training sessions, or bring in experts.
3. Be innovative and strategic
Great HR leaders must be innovative and have a sense of design thinking. These skills help you quickly adapt to new circumstances and shape organizational culture. Design thinking applies tools from the world of design to human behavior. The idea is to avoid risky decisions based on instinct and past indicators that may have no bearing on the future.
How to do it:
Understand other industries so you can approach your people as customers and apply the best sales, marketing, and design practices to engage and retain them.
Collaborate with other departments to solve the issues your organization faces in the ideation phase.
Define and bring to life a culture that keeps people engaged, healthy, connected, satisfied, and performing their best. Because culture doesn't just happen.
Step away from the old model of HR-as-administrator. It's time to embrace a vision of HR that sees the HRD as the source of knowledge regarding the most critical resource available in the business: its people.
The evolution of the modern HR leader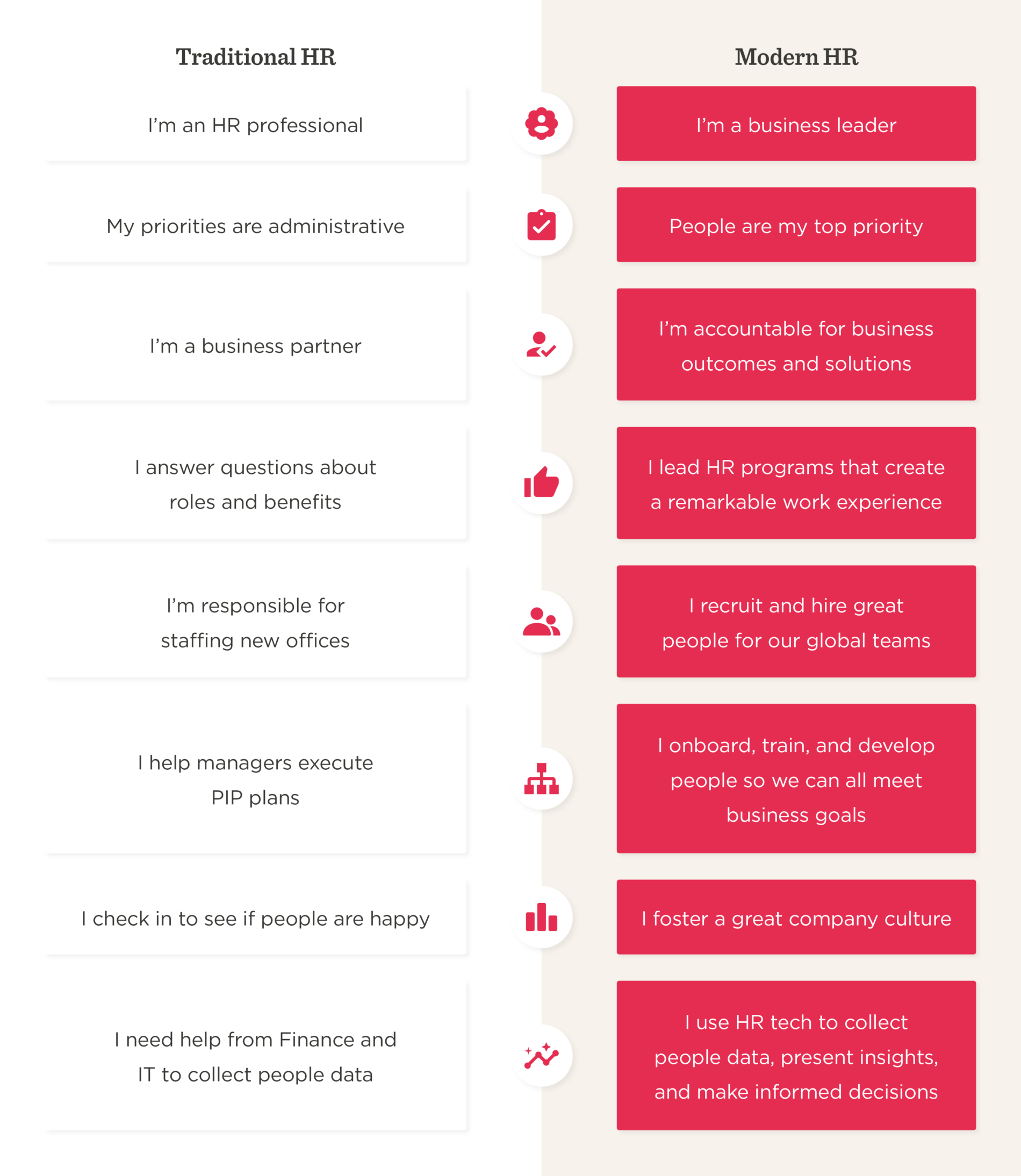 Skills a great HR leader needs
Now that you understand the big picture, let's take things down to a more micro level. On the individual scale, what makes a good HR person? Here are the most important and meaningful skills.
Agility
An effective HR leader is forward-thinking and open to new things. They are flexible and can adjust policies and strategies as needed, staying current on the latest technological trends to optimize processes, save time, and remain ahead of the curve.
Empathy
As technological and data-driven as we can be, HR is ultimately about the people. This makes emotional intelligence and empathy invaluable skills that play a central role in offering the necessary support and guidance.
Problem-solving
No day in the life of an HR leader is the same as the day before, but most have one thing in common: They are full of little fires you have to put out. Whether it's a conflict between people or a tricky organizational strategy problem, HR leaders need to be able to think quickly and strategically to come up with effective solutions.
Communication
HR is one of the few departments that interfaces with nearly everybody throughout the organization, meaning that HR leaders' ability to effectively communicate is key. Employ active listening, open dialogue, and transparency to build trust while avoiding misunderstandings.
Recommended For Further Reading
Ethics
As an HR leader, you're trusted with a lot of confidential data and sensitive information. Apply high ethical standards and follow the most up-to-date security practices in order to keep everything private.
What it takes to be a great HR leader today
HR has evolved significantly over the last few years, and HR leaders may struggle to embrace their new roles and the expectations that come with them. Today's HR leaders must be fully engaged in the present and invest their efforts in creating great cultures, engaging people, and optimizing performance. This is how to ensure long-lasting success.
---