We are living in a time of increased awareness about wellbeing. Yet many people are hesitant to open up about their struggles—especially in the workplace. Your people may feel that showing any signs of weakness will negatively impact their chances of advancement and success. On the flip side, however, if their anxiety, distress, or burnout aren't addressed, they can worsen and eventually impact their ability to perform their jobs well.
Companies can make a huge difference to the employee experience by creating healthy workplaces that put employee wellbeing first. Showing your people that you care positively impacts engagement and job satisfaction, ultimately leading to higher retention rates with happier people who are invested in your company's success.
Wellbeing starts at the top
To help your people feel happy and safe at work, whether they are working onsite, remote, or hybrid, you need to embed employee wellbeing within your company culture. This starts at the top with a friendly and approachable HR team, an open-door policy encouraging people to come to them with any concerns, and the right HR tech in place to support your workers, near and far. But it doesn't stop there. 
As the main point of contact with employees, you should also train managers on how to build a relationship of trust with their teams. This can be as simple as setting aside some time during 1-on-1 meetings to ask them how they are feeling and if anything is bothering them that they'd like to discuss. Showing empathy helps your people feel more comfortable opening up and enables the company to address any issues before they get worse.
However, even with the most open and empathetic culture, some of your people won't be comfortable approaching HR or their manager with their concerns. They may be embarrassed, feel that they won't be taken seriously, or even fear for their jobs.
With that in mind, it's helpful to offer various avenues for your people to communicate and provide feedback in a way that they're comfortable with and that, if they wish, protects their identities. Let's dive into a couple of ways Bob helps you do this by exploring our Your Voice anonymous reporting tool and anonymous surveys.
Your Voice: Bob's anonymous reporting tool
Providing your people with an anonymous reporting tool reflects an open culture that encourages people to speak up. Your Voice is available 24/7 on web and mobile and is designed as a safe space for communicating any personal or general concerns in the workplace.
On a personal level, your people can use Your Voice to communicate issues such as a problem with a manager or colleague, bullying, or discrimination. They can also use it to report serious workplace misconduct, such as suspicions of corruption or harassment.
Sharing a concern in Your Voice
Located at the bottom of the Bob homepage, Your Voice is secured with leading encryption technology and designed as a friendly, welcoming, and easy-to-use space for your people to freely express themselves and their concerns.
There is a free text area for describing any workplace-related matter or asking questions. When done, the employee chooses the category that best describes their case, such as General Feedback, Discrimination, Human Resources, Wellbeing and Mental Health, or Other. These categories ensure that their case is sent to the company representative best qualified to address their specific concern.
All communication about each case is then made directly within Your Voice. Once the case representative has replied to the concern, the employee will receive an alert and can enter the platform to view the response and add more information if they choose.
Having an open communication channel like Your Voice lets you show your people that you care about their wellbeing and are ready to help. In cases of company or employee misconduct, you can use the information provided to conduct a full investigation and take any relevant action.
Complying with the international whistleblowing directives
Your Voice also complies with various national directives such as the EU Whistleblowing Directive and New Zealand's Protected Disclosures (Protection of Whistleblowers) Act.
In the EU, all companies with more than 249 employees are required to provide a safe and secure way to report workplace misconduct without fear of retribution. The directive will be expanded from December 17, 2023, to include all EU companies with over 50 employees.
Recommended For Further Reading
Running surveys to collect employee feedback
Surveys are invaluable for measuring overall satisfaction in the workplace and collecting employee feedback. You can use them to address sensitive topics such as diversity and inclusion, employee development and promotion, and work-life balance, and gain insights to help you improve the employee experience and ultimately increase satisfaction and retention.
Bob includes several types of surveys to help you keep your finger on the pulse of the business. First, there are employee lifecycle feedback surveys that you can send to people at different stages of the employee lifecycle, such as after onboarding or following a probational period. These time-sensitive surveys help you gain valuable feedback on how your people feel about your company and your processes.
Bob also includes anonymous surveys that are designed to help you discover more about employee engagement and satisfaction. To be most effective, run these surveys regularly and compare your scores over time.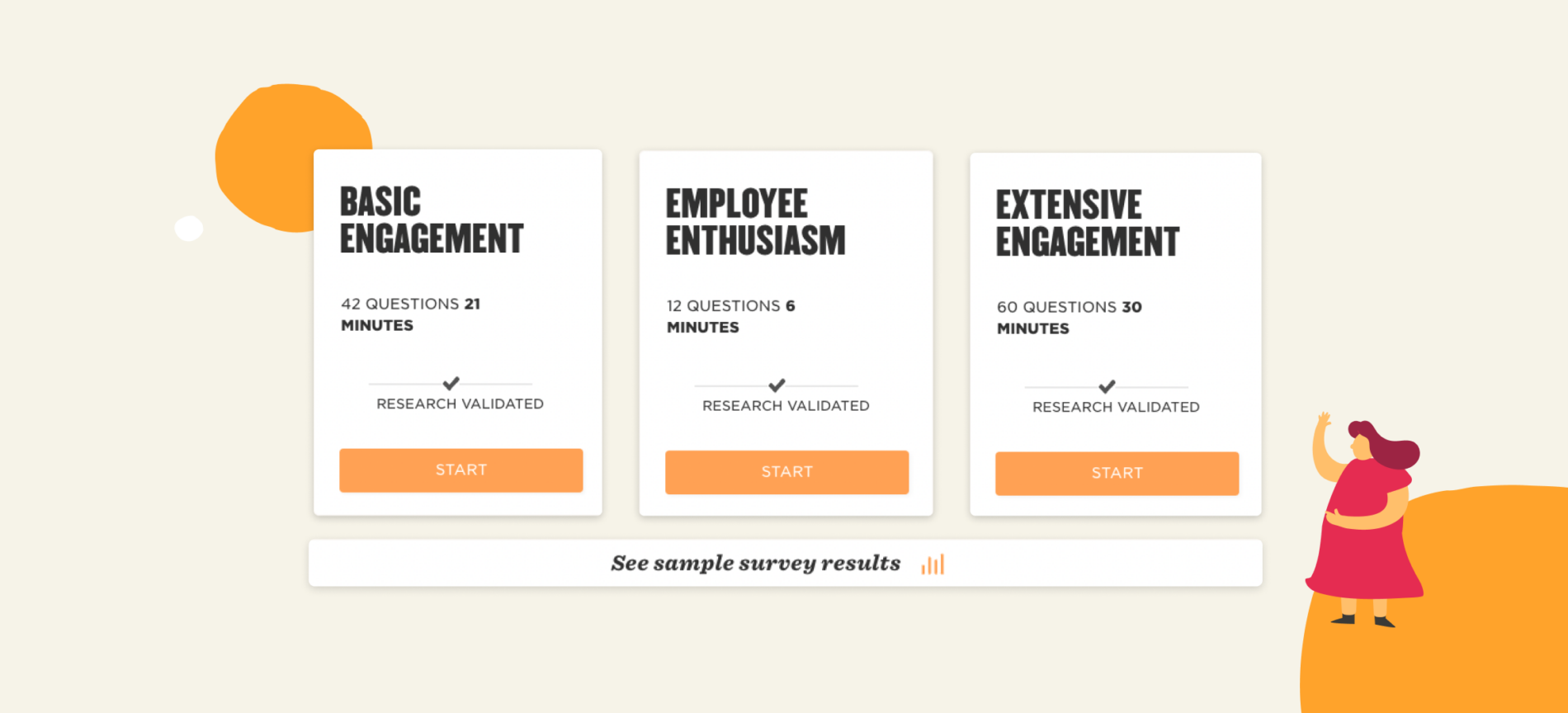 To help you get started, Bob includes several survey templates that include questions and statements such as "How enthusiastic are you with the people you are working with?" and "I have confidence in the company's senior leadership." Employees can respond using a five-point rating scale where one is "strongly disagree", and five is "strongly agree". The final question in each template is open-ended and invites participants to expand on how they feel in more detail. This provides your people with an opportunity to speak their minds freely while protecting their anonymity.
If you don't find a template in Bob that matches your needs, you can simply edit an existing template or create your own custom survey directly in Bob.
Show your people that you care
Mental health struggles such as anxiety, stress, and burnout can deeply impact a person's ability to perform at work. And, with more people working remotely and hybrid, it's even more important to have processes in place to support them. Providing your people with tools that empower them to speak up safely and anonymously shows them that you care and offers you a global view of employee sentiment and wellbeing. You can then use this know-how to take measures that increase employee satisfaction and ultimately retain your people.
---