In today's modern workplace, HR leaders are responsible for ensuring that all employees feel happy and safe. Your employees may be silently suffering at work but not speaking up for fear of losing their jobs. They may have personal or general concerns regarding DE&I, harassment, or wellbeing in the workplace. They may feel singled out, overlooked, or have a specific complaint to lodge against a manager or colleague's misconduct. Or, they may be privy to sensitive information regarding illegal or unsafe activity within the company but don't know where to turn.
Providing a healthy and transparent company culture where employees are encouraged to speak up without fear of retribution and having a system to do so will help drive retention and a strong employer brand. Furthermore, a recently passed regulation in the EU for protecting whistleblowers has prompted a wider discussion around the need to provide an anonymous reporting tool within the workplace.
What is a whistleblower, and what is the EU Whistleblower Directive?
A whistleblower is an employee that speaks up when they encounter wrongdoing in the context of their work that can harm the public interest, for instance, by damaging the environment, public health, and consumer safety.
Laws supporting whistleblower protection have been enacted in at least 59 countries. Notably, the EU Whistleblower Directive was passed in December 2019 to protect whistleblowers who report business practices that violate EU law. As part of this directive, companies in the EU will be required to provide employees with a safe and secure way to report workplace misconduct without fear of retaliation from their employer. This directive will be passed into national law on December 17, 2021, for companies with more than 249 employees. Companies with 50-249 employees will be bound by the legislation as of December 17, 2023.
While following the EU Whistleblowing Directive will eventually be a requirement for all EU-based companies of over 50 employees, this legislation has also prompted meaningful discourse for companies worldwide. Whether or not they are required to by law, companies should be establishing open lines of communication and empowering their people to voice their concerns. As many employees may hesitate to come forward directly for fear of future retribution, companies need to provide an anonymous reporting tool that protects the employee and enables them to speak up in a safe and secure environment.
bob's Your Voice supports cultural safety in the workplace
Here at HiBob, we are passionate about putting employee experience first and recognize the importance of providing employees with a safe space to speak up and be heard. With this in mind, we created Your Voice.
Your Voice was designed as a whistleblower toolkit to empower all employees—not only when enforced by law—to report any workplace concerns or misconduct safely and anonymously.
Your Voice is conveniently located at the bottom of the Bob homepage and is easy to access and use on web and mobile. Employees wishing to discuss any work-related questions or concerns anonymously can do so by clicking on the link.

Employees can feel free to share any concerns they have in Your Voice with full assurance that their message and identity will be kept anonymous. When finished, employees should press "Next."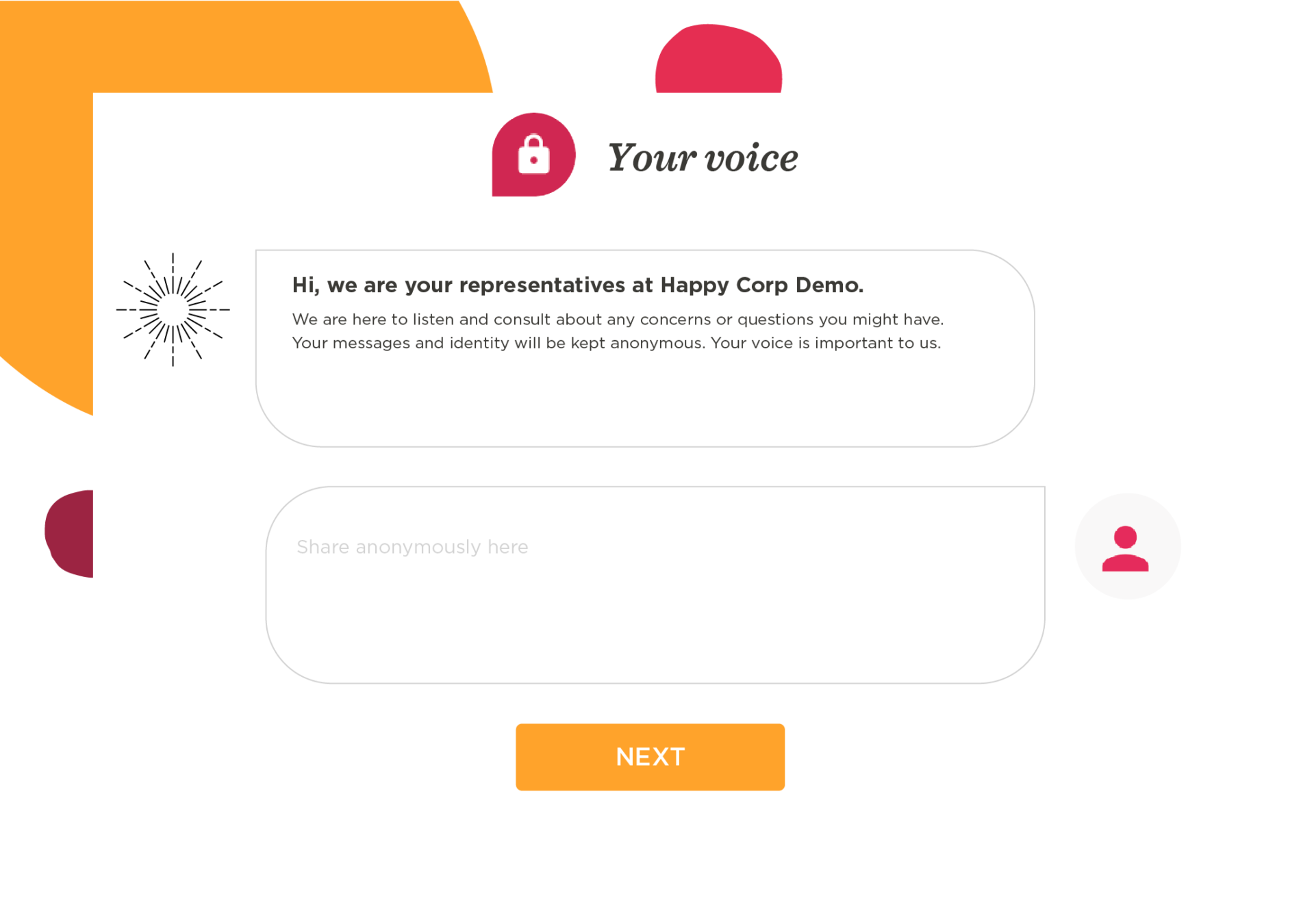 The next screen asks the employee to choose a category for their message/concern to route it to the correct case representative. Categories include bullying, corruption, discrimination, and wellbeing and mental health. There is also the "other" option for cases that don't fit the dropdown list. Employees then need to select a case representative if known and provide a personal email address for correspondence about the case.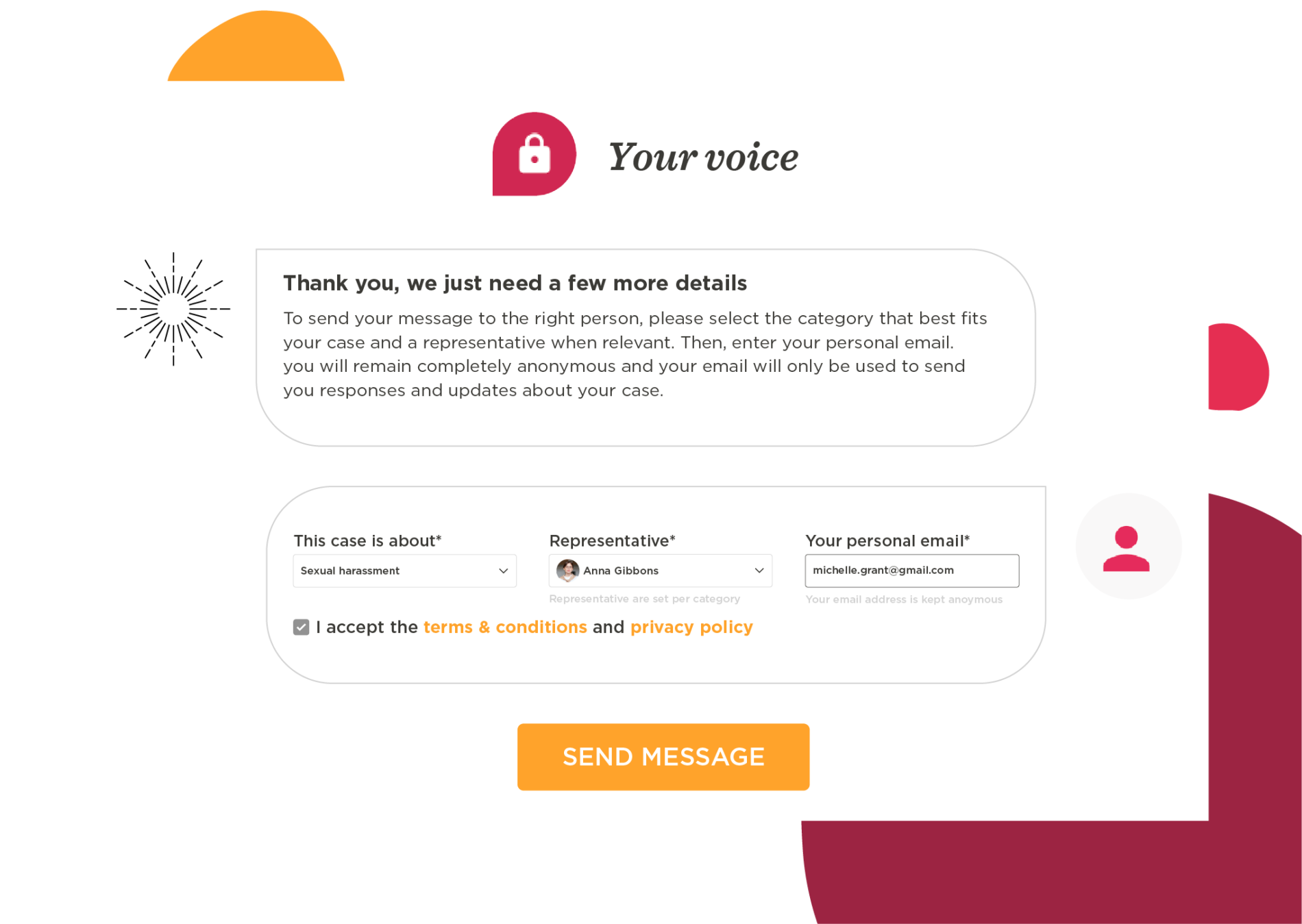 All email addresses provided by employees are hidden, and all details about their cases are encrypted to ensure total privacy and anonymity. Personal email addresses, rather than business emails, are preferred to keep users' identities completely anonymous and prevent any risk of company employees accessing the data. (Email is used only for alerting employees that there is a reply waiting for them within the Your Voice platform.) To ensure the highest levels of security and safety, Your Voice is password-protected and only accessible by the company's designated representatives.
After accepting the terms and conditions and privacy policy, the employee clicks "Send Message" to submit their message and start the process. The employee will then receive a verification email, and once verified, they will receive a copy of their message and a case ID. The company representative will reply to the employee directly within Your Voice, and if the employee chooses, they can continue the conversation within the platform. The case representative will not know the complainant's identity throughout the process unless they choose to disclose it.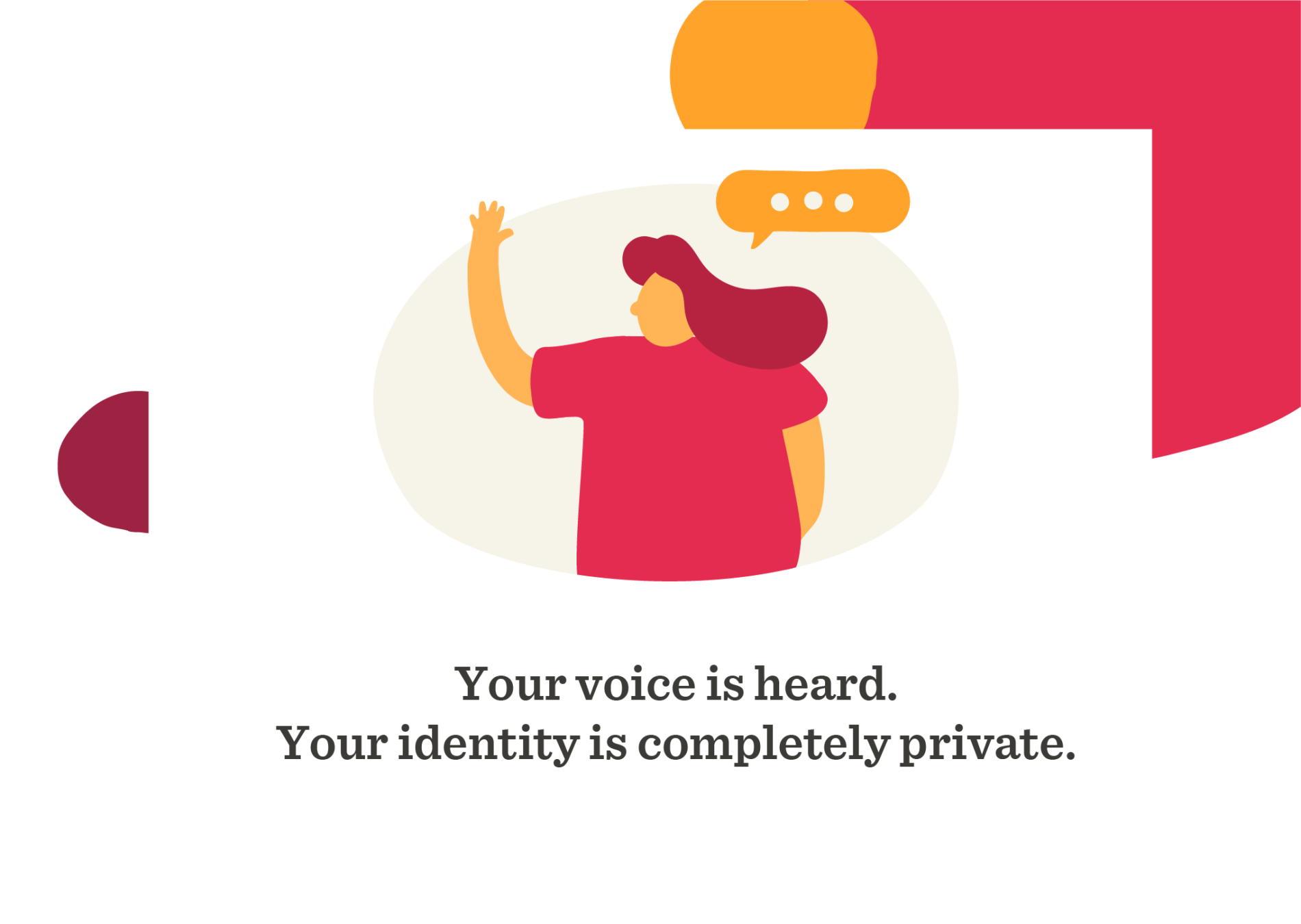 Your Voice gives employees a voice to speak up and air their concerns. In serious cases of company or employee misconduct, such as accusations of sexual harassment, fraud, or corruption, it can help relevant stakeholders investigate and take action at an early stage.
Recommended For Further Reading
Empower your people to speak up
Your employees are the backbone of your company and instrumental to its success. Companies that provide a safe, inviting, and anonymous platform such as Your Voice, that encourages speaking up and voicing concerns anonymously and without fear of retribution, show that they care about their employees and will take action should there be any case of company misconduct.
Whether or not your company is legally required to provide an anonymous reporting tool, its implementation will help create an inclusive company culture built on trust. It will also help avoid high employee turnover rates and maintain a happy, satisfied, and productive workforce.
---