May is Mental Health Awareness Month, a time to raise awareness about mental and behavioral health issues and reduce the stigma surrounding the subject. Mental health is all-encompassing and affects how we think, feel, handle stress, relate to others, and make choices.
The pandemic has placed extra attention on employee mental health. The heightened feelings of anxiety and depression among the workforce have forced companies to address the inadequacies in their approach to employee wellbeing.
At HiBob, we conducted a global survey to understand the impact of the pandemic on employee mental health and productivity. Forty-nine percent surveyed said their mental health over the past year significantly affected their productivity.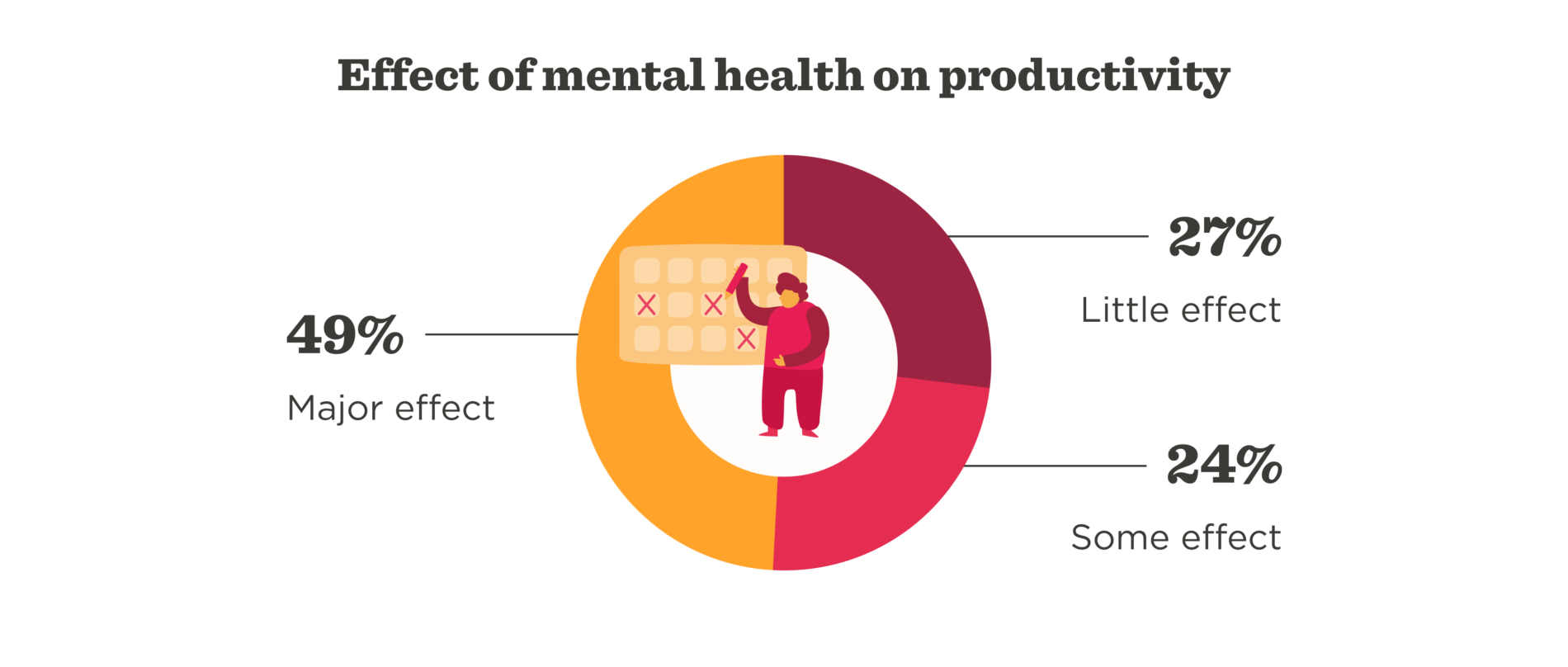 Even before the pandemic, in 2019, the World Health Organization labeled employee burnout a medical condition. As the number of people struggling with mental health continues to increase, employers and HR need to be proactive in their approach to helping people cope. Here are some best practices HR can consider to move the needle on mental health.
1. Talk about mental health
The stigma around mental health makes it a difficult subject to bring up. Most people who suffer from anxiety or depression have years of experience faking wellness, especially at the office. People felt they had to leave their personal lives at home for so long. If someone feels emotional at work, the impulse is not to let anyone know. But this behavior can make a stressful situation worse.
The only way to reduce the stigma around mental health is to talk about it openly, honestly, and often. An open work environment and understanding can make all the difference in empowering people to ask for help. How can HR have an impact here? It starts with a top-down approach.
When people see directors and executives speaking openly about mental health—their struggles, treatment, what's worked, and what hasn't—it helps everyone else feel secure in reaching out for help.
Asking a C-level or director to introduce sessions on mental-health education by speaking about their own experiences dealing with stress and burnout can make a huge impact. This will make other people feel comfortable about sharing without the fear of being misunderstood or worse–fired. It will also give people dealing with mental health a role model within the company.
2. Find ways to promote employee wellbeing
If your company offers flexible working conditions, keep it up! Our own global survey showed that flexibility is a key driver in employee satisfaction and that the flexibility remote work offers has led to a better work-life balance.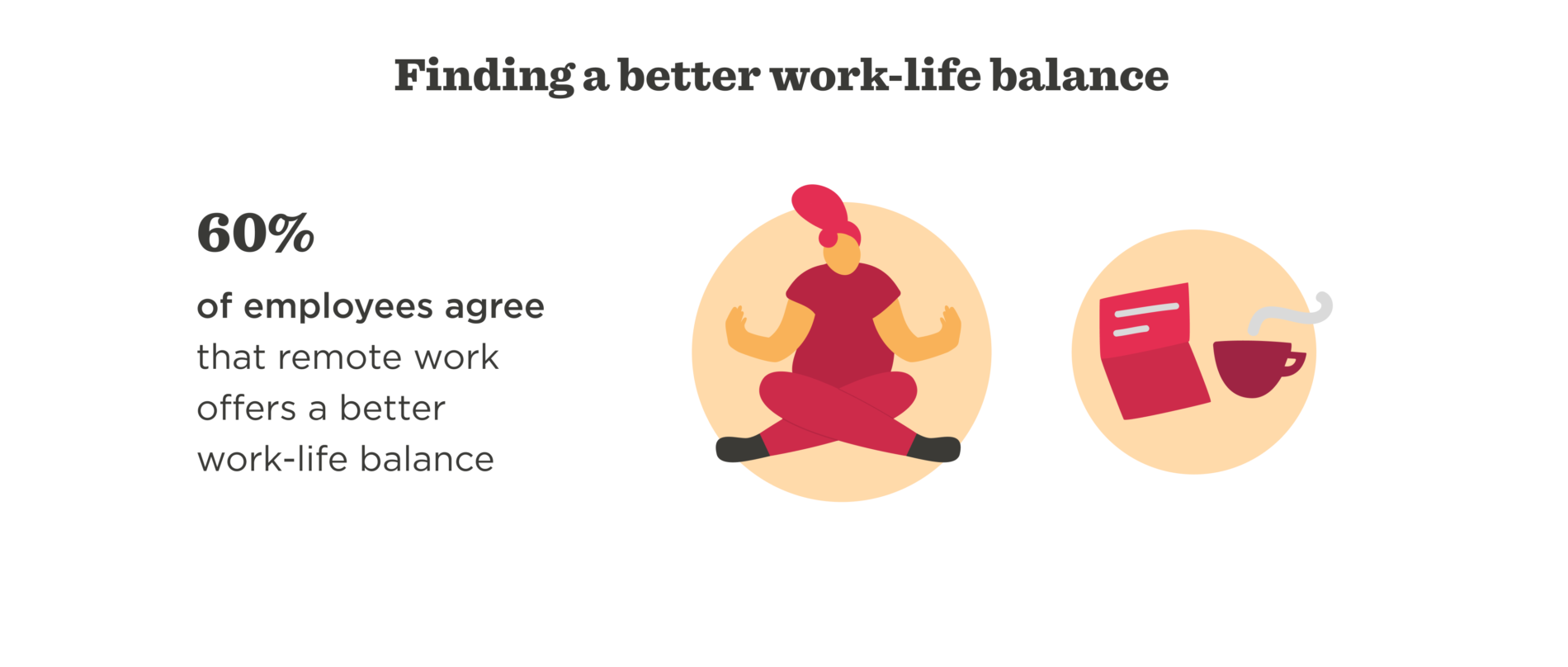 Promoting flexible work schedules and giving people the freedom to work the way they want can reduce stress and burnout.
HR can also use May as a jumping-off point to double down on company initiatives to promote employee wellbeing. At HiBob, we created a 31-day mental health challenge calendar for our Bobbers as a small but important reminder that taking care of our mental health requires daily effort.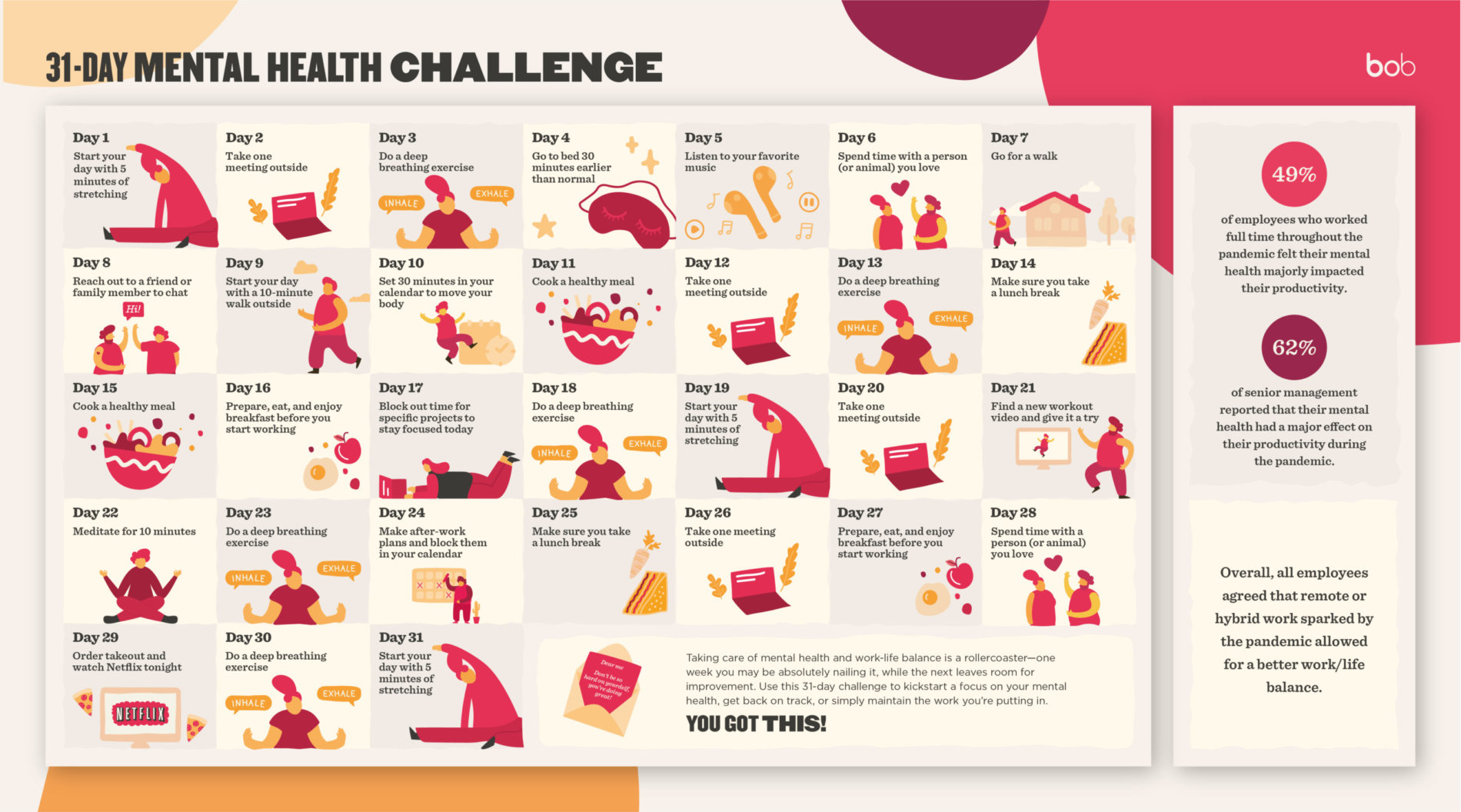 The calendar is filled with best practices for avoiding stress and burnout. When the lines between home and work get blurred, it can be difficult to disconnect and step away—not great for mental health. Encourage your people to practice self-care however they see fit, whether that's taking meetings outside, scheduling break times throughout the day, or blocking out 30 minutes every day to meditate and stretch.
These small daily habits, when added up, can lead to happier and healthier people. Download the calendar PDF to print out and hang at your desk. Or, save our digital version as your computer background.
3. Create employee resource groups (ERGs) dedicated to mental health
Talking about mental health in the workplace with co-workers who have shared experiences can help people understand the triggers that heighten anxiety and stress and learn healthy coping strategies. ERGs are an excellent way for people to find each other and create support networks at work.
HR doesn't have to lead the initiative, but it should provide resources and backing from leadership and let employees handle the rest. ERGs are an easy way to increase awareness and offer peer support. They also help send the message that it's okay to talk about their mental health at work. And you can set one up right now.
4. Make it easier for employees to get treatment
In the US, most people receive their health insurance through their employer. Does the insurance your company offers employees cover mental health? The sad reality is that, for most people, a therapy session is five times more likely to be out of network and more expensive than a visit with a primary care physician.
What if companies started viewing mental health benefits as equal to physical health benefits? Speak to your health-benefits administrators to understand how your company can provide people with access to a broader range of behavioral and mental health providers.
If your company can't offer an insurance plan that covers therapy treatments, there are other options. The tech sphere around mental health is booming, and companies can harness these digital tools to provide at least some mental healthcare to their employees.
Talkspace, BetterHelp, and Ginger make speaking to a therapist more affordable, which employers can provide as a benefit, free of charge. Meditation and sleep-aid apps, like Headspace and Calm, are also popular apps that can help people develop healthy habits and remind them to take a break. Another option is hiring a mental health counselor who can help people deal with stress and anxiety and provide real-time, anonymous support.
Recommended For Further Reading
5. Train managers in proactive and preventive measures
People need to feel comfortable sharing their struggles in their work environment. Ultimately, managers can offer the best support and acceptance to team members coping with their mental health.
In our global survey, of those whose mental health was majorly affected by the pandemic, over 70 percent said managers were supportive and took an active role in caring for their mental health.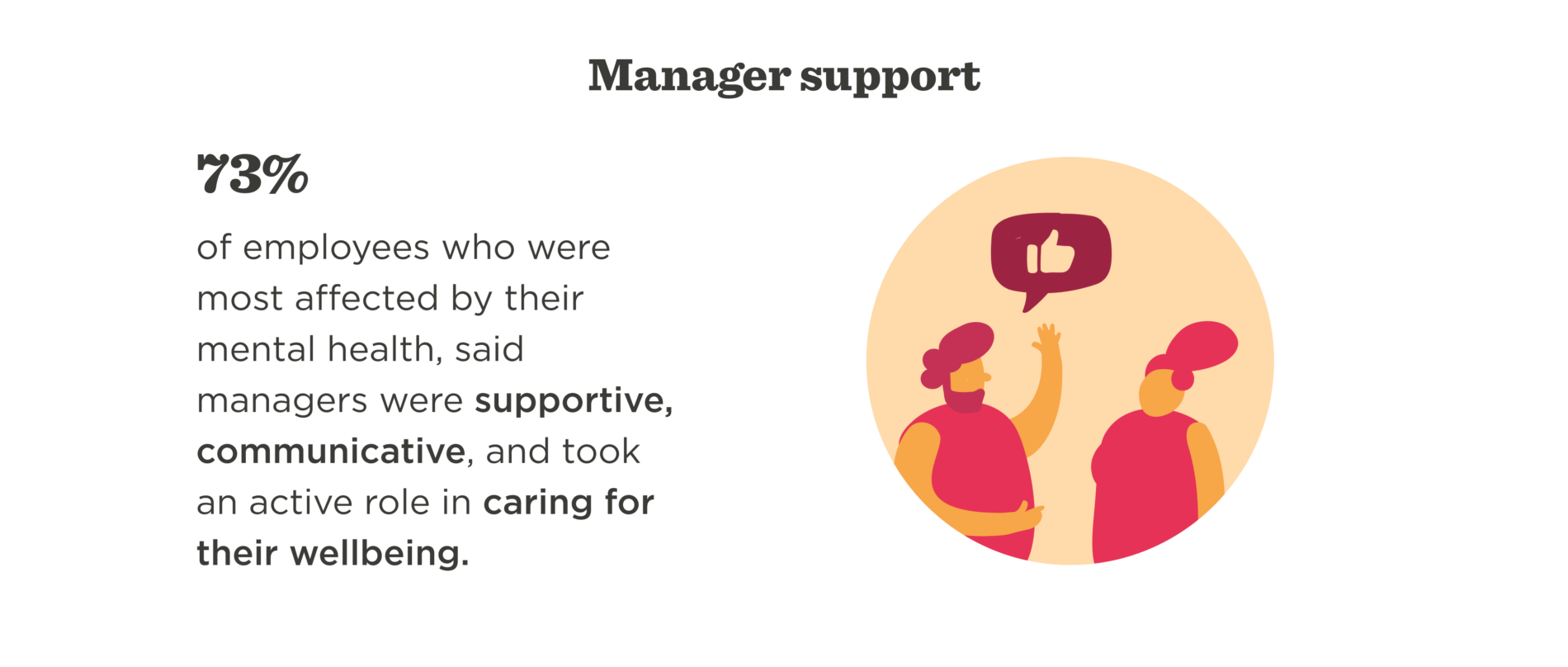 Manager support can be the difference between someone quitting and having a successful career. HR leaders need to invest in their managers and provide them with the tools and training to ask better questions, spot signs of stress and burnout, and lead with empathy.
People should feel confident to approach their managers and ask for help, and managers need to know how to react to team members who ask for help. Make sure managers are setting time to speak to their people to check in on how they're feeling, not just how their tasks are progressing.
HR's role in caring for employee mental health
You can always do more to care for your people's wellbeing and mental health. When we stop seeing mental health as a weakness and start talking about it more, we can make real change. Think about your own experiences with stress or burnout or anxiety and how lonely it feels when there's no one around who can relate.
The truth is that there are so many people out there who can relate, if only it were okay to speak up. As an HR leader, think about one thing you can do today that will make a difference to the mental health of your people and do it.
---