The role of HR professionals has completely transformed in the last five years. Their responsibilities range from the administrative functions HR has traditionally been associated with to being critical stakeholders in the success of the business. It's a well-deserved and welcome change, but the pressure can be overwhelming, especially if HR processes continue to rely on manual execution. One key driver of HR success in the modern world of work is bringing on HR tech and automation.
Today's best HR strategy leans on people tech to take the focus off the paperwork and put the emphasis on improving culture, employee engagement and retention, and the business's bottom line. But what tech can you use to support your business's HR functions and free up the time you need to put your energy into your people? What are your colleagues at companies of various sizes using?
HiBob recently partnered with CIPD to find out, and our research revealed some interesting trends and practices.
<<Download the CIPD-HiBob report on how HR pros leverage HR tech and people data>>
This article dives into what technologies HR pros are using and (even more importantly) how they're using them to collect people data, improve processes, lower workforce stress, enhance business performance, and cut costs every day.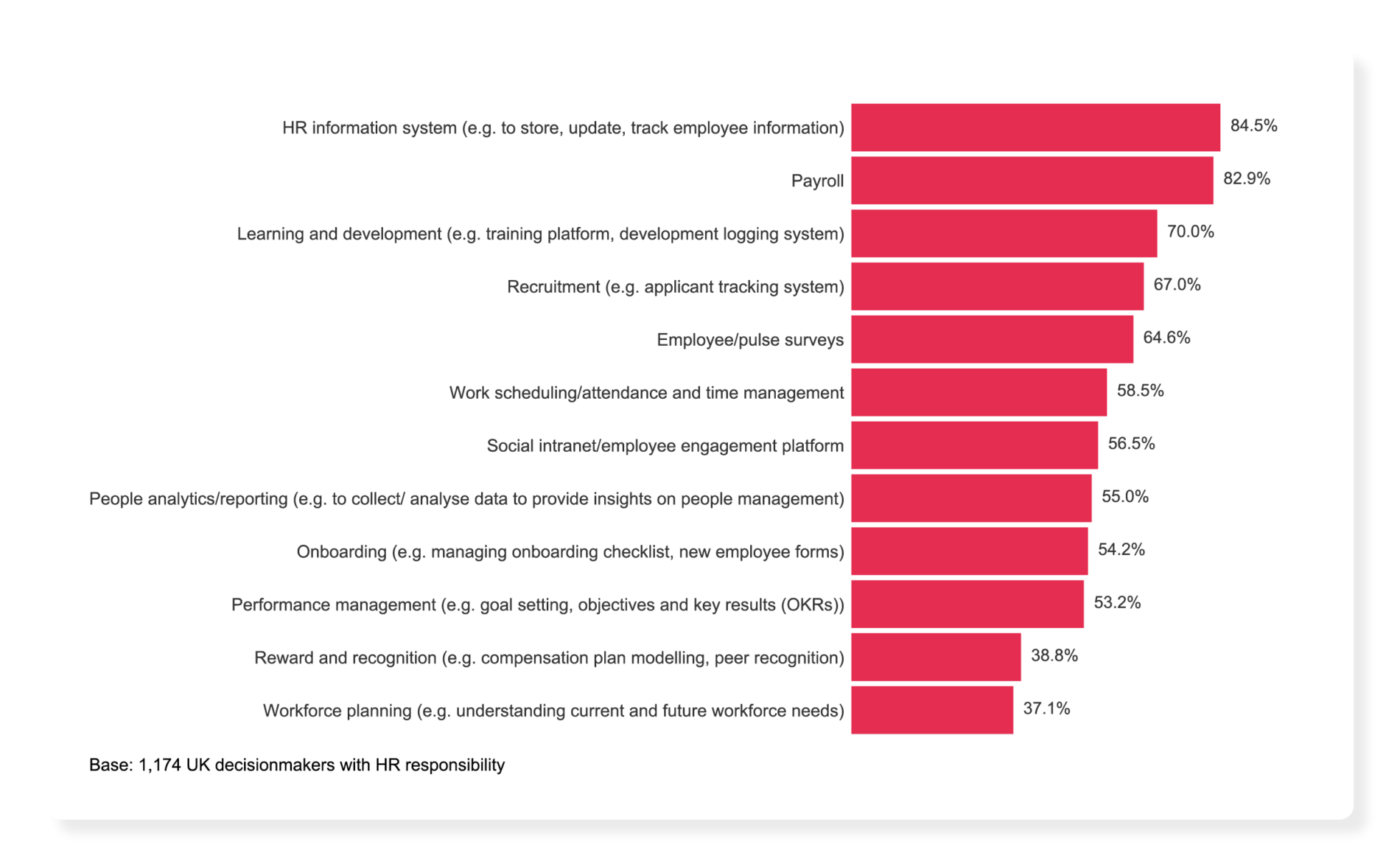 Let's take a look at the tech HR pros at global companies use to make their lives easier every day.
The HR software global companies are using
The CIPD-HiBob research showed that more than 84 percent of HR professionals use an HRIS/HCM, and almost 83 percent use payroll software. And, the bigger and more global the company, the more likely they are to work with HR tech.
It's clear the top priority for companies today is people, and the tech they use helps support specific HR functions like recruitment, DE&I compensation, and employee engagement. One good example of this is modern organizations' investment in reward and recognition software to help improve company culture, compensation plan modeling, and peer recognition.
Most of all, they're leaning heavily into learning and development (L&D) software, recruitment tech, and employee pulse surveys. In fact, after payroll and HRIS/HCM platforms, our research found that global HR professionals (70 percent) use L&D tech more than any other, underlining the importance of investing in your people.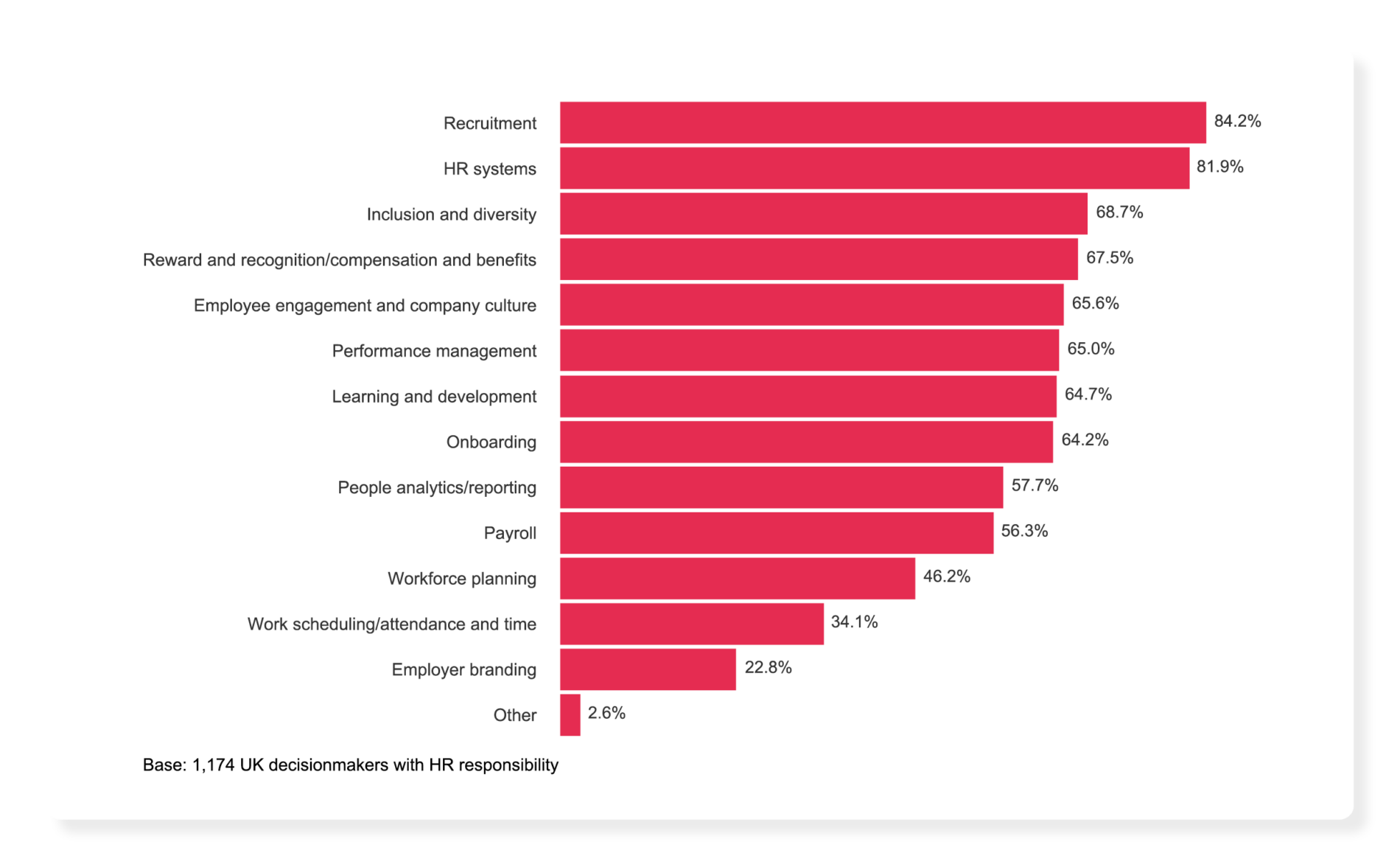 Global companies are also bringing people analytics tools on board to make HR processes and gathering people data and insights easier, from performance management and compensation to workforce planning tech. They're also starting to tap into time and attendance software. For global companies, time and attendance tech can make or break compliance with local laws and regulations, which is essential to successfully expanding the business.
HR analytics companies rely on
So, now we know what kinds of tech people people use to help them streamline HR processes and get the critical insights they need to build and maintain a winning strategy. Next, we're going to get into the HR metrics that matter most, the data they're collecting, and how that helps the business excel.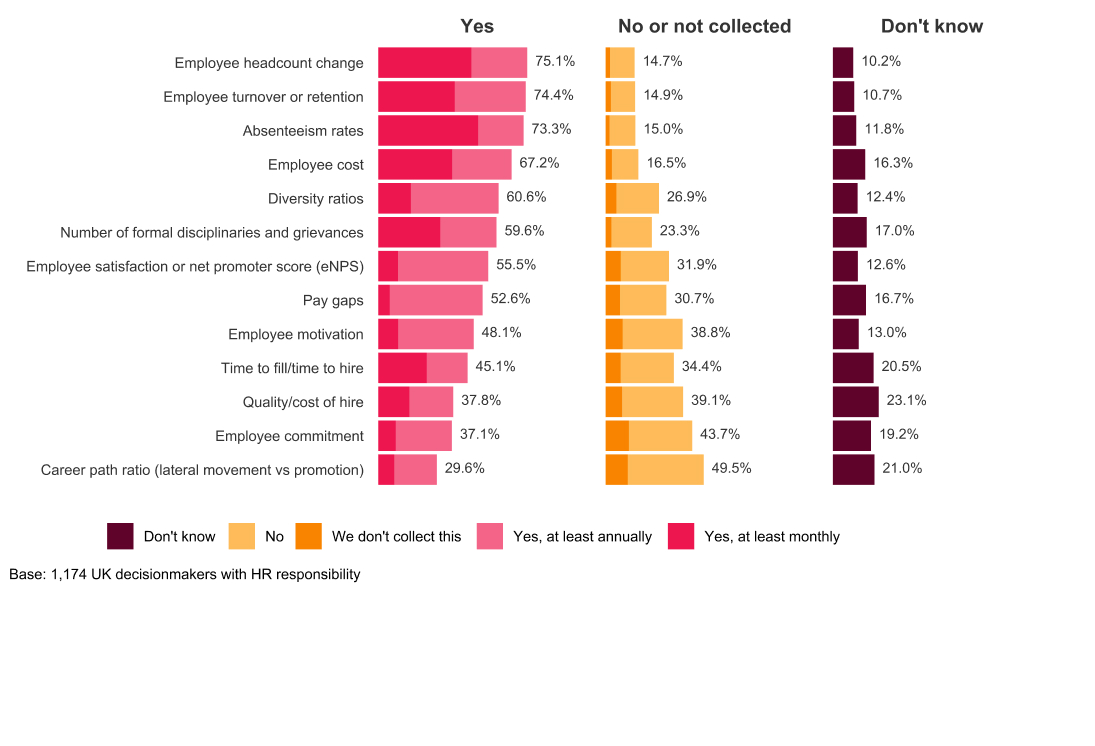 Absenteeism rates
Absenteeism is a normal part of any workplace. But when people start taking off without warning, or one-off sick days on a regular basis, it could be a red flag that something is wrong (e.g., the person is experiencing burnout, they're disengaging, etc.).
Keeping track of absentee rates can provide your organisation with critical insight into how your people are doing or if there are things you can do to improve company culture. This metric can also give you insight into whether the company should address certain individuals' behaviors more seriously and if there is a correlation between rising absenteeism levels and turnover rates, which can cost the business and cut into cash flow.
Employee turnover and retention
Employee turnover and retention rates are two of the most crucial HR metrics a company can measure. Your company's employee turnover rate can tell you how fast people are leaving the organisation. Retention rates can tell you how good you are at keeping your talent in-house.
Both metrics indicate the quality of the employee experience you're giving your people. If turnover rates are high, you may want to consider how to nurture a healthier company culture to boost retention and save costs on recruiting.
Headcount changes
The headcount metric gives you invaluable insight into the number of people you employ and information on employee type (e.g., full-time, part-time, contract, temp, etc.). This enables you to craft short- and long-term staffing plans more easily.
Tracking employee headcount changes can help save money, improve workforce planning, and support organisational efficiency and productivity. It can also help you predict upcoming workforce needs and stay future-ready.
Career path ratio
The career path ratio helps HR teams track how many promotions and lateral moves people receive across the company. It gives you critical insight into how well you're providing your people with growth opportunities.
When people feel "stuck" in their careers, they might get bored and seek new challenges at another company. When a company experiences a drop in retention, looking at the career path ratio is a good place to start when you begin to consider adjusting your strategy.
Cost or quality-of-hire
Most of the metrics mentioned here are related to retaining your talent and saving costs on recruitment. But recruitment is always necessary. How well you're doing at recruiting the best talent can be measured by the cost or quality of the people you hire. Many HR pros consider this metric the "holy grail" of people metrics.
The quality of your workforce depends on the people you hire and if they accelerate and thrive in their roles. Ultimately, the higher the quality of your hires, the higher the ROI they bring the business.
HR tech empowers HR leaders
As HR's responsibilities grow and businesses expand globally, and as the fast pace of change only gets faster, everything from the mounds of Excel spreadsheets to the HR strategy you're building is getting more complicated. HR tech makes it easier to collect data, garner insights, automate workflows, and lift some of the burden off HR professionals' shoulders.
Modern HR tech delivers accurate employee data—like performance, compensation, salary bands, DE&I, and payroll info—in easily digestible formats. The best people tech also promises top-tier automation of tasks from employee info updates (like marital status and phone number) to complex recruitment, onboarding, and offboarding workflows. It also helps simplify performance management, learning and development tracking, and employee engagement and recognition programs.
The advantages of HR automation and analytics are here to help global people teams garner insights from their data and keep processes simple in an every-complexifying world of work. It starts with optimizing HR functions across the business and ends with results: improving employee happiness and engagement, cutting costs and time, and boosting the bottom line. 
<<Read the CIPD-HiBob report on how HR pros leverage HR tech and people data>>
---