Brushing-up on onboarding in the modern workplace is always a good idea. Why is understanding onboarding important? Because as confirmed by a recent Gallup poll, 88% of employees don't believe their organizations onboard well, demonstrating a fundamental issue: do people even know what onboarding is? How companies define onboarding is the first step to getting it right. So, what is onboarding? As we will demonstrate, the meaning of onboarding goes way beyond simple orientation practices and is designed to foster a welcoming community for new hires, while preparing them to become productive and independent workers. That's the true meaning of onboarding.

Most importantly, onboarding has become an integral part of retaining talent; Glassdoor reports that a positive onboarding experience can increase the retention of new talent by 82%! As the quitting economy gains popularity and the costs of losing employees remain expensive, it is essential that modern businesses are equipped with effective onboarding programs that maximize their chances to keep top talent.

What is onboarding?
Onboarding and orientation, while similar, are not synonymous. Orientation is comprised of monotonous paperwork and mundane tasks within the first few days of an employee's experience. In contrast, onboarding consists of a comprehensive process that should last for months. To design an effective staff onboarding process, managers must have a clear understanding of its definition. According to HRZone define onboarding as "the process by which new hires are emotionally, physically, and professionally integrated into the established culture and operations of their new employer."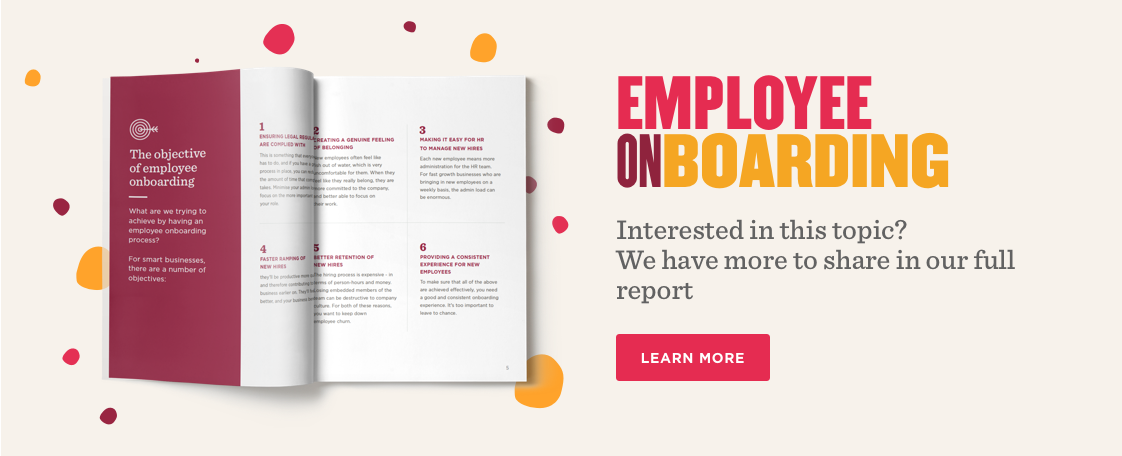 There is no one prescribed onboarding path or strategy, as different companies have inherently different goals for their new hires. Nonetheless, there are certain objectives every organization hopes their new hires glean from the onboarding process, namely organizational integration and professional development. Once managers have specified their goals for the onboarding process, HR managers can design a comprehensive plan for the new employee.

What is the onboarding process? What are the steps that make it successful?
A successful staff onboarding begins prior to the new hire's arrival on their first day. In order to focus on completing the program's objectives, all paperwork should be handled remotely and they should be welcomed with a desk and equipment already prepared for them. Once the employee arrives, ensure he or she understands her responsibilities and objectives for the company, while also introducing them to their new coworkers. Once a new hire is introduced to their work and the company culture, verify their training is effective and pertinent to their job responsibilities.

While the new employee acclimates to the organization and is progressing through the onboarding process, HR managers should schedule regular check-ins to discuss how they are enjoying the company and their work. Communication is the key here: with the ultimate goal of retaining talented workers, listening to their feedback is essential. As time progresses, it's vital to maintain regular check-ins and updates. As the one-year mark approaches, the onboarding process comes to a close, yet the objective of engaging employees and listening to feedback never ends.

So… is onboarding that important?
The answer is yes: successful onboarding is important for augmenting employee engagement, productivity, and retention. As we found in our workplace survey, 64% of employees are less likely to stay at a new job after having a negative onboarding experience. In order to produce for your company, a worker must be content and comfortable within your organization, have a thorough understanding of the workplace culture, and have a high level of engagement with their coworkers and their work.

If you're still asking yourself why onboarding is important, let's turn to statistics. According to the Society For Human Resources Management, "organizations with a standard onboarding process experience 50% greater new-hire productivity." Even more interestingly, when employees rated their onboarding process as highly effective, they were 18 times more likely to feel highly committed to their employer. Both productivity and commitment are two important drivers of retention and there is a clear correlation between successful onboarding and increased measures of these two metrics.

Employers often struggle to define onboarding and label it as an unnecessary and ineffective bureaucratic process. Studies have shown, however, that most employers are misguided, illustrating the tremendous impact a successful onboarding process can have in terms of retaining talent and fostering high levels of productivity and engagement. After investing heavily in the recruitment processes, it is only logical to nurture your investment with hopes it eventually provides a solid ROI. While not the flashiest and most exciting process, onboarding is undoubtedly fundamental to the long-term health and success of your organization.

---