We love Slack at bob. We really really really love Slack.
Working between offices in London and Tel-Aviv, plus having team-members out on the road with clients, means that Slack is one of our essential communication tools to help the bob team stay in touch with each other.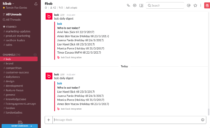 What's Slack?
If you don't know what Slack is, it's an easy to use messaging platform for teams and groups to communicate. There's a desktop version and a mobile app (we use both). You can start with the free version and stay on that forever if you like, however the paid version has advantages (like a bigger archive).
How bob works with Slack
When you connect Slack to your bob account, you can send updates that occur in bob to one or more Slack channels.
These are the updates you can send to Slack:
Work anniversaries
Employee birthdays
Who is out today
Employees created in bob
Employees activated in bob
Employees joining today
Employees leaving today
Employees left
…okay, so how would I use that?
Let's say you have two people joining the company today and one person leaving.
If connect bob to Slack, you can:
Send a reminder of new joiners to your general Slack channel so all employees know who the new face in the office belongs to;
Have your management team's channel notified of the new joiners, so that they can welcome the new arrivals;
Have the facilities and reception team's channel reminded of joiners AND leavers so that they cancel building access for the people leaving and welcome the new people by name when they arrive; and
Remind everyone on the HR & payroll channels, so that salaries can be stopped/started at the right time.
And that's just for joiners and leavers. Think about birthdays and anniversaries too! If someone has been with the company for 10 years the CEO probably wants to know – and so do the management team.
How to connect Slack to bob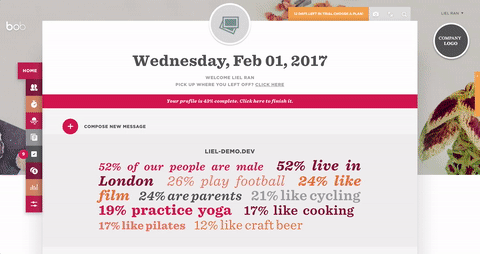 Go to 'Settings', and choose 'Integrations' from the top menu
Choose the 'Slack' option (please note: you will need to be an administrator on the Slack account)
Choose the information you would like to send to Slack                                                                                                                                                                                                     
Press ADD TO SLACK
Select the channel you wish to receive the daily notifications                                                                                                                                     
Now you are all set up! Your integration will now appear under EXISTING INTEGRATIONS.                                                                                                                                                                                                                                                                                                                                                                            If you wish to disable the integration at any point, come back here and select 'Remove from Slack'
That's it! You're all done.
---