Working smarter, not harder, is a way of life for many successful companies. Finding ways to optimize processes, streamline workflows, and free up employee time allows companies to take their growth to the next level. Yet, there are HR processes being done manually that can easily be automated to save time and money.
Recent research by Deloitte and Paylocity found that time management, particularly, is an area where automation could be a huge cost-saver for employers—to the tune of $54,709 annually.
Time management tasks include:
Clocking in and out
Correcting errors on timesheets
Submitting and approving PTO requests
Calculating PTO balances
Tracking leave
Simply automating timecard entry can net companies $14,000 annually. Imagine how much a company can save if timecard entry is also streamlined, allowing employees to clock in and out and managers to approve requests from a platform they're already using.
Bob wants to meet where you work
We love using Slack for the same reasons everyone loves using Slack—to chat, share information, stay up to date, and participate in life at work (our favorite HiBob channels are #cute_pets, #ask_a_neighbor, and #HR_ticles). As a people management platform, we understand the need to leverage technology to improve the employee experience and make our work lives easier. We think about how to automate as much as possible while focusing on the personal—designing our product to help HR spend less time on admin tasks or navigating complex software and more time building amazing experiences.
That's why we love Bob's integration with Slack. We want to meet employees where they work, so they can enjoy all of the Bob features without logging on to a different platform or even a separate tab. Admin tasks like filling out timesheets or approving PTO are so easy that HR never has to send another nudge email again. And when you celebrate your employees—for the enthusiasm, passion, and innovation that they bring to the job—everyone will be able to see it on Slack and react and join in the praise.
How Bob works with Slack:
1. Clock in and out with the click of a button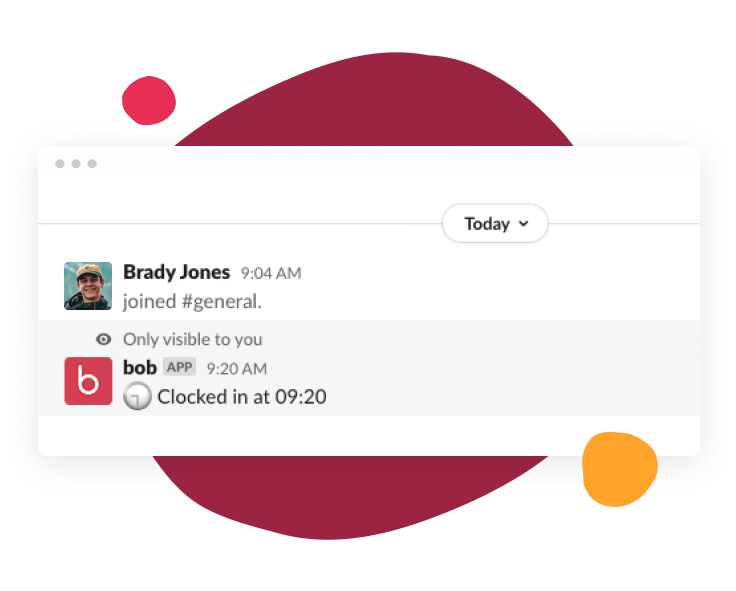 The Slack integration lets employees take care of time-management tasks like clocking in and requesting time off. Slack is probably the first app that your employees sign on to at the start of their workday. As soon as your employees log on to Slack they can clock in and get on with their day. When your employees log off for the day, they can clock out just as easily. Getting into the habit of clocking in and out every day will help your employees track their hours so they know if they're working overtime and if they need to take a step back and rediscover that work-life balance. 
2. Save time while approving time-off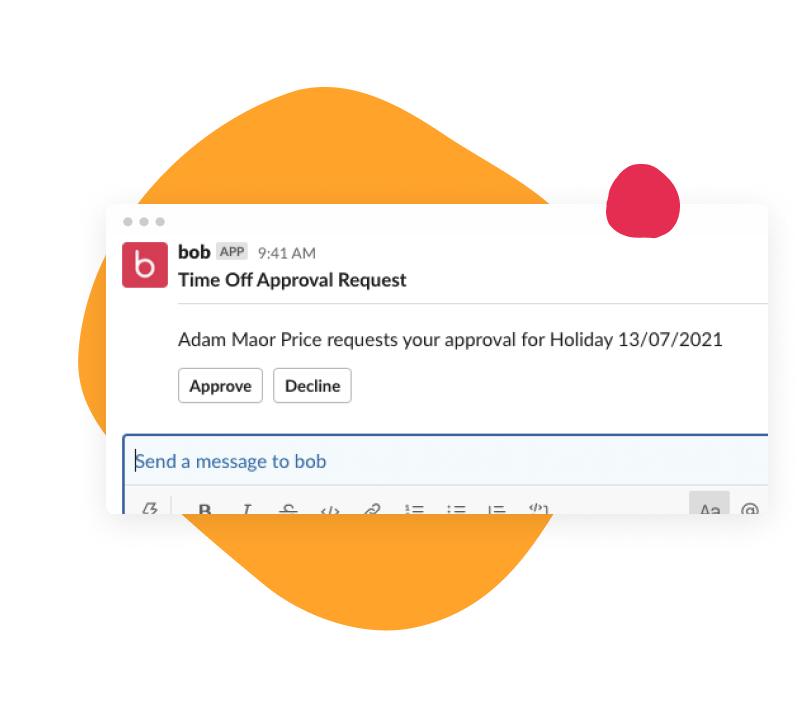 Managers can get bogged down with a lot of admin tasks like approvals of timesheets and vacation days, which takes away from the deep focus required to do their job. So, instead of having to go into another tool, managers can approve PTO requests directly on Slack. This might seem like a simple fix but it will save your managers tons of time because they're not getting taken out of their tasks or communications to approve requests. Now that's efficient.
3. Get the best of Bob in your workflow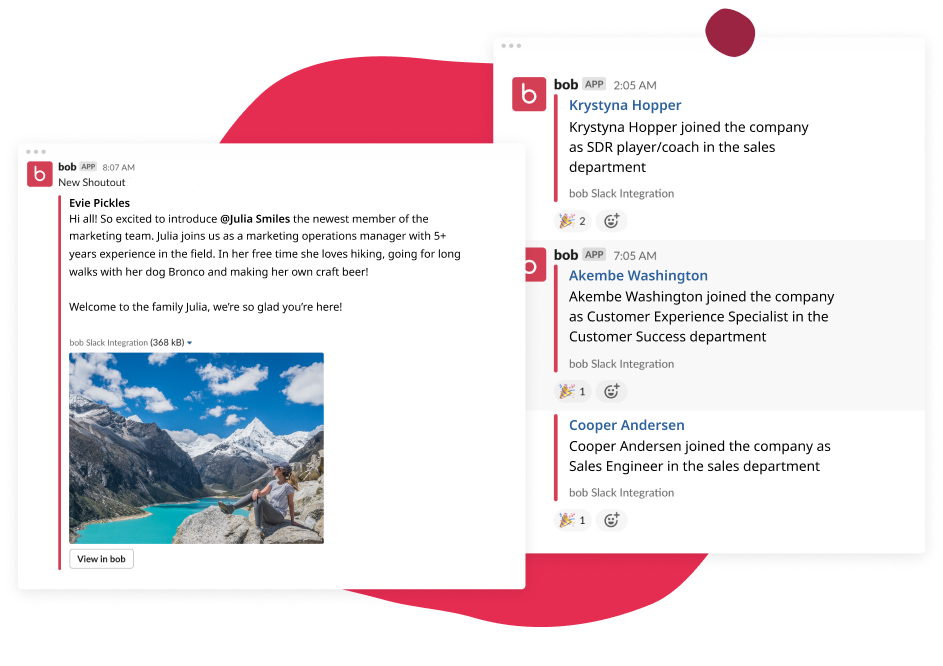 Connecting to Slack brings Bob's newsfeed to where your employees are already hanging out. Keep everyone in the loop as you welcome new joiners, send company updates, and celebrate your people with shoutouts and kudos. When your sales team is crushing their goals, and you want to recognize their dedication, you can post to Bob, and the Kudos will appear on a dedicated slack channel where everyone can see what's happening. Your employees can engage with the posts, comment, like, and share, so they'll always be in on the action.
Recommended For Further Reading
4. See who's out and who's in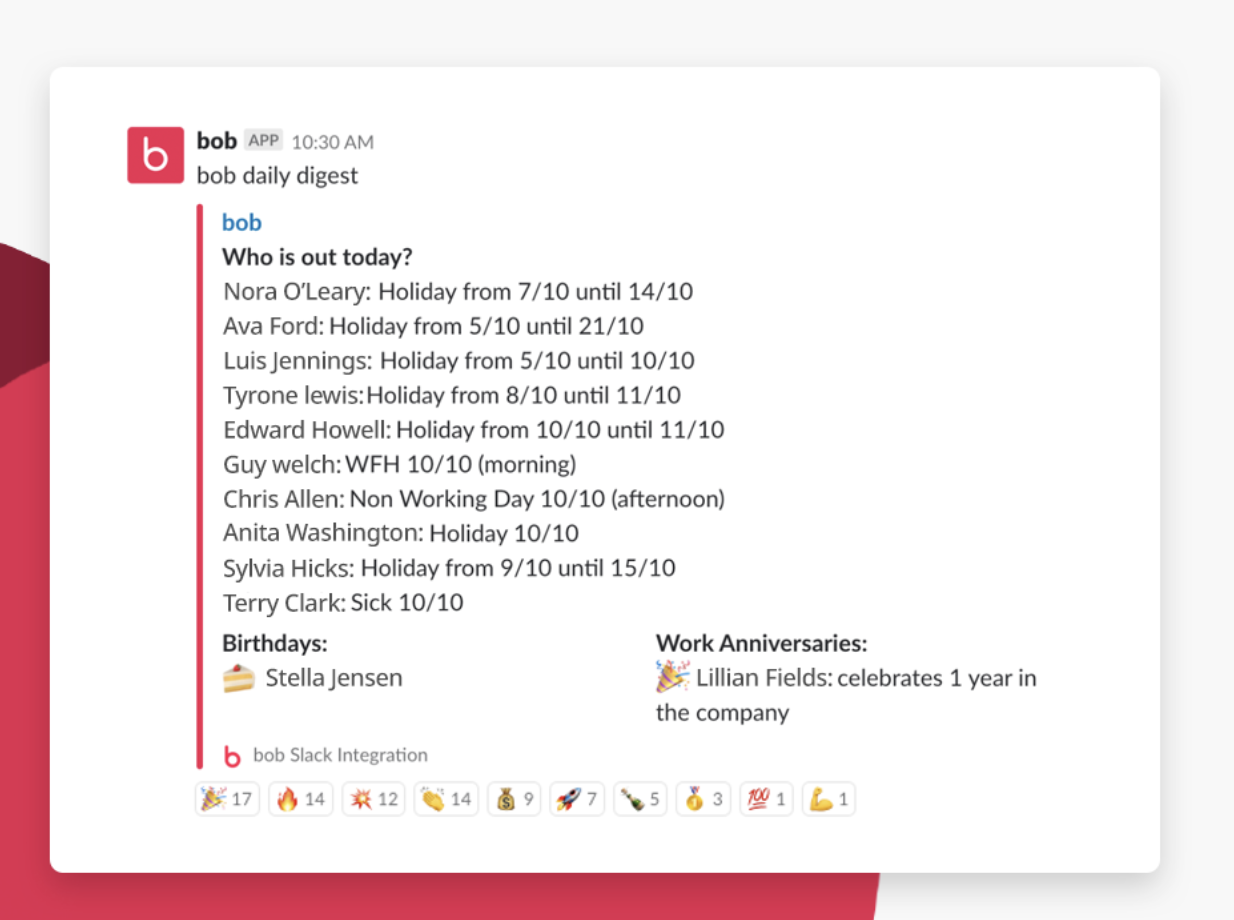 Want to know who's out sick today, who's working from the office, or who's on vacation? Now you don't have to log in to the Bob app to find out. Say you're working cross-functionally with a designer from marketing and an account manager from sales, and neither of them are answering your Slack messages, you can see right away that Susie is out sick today, but Dave is clearly ignoring you. Not cool, Dave! You can also ask Slack questions with "/bob" commands, like "/Bob when will @Susie be back at work?"
Why did we integrate Bob and Slack?
Streamlining employee workflows helps your people focus more on their job without getting bogged down with admin tasks like clocking in or requesting time off. More importantly, we want everyone who uses the Bob platform to enjoy all of the features without having to interrupt their natural flow of work. With Bob and Slack working together, your employees will never miss a beat.
For step-by-step instructions on how to connect Bob to Slack, click here.
---