Running payroll is a complex process including many components that change from one payroll cycle to the next. Common changes include adding new hires, removing terminated employees, and incorporating salary changes. Changes in address, marital status, and number of dependents, are also relevant to payroll as they impact an employee's tax bracket and ultimately take-home pay.
With all of these continuous updates, payroll has become a very time-consuming endeavor. Fortunately, there are many payroll systems on the market that help companies manage the entire payroll process and ensure that each employee receives their correct salary at the right time.
Running payroll with payroll software
Many companies run payroll in-house using payroll software that calculates salaries according to days or hours worked, tax bracket, and deductions while keeping track of days off. These payroll systems are usually region-specific, servicing the laws and regulations of a particular area of the world, though some also offer global solutions.
Some payroll solutions also include additional HR capabilities, such as a time and attendance system and basic talent management. While these can provide a good solution for small companies, they shouldn't be confused with or replace full-suite HRIS platforms that help HR streamline and automate their daily tasks, build company culture, and provide a centralized source of employee data.
If you are a modern mid-sized company, you are likely using both an HRIS for managing your people and processes and a payroll system for managing payroll.
This is great—but these two systems should not work in silos. Your HRIS is your single source of truth and contains all the information you need to run payroll efficiently, save time, and reduce the risk of error. Integrating your HRIS with your payroll system will supply payroll with all the data it needs to be accurate and up-to-date.
Here are four reasons why your HRIS should integrate with your payroll system:
1. Don't waste time entering the same data twice
Your HRIS contains your most updated employee data, including personal data, salaries, benefits, and rewards. If your HRIS integrates with your payroll system, you only need to enter data into your HRIS once. Companies can also offer their employees access to their personal data and encourage them to self-serve and independently make updates such as changing their address, entering new bank details, changing their marital status, or updating their number of children. Having employees update their data themselves helps to ensure accuracy. This data and any other updates are then seamlessly transferred from your HRIS to the payroll system. A big time-saver, which also helps avoid duplication and mistakes.
2. It's easy to add new employees and remove those that have left
Adding new employees to payroll is easy when your HRIS has a payroll integration. Any new employees added to your HRIS during the pay cycle are automatically added to your payroll system, including all relevant data such as their start date, department, marital status and dependents, salary, and bank details. Similarly, once an employee leaves your company, they will be removed as an active employee from your HRIS and deleted from payroll once they have received their last paycheck.
3. Sync attendance and time-off information
A full-suite HRIS includes time and attendance and time-off systems that monitor hours and days worked, paid time off, vacation days, sick days, and unpaid leave. A payroll integration will automatically sync this information at the end of the pay period, ensuring that your employees get paid the right amount and updating their vacation allowance. 
4. Automatically update salary changes and bonuses
Throughout the year, many employees see changes to their compensation. These include bonuses awarded to employees who meet or exceed their goals and company-wide holiday bonuses. Salaries can also change, such as increases following a compensation review or a promotion. Going into the payroll system and updating salaries one by one is time-consuming work, and mistakes could be detrimental. Integrating your payroll software with your HRIS will ensure that all salary updates for all employees are made to payroll in time for the next pay cycle.
Recommended For Further Reading
Bob integrates with the world's leading payroll systems
Bob integrates with the world's leading payroll systems, helping you stay on top of your payroll, wherever you are based.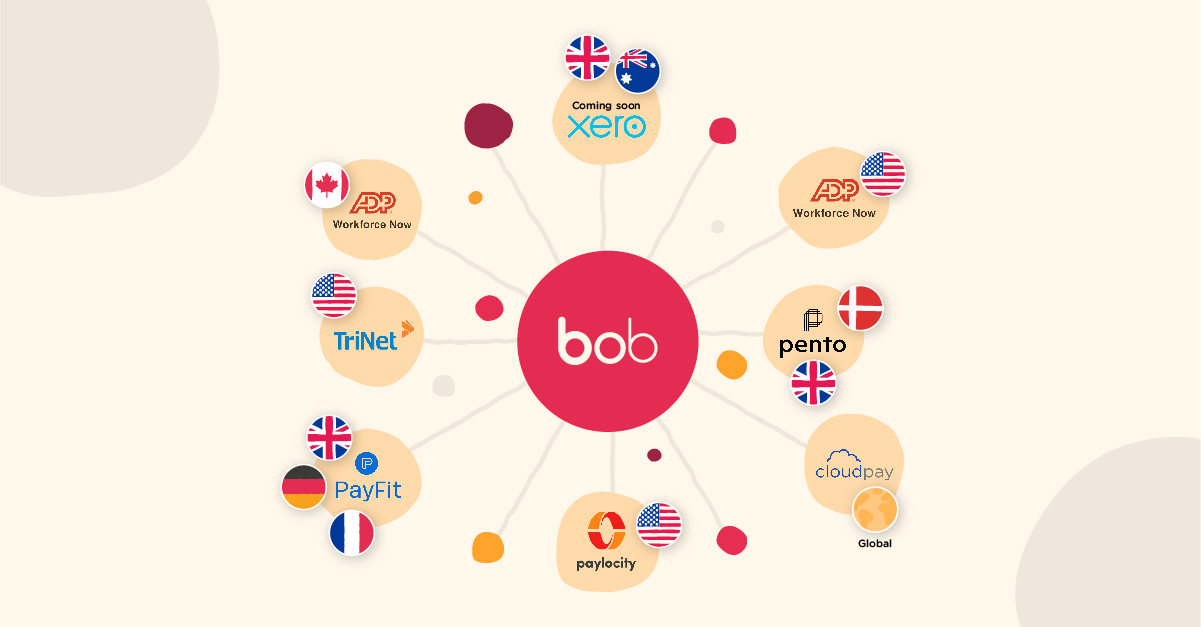 Ease the pain of payroll
Payroll processing is a complicated and time-consuming task repeated every pay cycle, with no two pay cycles ever the same. Integrating your HRIS and your payroll system helps you streamline the process, save time, and reduces the risk of error. From employee details to hours worked to salary changes—all relevant data is transferred and seamlessly updated, giving you time back to spend on other, less arduous tasks.
---