With the rise of hybrid work, employees are spending more time away from their workplaces.  They have learned to work more independently without being surrounded by their teams, and in place of their water cooler chats or lunch dates, they are scheduling more formal meetings with their peers. 
While companies have seen a general increase in productivity since their employees started working remotely, it has caused some degree of harm to the more social aspects of work, resulting in many employees feeling disconnected from the workplace.
In response to the recent shift to hybrid and remote working, HR has taken on a more significant role in engaging their employees and building company culture. An HRIS such as Bob provides a platform for employees to engage with their company and their peers and share company news, updates, significant employee milestones, and more.
Here at HiBob, we understood that while Bob's homepage serves as the primary source of information for many companies, its look and feel don't always align with our customers' unique culture and messaging. Many of our customers requested that we provide the capability to customize Bob according to their company brand to better reflect their culture and values—and we're on board. Branding your company's HRIS is a powerful way to transform it into a key company communication tool, especially in a remote and hybrid workplace.
So what exactly is company branding, and why is it important?
The significance of company branding
Clay is a UI/UX design and branding agency in San Francisco, with clients such as Facebook, Google, Sony, and Uber. They define a brand as follows:
"A brand today is all about how it makes your customers feel. It's not a logo, visual identity, or digital product design. But rather a cohesive system that spans across all mediums and touchpoints."
Creating a brand involves more than just good design. Branding is the visual embodiment of a company's identity, communicating its story and what makes it unique.
Companies use branding in several ways. Physical offices reflect a company's brand by using its corporate colors and logo, helping to create a specific identity and experience within the workplace. Swag emblazoned with the company logo likewise provides employees with a sense of belonging and pride. Company communications, such as emails, newsletters, and social media, will use a consistent brand and messaging for immediate recognition and a unique company experience.
Branding also goes beyond the look and feel of the company. A company's unique culture also helps to create its brand identity, exemplifying how it is perceived and experienced by its employees and customers. This company culture is owned by HR, and they are responsible to ensure that all employees truly embrace it, in how they interact, collaborate, and produce within the workplace. An HRIS, as the company's central point of communication, should also reflect its unique brand and culture, through its look and feel, and tone of voice.
Recommended For Further Reading
Introducing Bob's company branding
We believe that your HRIS should be the heart of your company, wherever your people are working. Whether you have one site or multiple sites, and whether your employees are working from the office or working remotely. Everywhere your people interact with Bob should feel familiar, reflect your company culture, and create a sense of belonging from the moment your employees onboard and throughout the entire employee lifecycle.
Your HRIS is also the voice for important and sensitive employee communication, and we understand that those interactions should reflect your company's voice and brand.
So, we are thrilled to share that we have added company branding to Bob. Now you can customize Bob's look and feel with your company colors, logo, and background images and transform your HRIS into a company-branded experience for your employees.
Bob is the only full-suite HRIS that supports complete branding. You can customize Bob's look and feel to align with your company brand through your company's color palette and branding elements such as the colors of the buttons, tabs, and side menu. You can add your company's logo and either choose one background image to run throughout the platform or create different backgrounds for each page. Here's how you can do it:
To set up your branding in Bob, admins should go to the settings tab and click on "personalization," and then click on "Web & Mobile app."
As you choose your theme colors and logo, you will see a preview of how the platform looks on the left side. Play around with the colors to get the look that you are happy with. Choose background images that reflect your company brand. You can also add a company intro video to personalize the onboarding experience. The interface is very user-friendly, but you can ask your in-house designer for help for optimum results. Once you've branded Bob, the mobile app will also take on the new look.
We're having so much fun with this new branding feature, and our customers are too! Check out how Bob looks branded for our customer, Happy Socks.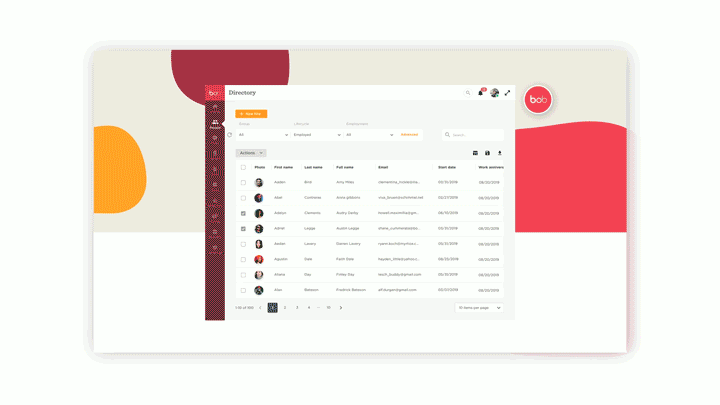 Branding your HRIS is an effective way to boost employee engagement. Now you can customize Bob's look and feel using your company colors, logo, and background images to create a company-branded experience for all of your employees, no matter where they work.
---