It's no accident that the number of synonyms for "HR leader" is multiplying at a record pace. The wide variety of newer, more colorful titles indicates that the role of what was once simply referred to as "human resources" is evolving almost as quickly as our increasingly flat, digitally connected working world is.
Technology is transforming everything about HR. And with automation replacing many traditional roles and processes, HR has been freed up to concentrate on such long term, high-level tasks like data-driven analysis of people's job performance, and strategizing innovative ways to create an open and supportive culture of success.
As a result, the skills that HR honchos need to be effective at recruiting, onboarding, and keeping close tabs on their people's welfare are changing at nearly the speed of light. But it's worth keeping in mind that ultimately HR's (or "Culture Evangelist", or "Chief Heart Officer," or "Vibe Manager," to name but a few…) primary responsibility is to help their company grow by improving operational excellence across the board.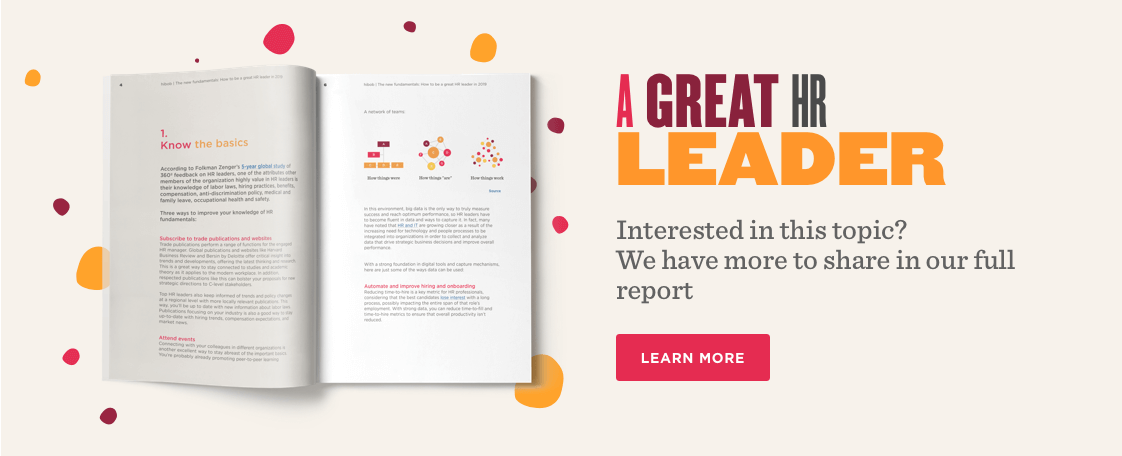 That's a tall order. As 2020 approaches, these are the four most important HR skills to have, the ones that will separate the HR superstars from the pack of pencil pushers.
1: Understanding where business, HR, and organizational operations connect

More than ever, HR leaders are expected to contribute to their company's bottom line. In 2020, HR teams will be increasingly relied on to build up their people's hard and soft skills, prepare team members for organizational changes, and spearhead the streamlining of operations management, both within and between departments. All this is to say that HR is no longer an administrative position but rather acts more like a strategic business unit that optimizes a company's human capital.
2: Embracing HRIS

A human resources information system (HRIS) stores and organizes the crucial people information that HR needs to operate at peak performance. These systems automatically keep data accurate and updated, which greatly speeds up HR's operations. But while the interface is designed for speed and convenience, it's up to HR leaders to guide everyone at work on how the software works: everything from automated time and attendance and benefits management, to periodic performance reviews and payroll. At it's best, HRIS encourages greater transparency, communication, and collaboration – but only if HR has mastered the software first.
3: Never stop learning

A whopping 86% of working men and women feel that professional development benefits are more important to their overall job satisfaction. This desire for self-improvement is also an important part of the successful HR leader's DNA. Great HR leaders are constantly fine-tuning their skill sets. Because organizational goals can shift dramatically, an HR superstar is passionate about staying current on evolving business goals.
This desire to learn also connects to HR trends and technological developments. While there are a wide variety of ways to keep learning, those one in a million HR gurus are the ones who are obsessed with one thing: improving their own effectiveness.
Recommended For Further Reading
4: Coaching your people to new heights of success

Using data to better understand which unique skills drive performance in your company is an important first step. People analytics is providing amazing insights about how to better engage with a company's top performers; what top talents do that enable them to excel at work; and which qualities do the best performing teams have? But the HR superstar is able to take these insights and turn them into results.
Whether it's through one-on-one conversations or group sessions, the best HR teams of 2020 will be those that use the data at their disposal to help people develop the skills that are most critical for their company to succeed. Even better, these are the same skills that will help your organization's best and brightest develop a deep sense of satisfaction at work.
What these four key skills have in common is that the HR leader who masters them will develop the greatest of all HR superpowers: managing change without breaking a sweat. The world of work is in an unprecedented period of flux, therefore, not transforming simply isn't an option. The workforce is more mobile, technologically-enabled, and diverse than at any other time in history. As a result, HR superstars are those leaders who know how to hire, train, and retain those talents who are able to cope with constant change.
---