Companies are living and breathing entities with constantly evolving workforces and continuously changing needs. Whether you're adding a new product line or service, expanding into new markets and geographies, scaling, or going through a reorganization or M&A, your company's staffing needs will change. A strategic workforce planning framework will help you get the most out of your current workforce while preparing for the changes to come.
As a major player in the HR platform industry, we are mindful of the needs of modern companies today and understand that optimizing workforce productivity is a must-have for many of our customers. So, we are excited to announce the launch of a long-awaited new module to our offering, Workforce Planning.
Why you need a workforce planning tool
Workforce planning is the process that companies use to analyze their workforce and decide how to prepare for future staffing needs. For small companies, this can be an ad hoc process done in spreadsheets and email where different stakeholders within the company, such as managers or department heads, request additional headcount as their workload or responsibilities increase. 
However, in larger organizations or when a company opens new sites, goes through an M&A, is publicly traded, or is planning for growth, HR and Finance need a more strategic workforce planning process to help them align with their business goals. This means creating planning, budgeting, and recruiting processes while also gathering data on headcount and positions to measure workforce efficiency, optimize hiring strategy, and gain visibility into staffing gaps and risk areas.
Without a workforce planning tool in place and continuous monitoring of the business, companies put themselves in a vulnerable position when confronted by unexpected events in their workplace or the market that ad-hoc decision-making can't resolve.
How Bob's Workforce Planning optimizes workforce productivity
Bob's Workforce Planning is the only solution on the market designed for mid-sized companies. It helps you optimize your workforce efficiency by managing, planning, and tracking your current and future positions within your HR platform. Bob gives you full visibility of your people data when making workforce planning decisions, such as current headcount and expected turnover and growth, helping you create a more strategic hiring strategy.
Getting started with Workforce Planning
Bob's Workforce Planning helps HR seamlessly manage their company's workforce planning needs, using:
1. Position management
Position management is the process of managing positions across your organization, and includes both filled and planned positions. Every position in the company is unique, with its own ID number.
Simply create, edit, or cancel positions directly in Bob to align with your changing workforce requirements and strategies. Bob helps you keep all stakeholders, from recruiters to finance to managers, aligned when planning, executing, and tracking headcount.
When you create a new position, it will automatically receive a Position ID, which is a unique number for that position. Fill out the details of the new position, such as Expected Start Date, Position Type, Employment Type, Department, and Site. Once you have populated all of the fields, click "Save". This new position will now be added to your list of open positions, keeping all relevant stakeholders updated on the status of all positions, filled and planned.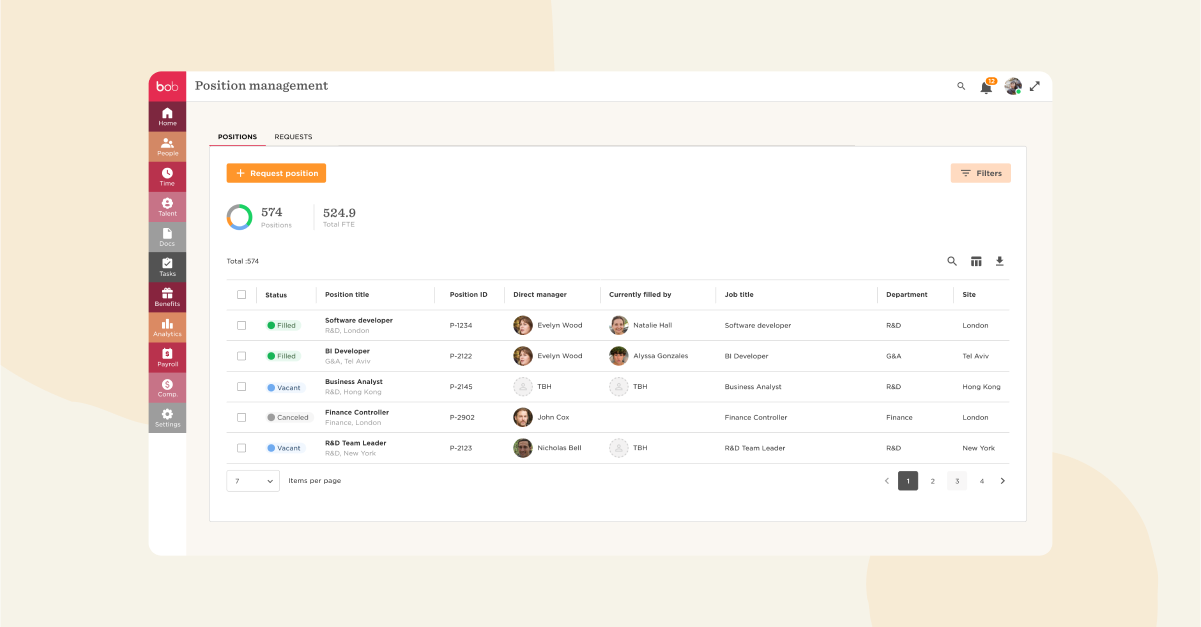 2. Workforce planning events
Workforce planning events are scenarios that you can start preparing for by creating a headcount plan. With Bob, you can use workforce planning events for any business requirement, such as a reorganization, an acquisition, opening a new site, or seasonal planning. You can also create multiple events simultaneously to prepare for different scenarios and implement the one that best fits your strategy and goals.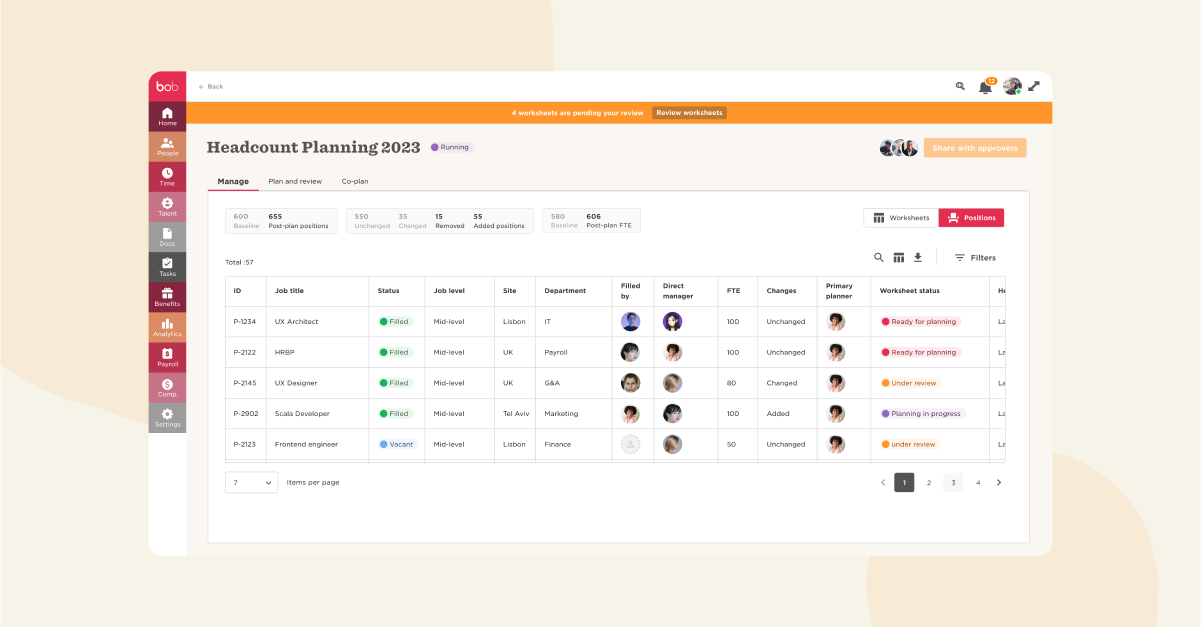 Recommended For Further Reading
3. Monitoring KPIs
Using workforce planning in Bob gives you full access to your existing workforce data, including expected turnover and growth, which helps when making decisions on hiring and internal mobility. Create KPIs to track and measure your workforce plan and compare them to your recruitment pipeline.
Having all of your people data in one place provides you with insights into your current workforce, improves accuracy, and saves you time and effort.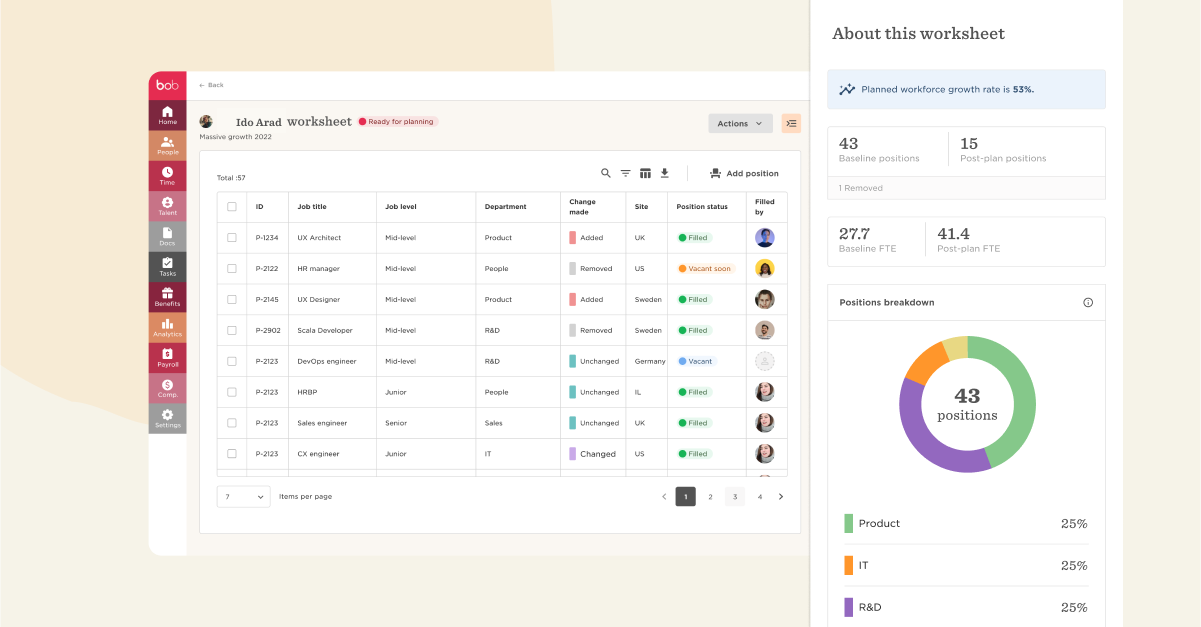 Start building a strategic workforce plan
As market conditions continuously change, successful companies need to prepare for its ebbs and flows by having a strategic workforce planning framework in place. Bob's new Workforce Planning module enables you to manage workforce planning directly within your HR platform, supporting collaboration with relevant stakeholders and providing easy access to people and compensation data to aid your decision-making. Start building strategic plans for your company's expansion and growth while preparing for any scenario—all in one centralized location.
---