In the modern world of work, crafting well-defined HR job descriptions has become an essential part of ensuring effective recruitment processes.
An engaging, well-articulated job description is more than just a list of duties and responsibilities: It is a strategic roadmap that defines the route to success. Not just for potential candidates, but also for your organization.
In this guide, we have put together a series of detailed HR job description samples for a number of key HR roles, along with a step-by-step checklist and some key tips to help streamline your recruitment process.
HR job description samples
As an HR leader, your team's needs are unique.
And with that, each HR role within your team will require a particular set of skills, competencies, and experiences—whether you're hiring a generalist to oversee your processes or a specialist for a very particular role within your team.
Here is our collection of concise yet comprehensive job description samples that provide an overview of the roles and responsibilities, as well as the skills and qualifications needed for various HR titles.
These are ideal for when you're looking to build a thorough job description and need a solid foundation to build on and add your own personal twist to.
<<Download our printable job description samples and checklist>>
HR generalist job description
Job brief
We are looking for an HR generalist to join our team and implement a number of human resources programs to enable our team to thrive. Our HR generalist will have broad knowledge of human resources functions, from hiring to onboarding, and from compensation to evaluation.
So if you have a passion for HR; have a keen interest in, and knowledge of, labor law; and are looking to further your career in the field, this is the place for you.
Responsibilities
Your role as an HR generalist will be far from one-dimensional. You'll undertake a wide range of HR tasks such as organizing training, administering benefits and leaves, assisting in talent acquisition and recruitment processes, and crafting new and unique HR policies.
Further responsibilities:
Provide support to team members on various HR-related topics such as compensation and resolve any issues that may arise
Design HR programs to create an efficient and conflict-free workplace
Undertake tasks around performance management
Gather and analyze data with useful HR metrics, like time-to-hire and team member turnover rates
Requirements and skills:
Proven experience as an HR generalist
Understanding of general human resources policies and procedures
Good knowledge of employment and labor laws
Outstanding knowledge of MS Office (and knowledge of HRIS systems will be a plus)
Excellent communication and people skills
Aptitude in problem-solving
Desire to work as a team with a results-driven approach
HR business partner job description
Job brief
We are looking for an HR business partner (HRBP) to join our team to help align our business objectives with team members and management.
You will be a consultant to the management team on human resources-related issues and act as a champion for our team members. You will also be responsible for assessing and anticipating any HR-related needs.
Responsibilities
In your role as our HR business partner, you'll be involved in strategic planning, provide HR policy guidance, and interpret policies to help our business units.
You'll be crucial in linking our HR department with our business units and aligning their strategy and goals with the team members' needs and expectations.
Further responsibilities:
Consult with line management and provide daily HR guidance
Analyze trends and metrics alongside other HR department team members
Resolve complex team member relations issues and address grievances
Work closely with management and team members to improve work relationships, build morale, and increase productivity and retention
Monitor and report on workforce and succession planning
Identify training needs for business units and individual coaching needs
Requirements and skills
Proven work experience as an HR business partner
Excellent people management skills
Analytical and goal oriented
Demonstrable experience with HR metrics
Thorough knowledge of labor legislation
Full understanding of all HR functions and best practices
HR director job description
Job brief
We are looking for a competent HR director to direct and oversee the company's HR plans in ways that support our mission and overall strategy.
The HR director will have overall responsibility for the HR functions, including relations, compensation and benefits administration, and compliance with HR laws and regulations.
Responsibilities
As the HR director, your central goal will be to ensure our company's HR initiatives run smoothly and effectively to deliver maximum value to the organization. You will lead the HR department in developing and applying HR strategies and initiatives aligned with the overall business strategy.
Further responsibilities:
Develop corporate plans for compensation, benefits, health and safety, etc.
Lead the development of department goals, objectives, and systems
Provide performance management guidance to line management
Manage and resolve complex team member relations issues
Maintain knowledge of laws, regulations, and best practices in human resources and talent management
Develop and monitor the HR department's budget
Direct and oversee all aspects of compensation and benefits programs
Requirements and skills
Proven experience as an HR director
Full understanding of the way an organization operates to meet its objectives
Excellent knowledge of employment legislation and regulations
Thorough knowledge of human resource management principles and best practices
Knowledge of data analysis and reporting
Excellent organizational and leadership skills
Outstanding communication and interpersonal skills
Diligent and firm with high ethical standards
HR analyst job description
Job brief
We are looking for an HR analyst to join our team and help us collect, analyze, and manage HR data in order to help us make better decisions.
As an HR analyst, you will use your expertise in data analysis and HR functions to help our HR team meet strategic goals more effectively. If you have a background in HR and research methods, and have a keen eye for detail, this is the place for you.
Responsibilities
Your role as an HR analyst will be to compile, manage, and analyze HR data to provide decision-making support.
You'll measure retention and turnover rates, analyze recruitment methods, and suggest benefits and compensation packages. Additionally, you'll ensure our HR procedures comply with labor laws.
Further responsibilities:
Audit and update HR databases
Measure key HR metrics, like cost-per-hire and retention rates
Identify trends and make recommendations for improvement
Create detailed reports of your findings and present them to senior management
Ensure our HR procedures comply with labor laws
Regularly check HR trends and industry best practices
Requirements and skills
Proven experience as an HR analyst or similar role
Hands-on experience with HR software
Knowledge of labor legislation
Experience designing compensation and benefits packages
Ability to create detailed reports and presentations
HR administrator job description
Job brief
We are seeking an HR administrator to join our team and support the day-to-day activities of our HR department.
In this role, you'll act as the main point of contact for team members' queries on HR-related topics. The goal is to ensure the HR department's operations run smoothly and effectively to deliver maximum value to the organization as a whole.
Responsibilities
The HR administrator's responsibilities include processing HR documents, participating in recruitment efforts, and ensuring all team members' records are accurate and up-to-date.
Further responsibilities:
Administer HR-related documentation, such as contracts of employment
Ensure relevant HR databases are up-to-date and accurate, and comply with legislation
Assist in the recruitment process
Liaise with recruitment agencies
Set up interviews and issue relevant correspondence
Process, verify, and maintain personnel-related documentation
Requirements and skills
Proven experience as an HR administrator, HR administrative assistant, or other relevant role
Experience with HR software
Computer literacy (MS Office applications in particular)
Thorough knowledge of labor laws
Strong administrative skills
Excellent organizational skills, with an ability to prioritize important projects
Strong phone, email, and in-person communication skills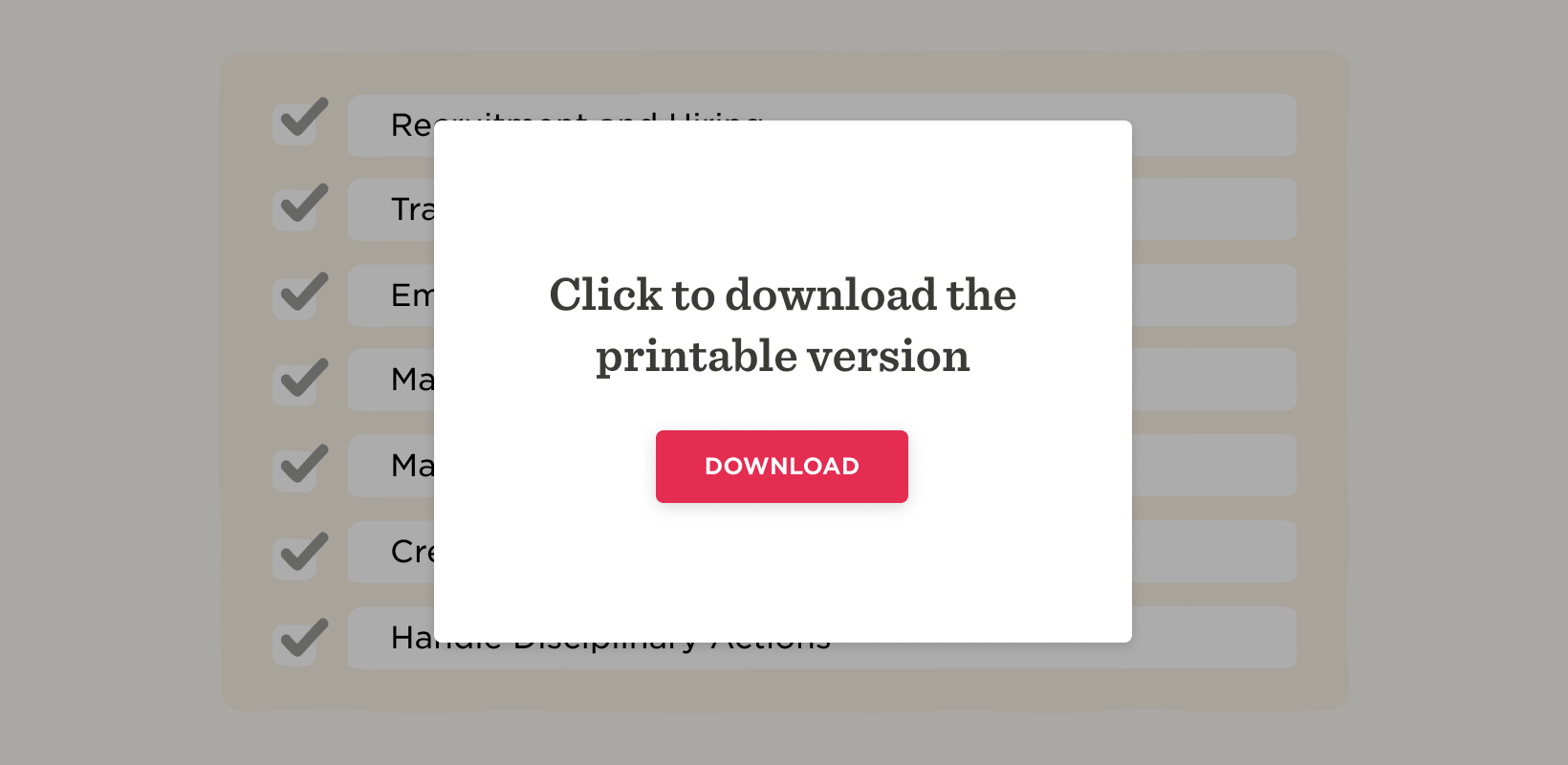 HR intern job description
Job brief
We are looking for an HR intern to perform various administrative tasks and support our HR department's daily activities.
If you're interested in kick-starting your career in HR and getting a closer look at how our company approaches payroll, recruiting, and team development, we'd like to meet you.
Responsibilities
Our HR interns will help and gain experience in a number of HR functions, including assisting the HR team with recruitment, onboarding, maintaining records, and more.
Further responsibilities:
Update our internal databases with new information, including contact details and employment forms
Gather payroll data like leaves, working hours, and bank accounts
Screen résumés and application forms
Schedule and confirm interviews with candidates
Participate in organizing company events and career days
Requirements and skills
Currently pursuing a degree in human resources management or a related field
Experience as a staff assistant or similar junior HR role is a plus
Familiarity with HRIS, ATS, and résumé databases is also a plus
Experience with MS Office
A basic understanding of full-cycle recruiting
Basic knowledge of labor legislation
Organizational skills
Excellent verbal and written communication skills
HR coordinator job description
Job brief
We are looking for an efficient HR coordinator to undertake a variety of HR administrative duties.
You will facilitate daily HR functions like keeping track of team members' records and supporting the interview process. Your role will also involve performing tasks focused on enhancing our company's talent pipeline and improving our sourcing tactics.
Responsibilities
The ideal candidate will have general administrative responsibilities. They will be able to work autonomously and efficiently to ensure the effective end-to-end running of HR projects and operations.
Further responsibilities:
Support the development and implementation of HR initiatives and systems
Provide advice on policies and procedures
Be actively involved in recruitment by preparing job descriptions, posting ads, and managing the hiring process
Create and implement effective onboarding plans
Assist in performance management processes
Support the management of disciplinary and grievance issues
Maintain team member records according to policy and legal requirements
Review employment and working conditions to ensure legal compliance
Requirements and skills
Proven experience as an HR coordinator, HR officer, or similar role
Knowledge of human resources processes and best practices
Strong MS Office skills
Familiarity with social media recruiting
Experience with HR databases and HRIS systems
Ability to handle data with confidentiality
Good organizational and time management skills
HR recruiter job description
Job brief
We are looking for an HR recruiter to manage our full-cycle recruitment, from identifying potential hires to interviewing and evaluating candidates.
If you have experience with various job interview formats, including phone screenings and group interviews, and can help us recruit faster and more effectively, we'd like to meet you.
Responsibilities
As our HR recruiter, your responsibilities will include sourcing candidates online, creating and updating job ads, and conducting background checks.
Ultimately, you will play an important part in building a strong employer brand for our company to ensure we attract, hire, and retain the most qualified team members.
Further responsibilities:
Design and implement an overall recruiting strategy
Develop and update job descriptions and job specifications
Prepare and post job ads to appropriate job boards/newspapers/colleges, etc.
Source and attract candidates by using databases, social media, etc.
Screen candidates' résumés and job applications
Conduct interviews using various reliable recruiting and selection tools/methods
Assess applicants' relevant knowledge, skill sets, and experience
Monitor and apply HR recruiting best practices
Act as a point of contact and build candidate relationships during the selection process
Promote the company's reputation as a great place to work
Requirements and skills
Proven work experience as an HR recruiter or similar role
Familiarity with the entire recruitment lifecycle
Familiarity with ATS systems and résumé databases
Experience with sourcing techniques
Understanding of referral programs
Solid verbal and written communication skills
Sound judgment
<<Download our printable job description samples and checklist>>
Checklist for hiring HR professionals
Now that we've reviewed the job descriptions for various HR roles, let's delve into our eight-point checklist for effective and agile HR recruitment: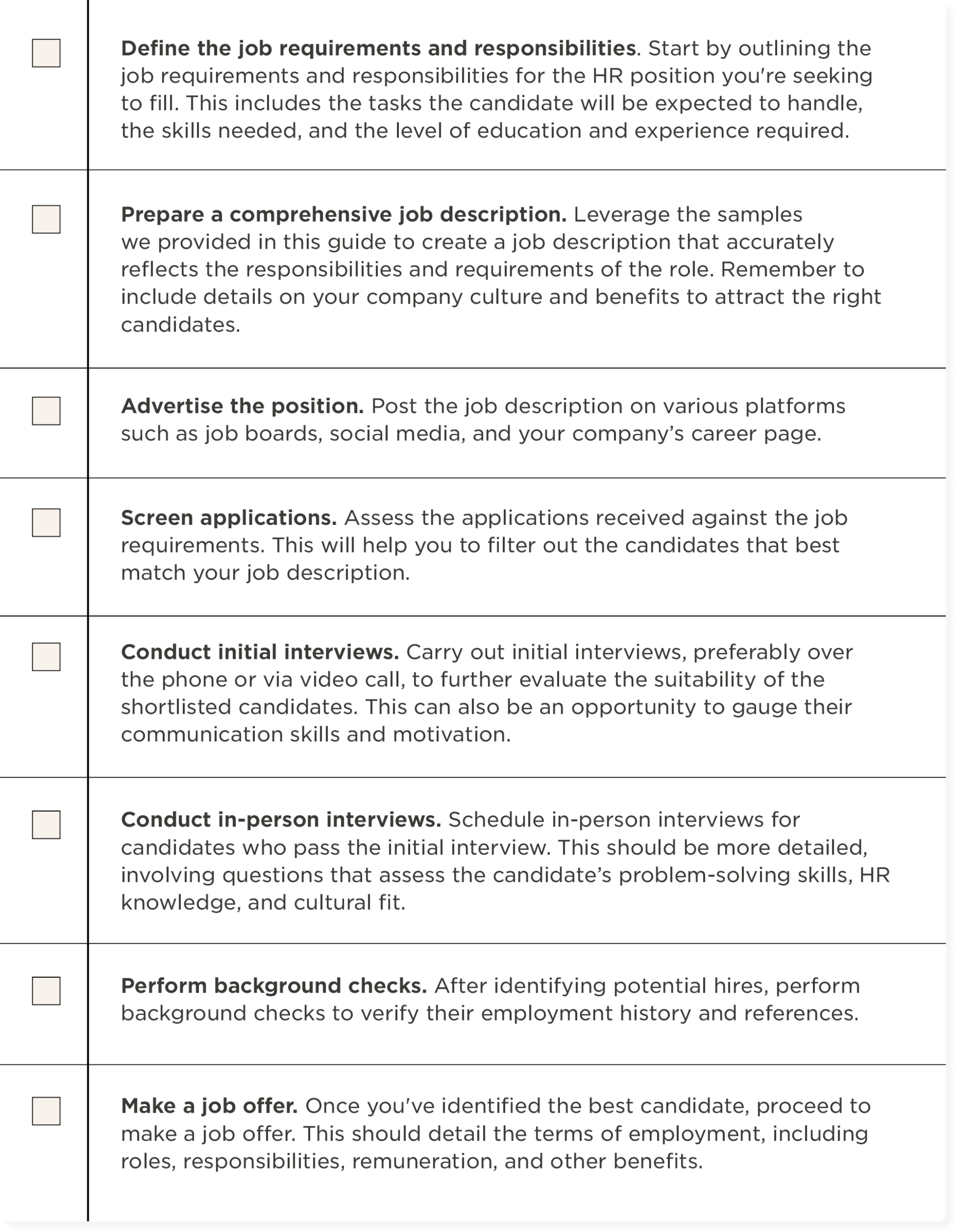 Tips for crafting effective HR job descriptions
Creating compelling and accurate HR job descriptions is crucial for attracting top talent. Here are some best practices:
Be specific. Clearly state the responsibilities and requirements of the role. This helps candidates understand what is expected from them and enables them to evaluate their fit for the position.
Use simple language. Avoid using complicated jargon that might confuse your applicants. The language used should be easy to understand.
Include keywords. Incorporate keywords that candidates are likely to use when searching for job opportunities. This will help increase the visibility of your job advertisement.
Add a company overview. Provide a brief overview of your company, its culture, and values. This gives the candidates an idea of what it's like to be a part of your team.
State the benefits. Highlight the benefits and perks of working for your organization. This could be health benefits, learning opportunities, flexible working hours, etc.
Make it engaging. Create a job description that fits the personality of your team. An engaging description is more likely to hold the attention of the reader.
A description to remember
By leveraging these HR job description samples and our checklist, you can attract and recruit the right HR professionals to drive the success of your company, and the overall wellbeing of your wider team.
Remember, it's about finding the ideal team members to foster a productive, inclusive, and forward-thinking workplace where you and your team can thrive and reach your HR goals. Tweak our job descriptions to add all of the things that make your company unique—so that you can find the perfect fit for your new HR team members.