Any good business is constantly evolving—and this has never been more true than in recent years, where evolution has become essential to survival.
But to evolve, you need to know where you are, where you're going, and if you're moving in the right direction.
This is where an HR audit comes in. It's an essential means of understanding what's really happening in your department by reviewing, revisiting, and interrogating your practices, processes, and systems.
As labor and employment laws change, and businesses rapidly adapt to the needs of hybrid work and remote work, an audit is a crucial part of checking you're on the right track.
It sounds complicated, but with the right HR audit checklist template to hand, you can shortcut some of the preliminary research and get straight down to business. So that in a world of growing complexity, you can hone and refine your operation to increase retention, achieve your strategic objectives, and build a better modern workplace for your people.
<<Download and print these checklists to start your HR audit.>>
What is an HR audit?
An HR audit is a self-evaluation of how your HR department functions. It also ensures your compliance with regulations and helps protect you from exposure to litigation risks.
It typically covers:
Compliance with local, national, and international regulations
Current practices and processes, and how well suited your current training, development, and recruitment processes are to your current and future needs
KPIs, such as time to hire and turnover rate, and how well you're performing against them
The big picture, and how effectively your HR aligns with organizational strategic goals
It gives you a clear idea of how you're performing and helps you map out the improvements and tweaks you can make to lay the foundations for the future success of your business.
Why do you need to perform an HR audit?
As businesses expand globally and teams comprise an increasingly complex mix of hybrid and remote workers, HR leaders are faced with a complex knot of regulations, and cultural barriers that need to be overcome between employees.
An HR audit helps you make sure you're staying on the right side of these legal requirements. It also provides you with useful, usable data to help promote positive change, so that you can understand whether you're keeping up with the times and supporting a positive company culture that helps you attract and retain talent in line with your strategic objectives.
In recent years HR audits have needed to expand their remits to cater for globalized businesses. Similarly, company culture is an increasingly important part of attracting and retaining talent. Forty-seven percent of US job seekers have left their job because of the company culture, and 35 percent wouldn't accept a job that was a perfect match if they didn't fit the business's environment. As a result, typical HR audit questions have expanded to include a focus on employee experience and development opportunities.
By performing regular assessments of your practices, you can also make sure your HR function remains competitive and keeps pace with fast-moving competitors.
How does an HR audit work?
An efficient HR audit process helps everyone, so it's important to first create a clear plan. Getting support and sign-off from C-level and senior management at this stage will also lay the foundations for your findings to gain some traction.
Your plan should include:
The type of HR audit you're planning to undertake
The objectives and requirements of the audit
The forms of data that you'll collect and analyze
How you'll collate and action your findings
Once you've created your plan, it's time to get started with your audit using our checklist below. Gather your data and draw up the results—ideally including an executive summary so that senior leaders can take a quick glance and understand the main findings.
This report should highlight any significant gaps between your current position and your goals, as well as a timeline and action plan for making the changes needed.
Finally, it's useful to establish a monitoring system so you can be sure of making progress and easily keep track of outstanding steps.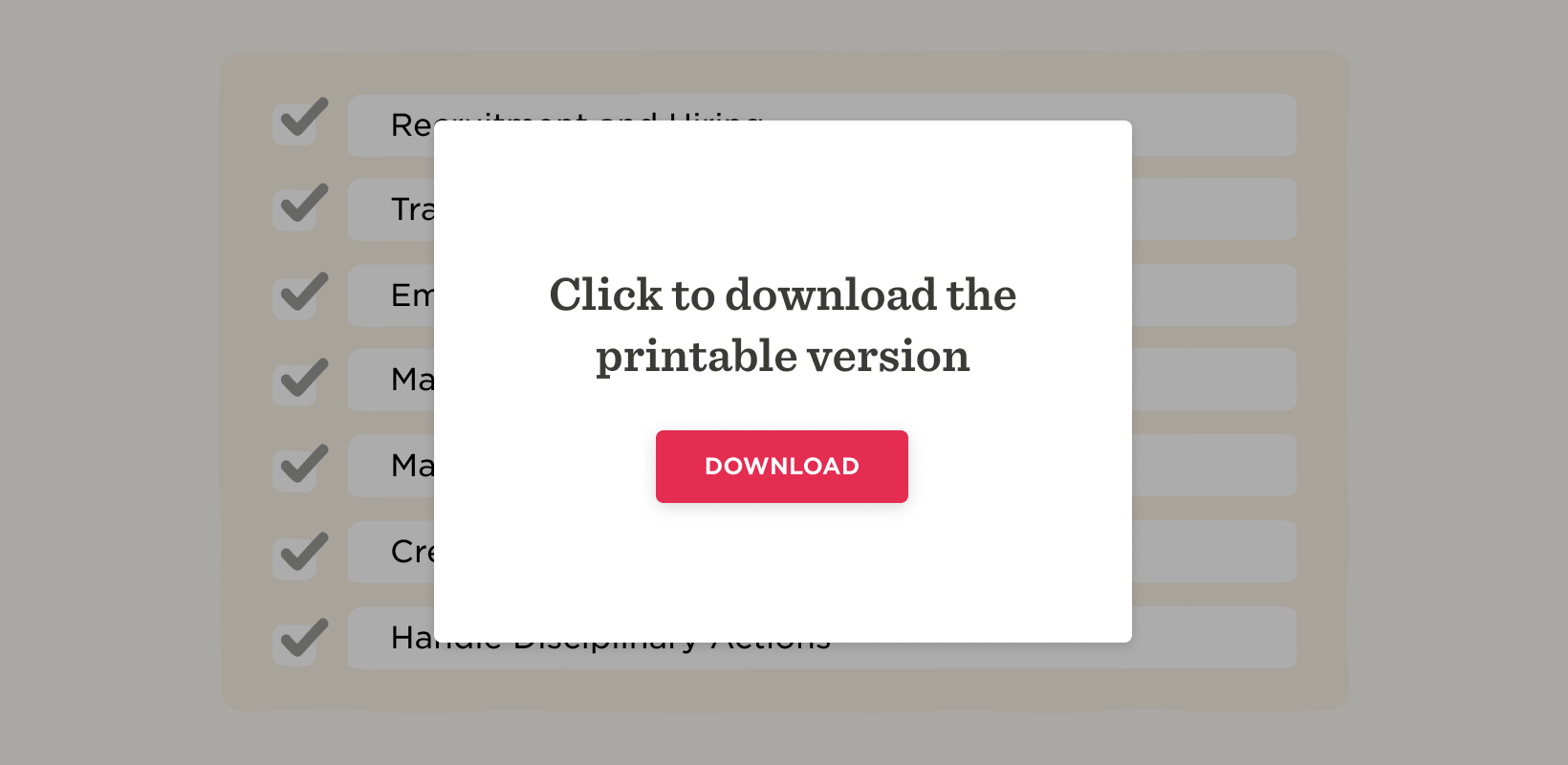 The different types of HR audit
In the past, HR audits focused heavily on compliance and performance metrics.
But while these are still important elements, the world of work has evolved. And audits now tend to embrace the needs of global organizations fueled by hybrid and remote work—and who are keen to establish a positive company culture.
There are a number of different typical approaches to an HR audit, depending on your intended scope. These are:
Comparative
This type of audit compares the performance of your HR function with a competitor's and is especially useful for establishing and analyzing a new department.
Expert
For HR departments without the resources to do their own audit, there's always the option to appoint experienced consultants to present their own findings—although naturally, this comes at a price.
Statistical
This type of audit focuses on your data, compiling figures on absenteeism, turnover, and other KPIs to assess your overall performance.
Remote work
A remote work-focused audit hones in on your remote policies and practices, so you can see if you are as effective and up to date as possible.
Objectives
This audit examines your HR department against your targeted objectives, so you can assess your overall progress.
Satisfaction, wellbeing, and job progression
To make sure your people are feeling content and fulfilled in their jobs, and have sufficient opportunities to learn, develop, and progress within your company, consider this type of audit.
HR audits also come in many other forms. In truth, the main thing is to adapt yours to serve your specific business needs, bringing together a unique combination of these elements.
What is an HR audit checklist?
An internal audit checklist for your HR department is essentially a pre-packaged, ready-to-go audit. It includes all the main areas that you need to examine to fully evaluate the performance and effectiveness of your company's teams, saving you from the time-consuming process of starting from scratch.
While few HR leaders look forward to their next audit, with the right tools and planning it can be a highly targeted, efficient process.
Why use an HR audit checklist?
A sample HR audit checklist saves you time and effort by giving you a head start on planning your next audit. Typically, it's best to run one major audit every year, as well as several biannual audits that address narrower focuses.
To make sure you're covering all the bases, use the checklist below to help you focus on creating a positive experience and company culture that encourages development and learning among your people.
Your sample HR audit checklist
<<Download and print these checklists to start your HR audit.>>
Let's get your review started with this HR audit checklist, which can be used across most of the main types of audit:
Organization and record keeping
What are your mission and vision statements?
Are your HR goals aligned with these statements, as well as organizational goals and strategies?
If not, where are the gaps or mismatches?
What is your company structure? How many managers and supervisors do you have?
What challenges or opportunities lie ahead for your staff structure?
How are your teams distributed between in-office, remote, and hybrid across different global sites?
What proportion of your people work full-time and part-time? How many hours define each role?
Do you have temporary employees such as contractors? What's the longest that an employee can be temporary?
How many locations do you operate?
If applicable, do you file your EEO-1 compliance report annually?
How does HR communicate with your teams? Do you use a Human Resource Information System (HRIS)?
Are workplace policies in place for harassment, safety, and attendance?
Do you have an employee handbook, and is this easy to access and regularly updated?
Has your legal counsel checked that your office policies comply with relevant employment laws?
What process is in place to update your handbook and ensure these updates are legally compliant?
What documents are held in personal files?
Are I-9s and medical information kept separate from personnel files?
Is everyone with access to these files aware of compliance and privacy requirements?
How long are files held after people leave?
Hiring practices
What procedures are used for hiring in your organization? How do you document these processes?
What recruitment sources do you use?
Are your job descriptions up to date and ADA-compliant?
Are I-9 forms and acceptable documentation reviewed annually?
Do you use electronic verification for new hires and an Applicant Tracking System (ATS)?
Where do you post job openings?
Who does the preliminary screening of candidates? Who selects candidates for interviews? And do you provide training for interviewers?
Do interview questions follow legal requirements?
How do you carry out reference checks on applicants? Are these documented?
Do you use a standard offer letter? Who has authority over the final decision?
Do you report new hires to the relevant authorities in a timely manner?
Do new team members complete W-4 forms?
Training and development
What training program do new hires undertake? How do you keep this updated and assess its effectiveness?
Are current employees given appropriate consideration for promotion or lateral position changes? Who makes those decisions and are they properly documented?
How do you carry out performance appraisals? Are these regular enough?
Are your performance evaluations appropriately targeted at each team and the needs of your people?
Do you conduct yearly Equal Employment Opportunity (EEO) training?
Retention, attrition, and company culture
Do you monitor attrition rates? How well are you performing?
What HR metrics need to be reported to management? Board members?
Do you carry out exit interviews?
What is your rate of boomerang employees?
How do you reinforce your company culture?
Do your people understand and buy into your values and company mission?
Do you host regular social events and encourage your people to build strong working relationships?
Do you offer flexible working, and is this in line with or ahead of your competitors?
Do you undertake regular anonymous surveys of your teams? What is your Net Promoter Score (NPS)?
What is your process for improving your company culture, and making sure your people feel valued and appreciated? Is this working well?
Compensation and benefits
Who negotiates compensation packages for your people?
Are your salary bands competitive alongside national pay scales? Do you comply with compensation law in every jurisdiction in which you operate?
What is your system for monitoring and reviewing salary rises?
Are employees correctly designated as exempt or non-exempt as per the FLSA (or as per relevant local labor laws)?
Are independent contractors correctly identified?
Is there a formal pay structure?
Is performance tied to compensation?
Is work time documented? How?
How do you calculate paid time off?
Are all your people aware of the details of your compensation plan?
Do you use a payroll service? Is it operating effectively?
Do you need to improve your employee benefits package to stay competitive?
What is your system for reviewing your benefits?
Are summary plan descriptions and COBRA notices provided to plan participants if the worker is US-based?
Are team members allowed the appropriate leave time under the FMLA?
Are plan documents in compliance with ERISA?
Are your people aware of all the benefits on offer? Do they need assistance with any of them?
Workplace issues
Do you have flexible disciplinary processes for people who violate workplace policies? How do you document incidents?
Is there a formal and anonymous process for people to lodge complaints? Who do they lodge these with?
Are effective policies in place that prohibit retaliation against employees who exercise their rights?
Are your employment practices in line with anti-discrimination laws?
Are supervisors and managers trained in them?
Do you have an effective whistleblower policy? Does it vary from country to country?
Safety and security at work
What is your protocol for workplace accidents, near misses, injuries, and illnesses? Are these reported and investigated?
Do team members feel able to suggest ways of reducing risks?
Do you have an Emergency Response Plan?
Is your office fully health and safety-compliant?
Where applicable, are your people supported to ensure safe and healthy home office environments?
Are your policies for long-term absence and sickness up to date?
Have you checked the effectiveness of your return-to-work procedures?
Do you have sufficient support for people with access needs?
Is relevant documentation available for every chemical in the building, including cleaning supplies?
Is the proper OSHA and workers' compensation information posted and distributed to new hires?
Are your insurance premiums reviewed on a periodic basis?
How do you keep track of changing legislation and ensure compliance?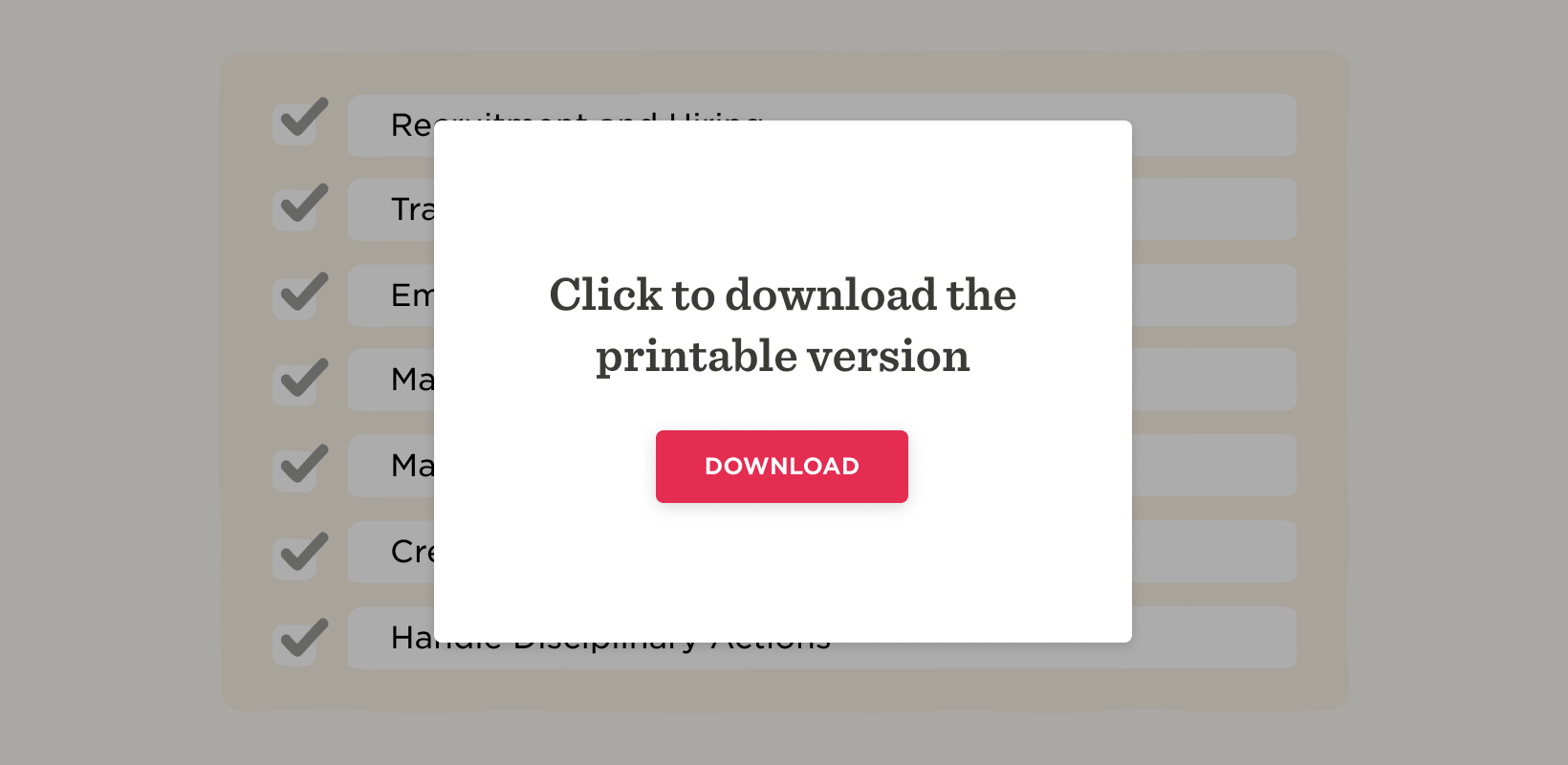 HR audit: Signed, sealed, delivered
In a competitive business environment, if you're not moving forward, you're moving backward. As company culture and work environment become increasingly influential in whether you can attract and retain top talent, it's important to fully understand how well your HR team is performing. And an HR audit is the ideal tool for gathering actionable data that can help you build better for the future.
With the right template, your HR audits can be targeted, effective, and much easier and faster to carry out.
Meet Bob
We know how important it is to provide managers and HR teams with what they need to make decisions about people, especially in light of today's modern workplace changes. That's why we built Bob, an employee experience platform that provides valuable and personalized insights to grow your company's relationships, productivity, and retention.
Bob harnesses the powerful combination of data and human factors to give HR professionals and managers access to the understanding they need to make better decisions. In a short time, Bob can be deployed to enable communication, collaboration, and connectivity that drives stronger engagement, productivity, and business outcomes.
For HR, it delivers automation of many common processes, allows greater oversight and visibility of the business, and centralizes all people data in a secure, user-friendly environment.
For managers, it provides access to data and insights to help them lead more effectively and streamline processes.
For employees, it's the tools and information they need to connect, develop, and grow throughout their journey.
In a short time, Bob can be deployed to enable communication, collaboration, and connectivity that drives stronger engagement, productivity, and business outcomes.