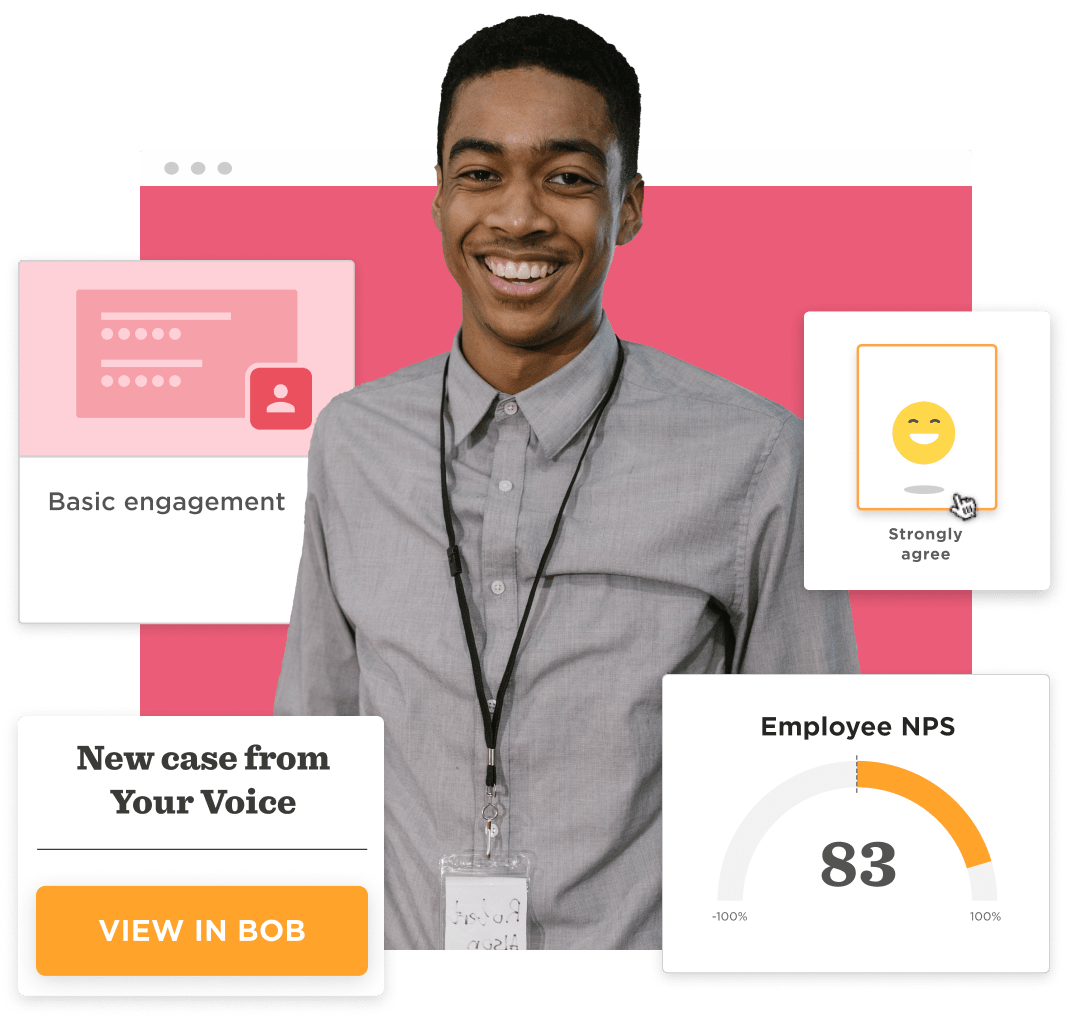 Employee experience platform
Create a remarkable employee experience and drive engagement.


What is an employee experience platform?
An employee experience platform is a comprehensive HR tool designed to foster a positive work environment. It streamlines HR operations, provides valuable insights, and helps cultivate an engaging, productive atmosphere to drive business success.
Why manage employee experience with software?
Using employee experience software such as Bob allows companies to seamlessly create work environments that are both engaging and help boost productivity. It enables HR leaders to fully automate tedious HR tasks, offers analytical insights, and enhances communication—ultimately leading to increased satisfaction and retention.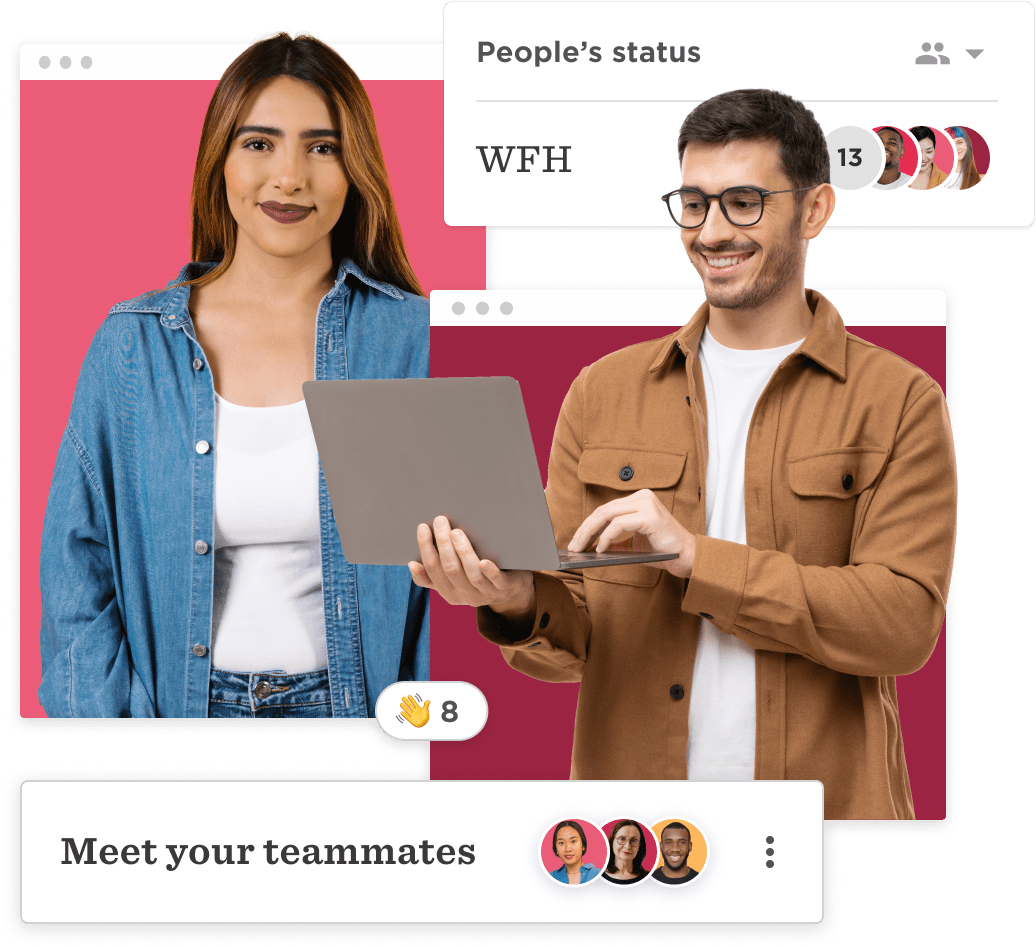 Core HR
Revolutionize your HR experience with Bob's comprehensive suite of core HR features. Get the best out of your HR operations while fostering a dynamic, inclusive culture with real-time data and seamless automation.
Enjoy a social media-like company homepage with all your company info in one place. Promote a sense of community with features like Shoutouts and the ability to celebrate team milestones together.

Navigate with ease using the People Directory and Org Chart. Identify team structures, discover colleagues' hobbies, and access departmental overviews all in one place.

Streamline your HR with automated workflows that save time and increase efficiency. Use task lists for onboarding, offboarding, and more. 

Digitize your processes with eSign and say goodbye to unnecessary paperwork. Finalize contracts and legal documents with Bob's electronic signature tool, ensuring a seamless and efficient process.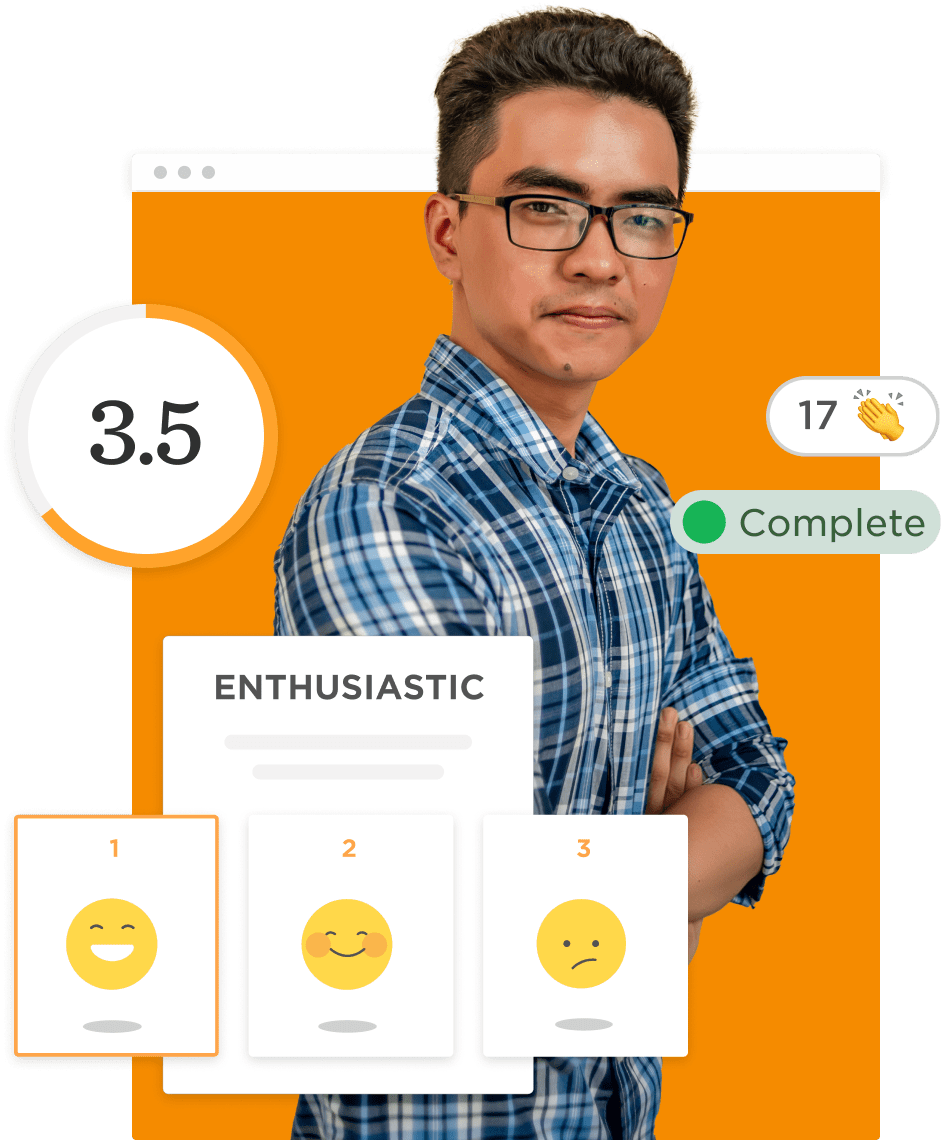 Surveys
​​Elevate your HR strategy with Bob's engaging employee surveys. Bob provides a streamlined platform that allows you to focus on what matters most—your people. Understand your workforce, track their sentiment, and foster a culture of open communication through actionable insights.
Utilize anonymous surveys to gather genuine feedback and identify key opportunities for improvement. Following an easy setup, start analyzing the results and implementing effective strategies.

Maintain a two-way dialogue with your team during key milestones and lifecycle events. Leverage these insights to enhance your company processes and keep your people feeling valued and heard.

Gain a deeper understanding of your team's dynamics by asking critical questions that reveal top motivators, ambassadors, and people who embody your company values.

Use surveys to identify strengths, weaknesses, and trends effectively. Share relevant results with team leads and executives to drive informed decisions.
As a people person, I like to see and hear what people are doing, so I love Bob's newsfeed. When people share their stories and successes and shout out to their peers, you feel closer to the team and can see what's working well. The newsfeed is a live tap into the pulse of the business, which I absolutely adore.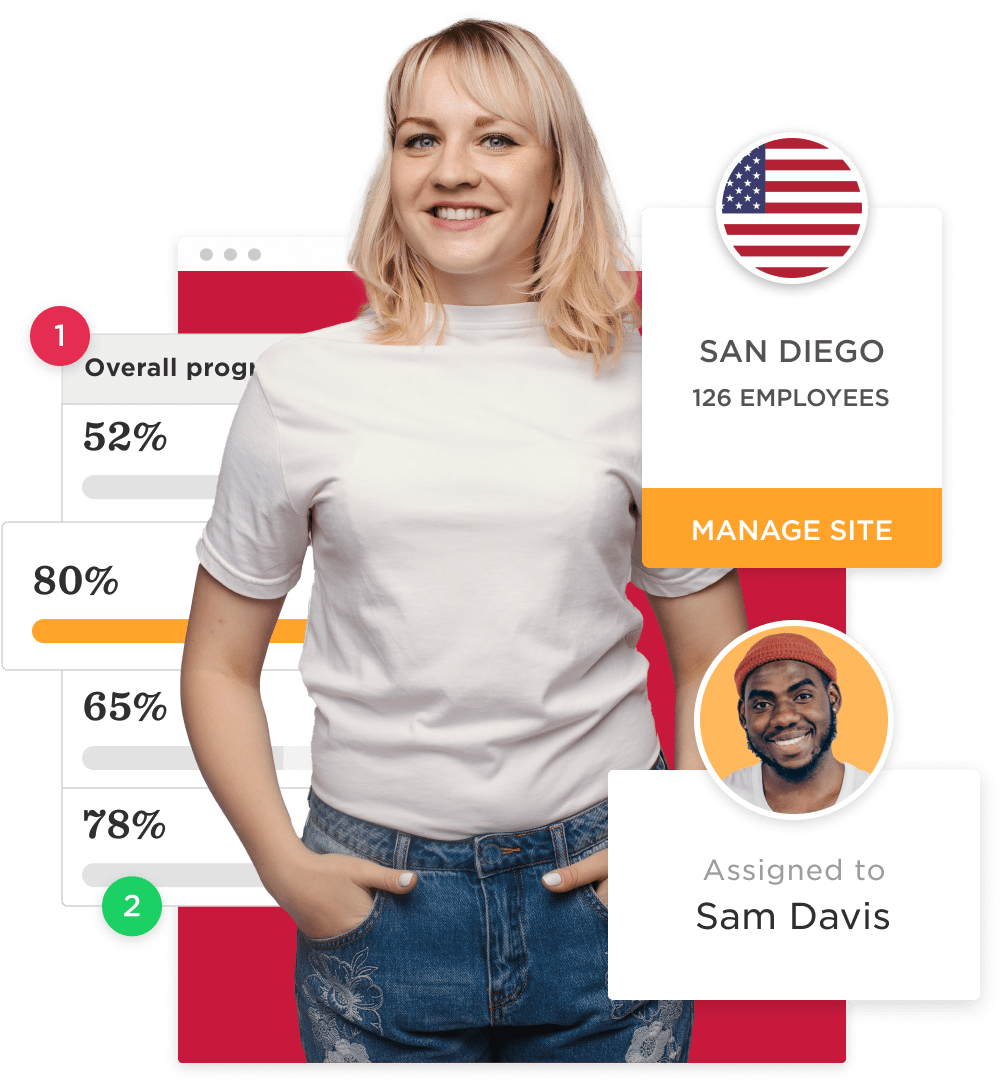 Performance management
Empower your team with Bob's comprehensive performance management platform. Bob enables a 360-degree view of performance, supporting fair and holistic evaluations and fostering professional growth and development,.
Conduct unbiased performance reviews with feedback from all relevant stakeholders. Enable your team to select peer reviewers for diverse perspectives, all within a seamless, user-friendly platform.

Customize your performance review process for optimal accuracy and efficiency. Adjust settings, reminders, and messages throughout the cycle to maintain  smooth operation.

Boost growth by setting clear, measurable goals that align with team, department, or company strategies. Incorporate these goals within performance reviews to help guide progress.

Gain valuable insights from your performance data to track progress, identify potential issues, and make informed decisions.

Facilitate ongoing feedback with regular 1-on-1s. Use templates for scheduling and agenda setting to foster effective, meaningful conversations.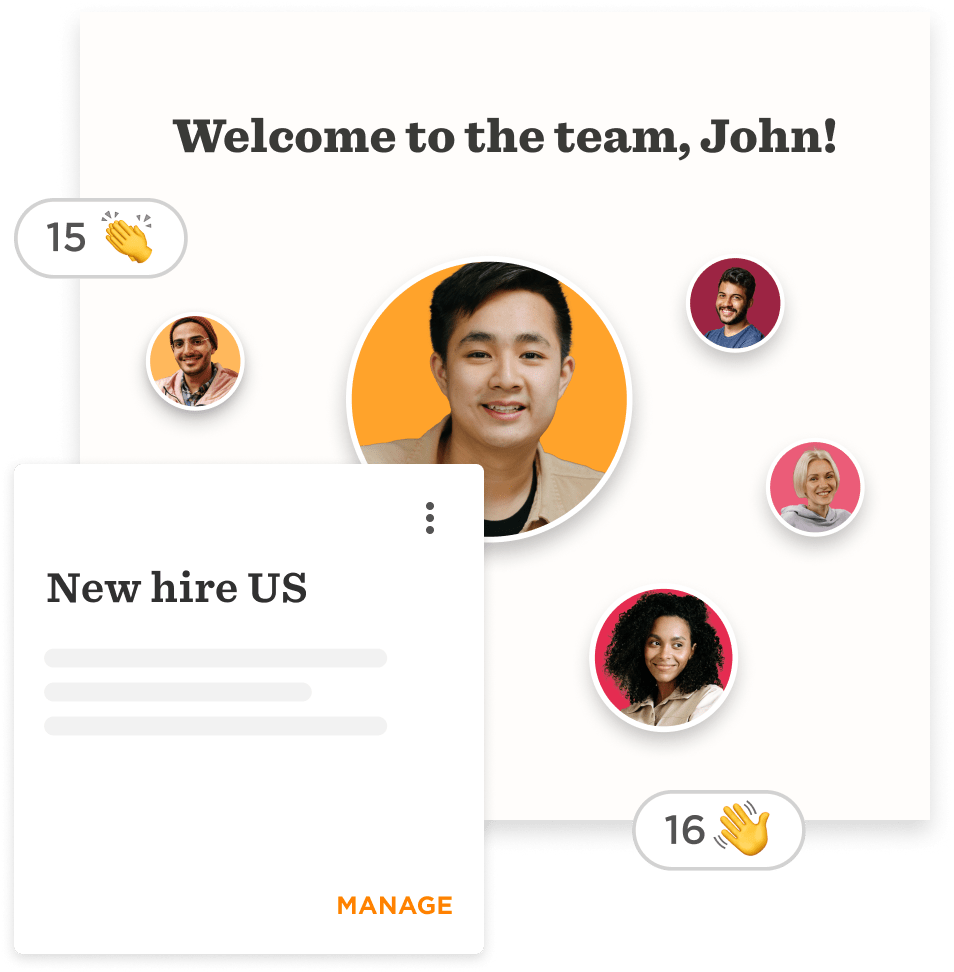 Onboarding
Make sure you make the best first impression and provide a seamless transition for your new hires with Bob's comprehensive and customizable onboarding tools. By providing a positive, streamlined experience, Bob sets up new team members for success from day one.
Ensure an effective start for new hires with automated onboarding flows. Use Bob's checklists to oversee every task and touchpoint, and secure a high-quality onboarding experience for all.

Kickstart the onboarding journey even before day one with preboarding workflows. Allow new hires to complete paperwork, meet the team, and get acquainted with the workspace in advance.

Cultivate a sense of belonging through culture and engagement. Introduce new joiners to your company's unique culture and community via Bob's platform, giving them a head-start on engagement.

Personalize the onboarding experience to cater to individual needs and roles. Customize and automate workflows, ensuring all relevant tasks are included, and unnecessary ones are left out.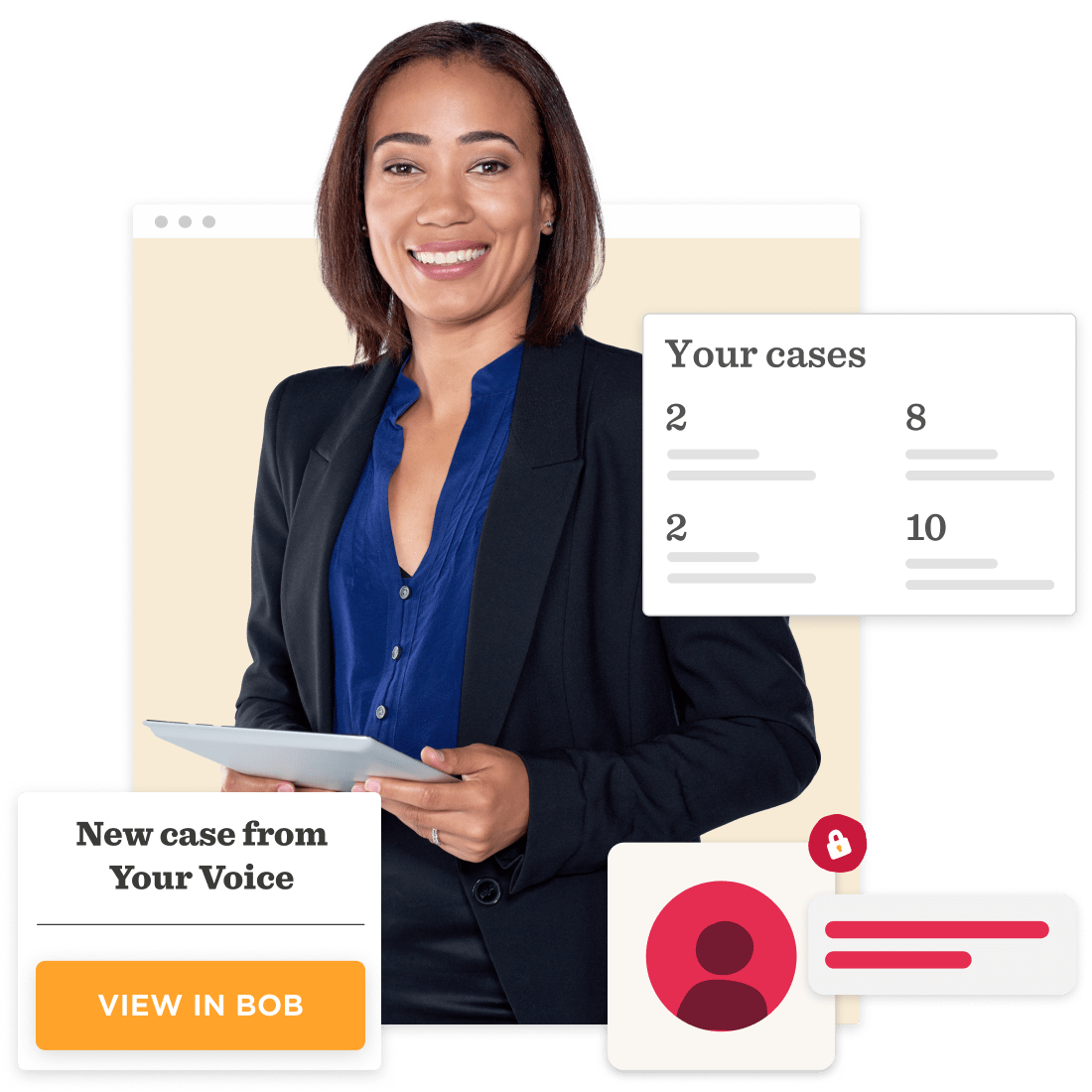 Anonymous reporting
Empower your team with Bob's secure anonymous reporting feature, "Your Voice". Create a safe space for your people to voice their concerns, safeguarding your organization's culture while ensuring compliance.
Offer a space for secure, anonymous reporting with Bob. Facilitate the reporting of personal or organizational concerns while protecting the identity of the reporter with leading encryption technology.

Ensure compliance with privacy standards such as the EU Whistleblower Directive. Protect your team while staying compliant, thanks to Bob's encryption technology.

Simplify case management with the intuitive dashboard. Keep track of open cases, set reminders, and easily archive or delete cases.

Gain insights from KPIs and understand the volume and types of cases reported. Evaluate average resolution times, assisting in recognizing trends and improving outcomes.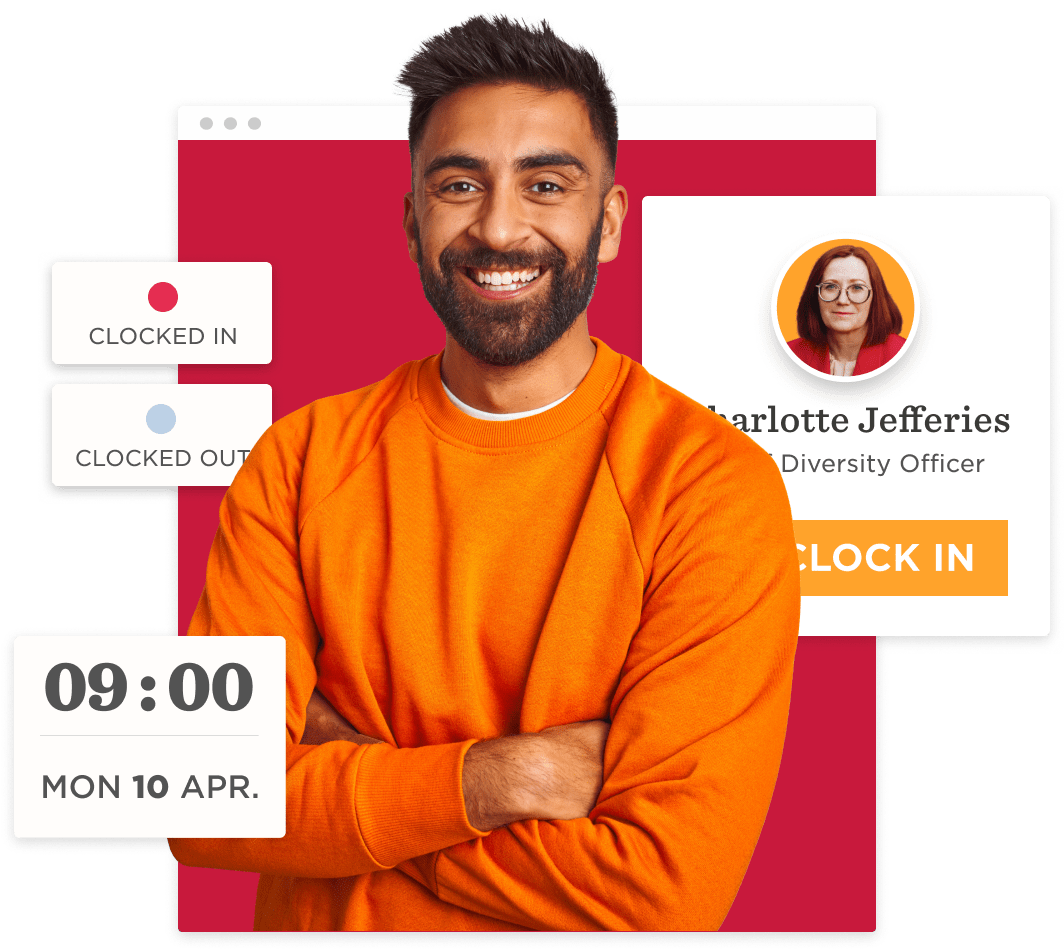 Time and Attendance
Simplify time tracking with Bob's intuitive Time and Attendance features. Ensure accurate logging and easy approval of hours, provide flexibility for modern work schedules, and utilize comprehensive metrics for insightful overviews.
Streamline time tracking with a simple "clock in" and "clock out" system. Allow for easy modifications and offer a comprehensive summary of monthly activities, including total days and hours worked, and overtime.

Ease the approval process with a clear overview of team working hours. Automatically prompt employees for timesheet submission based on your payroll cycle, and create detailed attendance reports exportable to payroll.

Facilitate flexible work schedules with adaptable time tracking. Allow multiple daily entries and retroactive edits. And, integrate with Slack and Microsoft Teams for seamless updates and actions.

Leverage extensive attendance metrics for strategic insights. Use customizable reports to view daily work hours, vacation, sick days, and more, all filterable by team member, department, or location.
The most customizable employee experience platform.
Meet Bob. The modern employee experience platform for modern business.
Bob is an innovative employee experience platform, helping to transform the way you handle your HR functions. With a focus on flexibility, security, and effectiveness, Bob reshapes HR management by automating HR tasks, shaping bespoke experiences for each team member, streamlining task management, and ensuring your employees' experience is the best it can be.
See all of Bob's modern features here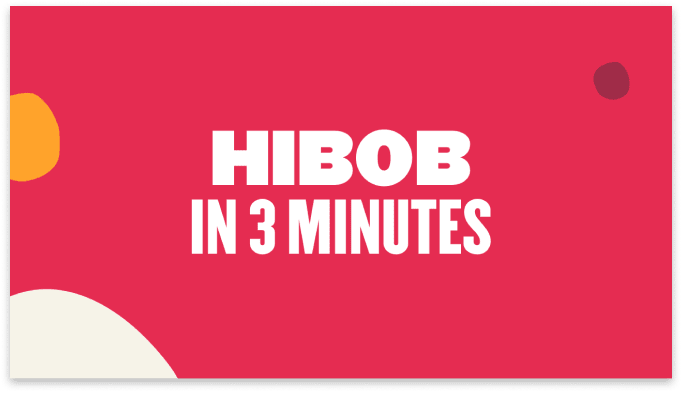 Why choose HiBob's employee experience platform?
HiBob's employee experience platform empowers employees and employers alike. It helps to connect team members to your company culture and enables a seamless experience from start to finish. With Bob, you can transform your HR processes and fully engage your people, helping to make sure they know they've made the right choice in joining your team. 
How to measure employee experience with Bob?
Bob provides a user-friendly interface and a wide variety of tools to help you track and measure your employee experience. Bob includes tools such as surveys for team member feedback, analytics for engagement and productivity, and dashboards for real-time tracking. You can also set custom metrics and KPIs based on your organization's needs and assess them regularly using Bob's detailed reports. This allows HR leaders to have a comprehensive understanding of team members' experiences and satisfaction levels.
How does Bob help to improve employee experience?
Bob aims to streamline, personalize, and bring the employee experience to life. It simplifies key HR tasks and processes, helping to reduce administrative burdens and allowing your team to focus on their main responsibilities. Bob also allows you to tailor unique experiences for each of your team members, improving engagement as well as job satisfaction. Your team can also feel safe knowing their sensitive data is well-protected by an encrypted solution. 
How do I choose the best employee experience software for my business?
Choosing the best employee experience software will always depend on your specific business needs and goals. You'll need to consider general factors like ease of use, customization capabilities, security, the type of analytics it provides, and the range of HR tasks it can automate. Good software should be agile, secure, and efficient, and it should offer unique team member experiences. It's important to take note of customer reviews and ratings of the software and make sure that the software aligns with your business operations and culture. 
Learn how Bob can improve your HR processes