As the economy begins to open up, the American workplace is forging a balance between returning to operations and risk mitigation. A rush of people coming back to work may contribute to the spread of COVID-19, so it's vital for businesses to be methodical and measured when determining who is coming back and when. With much of the nation's workforce sheltering at home for the last couple of months, teams have gotten more accustomed to working remotely but keeping everyone at home indefinitely is likely not an option for most organizations.
Towards gaining a better understanding of how teams have experienced working from home and how people are feeling about getting back to work, Hibob surveyed 2000 employed adults in the U.S. (nationwide sample) Our results are instructive for HR leaders navigating the uncharted waters of returning to work during the COVID-19 pandemic. Leveraging this data, people-oriented leaders can develop a back-to-work policy that is health-focused, collaborative, and constructive.
Who should come back first?
Many HR departments across the country are being tasked with building a back to work strategy. Once the premises are sanitized and prepared for hygiene and social distancing requirements, the next step will be deciding who should come back to work first. There are a number of considerations to include in your strategy:
Health
The most pressing priority when weighing how to bring teams back to work is being able to guarantee the health of all members of the organization. In a series of questions, HiBob surveyed people's willingness to adhere to hygiene requirements, including wearing masks, social distancing, and submitting to temperature checks. While over 70% of all independent contributors and managers reported being very comfortable with temperature checks, far fewer were comfortable with other health measures.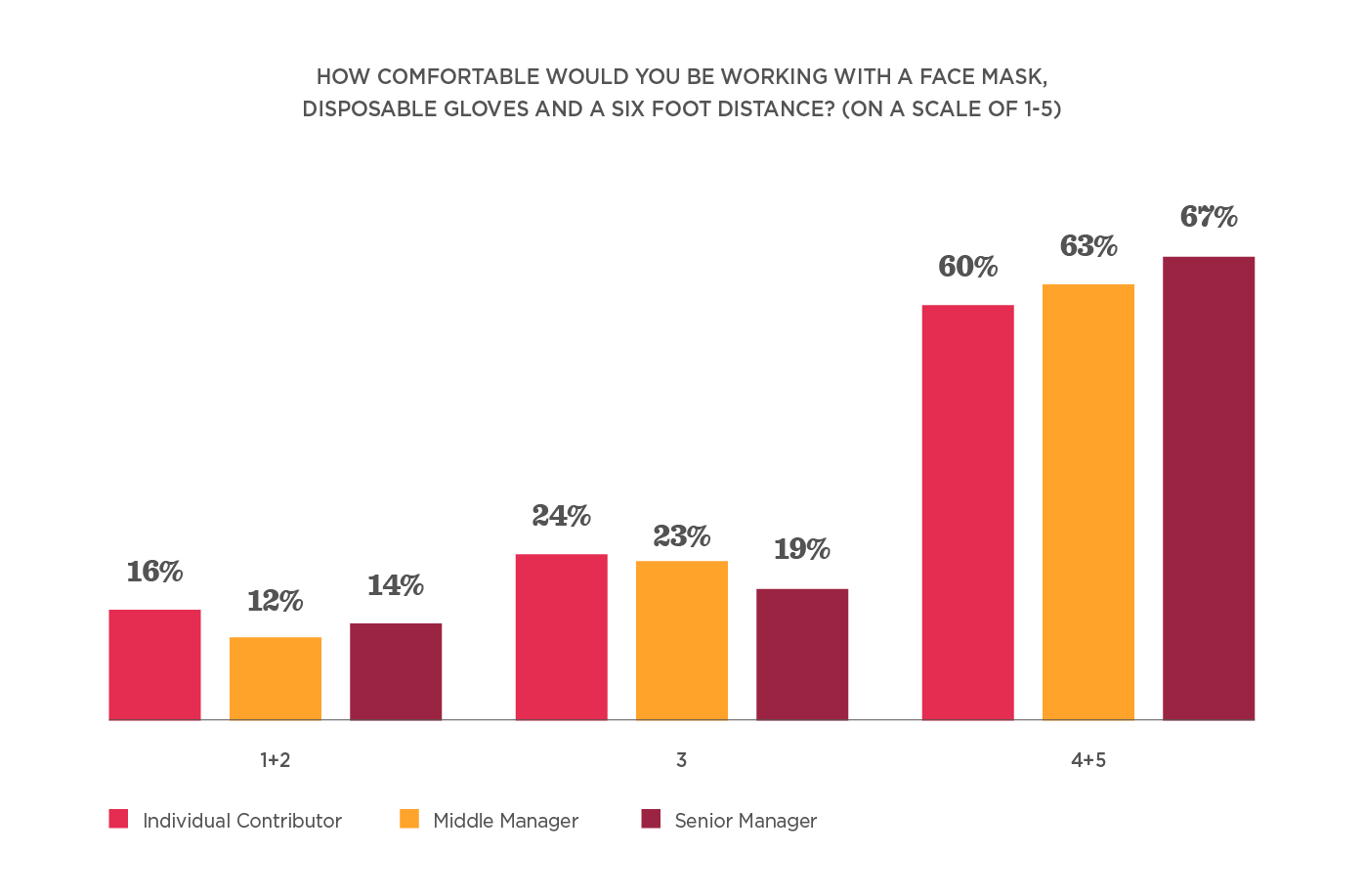 Among individual contributors, only 60% would be comfortable wearing masks and gloves at work.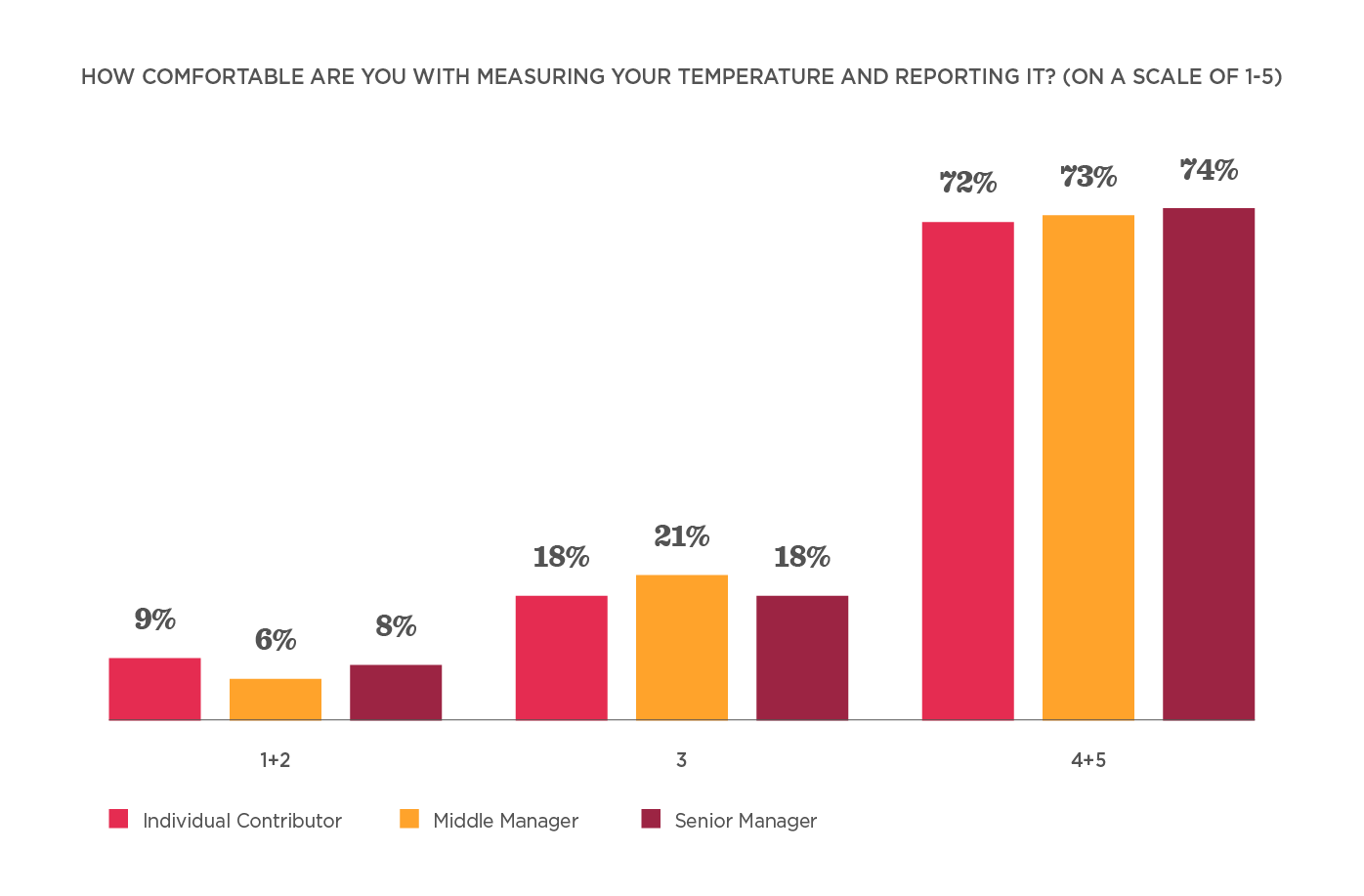 Personnel struggling with keeping masks and gloves on at all times will be more likely to remove them, endangering themselves and those around them. Without compliance, the workplace can become a health hazard, so before opening your doors, consider whether your people will be likely to stick to the rules. The CDC recommends that workers remain remote for as long as possible and that businesses only open if they meet the following requirements:
The business is located in an area that doesn't require significant intervention
Only essential workers will be able to return
If non-essential workers do come back to work, they will only be from the immediate area
High-risk individuals will have access to protective measure
In addition, businesses should not open until they have implemented effective monitoring and emergency protocol. Starting slow will help you establish a routine and action plans to handle emergency situations, for example what to do if a team member tests positive for COVID-19.
In the same vein, regardless of willingness, essential status, or desire to return to the office, high-risk individuals or those who live with a high-risk person should be among the last to return to the office.
Business needs
Part of deciding who returns to work will be based on business needs. Individual contributors deemed essential to have onsite may be asked to come back early on, but it is critical to keep lines of communication open to ensure that employees who do not feel ready are given opportunities to say so.
According to our survey, 54% of all individual contributors and managers report being able to perform their job sufficiently well at home and also prefer to work remotely for the time being. The response markedly higher for senior managers, 66% of whom reported being able to perform their job well from and expressed a preference for remaining remote.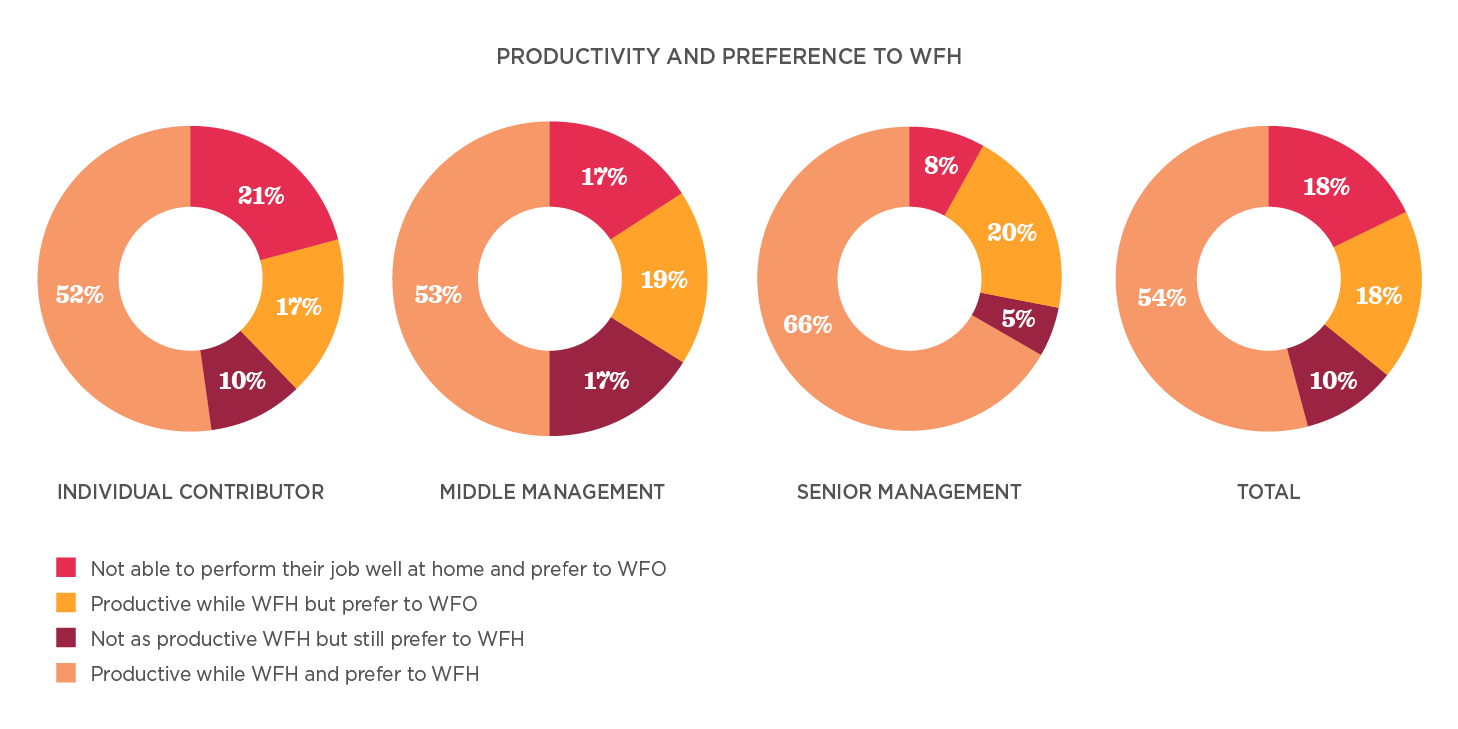 Interestingly, 31% of those surveyed would want to come to work a couple of times a week while remaining at home most of the time.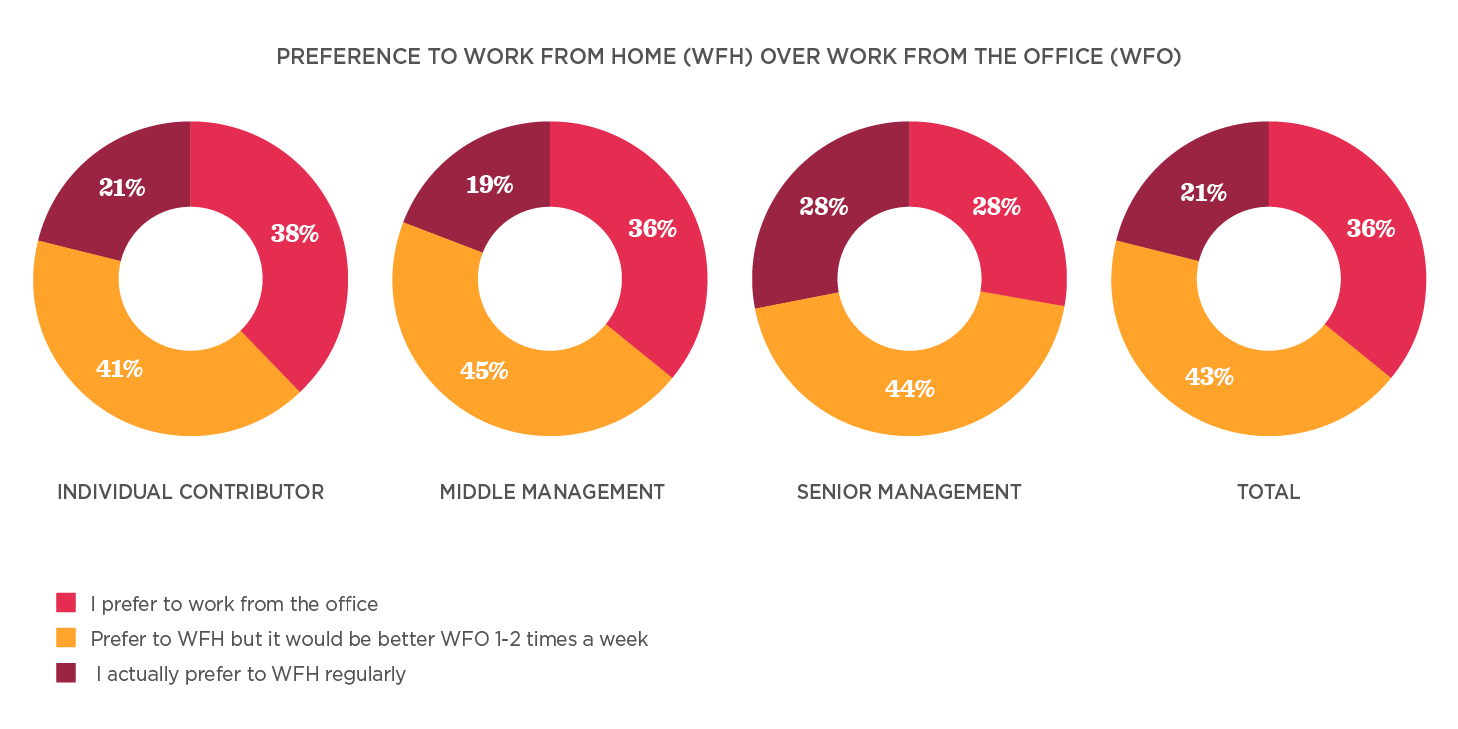 Based on these responses, a strategy to consider when bringing people back to the office is to begin having only essential and willing workers come to work in capsuled shifts twice a week. This will provide employees and managers the opportunity to ease into the new normal, and test a hybrid model for long term implementation. This will also allow more time to roll out health monitoring and emergency protocol.
Willingness
Overall, middle and senior managers were more willing to come back to work than independent contributors. When asked to rank their comfort level with returning back to work when the time is right on a scale of 1-5, 60% of managers answered 4 or 5 compared to 53% of employees.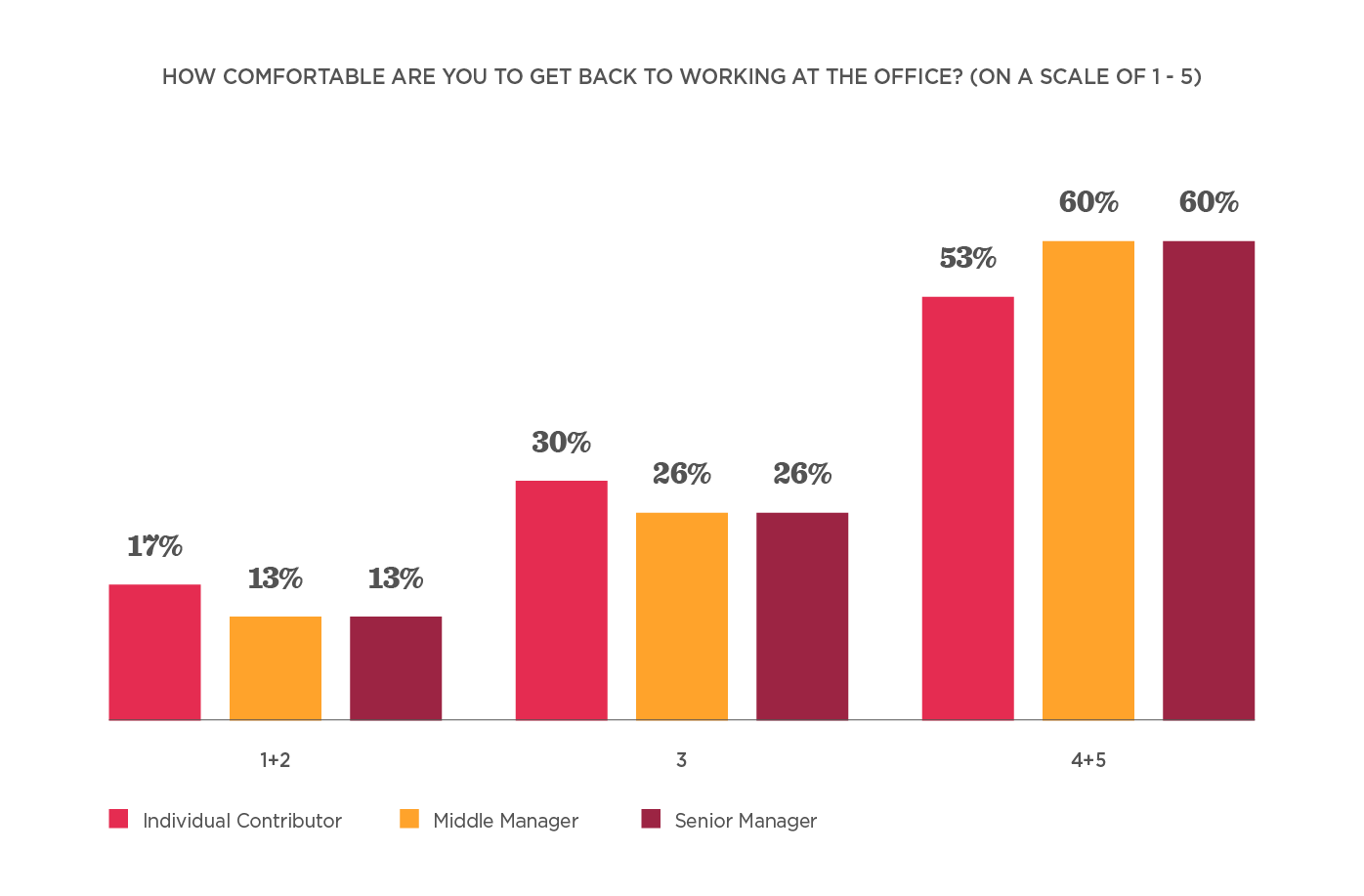 Managers play an integral role in any organization's back to work strategy, so bringing managers into work before reintegrating independent contributors will ensure a more seamless process.
Based on their familiarity with their employees and project load, managers are positioned to:
Determine which employees are essential
Make scheduling decisions including grouping team members into capsules
Communicate with employees about their willingness to return to work
Continue managing remote teams with best practices
Implementing health assessments for employees coming to work
Plan emergency closure protocol
Employees that perceive senior management as being committed to their health and wellness are more motivated and satisfied at their job. Bringing managers in to set up before their people come back indicates a culture of care and may make employees feel more comfortable coming back to work when the time comes.
Keep working on working from home
There may be a sense of urgency to return to normal, but rushing will be counterproductive. As revealed in our survey, many workers remain hesitant about coming back to work. One thing that many employees, middle and senior managers did miss is having a routine. When asked what aspect of returning to work they are most looking forward to, 42% of those polled chose getting back to a regular work routine.
Unfortunately, a truly normal routine is a long way off. In the meantime, business leaders and HR should continue optimizing remote work processes while listening to employees about their back to work concerns.
The guiding considerations for who to bring back to work first are health, individual willingness, and business need. HR should enlist managers to help decide which employees are essential to organizational continuity and how to sched
ule employee shifts. However, employees who prefer to remain at home, whether for health or other reasons, should be permitted to do so for as long as possible.
Our survey results show that most personnel continue to prefer to work from home, however, a significant number of respondents expressed willingness to return when the situation is less uncertain. With managers more willing than their team members to come back to work, bringing managers in ahead of their teams can contribute to greater confidence and comfort as we settle into the new normal.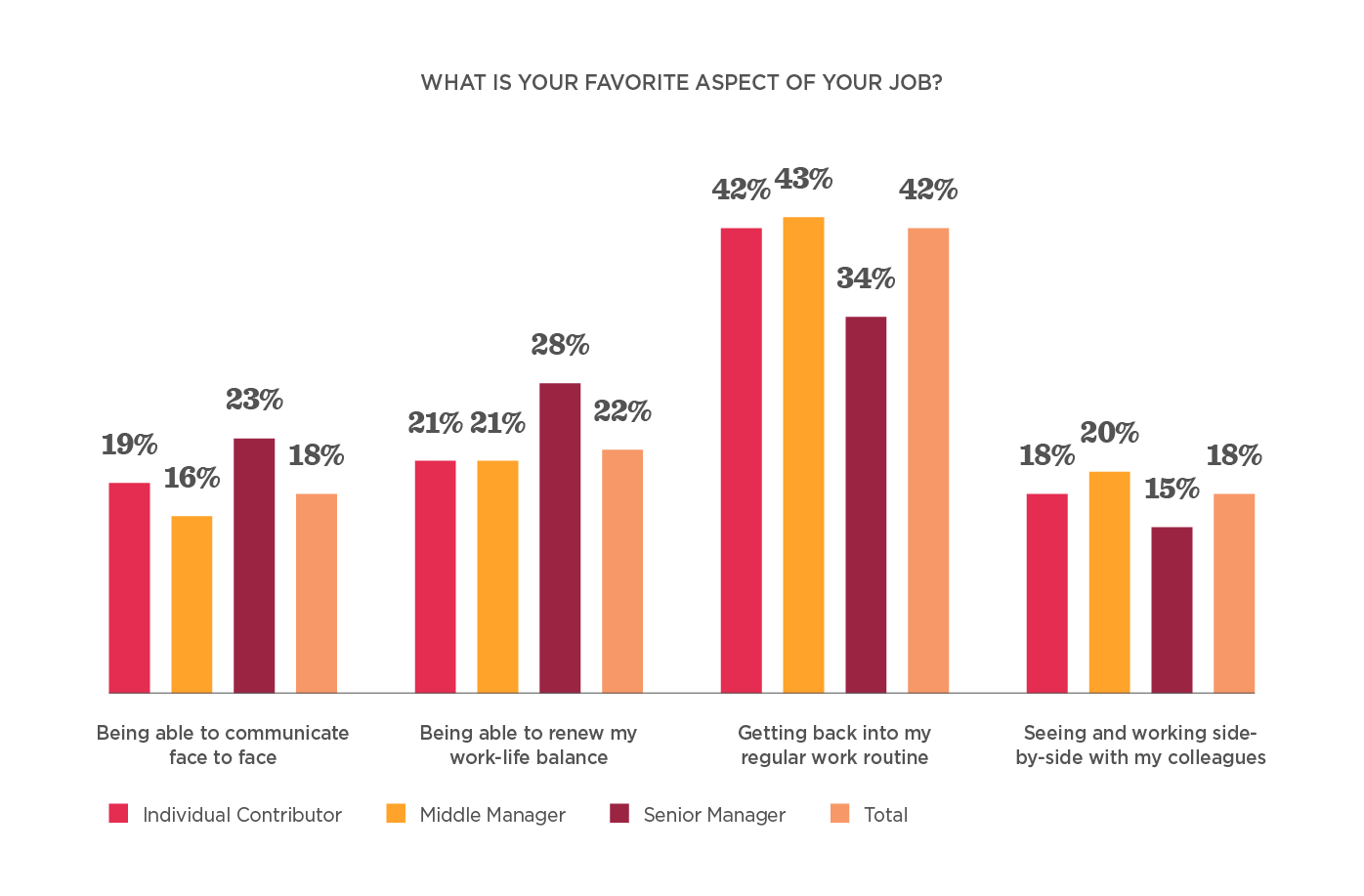 ---