A successful onboarding process starts long before a new hire's first day on the job: it begins the moment the employee accepts their offer! From keeping new hires excited about their upcoming start date to preparing for their assimilation into your company's culture, following onboarding best practices is essential to the health of your company. Numerous studies have shown the benefits of having an effective onboarding plan. Specifically, Glassdoor reports that a positive onboarding experience can increase the retention of new talent by 82%. In previous blog posts, we detailed the importance of onboarding and its inextricable link to employee retention. Now, we want to arm you and your growing company with top onboarding tips and best practices from our onboarding specialists to conquer the onboarding game. 
Plan, Plan, Plan!
We cannot emphasize this enough: this isn't about a one-size-fits-all onboarding template. The most important component of an effective and exciting experience is a thorough onboarding plan that HR managers can adhere to. Contrary to popular belief, onboarding is not analogous to orientation. According to SHRM, onboarding is "a comprehensive process involving management and other employees that can last up to 12 months." So our first onboarding tips are: plan an onboarding process that's right for your company, and keep in mind the process can and should take months. Having a time-frame in mind, managers can then identify the major goals they wish to achieve. While every business is different, the standard goals of onboarding remain quite similar, generally focusing on preparing the employee for future productivity and orienting them with company culture.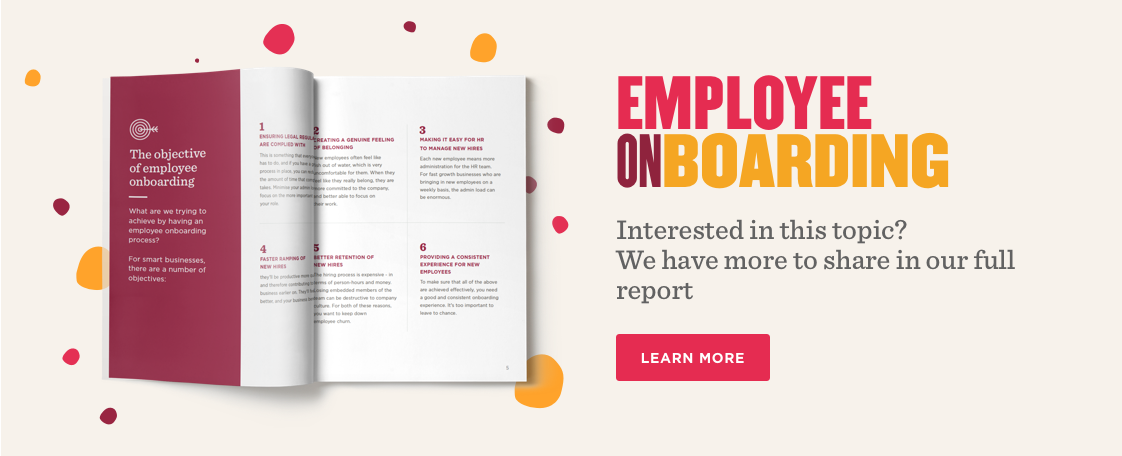 Mentors!
As reported by Inc, up to 28% of employees quit within the first 90 days on the job, an astounding phenomenon that is attributed to poor onboarding plans. In today's quitting economy, employers simply cannot afford to make a bad first impression on their new hires by failing to have a comprehensive onboarding plan in place. Here is where our onboarding best practices can really make a difference: on the first day, we suggest assigning a mentor to each new employee. The mentor doesn't have to be an onboarding specialist by any means. They should be warm and welcoming employees that can provide the new hire with professional guidance and serve as a liaison to the office's social culture. Giving mentors some onboarding training can help them deliver the best onboarding experience.
Sign Here, Please!
Another common pitfall to avoid on the first day is overwhelming incoming hires with too much information and paperwork. We get it: new employees have to go through a lot of new paperwork for tax, salary, insurance, and other purposes. Ideally, most paperwork will have been dealt with prior to the new hire's arrival, either via hard copies or an electronic signature system. Regardless of the medium, allocating too much of an employee's time with what seems like an endless document trail will impact their first-day experience, in direct contradiction to employee onboarding best practices.
How's It Going?
All successful onboarding experiences provide continuous training and feedback for months after an employee's first day on the job. As Inc details, "continued training help[s] employees contribute more to their business, but your employees will feel valued knowing you're willing to invest in their growth on your team." Similarly, regularly scheduled sit-downs are invaluable to ensuring your new hires are happy with their work and the office culture, while also providing a means for feedback. Human interaction is the key here: as shown from our survey's data, "new hires want transparency and value the human side of the onboarding process, where they can be set up for success while organically making friends." Checking in with employees shows the human side of your business while aiding in their professional development and well-being.
Onboarding is an essential component of any business, as successful programs are highly correlated with retaining talented, high-performing employees. While many HR managers understand the importance of onboarding, they struggle to execute and design an effective onboarding plan for their organization. With these tips and best practices, HR managers can take the next step in their onboarding awareness, helping them not only retain talent, but keep their employees happy, engaged, and productive – and their businesses flourishing.
---