Today's world of work is in the middle of a paradigm shift and widespread digital transformation. To succeed, companies and people must often meet superhuman expectations. How can they do it?
People must partner with technology to adapt and succeed in our digitally transforming world. Recent research by CIPD and HiBob shows that when HR tech is available to help, it's widely adopted.
Availability of HR software or platform where activity is within HR remit (by respondents' organisation size)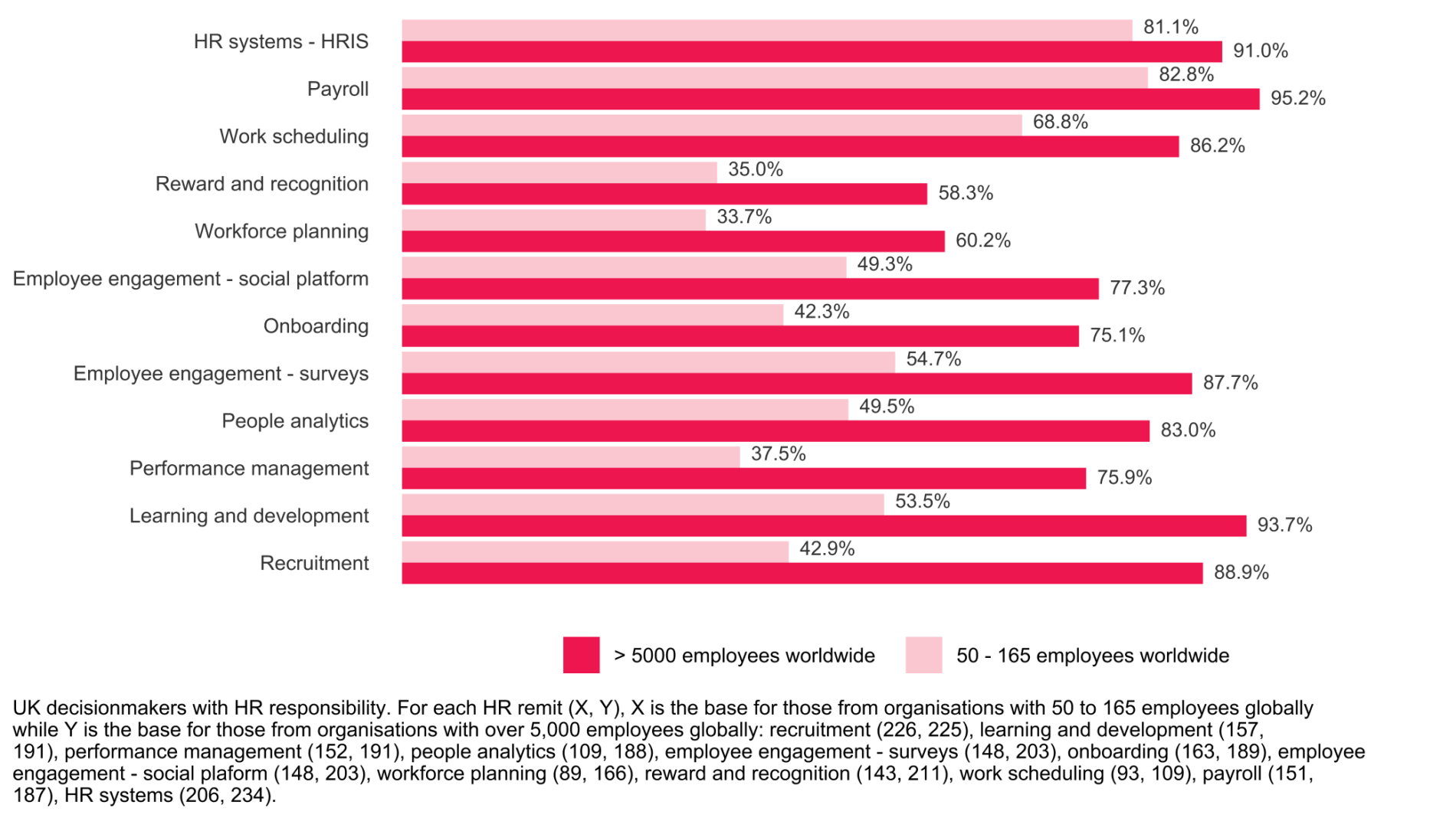 In today's business world, HR tech adoption and the automation of business and people processes is also the only way to keep up with the exceptional pace of the market and achieve our superhuman goals.
It's up to HR to blaze the trail.
👉 Get the CIPD-HiBob report on how expertise in tech can boost HR's reputation
HR sits at the helm of digital transformation
Making the modern work world's human-technology partnership work falls on the shoulders of HR professionals. Positive outcomes depend on HR professionals' tech savviness and the ability to drive the right HR digital transformation strategy to grow the business.
It also depends on the people team's ability to justify adopting (and investing in) HR tech platforms. They must demonstrate their value as key drivers of lean business strategies that boost employee engagement, satisfaction, innovation, and productivity—and, ultimately, the bottom line.
HR digital transformation can help grow your business
Companies that "had the most success with large HR Tech projects focused on employees first, technology second," a recent study by Josh Bersin found. When companies "looked at technology as an enabler" of business goals and people strategy, the results led to new and improved business and operating models.
Combining human innovation and technology is the key to boosting productivity, enhancing innovation, and enabling organisations everywhere to track their progress with accurate data. But how?
When we talk about HR digital transformation, we need to look at cloud-based tech and the solutions it offers organisations of all sizes. First, cloud-based HR tech is there to automate grueling administrative tasks and processes traditionally done manually. Think onboarding and offboarding, time-off requests, compensation reviews, etc.
Companies can also leverage HR tech to make HR functions from onboarding to L&D more efficient when they use it to help manage professional training and education programs, recruitment, and performance. And on the data side of the digital transformation story, HR tech can help track and improve data on things like employee engagement, DE&I initiatives, retention, and productivity.
Combined with HR professionals' expertise, HR tech and digital transformation are essential to saving costs and improving processes across the entire organisation.
HR platforms help drive modern business strategy
In our rapidly-changing world of work, the only way to stay future-ready and stand out against the competition is to infuse your decision-making processes with accurate, data-driven insights. In fact, the research by CIPD and HiBob shows that HR teams regularly share crucial people metrics with management to help drive business decisions and shape strategy.
Workforce metrics reported to management (by organisation size)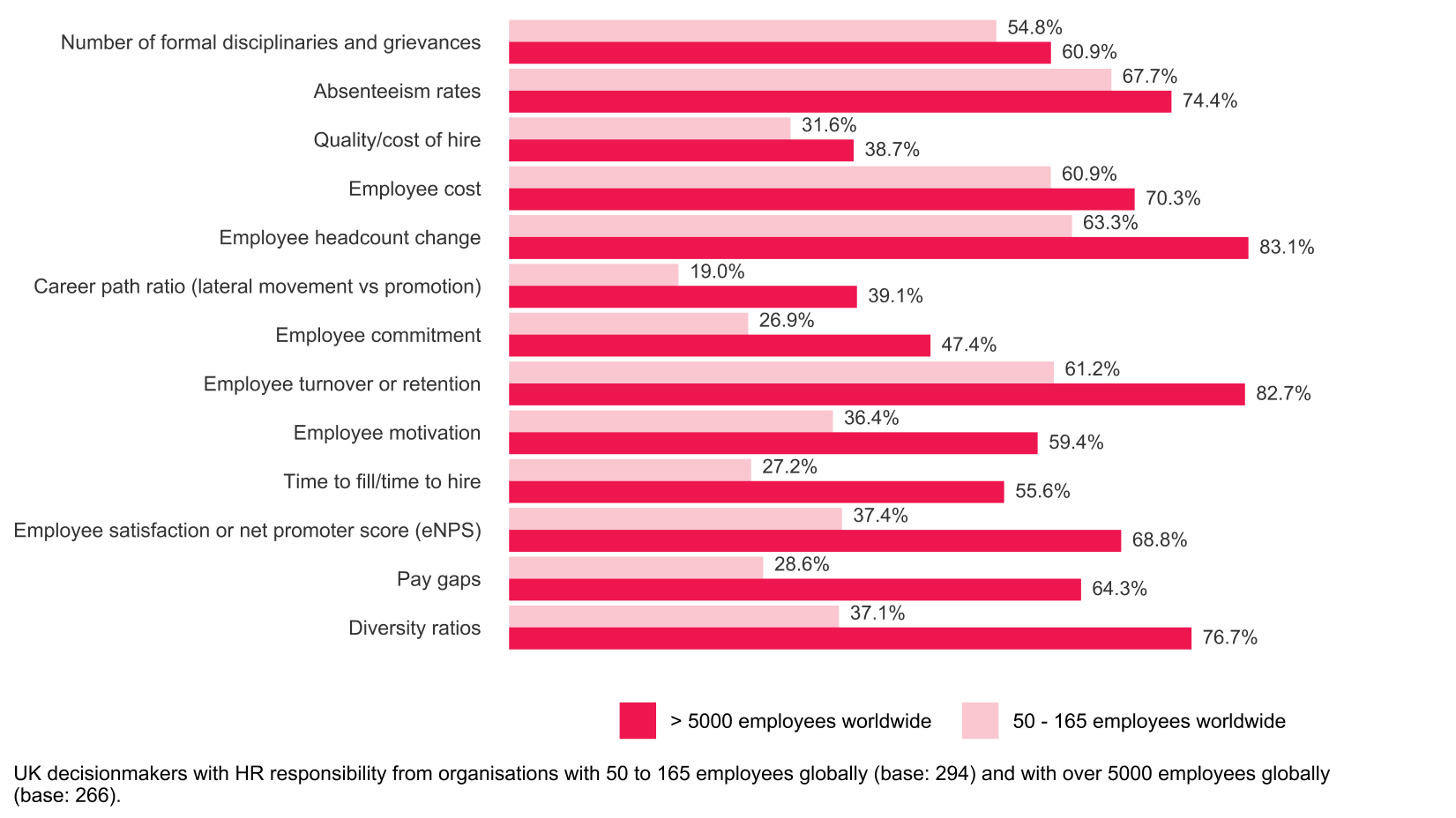 For CHROs and all HR professionals, data is king and the key to gaining buy-in from the C-suite and other top stakeholders in the business. Data from people metrics is critical to building people-centric and forward-thinking business strategies. It provides the answers to questions like:
What's our quality-of-hire?
What are our retention, absenteeism, and attrition rates?
What is the change in headcount?
How motivated are our people?
What's our employee net promoter score (eNPS)?
What's our pay gap, and how can we improve it?
How successful are our DE&I initiatives?
The data and automation HR tech affords can help company leadership answer many of these questions, garner insights, and make intelligent, data-driven business decisions to drive cost-effective and sustainable business strategies.
👉 Get the CIPD-HiBob report on how expertise in tech can boost HR's reputation
People are the key to successful HR tech adoption
Ultimately, HR tech adoption is about your people. That's why investing in tech literacy skills for your HR team is just as important as investing in the technology itself.
When your HR team knows what tech is out there and how you can integrate and implement it smoothly into your existing and evolving workflows, they can make knowledgeable recommendations as to what solutions to adopt—cutting down on time and costs.
Tech-savvy HR teams can expedite the tech adoption process across your entire workforce. For example, when your HR team can demonstrate how easy it is to use a self-service L&D feature in your HRIS/HCM or your new time-off management system, they can show your people the value of the technology and get people excited about using it.
Tech literacy for your business doesn't end with HR: It starts there
Strategic HR tech adoption boosts the business, and it's up to HR pros to get it right.
When HR professionals are experts in the people tech they advocate for, it makes getting your people to buy into it so much easier and digital transformation so much faster (and more lucrative) for the business. And once you have buy-in from your people, the benefits of cloud-based HR tech and digital transformation sell themselves: Your workforce will be more efficient, productive, and engaged, and your overhead costs will shrink while your bottom line rises.
---