At Hibob, we know that creating an engaged and committed team starts with successful onboarding and within our HR platform, bob, we believe it's a core value and key function of the overall employee experience. We care about starting people off on the right foot and making them feel at home even before they have even entered the workplace. After all, the value of onboarding is insurmountable and is directly correlated with retention rates, as we've found that 64% of new hires leave after a negative onboarding process.  
We hear it all the time from our clients: onboarding is a painful process. It's saturated with endless paperwork that hinders an employee's ability to get excited on their first day at work. Limited areas for customization also destroy a positive onboarding experience because they place new hires in a box that doesn't consider their unique preferences or needs as individuals. We fixed all that, though – which is why we can't wait to introduce you to our new and improved onboarding experience, using a template builder made to personalize the current processes for your people.
Meet our upgraded onboarding experience
Personalized onboarding, available now in bob, optimizes onboarding at first touch and boosts engagement with a stunning and seamless updated user interface. Our upgraded onboarding experience is mobile-friendly, built to provide new hires with a smooth setup that sorts the people stuff on the spot. Say goodbye to one-size-fits-all cookie-cutter processes and hello to tailored flows that meet your new-hires diverse needs.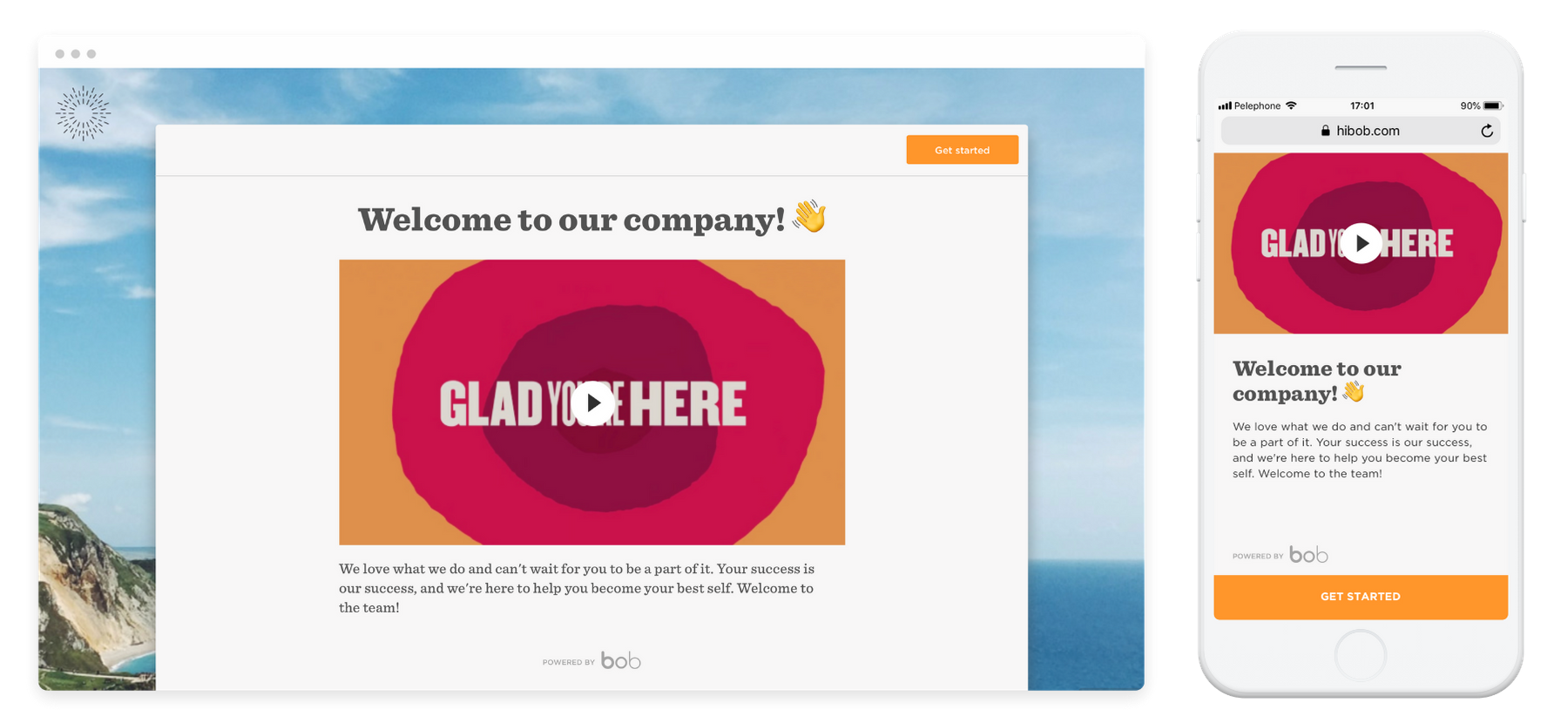 Our new personalized onboarding capability makes bob's onboarding feature easier than ever, offering an efficient way to set up. Create as many onboarding templates as you want (or need!) using only the fields and docs relevant to each new-hire, so you can ask for the right information before their first day in a timely and proactive manner.
So, what's new in bob's onboarding experience?
Fast-growing companies need flexibility, which means you need to be able to support your diverse workforce even with individual flows. Create multiple onboarding templates for each of your sites, tribes, departments, or any other grouping and use them in parallel.
You can design your onboarding templates with custom welcome messages (add a video or image!), a pre-boarding email to the new hire's personal address, and a start-date email to the new hire's work address. To make things more convenient, you can also make introductions to teammates and key people within your organization to your new hire. Make these introductions a bit more personal by sharing teammates and key people's hobbies or interests with your new hire, so they can get to know each other quicker through bob.
Get your new hires acquainted with your culture before their first day by showcasing your company's visual identity and messaging, while they get to know their coworkers. Control the font, add emojis, and autofill fields to include the new hire's name, manager's name, buddy, and more for an added layer of personalization.
HR leaders can finally say hallelujah for this time-saver; you can request that new joiners upload specific documents to streamline paperwork protocol and ask that they fill out individualized, specific fields so that logging their information happens without hassle. Say goodbye to sifting through papers and daunting forms that need to be filled out manually.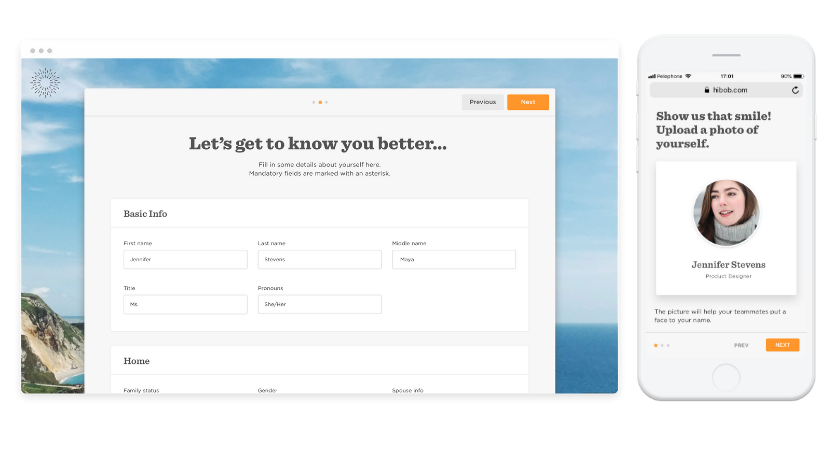 Recommended For Further Reading
What can you expect with bob's personalized onboarding?
You're all set and ready for a smoother, more efficient onboarding experience. bob's onboarding template builder allows you to support your diverse workforce across global sites wherever and whenever – whether your people are in-house, working remotely, or part-time, you can help them feel connected from the start through one single portal that was customized by you.
Can you expect to ease operations and reduce time to productivity? You bet! The messy parts of onboarding are long gone, and the battle with paperwork is far behind you. By solving these time-eating, yet traditional HR challenges using bob's onboarding template builder, we've made more time for attention to culture.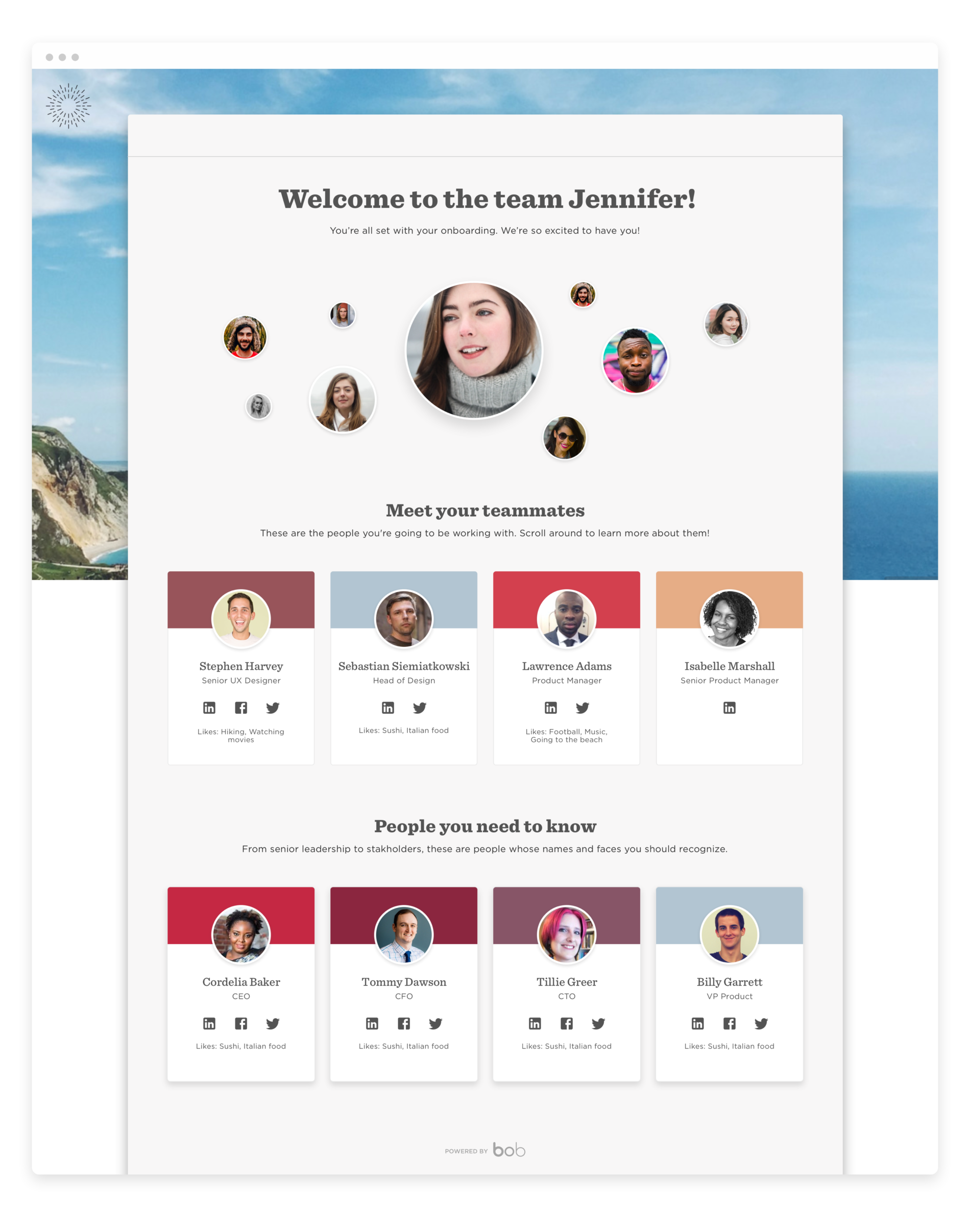 We're always working hard to improve our features and make bob work better for you. In this case, our personalized onboarding feature is intended to maximize productivity by allowing you to adjust onboarding to different types of new-hires, minimize paperwork, connect people through common interests, and ease the first-day jitters by getting the relevant admin stuff out of the way early and making their first day the best it can be.
To learn more about personalized onboarding in bob, visit our help center.
---
From Nora Stark
Nora is Product Marketing Manager at Hibob. She brings her background in psychology and passion for storytelling to her role. Often confused with the Starks from the North, Nora is also on a mission to travel and explore other cultures. An avid reader and podcast listener, she can be found discussing the latest pop culture news around the office. Nora is thrilled to discover where the future of work is headed through bob.