It seems like the world of work has changed in a month.
We went from making sure our office spaces were as comfortable as possible to asking entire organizations to work from home, communicate daily by video and chat, and stay as productive as possible while the outside world is chaotic. We are learning to live in this reality to the best of our ability, and that includes adjusting our way of working.
A disturbing reality of the COVID19 pandemic is that on a near-daily basis companies are downsizing or disappearing altogether. Regretfully, this means to many of us that we have to separate from employees who we value and appreciate. To complicate things, not only are we letting them go, but we are also doing so remotely over small screens and with the possibility of family members and roommates overhearing the call.
If we have to let employees go, especially for reasons outside of their (and our) control, we need to take care to do so in a way that is empathetic to the remote worker's unique needs and respectful of the unfortunate circumstances.
1. Don't surprise teammates
The same way you wouldn't grab an employee and give them bad news at the coffee machine, you shouldn't surprise them with a video call.
Though the employee may know that layoffs and/or furloughs are coming, they can't be prepared for this kind of news. To soften the blow, ease them into the conversation with a proper meeting invite whose title alludes to what will be discussed. Make clear that this will be a video call, and recommend being in a quiet environment.
In my experience, the best phrasing should be around changes in the organization and how the employee will be affected by them.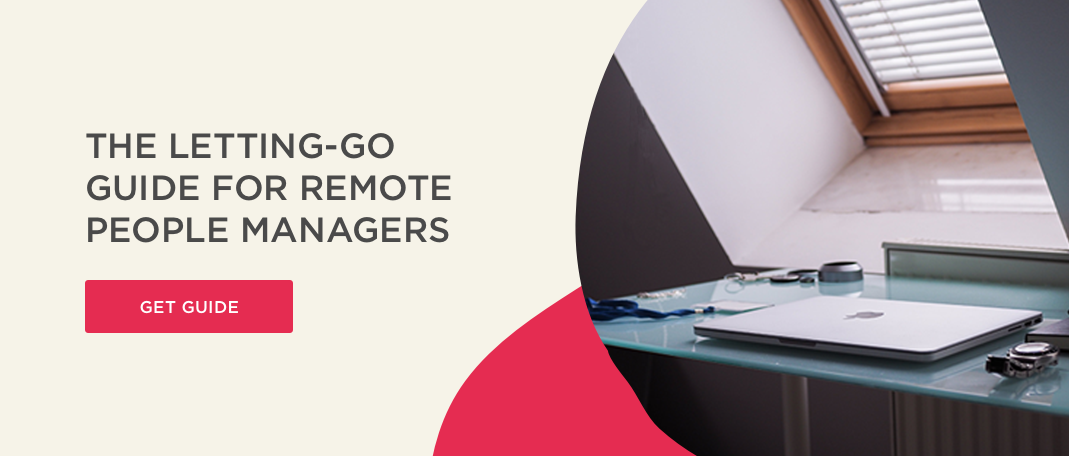 2. Come prepared
As an HR leader or direct manager conducting this difficult call, respect your employee's time and preempt their concerns by coming prepared to answer questions and explain this painful choice.Taking time before the call to answer questions about the separation and prepare information that the employee will need will allow you to be present during the call. We have all had the unfortunate experience of being on a call with someone who's busy doing other things; don't be that person. Come ready with any necessary documents and having closed up any admin tasks so you can spend this time talking to your employee, instead of messaging your HR team and checking boxes.
3. Speak concisely
While it's important to clearly communicate the reason for separation and the terms of separation, remember: this is not about you, the team, or how much the employee will be missed. This meeting is about the employee and giving them the information they need to deal with the new circumstances for them.
Maintain eye contact, don't multitask with other activities, and leave ample time for your employee to say what they need to say.
4. Set up a follow-up meeting
It is very likely that your employee will not remember everything from the video meeting you just held. They were probably busy during the call thinking about the implications of this decision on their life—on their career, their finances, and their families. After a few hours, they will probably have follow-up questions that they'll need answered.
Set up this second call for a few hours or the day after the first, either with yourself or an HR counterpart. Some employees will be more comfortable following up with HR than they will be following up with their direct manager, so you can allow them to choose.
Exercise empathy across platforms
Remote separation is not much different than separating face to face. You need to be respectful, prepared, and focused on the person you are separating from in both situations. When remote, however, you have to be prepared to a T.
In this moment you have to be the best people manager you can be, and more. More organized, more sensitive, and aware that the setting requires you to be prepared, so there will not be unexpected surprises affected by the remote home environment your employee will be at when receiving the news.
Hibob's own HR leader Nirit Peled gave me the following advice
"You should expect to see a wide range of emotions during the separation meeting. Make sure to maintain your composure. Be the people leader your employees need you to be."
---