In today's multi-national and hyper-connected business world, employee engagement is paramount to success. Investing in your people is more important than ever, considering the spread of dispersed, global teams. As the ones responsible for building exceptional company cultures, HR professionals spend more time, effort, and resources collecting and parsing through information to help businesses structure data-driven strategies powered by employee engagement.
To succeed, you need access to the right people information fast–and it can be hard. HR leaders and teams need customizable, easy-to-use people-centric tech that can keep up with exponential growth and global teams–all while increasing employee engagement and, ultimately, the company's bottom line.
The key to great employee engagement and strong company cultures is keeping it personal and scalable.
HR tech can be the solution
A great HR platform delivers value to everyone in the organization, whether you're HR, management, or an individual contributor.
HR professionals need quick access to high-level people data to save time and resources. Managers need tools to monitor their team's progress and company and development initiatives, like KPIs and goals. And employees benefit from tools that allow them to engage with co-workers easily no matter where they are in the world.
Introducing HiBob's redesigned Help Center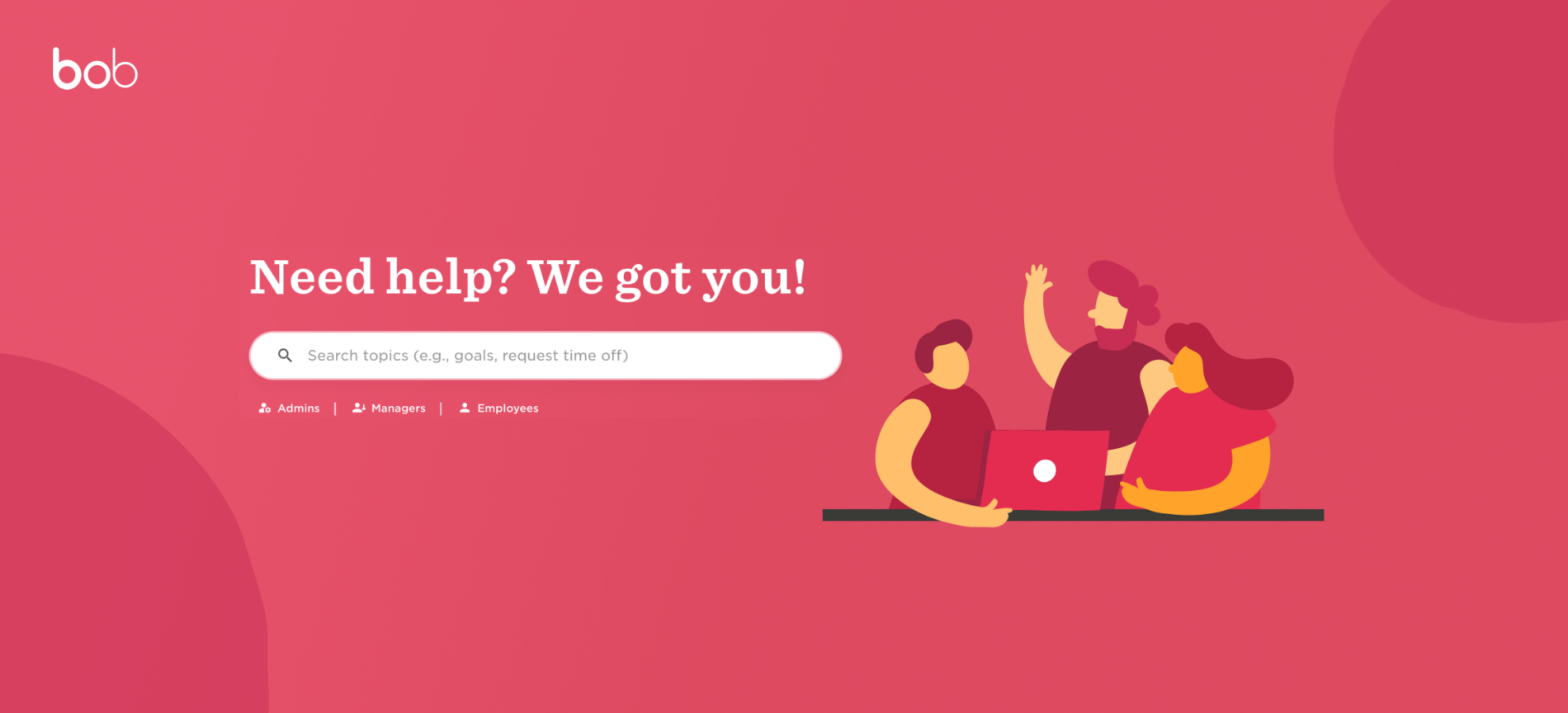 Figuring out who's responsible for what can be complex and time-consuming and might discourage people from documenting goals and other information. But, a great HR platform and its accompanying resources should help make these processes simple.
Bob gives everyone across your organization–no matter what their role–tons of custom tools and automations that allow you to manage time, tasks, goals, reporting, and more efficiently. To make navigation simple, we've revamped the resources that guide you through personalizing the platform.
The Help Center provides people with the resources they need according to their role in the organization. Rather than spending tons of time searching for solutions, you can save time and jump directly to the resources that are relevant to you and how you use Bob:
Admins (HR professionals) oversee employee-manager collaboration and progress, and identify gaps. Bob provides the data to help the identify gaps, strengthen relationships, and reach goals faster. When HR professionals access the Admin section of the Help Center, they receive Getting-started guides, Self-implementation articles, and product tour videos to help you dive right into the product, access data, and garner insights as fast as possible.
Managers are responsible for guiding and supporting their teams. Bob enables managers to regularly monitor goals and check in with team members. Managers can easily access curated Help Center content, like how-to guides and video tutorials, that helps build connections between team members and foster engagement.
Employees need a comfortable and safe space to collaborate with their managers and co-workers to achieve common goals. Bob is that space. The revamped Help Center includes photo-enriched help articles, GIFs, and video tutorials designed to boost peer collaboration and engagement.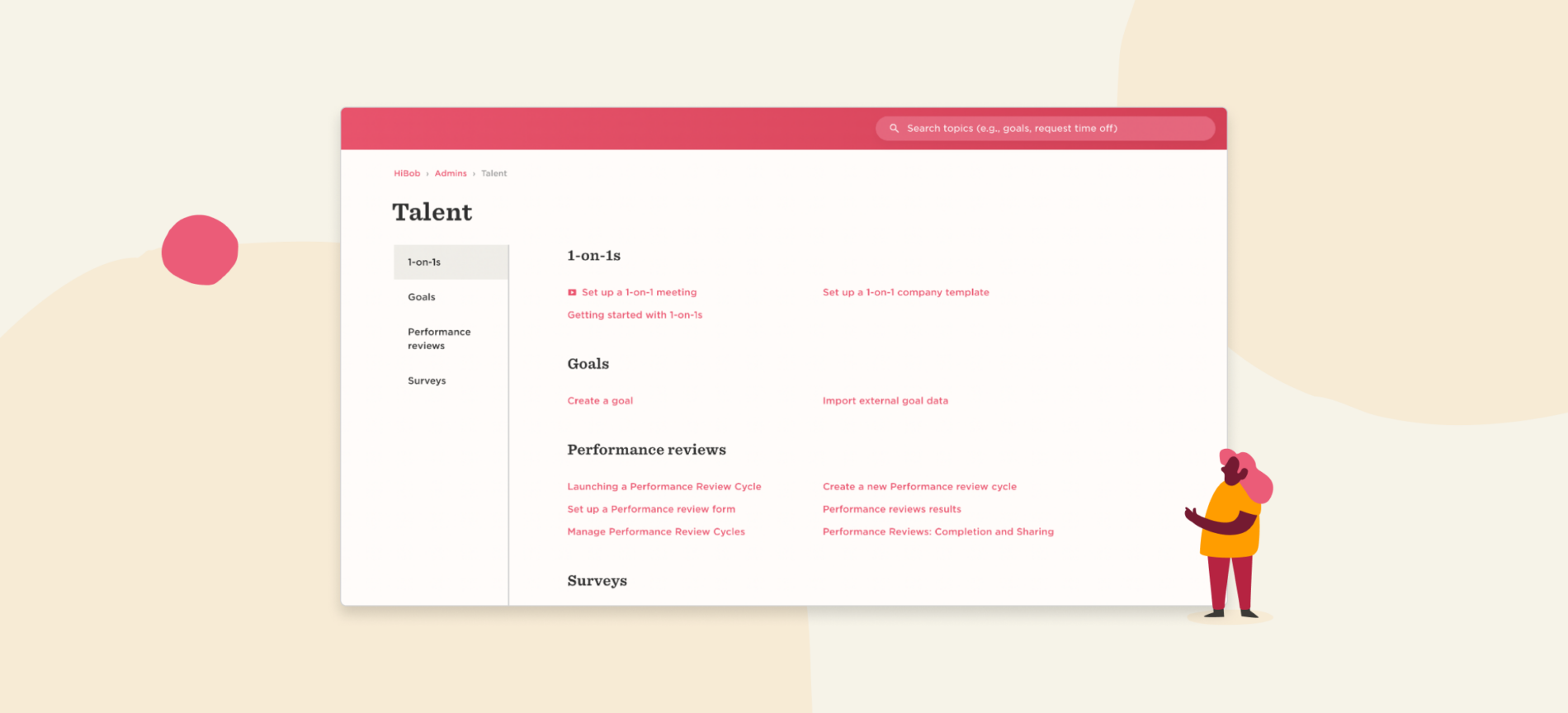 Drill down by topic and role
Whether you're brand new to Bob or need a refresh, the Help Center guides help you navigate through and set up Bob with your company's needs in mind. Popular article topics about the Talent module, for example, show you what other HR admins use most frequently and can inspire your own use of Bob in goal monitoring.
The Getting started category contains a Self-implementation section to help support you through the setup process. It can also help you properly configure all your automations and notifications in Bob, like task lists and goal tracking, so you don't have to spend time manually adding reminders to people's schedules.
Choose how to consume content
Don't have time to read everything? With new hires to oversee and meetings to attend, you might not always have time to read step-by-step guides. We get it.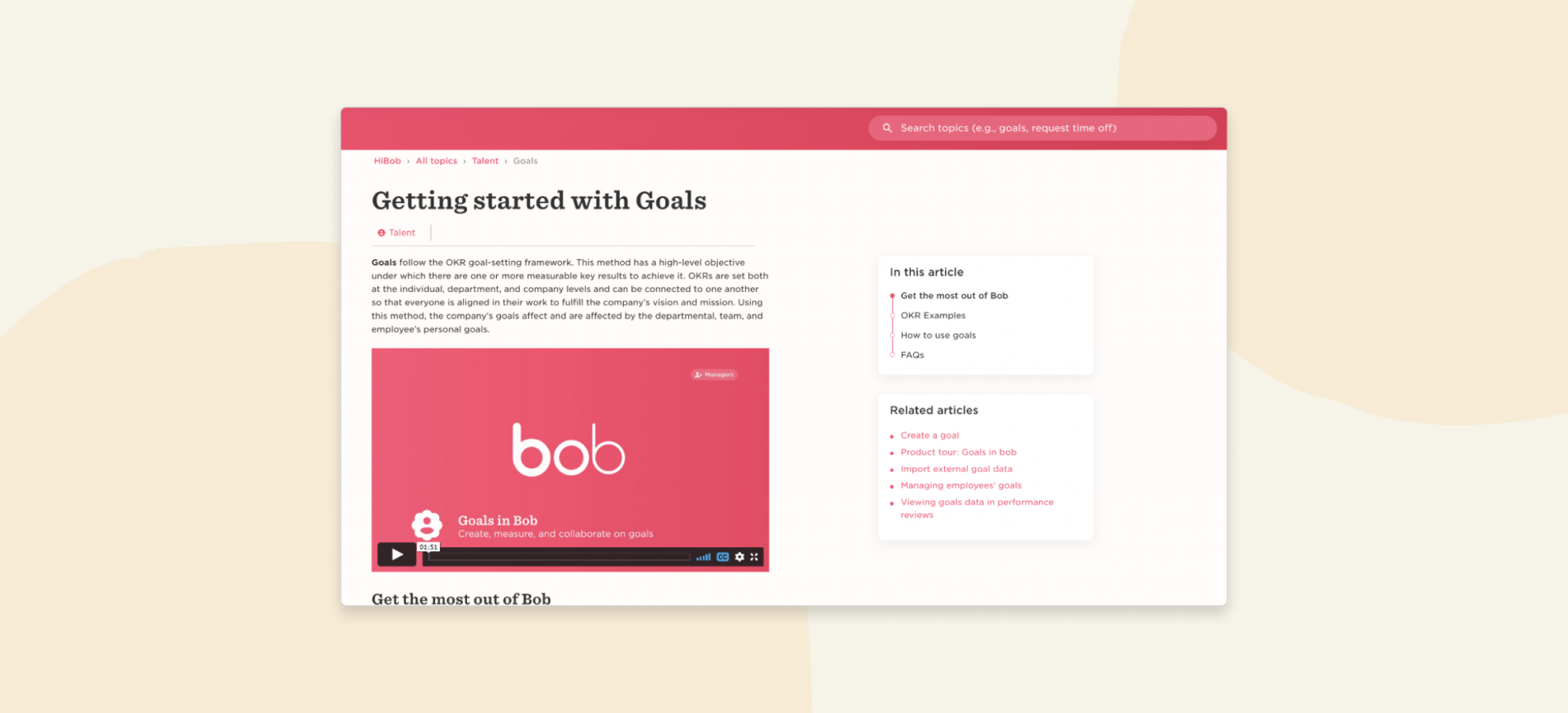 Navigate directly to the articles you need
You don't need to comb through each article in the Help Center to find what you're looking for. Each article now includes floating "In this article" and "Related articles" navigation bars that stay with you as you read and let you jump right to the section or article you need to make better use of Bob.
Recommended For Further Reading
Watch a quick video tutorial instead
The Help Center is all about promoting self-service so you and your people can spend more time investing in and engaging with each other. Now, you can stop scrolling through every article and skip straight to video tutorials and product tours. Just click the video icons next to the article titles to get access.
We're glad you're here
Showing up for your people and creating a culture that allows your teams to truly connect with each other and engage with their work–especially across globally dispersed teams–is no easy task.
Bob helps you achieve exactly this by providing culture and collaboration tools for global teams that promote engagement and exceptional employee experiences. The new Help Center redesign empowers people to navigate Bob on their terms–whether you're HR, a manager, or an individual team member–making it easier to reach and exceed your professional goals and build connections with each other, all while having fun at work.
---
From Emilee Cruz
Emilee is a Product Education Writer passionate about creating product learning opportunities for customers, and refining internal product education development and processes. In her free time, she enjoys experiencing different cultures near and abroad, scuba diving, teaching yoga, and hiking with her cat.