Employee benefits vary across levels, industries, and countries, so it's no wonder it's hard to master the concept! While benefits are supposed to be nice-to-haves, they can be make-or-break for many candidates, especially when healthcare and pension are involved.
To help you and your people navigate discussions about benefits and perks, we've explained five of the most common types of benefits. We've also shared three surprising learnings from our report about employee benefits that might help you and your people get what you really want.
Five types of employee benefits
This is by no means an exhaustive list. Let me make that clear. Especially in this new era of hybrid workplaces, workplace benefits and perks are changing. These are some common ones that you can expect to see—ad hopefully already offer!
1. Health insurance
For employees in the United States, private health insurance covered by an employer can be a family's only affordable insurance option. For those in countries with socialized healthcare systems, it can mean shortened wait times and better access to specialists.
Offering health insurance benefits that meet your employees' needs, with deductibles covered and doctors available, will help them stay healthy so your organization can keep functioning.
2. Life insurance
Life insurance helps you take care of your people and their families. Investing in life insurance policies for your people lets them know that you're not only invested in their here and now—you want to help set their families up for a better future.
3. Pension and retirement benefits
Another nod towards the future for employees. Your people work hard to make sure your company succeeds. Investing in a great pension plan for them will help them thrive even after their tenure.
For companies who want to go the extra mile, offering to set employees up with pension and investment counselors will help them take ownership over their finances and build themselves a better future.
4. Employee Assistance Programs (EAPs)
Mental wellness is as important as physical wellness. To help your employees stay healthy, consider investing in an EAP: a work-sponsored mental health program designed to help employees navigate personal problems. Marriage counseling, treatment for substance abuse, and financial guidance are examples of services covered by EAPs.
5. Paid time off (and paid-for time off)
Let me speak for everyone: we all need a vacation. 2020 has been exhausting. Lucky for us, paid time off is one of the most common employee benefits. The direct correlation between vacation time used and productivity makes generous paid time off policies good for employees and businesses. Some very generous companies are even paying employees to take time off, offering cash bonuses for vacations. Others impose mandatory time off, where employees have to use a certain amount of their vacation days. It's for their own good!
Remote employees work even more hours than in-office employees and are more vulnerable to burnout. If your company offers paid time off, encourage your people to take advantage!
Three surprising statistics about employee benefits
In our report about planning employee benefits, The ultimate guide to what people really want, we share the results from a survey of 4,000 employees and 500 organizational decision-makers. Here's some of what we found:
1. Only 1 in 3 employees really understand and actually use their benefits.
A benefit isn't really a benefit until it is recognized and used by employees. "If you're going to spend money on benefits, do it in a way that actually delivers rewards that people will find motivating." Only 33% of employees understand the benefits system and use them often while 15% of them do not understand them, but are aware that they are there.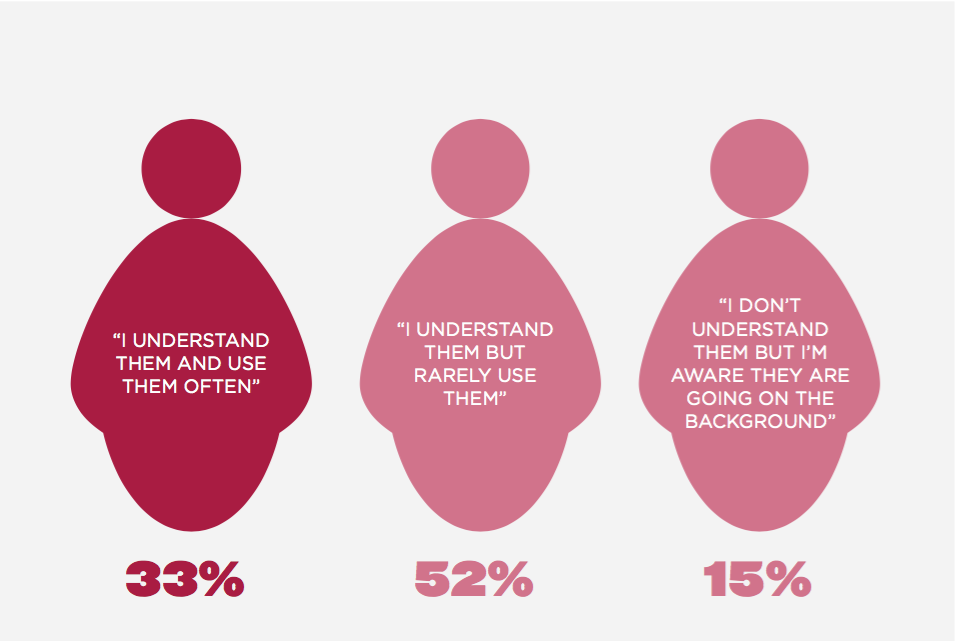 2. Benefits are important in job selection
41% of employees said their benefits package is important when choosing their employer, and the importance placed on benefits in job selection rises with income.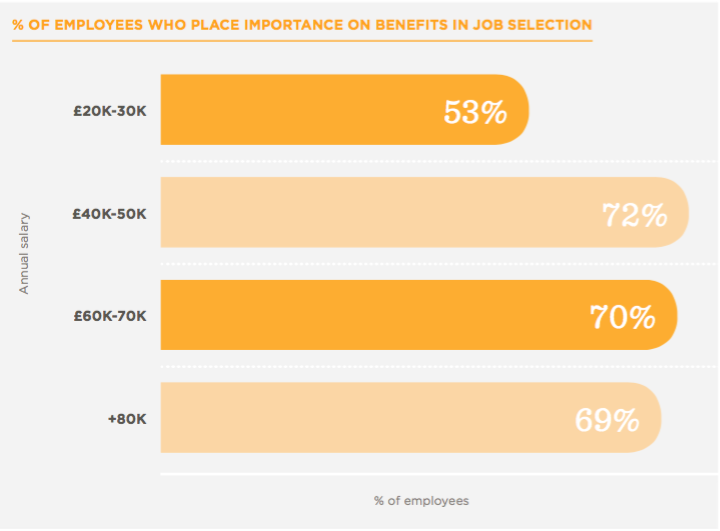 Of the employees we interviewed, 70% rated benefits as an important part of the total reward package. Younger people (42%) placed more importance on benefits in the rewards package than older age groups (27% for age 35-54 and 28% for age 55+). Men regarded it higher (46%), than women did (36%).
Recommended For Further Reading
3. Employees want flexible working
When it comes to the benefits employees want, flexible working is the most popular. As for what people feel they need the most, it's pensions. Pensions also come in at number 6 in the list of most wanted benefits and is the only benefit people recognise they need more than they want.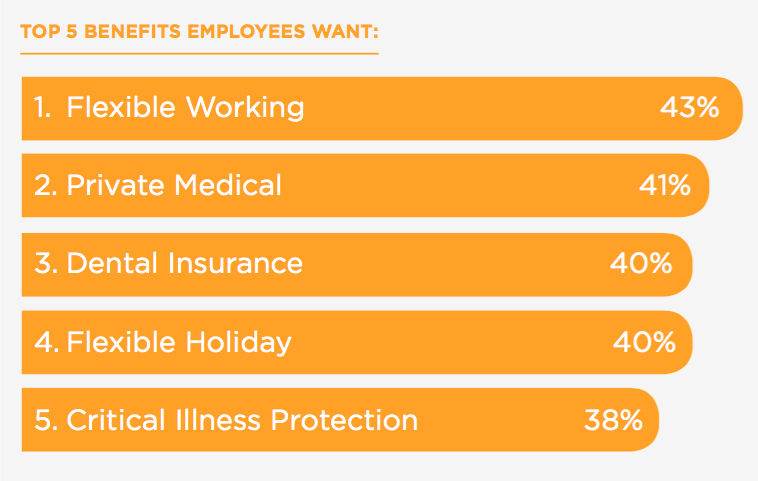 Retaining great employees isn't easy for any company; employees know that if they aren't satisfied with their workplace, they can move. Benefits are an opportunity to offer employees a sense of belonging and support, fostered by an inclusive workforce they wouldn't want to leave. Download the report to get the full picture of what employees think of benefits, and start using the information today to improve your employee benefits package.
You can also check out bob's employee benefits feature here to see how we are helping growing companies give employees benefits they will actually use.
---