Introduction
HR professionals lead the charge at organisations worldwide to drive meaningful change, create value, and positively impact the world of work. In order to succeed, they need expertise in what the CIPD Profession Map calls "core knowledge areas." One of the most important of these is defined as "technology and people."
Technology isn't going anywhere, and development is only getting faster and more complex. Expertise in "technology and people," according to CIPD, demands that HR professionals stay on top of the tech that's currently available and what's in development.
Being tech-savvy in HR also means having an in-depth understanding of how you can integrate certain technologies into an organisation's daily workflows and people operations. It means clearly understanding how to use and apply tech across the business to boost agility, automate processes, and narrow skills gaps (e.g., introducing an intelligent chatbot to CS and Sales teams to build workforce knowledge and cut down on training time).
But how can HR professionals leverage HR software and people data, and how does the way they use it change according to the size of their organisation? This joint research by CIPD and HiBob explores the close relationship between people technologies and how they boost efficiency in the workplace.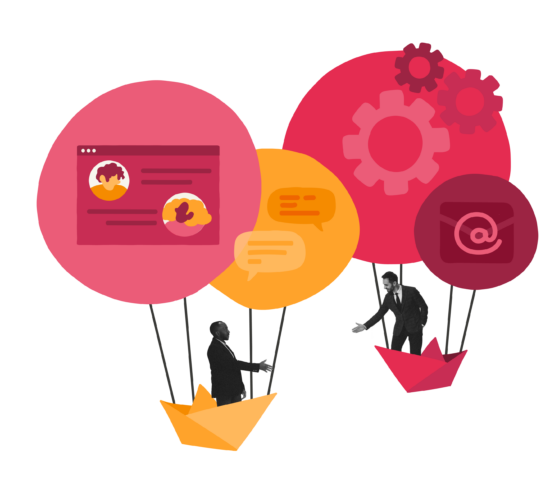 Organisations of all sizes use similar HR tech and people data
Despite larger organisations using more people metrics and tech to support a larger variety of HR programs than their smaller counterparts, the ways in which different-sized organisations use the data and tech are very similar (see the light and dark bars in Figure 1 and Figure 2).
In this study, we separated respondents' data according to organisations' size, defining medium-sized organisations as those with 50-165 employees worldwide and large organisations as those with over 5,000 employees worldwide. For the sake of brevity, we've omitted organisations between these two sizes. However, the study showed that larger organisations tend to use a wider variety of HR software and workforce metrics. Additionally, for clarity, respondents who did not say "Yes," responded "No" or "Don't know."
According to the research, organisations with 50 or more employees use HRIS and payroll software more than any other variety of people tech (see Figure 1). While recruitment still stands as HR's most well-known responsibility, respondents at large companies reported using recruitment tech twice as much as their counterparts at medium-sized organisations.
Furthermore, when we look at the free-field responses, respondents at large companies often talked about their organisations using paid applicant tracking systems (ATS) as opposed to other kinds of recruitment tech (e.g., free social networking platforms).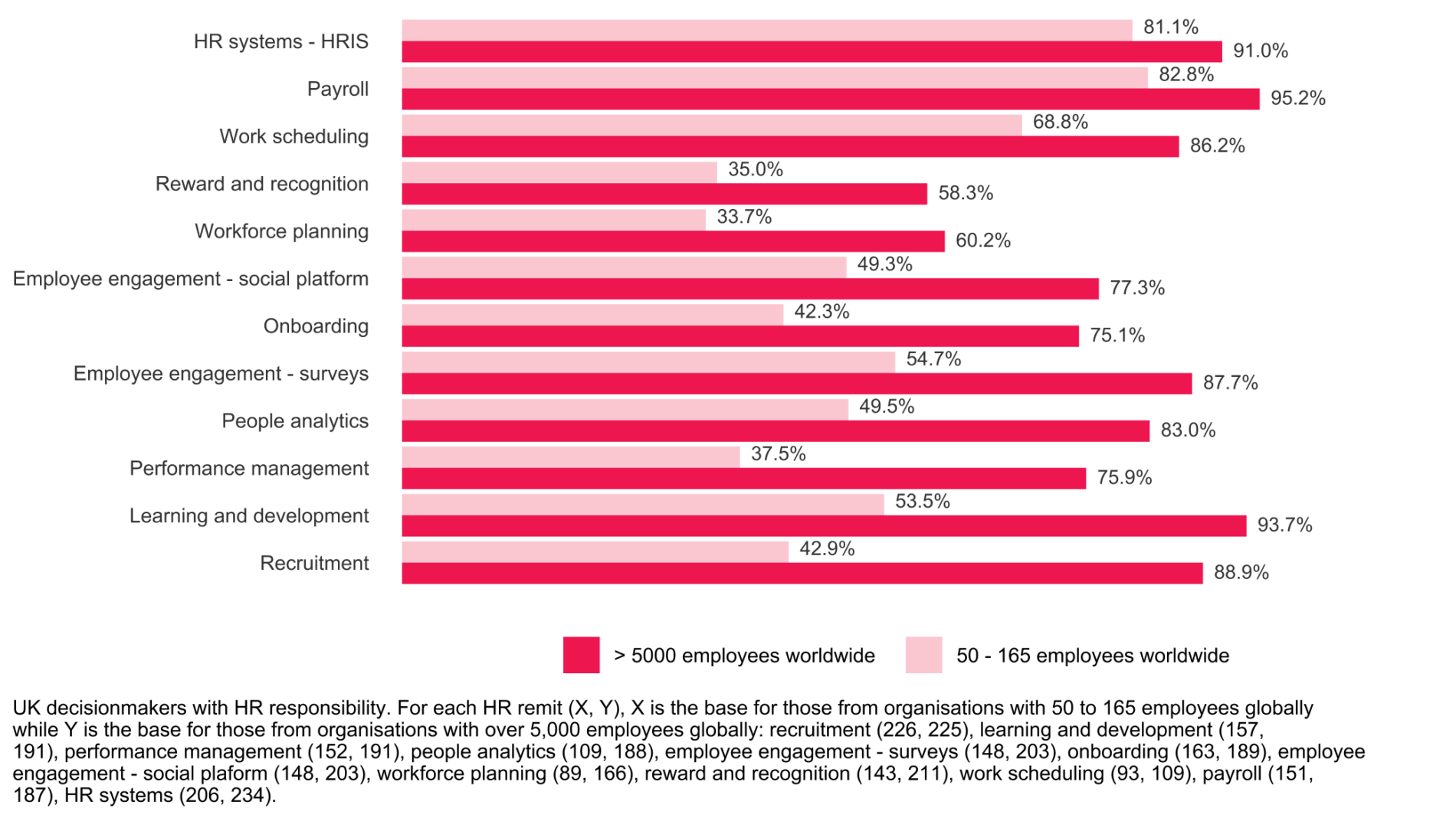 It's also interesting to note that according to Figure 2, respondents at organisations of all sizes said they report on and compare absenteeism rates with quality or cost of hire. It is evident that the majority of HR leaders today consider comparing these metrics a top priority: Respondents from both medium and large organisations reported on the comparison between absenteeism rates and quality or cost of hire, with the difference in the rate of reporting standing at only 6.7 and 7.1 percentage points, respectively.
However, respondents from very large organisations said they reported on pay gaps at more than twice the rate of their colleagues at medium-sized companies. This may reflect the statutory reporting obligations to which England, Scotland, and Wales hold large organisations.
Today, more companies of all sizes are adopting HRIS/HCMs and other HR tech. This allows HR tech vendors to step up and narrow the workforce reporting gap—especially at mid-sized companies. An HRIS's intuitive dashboards and automated data collection help can ease processes, lower HR team stress, and increase companies' use of hard data (see Figure 2) in critical decision-making.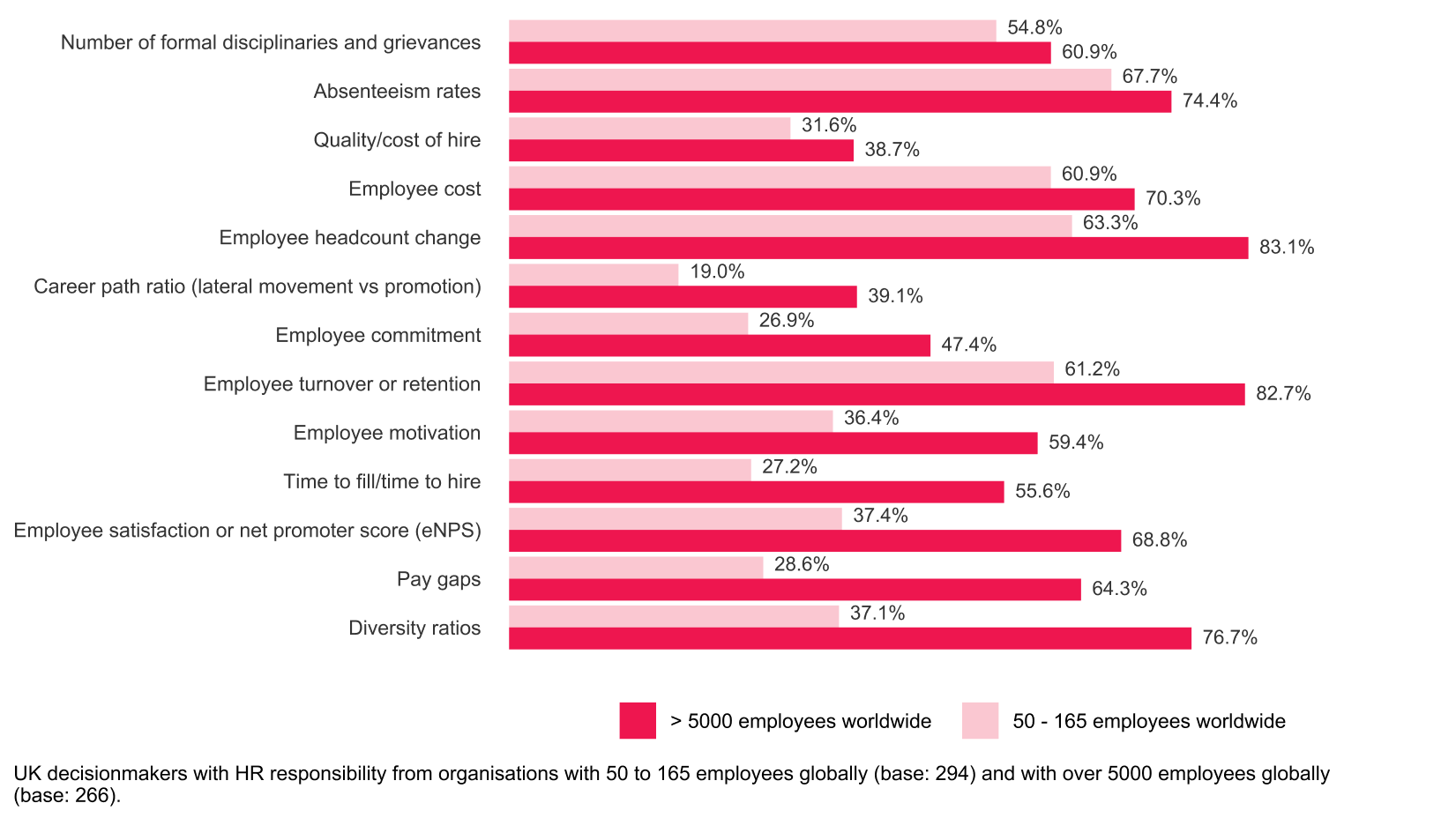 The relationship between effective HR tech and levels of use
The level of HR tech adoption across an organisation depends on how effective it is and how satisfied HR professionals (and other employees) are with it. We asked survey respondents to let us know if people in their organisation make good use of technologies to enable them to work effectively, on a scale of 1 (strongly agree) to 6 (strongly disagree).
Figure 3 shows respondents' satisfaction levels with HR tech often pivot between satisfied (2.4) to fairly satisfied (3.4). Interestingly, when we asked respondents to consider how well they see themselves and their teams using HR tech at work, their rates of satisfaction with HR tech didn't vary as much.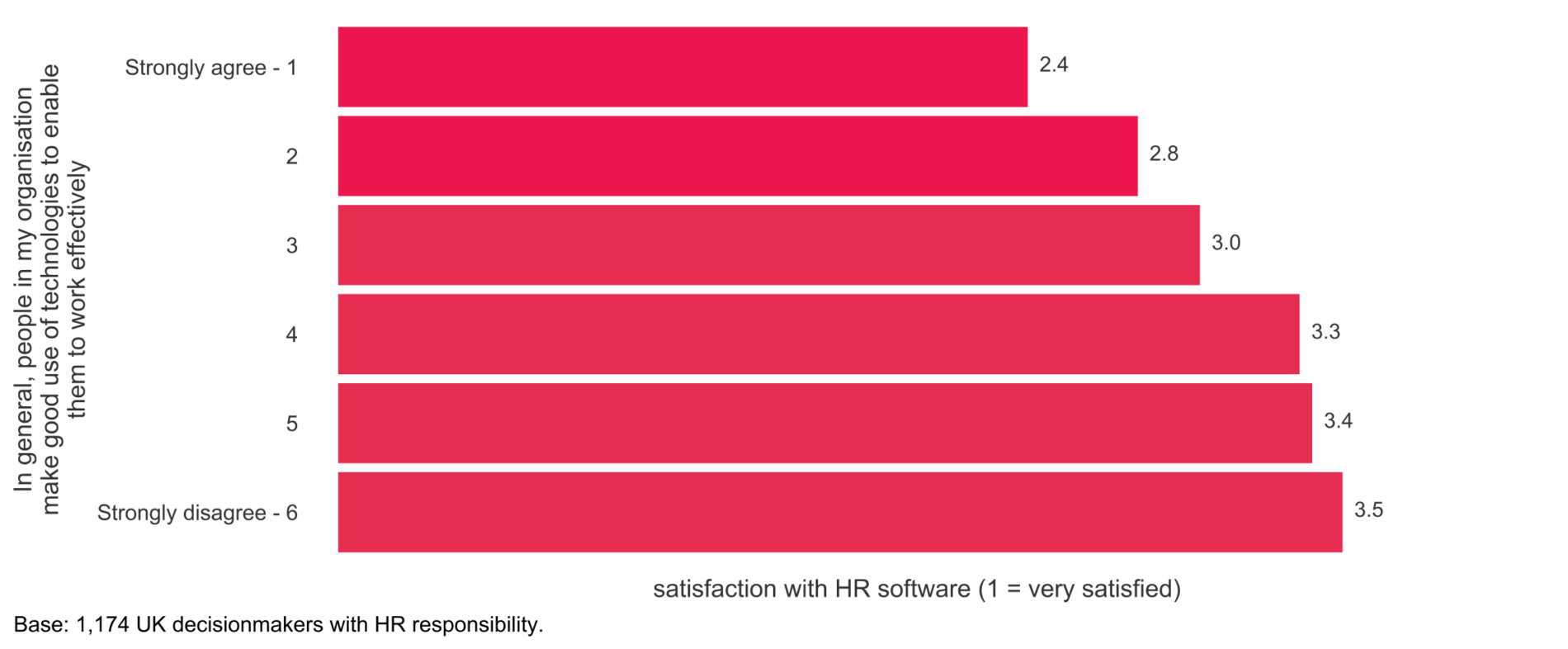 Considering respondents' answers, we concluded that one of the best ways to make the most of HR tech (and any other technologies you may use in the workplace) is to ensure a superb digital experience for anyone who uses it. Employee satisfaction with technologies also depends on how intuitive the tech is for people who don't use its self-service features on a regular basis.
How to be a tech-savvy HR pro
The key to becoming a tech-savvy HR professional is incorporating HR tech and people data into your daily workflows so that it improves people's lives in the workplace. Ways you can do this include:
Creating automated workflows. For example, set up trigger reminders for recurring HR tasks and processes like onboarding, offboarding, and compensation reviews to ensure getting tasks done at the right time by the right team members.
Examining existing data sources. Before conducting another pulse survey, study the data you already have to understand how your workforce feels about specific workplace issues. To examine your existing data, you tap into your HRIS (or other HR tech's) analytics, listen carefully to conversations with employees, and check out what people are saying about their experience with your organisation on social media platforms and job sites like Glassdoor.
Pay attention to the HR tech your colleagues are using. How are your HR colleagues using tech to enhance and evolve their professional acuity? Bear in mind that different people may use technology differently. It's essential to consider how you can use people tech to boost your career, improve your workforce's daily experience, and keep everyone future-ready.
Summing it up: Modern HR tech is vital to achieving positive business outcomes
While larger companies tend to have more budget for HR tech, it's important for companies of all sizes to prioritize it. Being future-ready in HR depends on adopting and adapting to new technologies in the workplace. Long-term business success depends on it.