Big, scary terms are flying around out there. The phrase "Great Reassessment" and–let's be honest, the one which makes HR professionals shudder when it's whispered–the Great Resignation deliver the same inevitable key message: The landscape of work, what it looks like, how it's defined, how we carry it out, facilitate it, and where we execute it has changed forever.
Ahead of the curve are companies and employers who have not only recognised this, but have already begun to accommodate, adjust, introduce, and implement progressive strategies to battle this great war for talent. These are the players leveraging this new, post-pandemic norm to their strategic advantage. They are the players who see this as a chance for a Great Reprioritization and a Great Realignment with their workforce: a Great Reconsideration of what work means today vs. what it meant just a mere two years ago. It's the Great Opportunity, indeed.
Aligning with our Great Reprioritization
In a recent study, 48 percent of people said that if their company didn't allow them to work remotely, they'd start searching for a new position at a company that offered more flexibility–not only in terms of where they work, but when.
To succeed in today's market, companies must realign their goals to meet their people's needs and expectations. They must reconsider how the modern workforce defines "work." Today's top talent isn't returning to a desk-bound 9:00-to-6:00 workday, long commutes, or fights for free meeting rooms.
We're on a high-speed train to better work-life balance and flexible hybrid or remote work structures. Most importantly, today's talent has redefined work as what we do, not where we do it. The future is here, and its primary trend is towards flexibility on our terms and the ability to always choose where and when we work.
Adjusting the culture strategy to meet the needs and expectations of the workforce
HiBob cares about its people. It cares about the impact world events over the last few years made on us as human beings–our personal lives were affected, which influenced our values and priorities in and out of work. Today's workforce values mental health and healthy lifestyles. It also prioritizes work-life balance. HiBob understands how these changes shifted our perceptions, fundamentally changed our expectations of the workplace, and reprioritized our responsibilities at work and home.
As a company, HiBob understood immediately that its success is built on us, its people. So, it adjusted. It did this by carefully crafting detailed questions and conducting frequent People and Culture surveys to keep its thumb on the pulse of its people.
HiBob regularly asks its people for feedback. The company reviews, reconsiders, and re-aligns with its workforce on the effectiveness of its policies: How may the policies be used or changed? How can the company address and continue to accommodate the modern workforce's growing need and demand for new work models?
HiBob takes the time to analyze and understand its people's responses and comments and works proactively to translate them into a culture strategy that meets the key needs of a modern workforce: flexibility, choice, and freedom.
As a result, the company continues to successfully mitigate the challenges of the dreaded Great Reassessment and Resignation, recognising this as a chance to be at the forefront, leading the pack by example, and showing others what great talent retention strategies look like.
I believe in these values. I believe work-life balance isn't just taking that walk at lunchtime. It doesn't mean I need to limit my work hours to 10 hours a day. I like working! But I also value a company that gives me the flexibility to arrange my hours so they best suit my lifestyle.
Cue HiBob's Work From Anywhere policy
Last year HiBob introduced its Work From Anywhere policy. This policy gives Bobbers the freedom to work from anywhere (literally) for up to two months a year, in addition to its already-existing (and standard) hybrid work model. Since the WFA policy's introduction, we've seen a handful of our people exercise the Work from Anywhere policy at least once. More Bobbers are planning for the same in 2022 and beyond.
Work-life balance to me means a synergy between my job, my goals, and my progression at work. It also means switching off and exploring different settings and aspects of my life when I'm not working. I love the Work from Anywhere policy because it gives me the freedom to work as hard as I can when I'm "at work" and step out into the world, wherever, whenever, and however I want when I'm not on the clock. This is the true meaning of a flexible work model.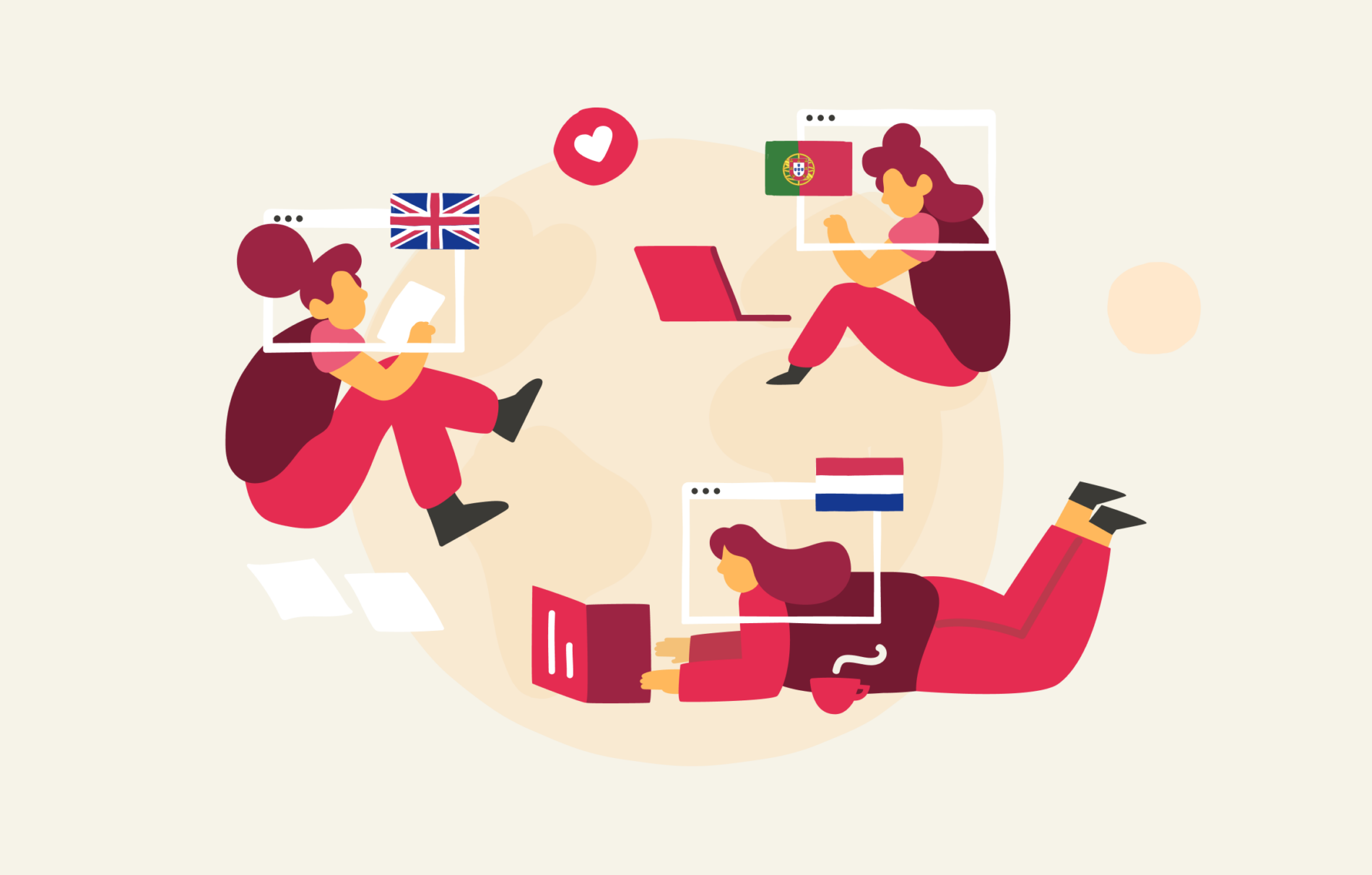 Flexibility, choice, and freedom
Last year, I exercised the WFA policy for the first time and spent a few months living in Lisbon, exploring Portugal. I'd spend some mornings working from my local coffee shop in its big sunny garden, building out a new implementation strategy. Sometimes, I'd collaborate with my manager and discuss the project's progress over a Zoom meeting. On other days I'd work later in the evenings, so I could shave off a few hours on a Friday afternoon, take the train to a different city or town in Portugal, and enjoy a long weekend of sightseeing and exploring.
I write this blog from Amsterdam, on my second stint exercising the WFA policy. I chose to be based here for the spring to get a chance to meet and connect with my co-workers at HiBob's Netherlands site. Being here also gives me the freedom and flexibility to explore the rest of the country and mainland Europe (like taking the train to Berlin for the weekend, for example!).
I'm actively exercising the 'Nomad Clause' of my employment contract with HiBob right now. But it's important to understand that the company's and my professional success isn't just possible because of a flexible WFA policy. While it's a facilitator to my preferred way of working, this policy is a company-wide success because HiBob trusts its people.
Recommended For Further Reading
Flexible policies rely on trust
HiBob trusts me. I work with supportive leadership teams who help me and my colleagues set clear expectations and deliverables for our work. We partner to understand how dispersed and remote teams can accommodate each other across different time zones.
A study by Owl Labs discovered that, on average, people working remotely are 47 percent more productive than people working on-site. In my specific case, HiBob management and I both understand how to set realistic expectations for working hours and deadlines, depending on my time zone/location. We make up for what we lack in proximity with reliable data. No matter where I happen to be working from in the world, the data shows that WFA continues to be compatible with my KPIs and deliverables.
Flexibility is certainly at the heart of it–when you define your hours of productivity, you're so much more committed to them, intrinsically. But the trust and collaborative nature of a good working relationship with my manager and superiors are also at the forefront of what makes HiBob's WFA policy successful.
Our People and Culture team works hard to establish us as a trust-driven organization. But, they also perpetuate this value as the norm as we grow and scale as a company. WFA is flexible and fun, but it relies on trust, transparency, and teamwork.
It's the alignment between the individual, working from anywhere, and their manager on deliverables and hours of availability. It's the shared responsibility of compromise and understanding how one may choose to live abroad temporarily while maintaining their commitment to the team, department, and organizational goals, which I still need to deliver on time.
Finding the perfect work-life synergy
So what makes me stay at HiBob? Is it career growth or salary? Or is it an organisation that allows me to practice my values and live where I'd like to while allowing me to keep my career on track and grow professionally? For me, the answer is obvious, and I hope to see many organisations follow in the path HiBob is blazing through the challenges of the new, modern workforce.
---
From Dessie Nedyalkova
Dessie is an Agile Project and Change Manager with a strong passion for managing transformation, the HR space, people, and culture! When she's not building project plans, she can be found planning her next adventure to a foreign land, hiking or road-tripping, whilst diligently documenting the whole thing on her camera.