As the global pandemic recedes, many people are choosing to leave their jobs—what is now being called "The Great Resignation." In April, nearly 4 million people quit their jobs—the highest level of turnover in 20 years—with predictions of more to come as people across all industries consider their next moves.
While some turnover is healthy, "The Great Resignation" has the power to blindside companies if they're not attuned to the main motivations driving this shift. HR leaders need to understand, why are people quitting, and what are they looking for instead?
"Over the course of the past 18 months, while all of us were under lockdown, there was very little movement happening," said Rhiannon Staples, HiBob's CMO. "Now that things are returning to normal there is a great talent war that's at play, particularly in white-collar organizations where people are leaving for better fit, better pay, better flexibility, better opportunity, better culture, and better location. The motivations are vast but people are making the decision now to shift out of their current organizations and move on."
Rhiannon sat down for a fireside chat with HR Summer School to share her insights on employee retention and why flexibility needs to be a part of every company's back-to-office strategy.
You can watch here, or scroll down for main takeaways.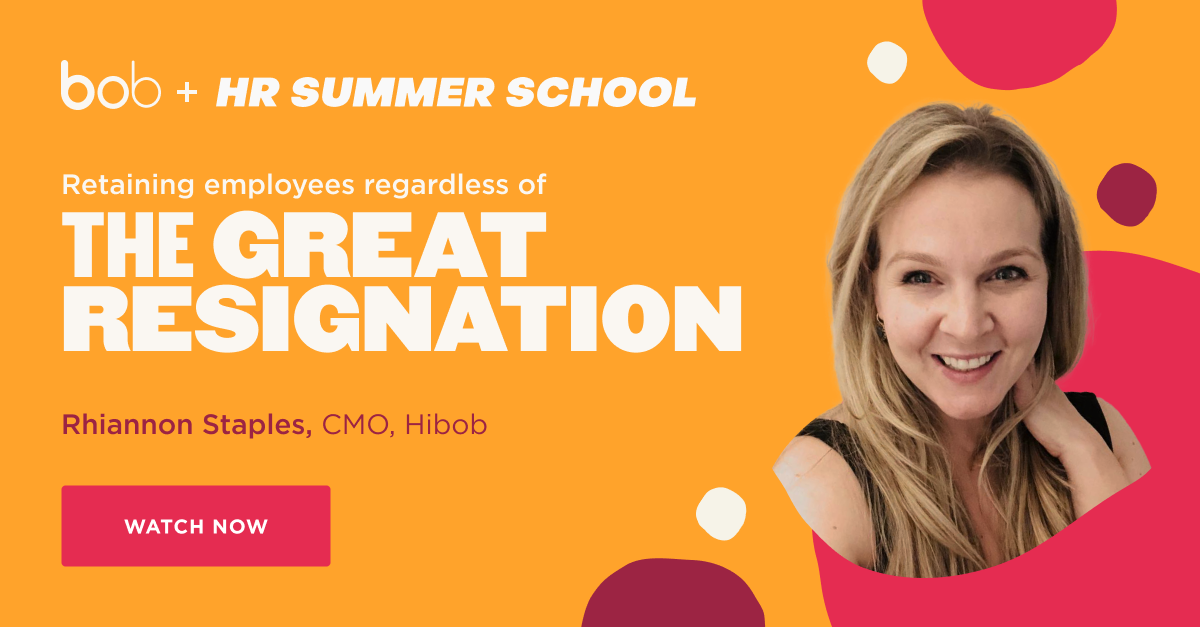 Main takeaways:
1. Employees don't want to be in the office five days a week.
Recent data from HiBob shows that only 14% of employees want to return to the office full-time*, while more than a third of employees are likely to quit if forced back to the office five days a week. Overall, about 80% of employees —prefer various hybrid work solutions. People want more flexibility, and that includes the flexibility to work from anywhere and the flexibility to set working hours.  Think about a dad who wants to log off early to get his kids out of daycare and to the park before dinner. A company that will allow him to make up this time by starting earlier or logging on for a bit after the kids are in bed is a huge perk for working parents. The same goes for your employee who has to take her mother to physical therapy midday, three times a week. It's not just where someone works that allows for a better work-life balance, but when they work as well. 
What is your preferred hybrid work structure?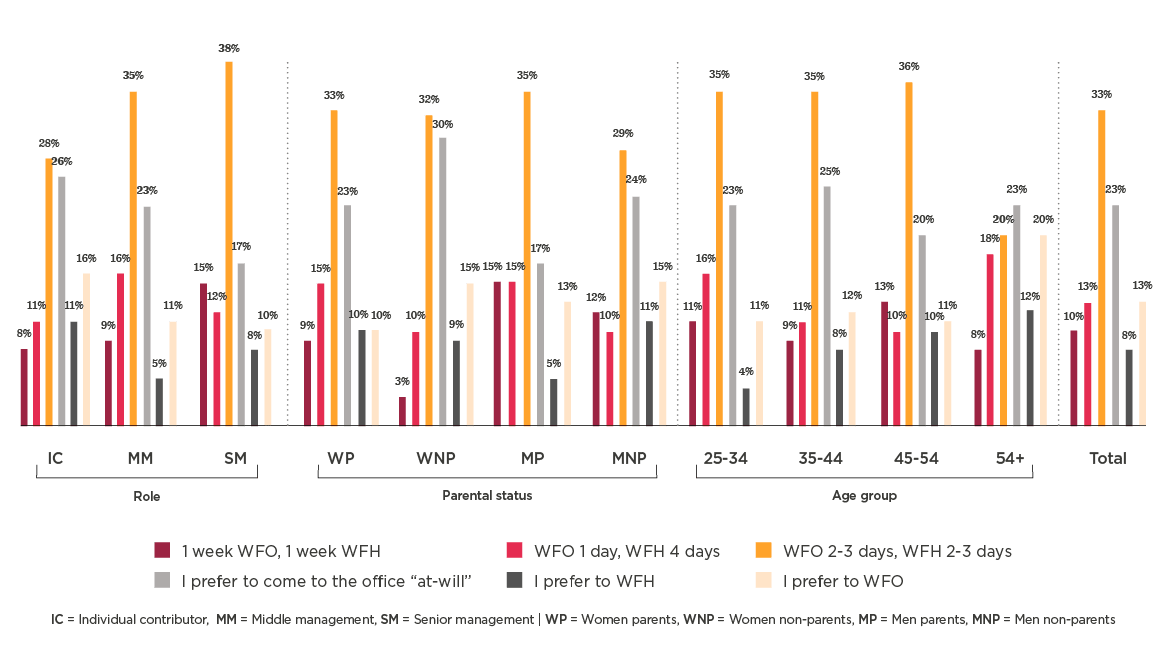 2. Use surveys and data to inform your people strategies
If you want to know what your employees need to stay motivated and happy, the best thing to do is to ask and listen. Surveys are an instant and accessible way for HR leaders to get data on their people and processes, which can be used to inform future decisions. Data is the best foundation an HR leader can stand on when trying to get buy-in from C-levels and managers—nobody can debate data. How often you survey your people, and the questions you ask, will depend on the needs of the moment. Wait for people to settle into hybrid work and adjust to the "new normal" before asking them what changes they'd like to see.
3. Managers and HR need to work together
The manager-HR relationship is instrumental in avoiding turnover. Managers are an HR team's eyes and ears during this transitional phase of work and are in the best position to guide HR on what might benefit their team's productivity and happiness. HR needs to cultivate this relationship, and train managers in how to assess employee needs, how to spot signs of burnout or stagnation, and how to ask questions, seek feedback, and deliver data to HR. Additionally, training managers in how to hire, how to manage, and how to engage hybrid teams is a key part of success.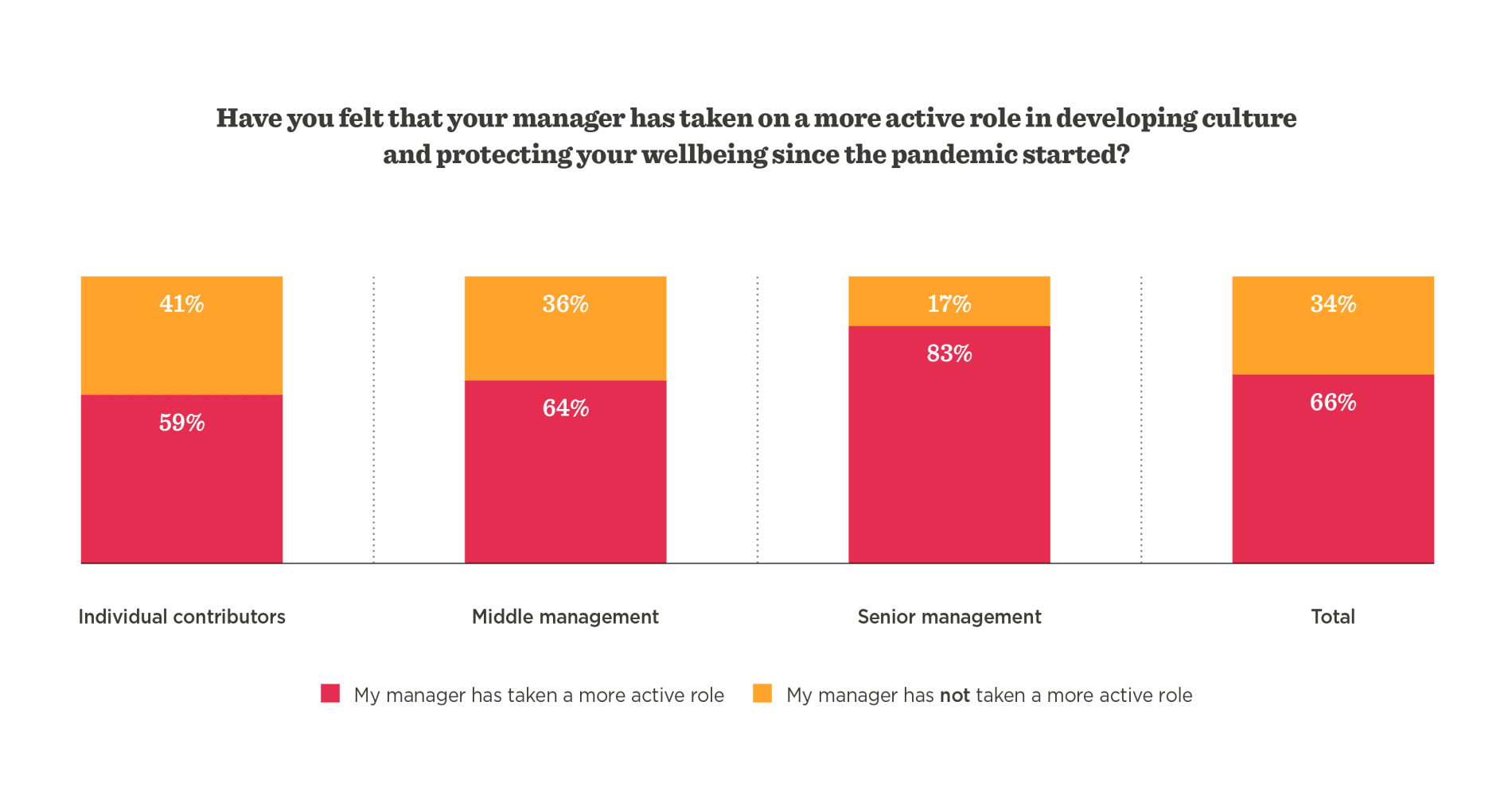 Recommended For Further Reading
4. Make sure the office has a purpose so employees want to come in
The office is evolving from an everyday workspace to a place designated for socialization, collaboration, and company culture.
Pre-pandemic, what was the office most useful for?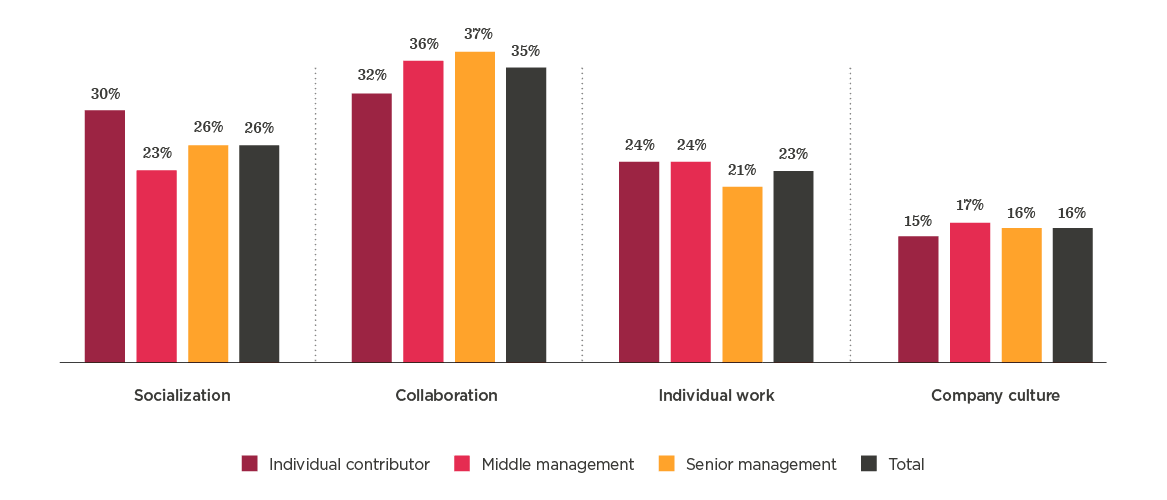 Companies implementing hybrid models may use in-office time more for meetings, get-togethers, and onboarding, and less for individual work and clocking in and out. Companies should also make it seamless for in-office employees to communicate with remote employees, by adding more private meeting rooms for Zoom calls or instituting a "one person one screen" policy for group meetings.
How to avoid "The Great Resignation"
So how can companies avoid a collision course with "The Great Resignation"? Start with a hybrid work policy that motivates your people. At its very core, adopting a hybrid work policy creates a culture of autonomy, accountability, and trust. Allowing employees to work when and where they want is an indirect way of saying 'I trust the business and our leadership has done a good job to enable you and help you understand what's expected of you – and I trust you 'll respond by acting in accordance with what's best for the company.' That trust the employee has in the company and vice versa is the very foundation of employee engagement—and that will come in handy when a recruiter reaches out to your all-star talent with an exciting offer.
*On a scale of 1-5 where 1= not likely at all and 5 equals very likely, how likely would you quit working for your company if you are required to fully return to the office post-pandemic?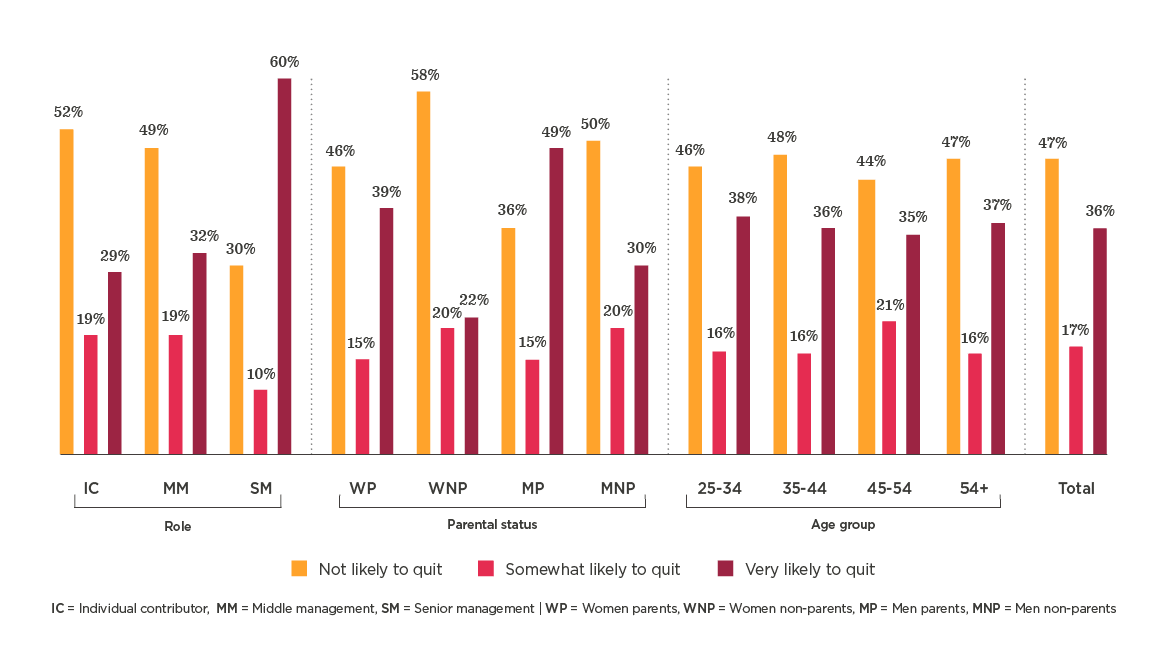 The total breakdown shows 36% of people are very likely to quit, 17% are somewhat likely to quit, and 47% are not likely to quit if required to fully return to the office post-pandemic.
---