To build Bob's 2021 roadmap, we listened to our customers and HR leaders everywhere. We based it on their feedback and made sure our HR, Product, Customer Success, and Engineering teams were all closely aligned.
We adjusted to the new world of work
In 2020, companies were forced to go global and adapt to dispersed and remote workforces overnight. When we began preparing our roadmap for 2021 at the end of last year, we didn't know what to expect going forward, except that we needed to further develop our suite of tools to support remote and hybrid work structures for the long term—from keeping people engaged to managing payroll and daily workflows. Companies' priorities changed, so we matched our priorities to theirs.
People's wellbeing became a top priority. Modern HR leaders have to help create and support healthy company cultures that put people's mental and physical health first. Work-life balance, employee engagement, and transparency have all shot to the top of HR's agenda.
Our customers and other HR leaders talked about three major pain points:
Modern companies need a tech stack that allows them to scale and automate data-driven processes throughout the employee lifecycle.
Great HR tech for modern businesses needs personalization and agility capabilities that support engagement and transparency.
Dispersed teams are growing. HR tech needs to be flexible enough to support remote onboarding, employee engagement, and strengthen a company's culture, even when people never come into a physical office.
Modern HR leaders need a suite of tools that enables automated, data-driven HR processes. They need a user-friendly system that centralizes access to data and easily integrates with their organization's existing technologies and workflows. We developed Bob to be exactly that. Here's the best of what we built in 2021.
Bob's top 10 feature highlights of 2021
We doubled down on automation
We built more robust layers of automation into Bob to make everyone's life easier and better support dispersed global teams.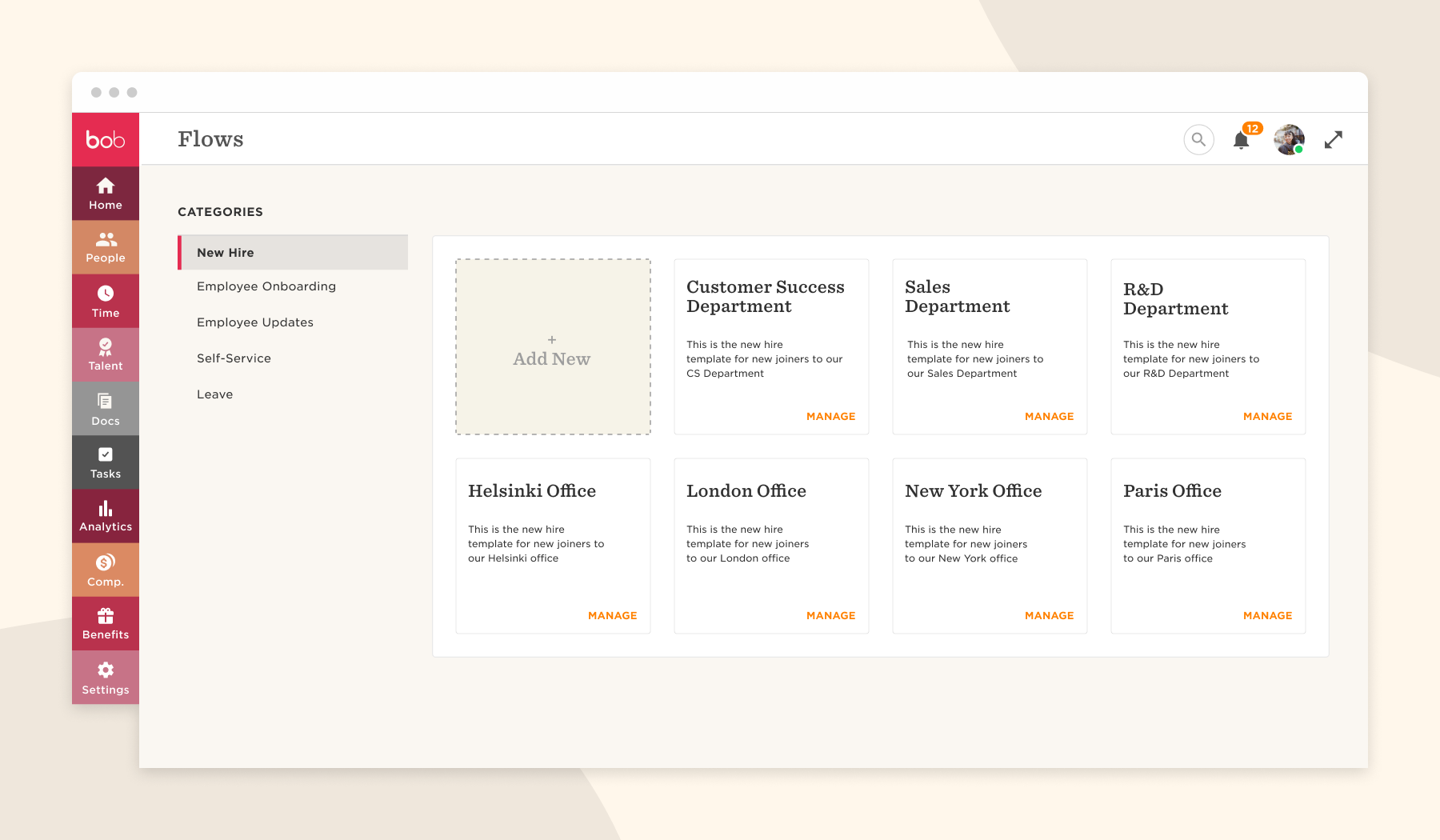 You can customize and automate your task lists and flows and tie automated actions to employee lifecycle events with calendar tasks. For example, 30-day/60-day/90-day reviews can be added to your onboarding workflow and automatically scheduled. Individual contributors can now manage their own tasks, managers can manage their team's tasks, and admins can oversee everyone's tasks from one location in Bob.
For even more agility in managing tasks, we introduced eSign, our electronic signature tool. All you have to do is upload your PDFs and create a template with signature fields, checkboxes, blank fields, or employee fields that all pull data from Bob. eSign lets you create document templates that connect with different data points, tasks, and features in Bob.
We optimized compensation management
To make managing compensation easier across all your global teams, we made Bob's compensation management feature simpler and more powerful.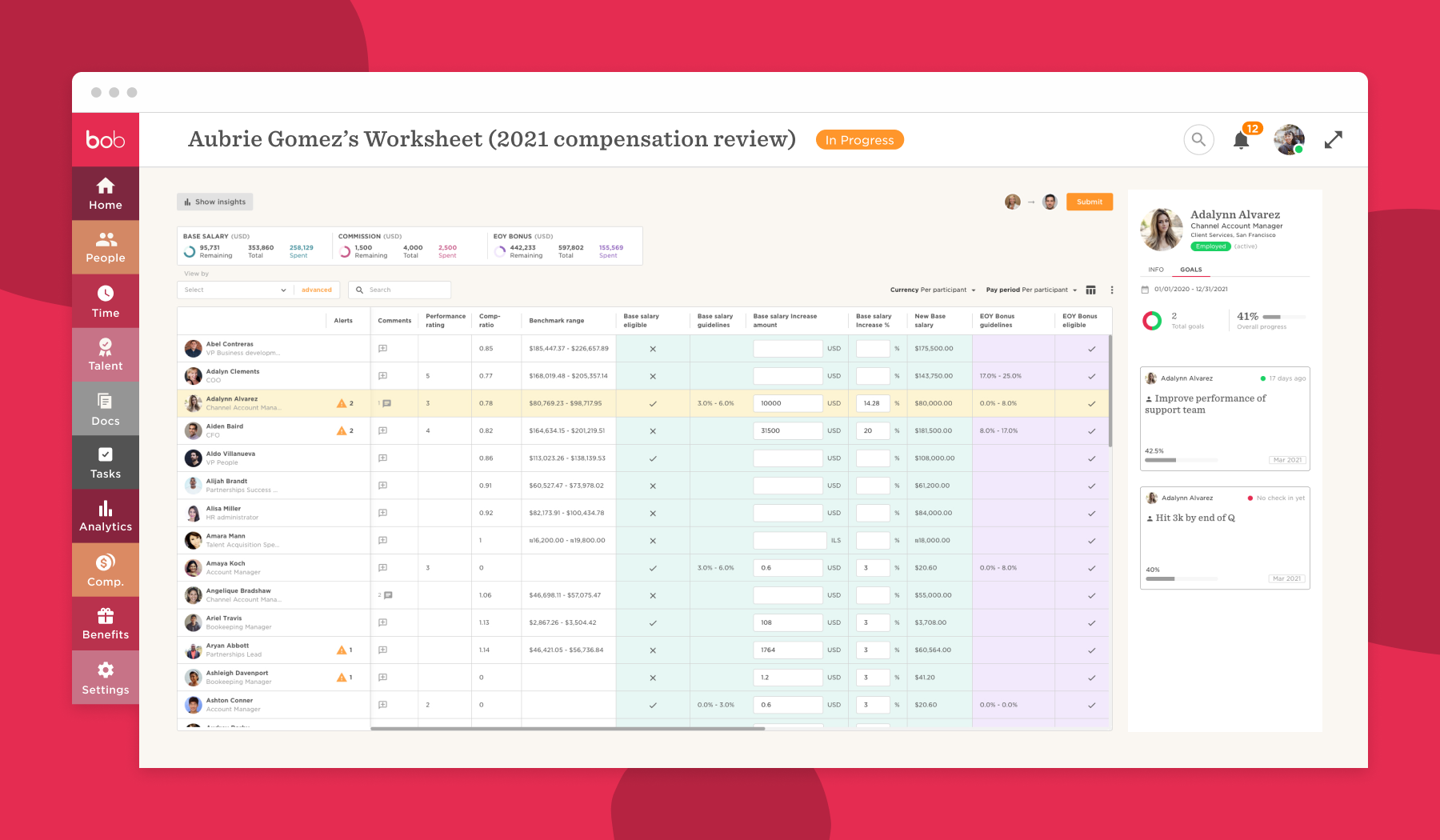 With our compensation side panel, you can easily review people's individual compensation information, performance reviews, goals, and progress towards meeting those goals to help you make fair decisions. And of course, Bob supports multinational teams with multiple currencies and lets you view everything from one centralized dashboard.
We made data-driven decision-making easier
We also upgraded our KPI dashboards with more data about your people, providing you with the visual insights you need to make data-driven decisions throughout the employee lifecycle.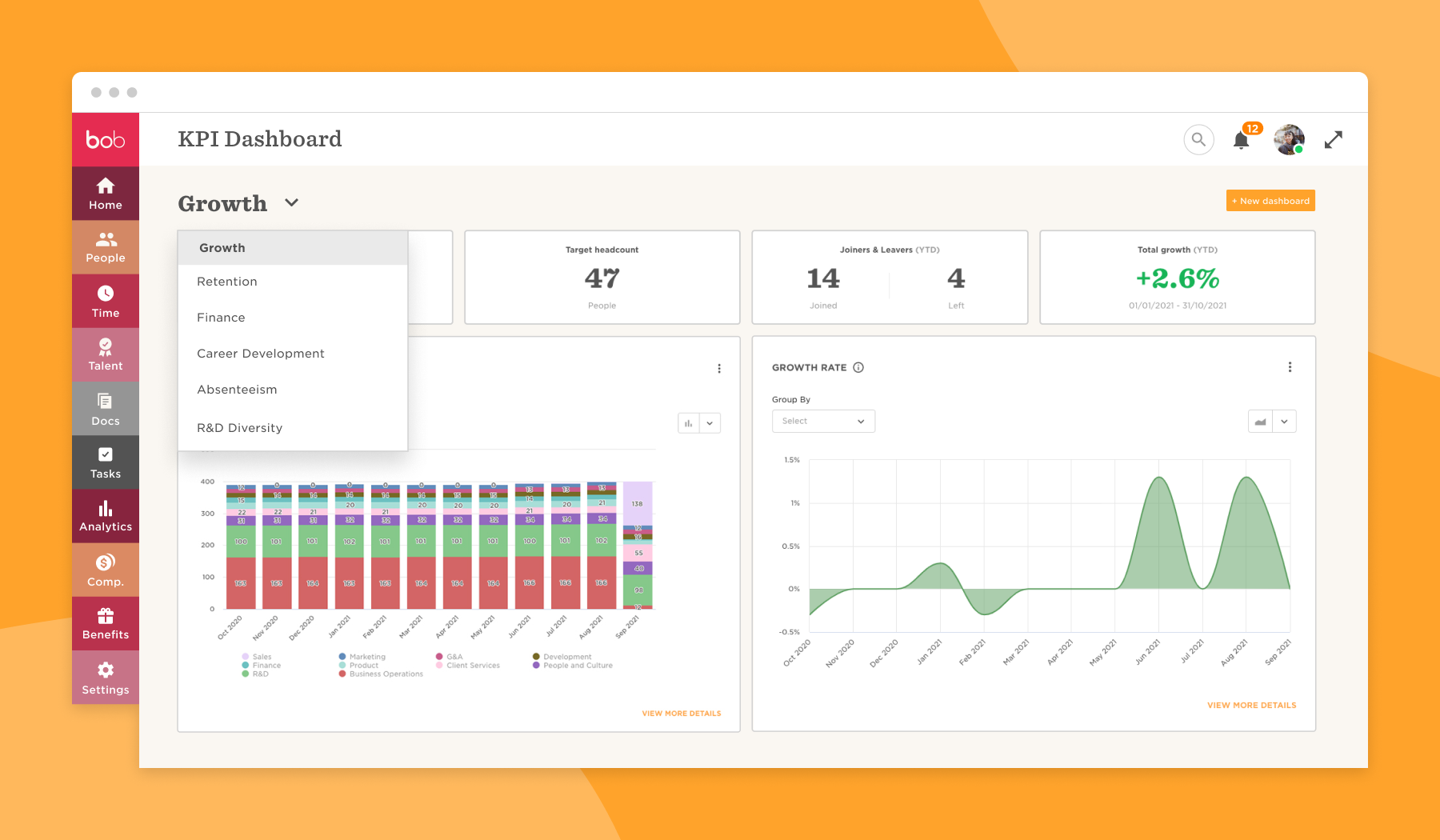 Bob's new Proactive Insights calculate trends and averages, going beyond the data from your KPI dashboards and give you meaningful intel into people data like headcount and turnover that you might otherwise overlook.
For example, Proactive Insights will tell you that the fastest trend in Headcount came out of your New York office, with a 78 percent increase between October 2020 and November 2021, compared to an overall 53 percent increase across your entire organization. It can also give you detailed insights into your Turnover Rate at specific sites, e.g. that the turnover at your Hong Kong office ranked seventh in October 2020 and November 2021 compared to your other sites.
In addition to that, you can also customize existing dashboards or create your own using all employee data from Bob. Then, you can slice and dice data according to what's important to you and see how your company has improved over time.
We gave you control to brand Bob as your own
Keep your people feeling connected to your company through the tools they use, even when they're working remotely. Just like you brand your office, you can rebrand Bob and make it your own with just a few clicks. Dress Bob's interface with your company colors, logo, and background images to make your teams feel right at home.
We gave Bob's homepage a makeover
We updated Bob's homepage to make it even more beautiful and user-friendly than before.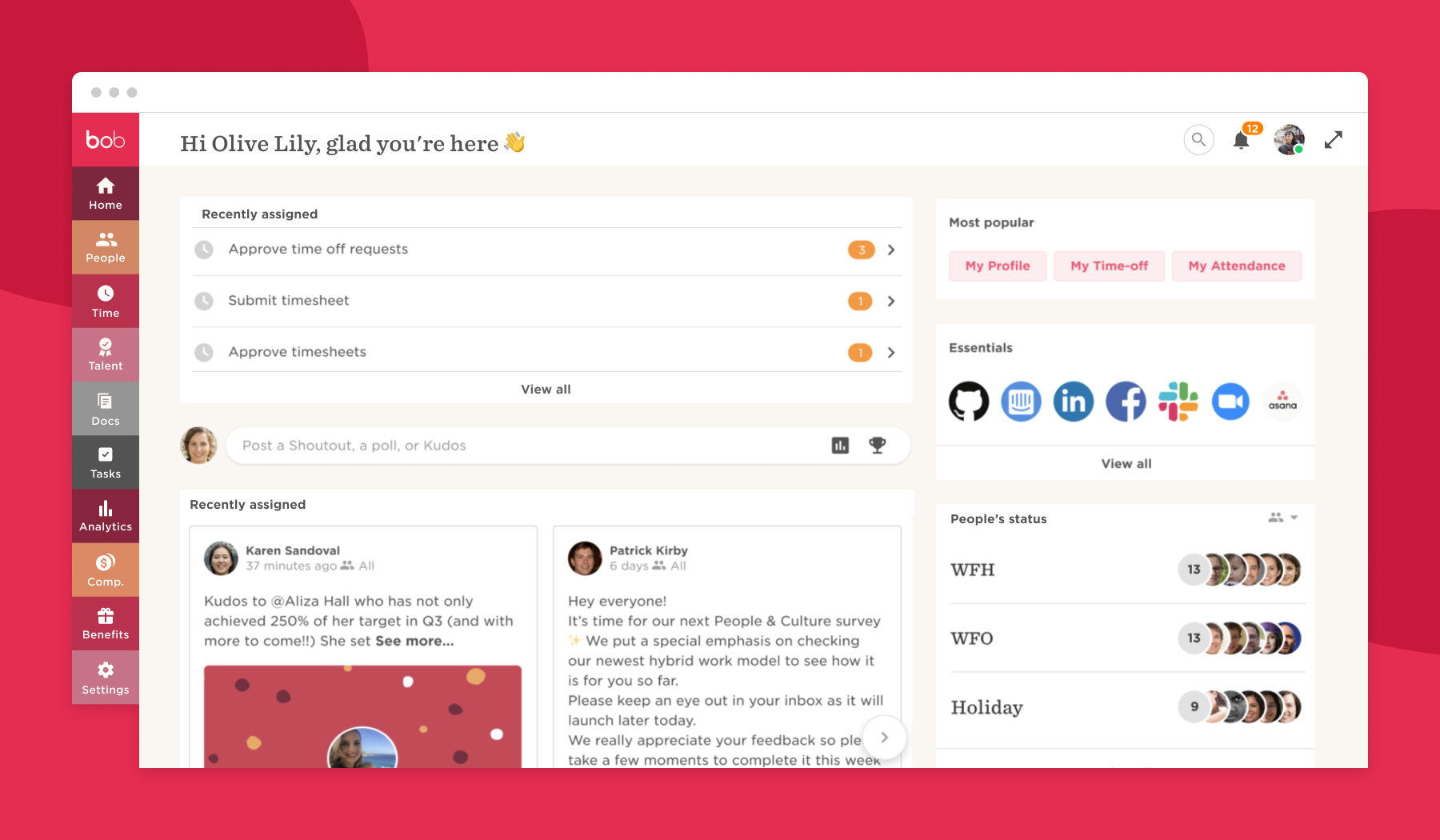 Help your global teams connect and engage with each other no matter where they are in the world with our new social-style feed and all your Shoutouts and Kudos. All your important information is right next to it. Go straight to where you need to take action with quick links to get to frequently used pages, see open tasks, and pin important announcements to the top.
We redesigned and enhanced some of Bob's capabilities
We've always been proud of how beautiful and user-friendly Bob is.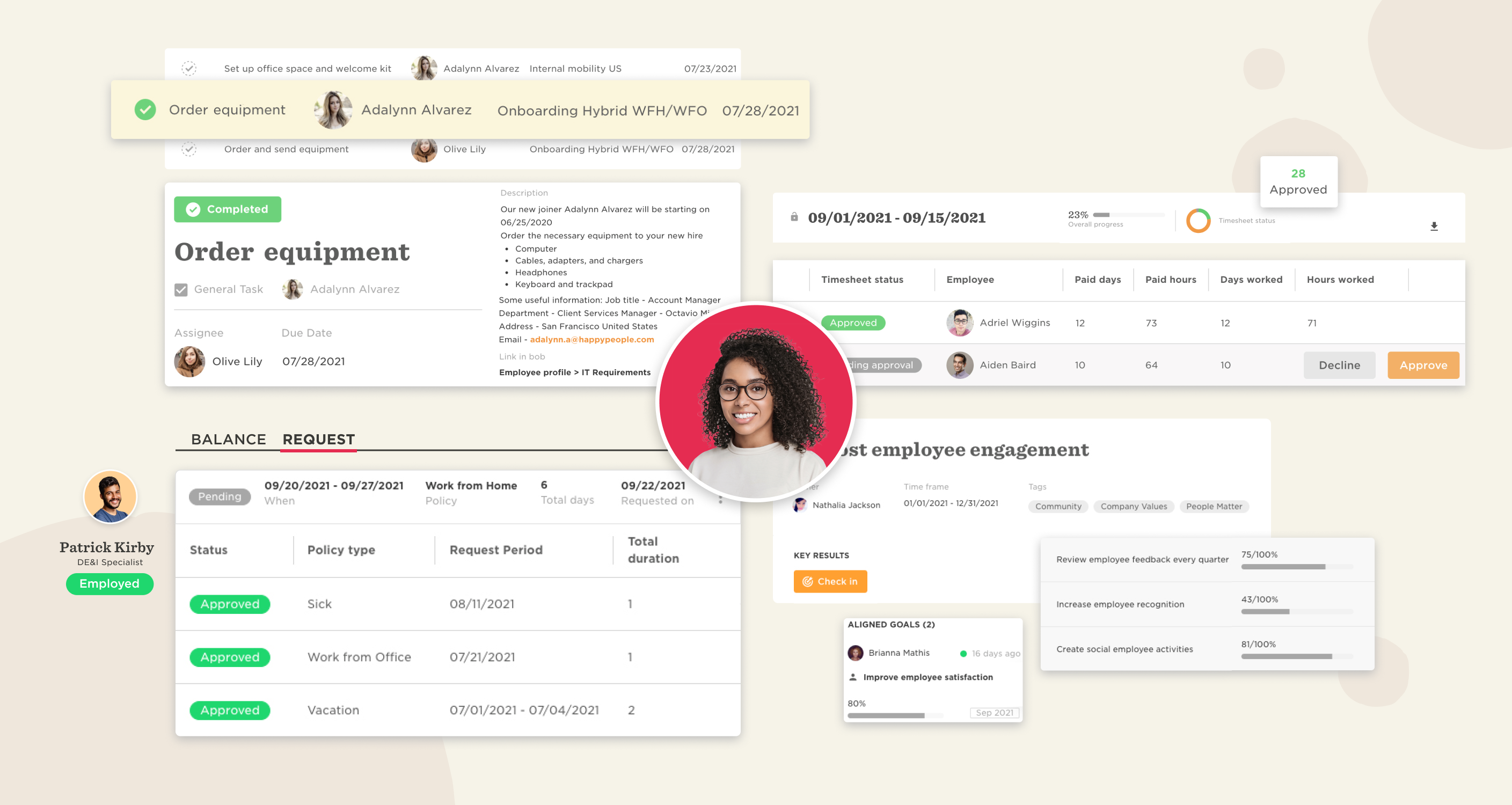 We gave several areas in Bob a new look and feel with redesigns in our mobile and web apps. Now you can enjoy better functionality, more beautiful graphics, easier navigation, and enhanced capabilities in Goals, Time and Attendance, Time Off, and Docs.
We invested in localized services for customers worldwide
We built Bob to support companies anywhere in the world and create personalized, localized experiences for every person across your global teams.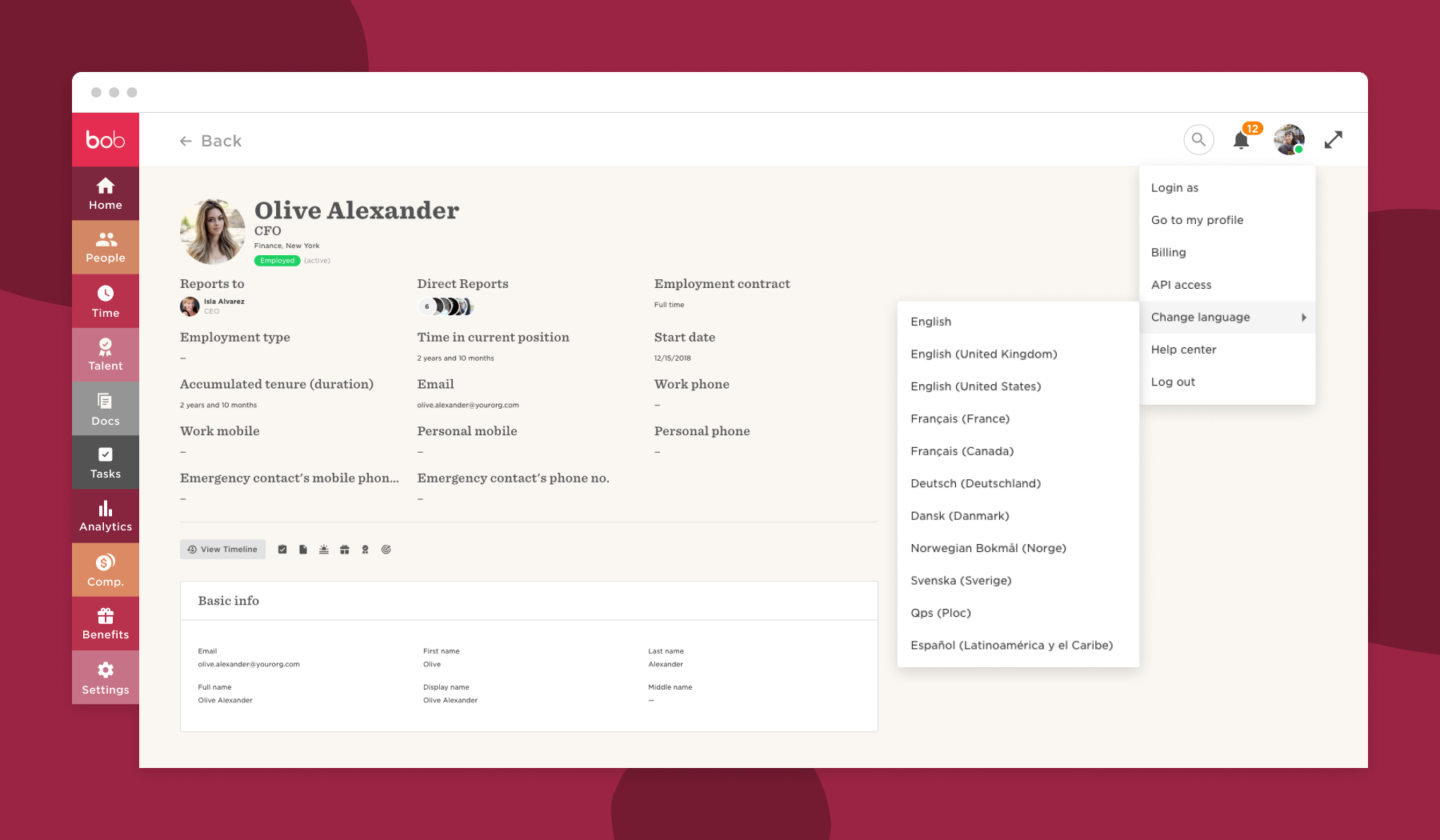 To support a global Bob, we're always adding more languages. In 2021, we added Canadian French, Danish, and Norwegian to Bob. Dutch and Italian are on the way. You can set a default language for each of your sites, and individual users can always switch their personal UI to any language they want. But localization is about much more than languages.
Different countries have different laws and work structures. Now, you can set up work patterns according to your location. We also tailored Bob's Time Off and Attendance modules to make it easier to comply with local Nordic legislation, including laws surrounding carryover days, unused holiday time, and others.
We improved our performance features
We introduced performance mapping, Bob's modern approach to the 9-box matrix. Now you can map any two attributes from your performance reviews and get a visual and unbiased representation of your people.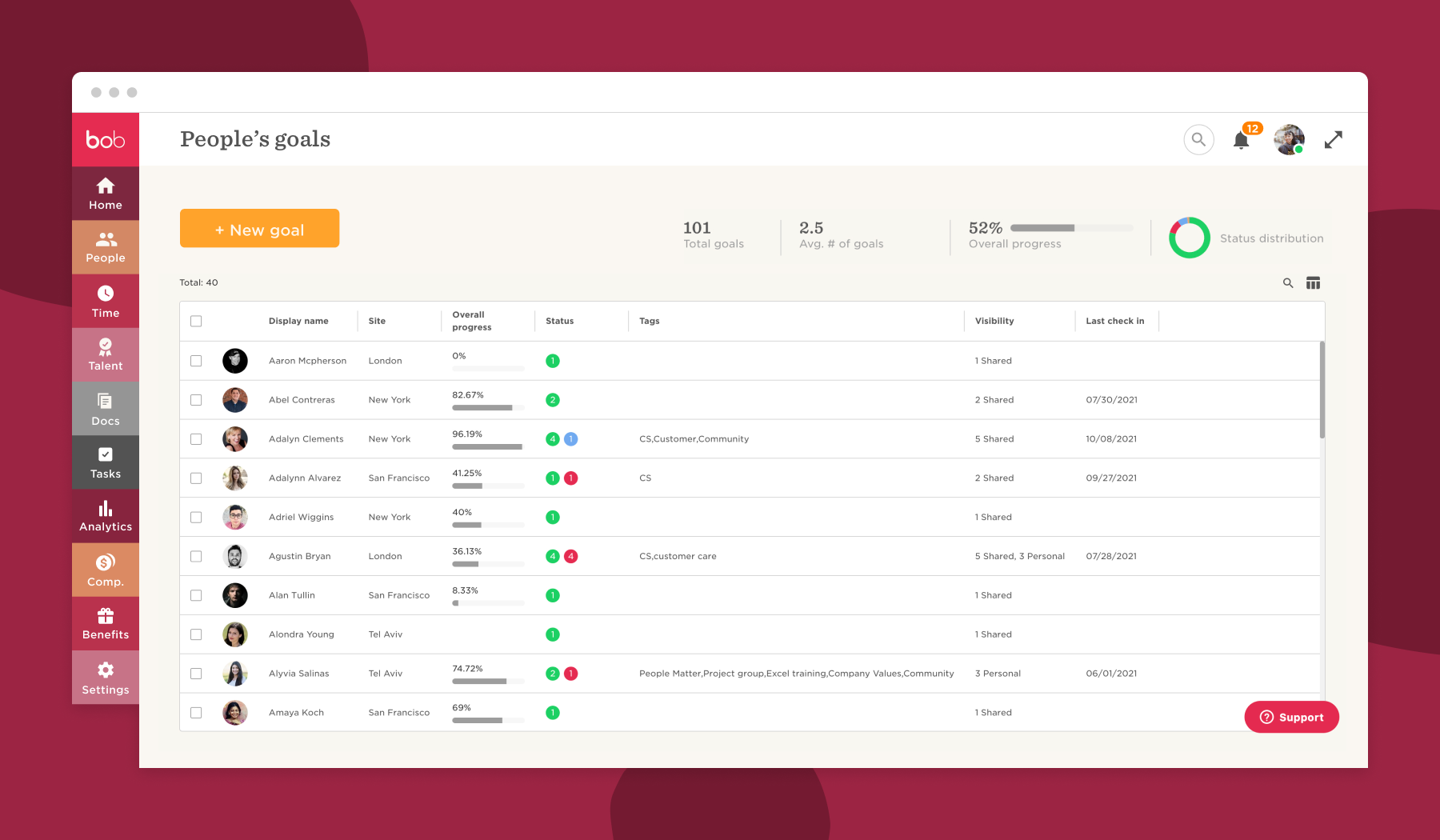 We also improved goal setting and tracking. It's easy to build, align, and view company, department, and individual goals using the OKR framework—or any framework you want.
Managers can view their team's individual goals, and HR professionals can view everyone's contribution to the company's success, track progress over time (including overachievements), and identify star team members.
We created a safe space for Your Voice
Your Voice is an anonymous reporting tool built right into Bob that helps you create an inclusive culture built on trust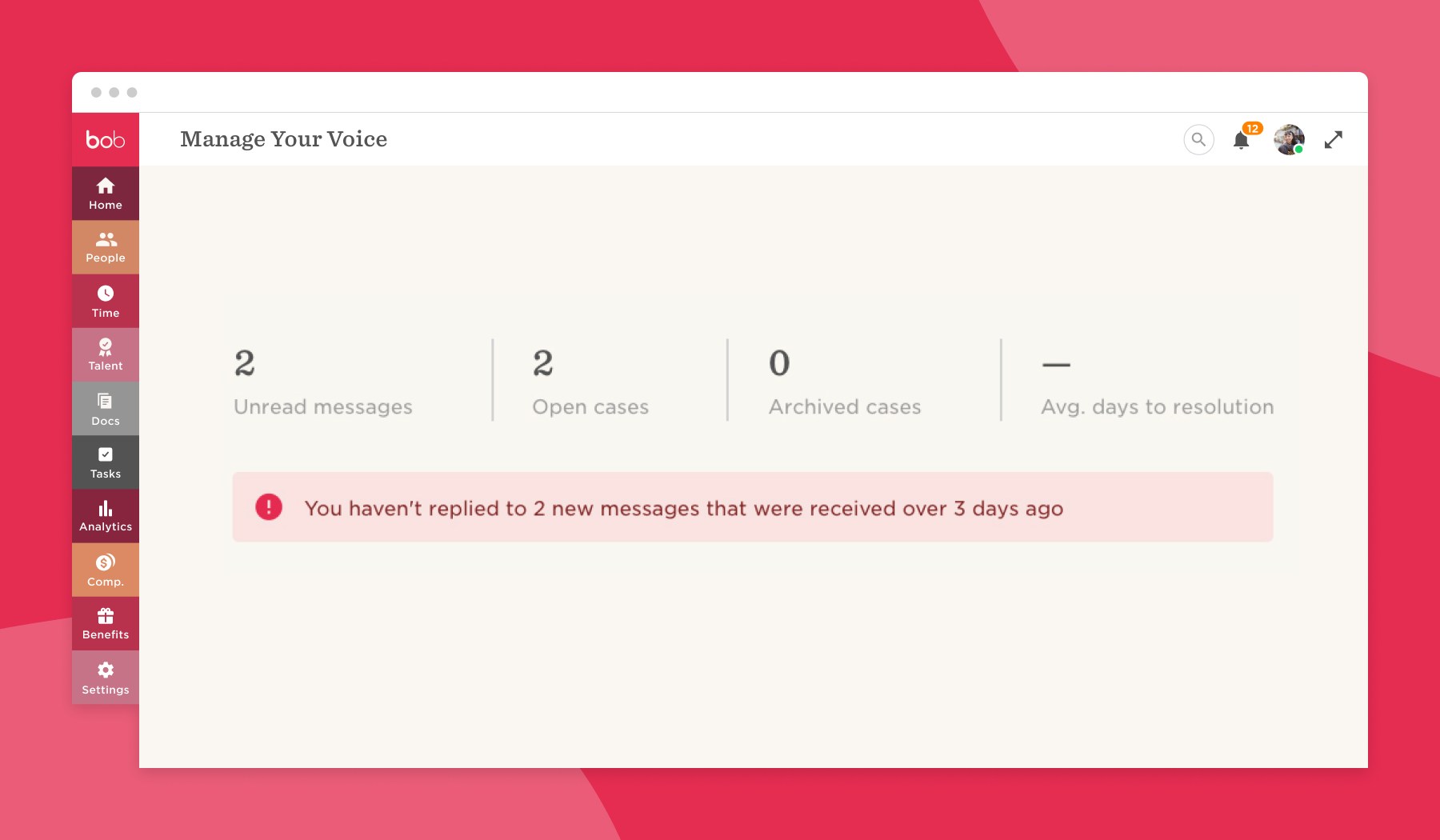 It helps fast-growing, modern organizations securely comply with EU whistleblowing regulations and empowers people to speak up about their concerns and report misconduct without worrying.
Recommended For Further Reading
We took the pain out of payroll with Payroll Hub
Payroll is always complex, but Bob's Payroll Hub simplifies it. We created a centralized dashboard that integrates with leading payroll systems. In addition, the Payroll Connect feature has a self-service set-up so you can link directly to the vast majority of the world's payroll systems with Payroll Hub.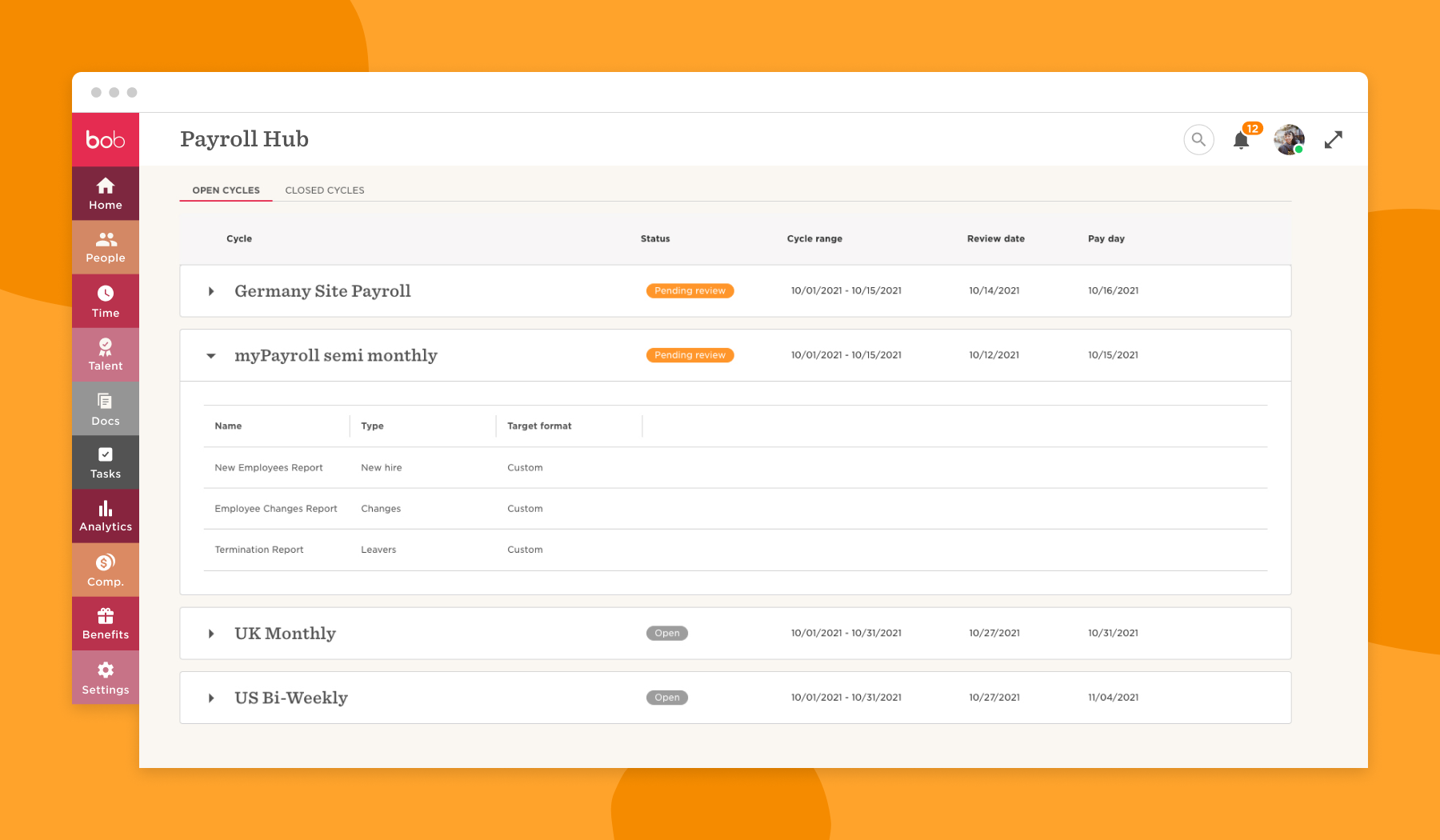 Payroll Hub supports single and multi-site companies alongside any number of payroll cycles and systems. It also gives you the flexibility to add new sites and cycles as your company grows. You can simply sync your payroll-related data from Bob in real-time with just a few clicks and avoid data duplications and errors.
Stay tuned …
This was just the best of what we developed in 2021. Every feature we upgraded or added to Bob supports modern companies and their evolving needs. It's easy to manage fast-growing and dispersed global workforces with Bob, automate processes from onboarding to payroll, and maintain your company culture even with a workforce that is largely remote.
We never stop working to improve. Look out for our 2022 Roadmap in January to see what we have in store for Bob next year, including our new equity tables and 1:1 meeting features.
---
From Israel David
Israel David is a co-founder of HiBob. He has over 20 years of experience in tech and product development in the global hi-tech space. He specializes in enterprise IT management with a focus on SaaS and Cloud. In his free time, Israel hangs out with his family and spends as much time as possible riding his bikes—anytime and anywhere.