According to the US Bureau of Labor Statistics, job openings in the US increased to 11 million in Q3 2021. This follows what HBR called the "tidal wave of resignations" this year, with 4 million people quitting in April and a record 10.9 million in July.
Companies have quickly adapted to the new era of work by offering people more flexibility, expanded benefits, and other perks to attract and retain their talent. But the Great Resignation and evolving expectations aren't the only things contributing to today's record number of open jobs and the war for talent.
The skills gap isn't just about people quitting
Companies want people with a specific set of skills and years of experience. They chase those who have it, but people at the beginning of their professional journeys find it harder and harder to get work or even find jobs they can apply for to build their skills. Entry-level positions are disappearing.
The definition of "entry-level" has changed
Research by LinkedIn found that new entrants to the job market "can't land 35 percent of 'entry-level' jobs." A growing number of today's "entry-level" jobs require at least three years of experience. In other words, "entry-level" jobs are inaccessible to workforce newcomers. For example, over 60 percent of entry-level positions in the software and IT industries require prior work experience.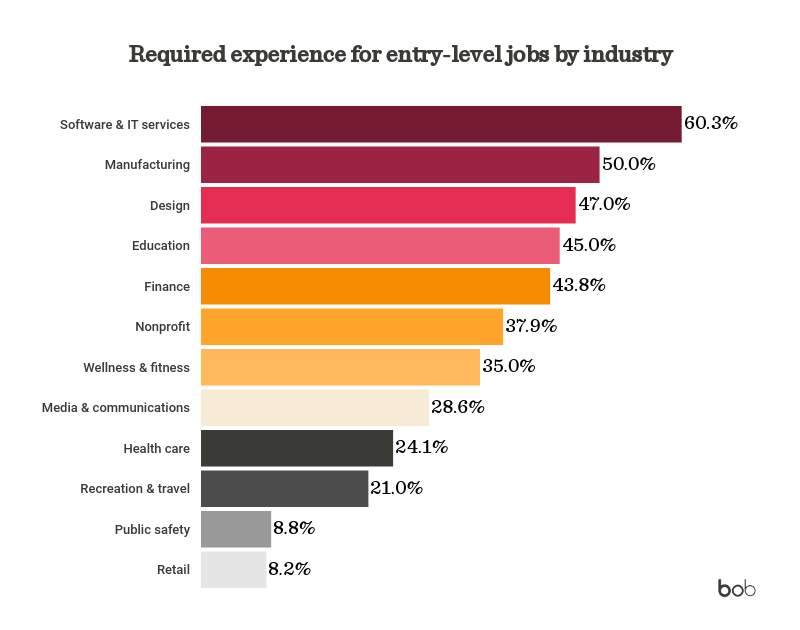 This has led to a significant disconnect between what organizations and applicants consider entry-level positions. It's also a major contributor to the skills gap looming over today's job market and a serious Catch-22: While organizations require entry-level applicants to have years of experience, the people applying to these positions are workforce newcomers.
If entry-level isn't entry-level, what is?
Alan Seals, an associate professor of economics at Auburn University in Alabama, says that "[i]nternships are now the new entry level." When it comes to hiring for entry-level positions, candidates with internship experience have a big leg up. But internships can be hard to find. To add fuel to the fire, unpaid or low-paying internships leave lower-income students who can't afford them at a huge disadvantage. It's a disadvantage that can follow them for the rest of their professional lives and eliminate them from the talent pool indefinitely.
As internships stand, it can be even tougher to get one "if you're an ethnic minority," Seals says. In fact, research shows that organizations tend to hire interns who've had internships before and are often "less likely to respond to applicants with Black-sounding names [especially] when the applicant is more distant from the firm."
The effect on DE&I initiatives aside, this reality prevents millions of workforce newcomers from ever starting a career and building the skill set they need to develop professionally. On the other hand, restricting first-time entrants to the job market from accessing traditional entry-level positions contributes to the widening skills gap of the future and fuels the war for talent.
What can HR leaders do to help?
Hiring new entrants to the job market can help win the war for talent, but it requires investing in intense on-the-job training. To take advantage of this untapped talent pool, HR leaders must spearhead more flexible and progressive approaches to hiring designed to identify and develop the talent they need:
1. Invest in employee learning and upskilling opportunities
Offer upskilling and continuing education opportunities to help keep the talent you have and develop the talent you need. Many organizations have begun to invest heavily in employee learning and development opportunities for people of all ages and at every stage of their career, including entry-level professionals. The result? High retention rates and a strong employer brand.
2. Identify high-potential professionals
Lack of experience doesn't necessarily mean a lack of talent. Assess people's potential. High-potential professionals may not currently have the specific skill set a role requires, but they've proven they can upskill fast. Recognizing potential can help you identify people for internal promotions and lock down external talent, like workforce newcomers, other organizations are quick to pass up.
Recommended For Further Reading
3. Offer internship opportunities
Internships are a great way for new entrants to the workforce to get their foot in the door, but there aren't enough for everyone. Offer internships to students and people pivoting careers to build your team, save on recruitment costs, and contribute to educating and upskilling the workforce the world needs.
The bottom line: Investment in training and skills development pays off
Companies need to rethink their approach to the war for talent. If the talent isn't out there, develop it yourself. Upskilling new joiners alongside current employees can help organizations build a more diverse and inclusive workforce and discover and develop valuable talent other companies pass over. It also helps organizations save on the long-term costs of the Great Resignation and ongoing recruitment efforts.
Investing in on-the-job training and skills development for your people might be costly, but the payoff is worth it. When employers invest in on-the-job training for people at all stages of their careers, they're investing in the future of the workforce, giving people the opportunity to begin and advance their careers, and helping to close the skills gap.
---