Saberr has been exploring the future of work as AI starts to play a more prominent role in our day to day lives.
Technology has immeasurably improved the way we work. We're working faster, we have the opportunity to use data to make more accurate decisions and can communicate with colleagues across the globe at the touch of a button.
This also means we now have the ability to get through much of our day to day lives without a single human interaction – from ordering food to hailing taxis and managing our finances. So naturally, the HR community is questioning how this is going to impact our workforce.
While AI is becoming more present in our daily lives, the reality is that some of the biggest challenges facing our world require teams to be solved. We see this with the evolution of the Nobel Prize. Even though it's generally seen as an award for individual achievement, the amount of people who've shared the Nobel Prize has increased dramatically over the last 100 years in almost every category. This trend suggests a strong connection between collaboration and problem-solving.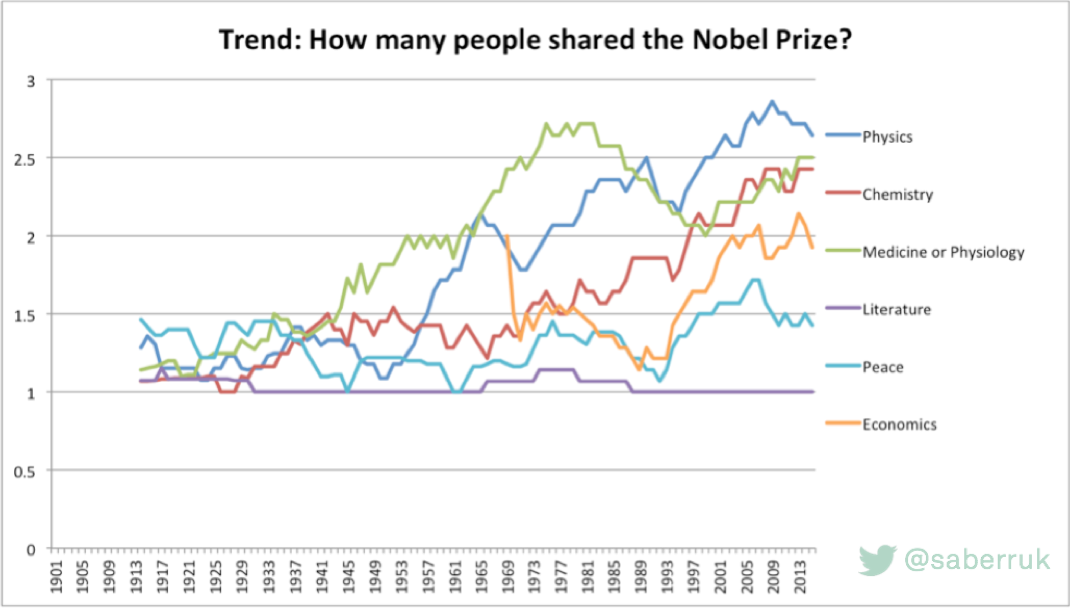 What's more, humans naturally crave social interaction. We must not underestimate the beneficial impact of social interaction or the detrimental effect social exclusion has on economies. It's essential that our AI technology takes this into account. It should encourage and support human to human, rather than promote human to screen, interaction.
To socialize: where does AI fit in?
Many new technologies are designed to hook users into engaging with a platform for long periods of time. We think AI should do the opposite – develop social skills, rather than automate away the need to exercise them.
We can look at teamwork as an example. Research shows that if team members can work better together they will be more productive, more engaged, happier at work and stay longer in their roles. A meta-analysis of 131 studies found that that team development interventions have the largest effect on financial performance. However with the introduction of technology to help teams work remotely or collaborate on digital platforms we're seeing less direct engagement between team members.
This is where AI can help, with chatbots designed to help us communicate better and strengthen our relationships with our team members offline. For instance, bots can collect data and prepare reports that prompt intelligent questions for the team to answer. Acting as a mediator, the chatbot should cut through the complexity and provide guidance on where the team should focus their development efforts.
The actual conversation, however, should take place far away from the screen, truly empowering the relationship between people.
AI in HR best practices: how to encourage deeper conversations
Chatbots can help collect feedback from teams and prompt valuable conversation points, including those that may have been avoided in the past. The role of a team coach is to help team members understand each other better, ask the right questions to uncover problems and help the team work through them. A digital coach can do exactly the same. With the right questions it can guide teams to have conversations that are needed but difficult to have, help get the conversation started, keep them on track and avoid unproductive conflict.
According to Google's Project Aristotle research on what makes the perfect team, psychological safety has the biggest influence on team effectiveness. These types of deeper conversations are the basis for building trust within a team.
This was the experience that the leadership team at Scottish Widows had after their first meeting with a digital team coach "We work alongside each other but I really feel that I know them a bit better after today. I really enjoyed learning what makes people tick, how it relates to their values and how I can support them personally. It was also a good starting point for the rest of the team to give me some honest feedback."
Empowerment and autonomy
Nobody wants to be told they're doing badly, especially by a machine. What's more useful is knowing how to improve. Digital coaching empowers teams to solve their own problems.
Unlike more traditional HR technology such as engagement surveys, teams aren't asked to offload their problems for someone else to fix. Instead, AI can guide teams to the most suitable solutions.
If we can encourage team members to talk to each other in order to solve problems – this social dynamic is significantly more effective at creating and sustaining improvements to team effectiveness.
"Employees are motivated to succeed by the intrinsic motivation of autonomy, mastery and purpose" Dan Pink.

Ongoing learning
Bersin's new rules of careers and learning suggest learning technology should create an "always on, collaborative, curated learning experience"
This is one of the main appeals of AI coaching to today's team coaches – it provides ongoing engagement. While team coaches would like to check in between sessions the reality is that this isn't always practical, which means there's a risk that teams may quickly fall back into old habits.
AI can provide timely reminders, ask for regular feedback or check in against commitments and goals. For teams working with a human and AI coach the human coach can come to each session with more background on the team's progress. This means their sessions can become more efficient and valuable to the team. Instead of just recapping the previous session human coaches can either pick up where they left off or start working on new issues that have arisen.
For teams that don't have time to take days out of the office digital coaching opens up new opportunities for learning as it fits around their day to day work schedule. Short coaching sessions and regular reminders mean that teams can learn at their own pace, but with the added benefit that the AI coach has had that chance to learn from similar teams. Rather than a fixed company-wide initiative there's a more personal approach.
Making life easier for HR
HR teams face difficult decisions and complex situations on a daily basis. AI shouldn't add to that list. As we said earlier, it's important to remember that AI's purpose is to aid human interaction rather than replace it.
HR teams should have the chance to take a step back from difficult problems. There's no longer a need to worry about every problem highlighted in an engagement survey, yet there is a cost-effective solution accessible to every member of staff. By empowering teams to solve their own problems, you're improving motivation and productivity and also freeing your own time to focus on issues common across the wider organisation.
AI will be a game changer in HR but not in the way you expect
Rather than robot recruiters, AI will help us focus on human relationships. Fostering strong relationships within teams is not just nice to have, they're proven to be fundamental to generating high performance, improving productivity and fostering employee wellbeing.
Collaboration is essential to making tomorrow's biggest discoveries. Not only will better teams improve business performance but it will also benefit society as a whole. Today we should not be trying to help people understand technology, but rather help technology understand people. Because together, people are an unstoppable force for positive change.
---