In April, nearly 4 million people quit their jobs—the highest turnover in 20 years. In August, 4.3 million people quit their jobs. Those are record numbers, and there's good reason to think more employees will continue to walk. Human Resources and Learning and Development professionals can't ignore this Great Resignation. They need to understand what's fuelling this movement and how companies can hang on to top talent.
Hibob teamed up with 360Learning to explore this very issue in our recent webinar. You can check out the on-demand event here, or grab the highlights, below.
Who's at risk for quitting?
We know that employees worldwide have been leaving their jobs in droves, but are some companies more at risk than others for losing personnel? Hibob asked 1,000 American workers what they thought, and their answers revealed a trend: Mid-sized companies (50-1,000 employees) have seen more turnover than small or large businesses.
Specifically, 56 percent of employees at mid-sized companies said they were "very likely or likely" to quit their job over the next year. In contrast, only 40 percent of those at smaller companies and only 36 percent of those at larger companies answered the same.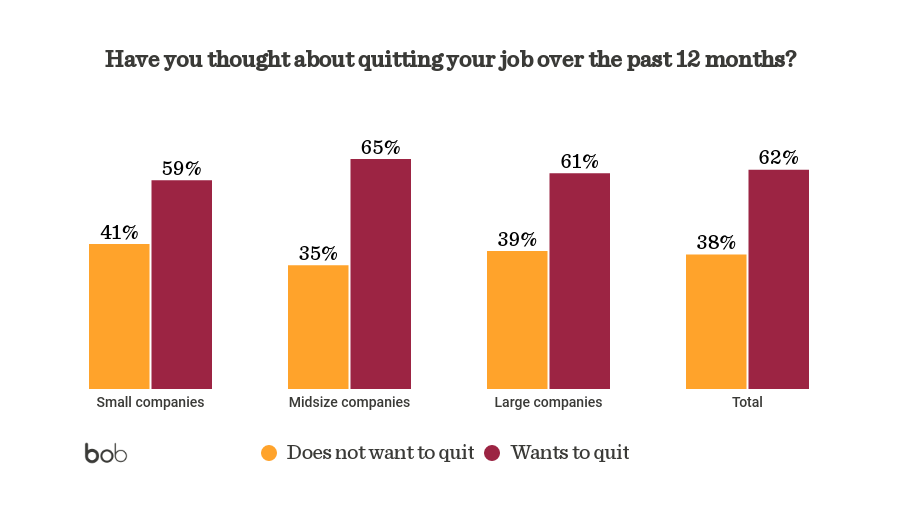 Why are people leaving?
So what is it that employees are looking for when they say goodbye to an employer? For these employees of mid-sized companies, it's better work-life balance and flexibility that they're after. It seems there's a misalignment at these organizations between HR teams' anxieties and employees' experiences: while more employees at mid-sized companies report working productively at home, 71 percent of respondents at mid-sized companies said their HR teams have backpedaled on policies related to flexibility. In contrast, only 60 percent of larger companies and only 52 percent of smaller companies have done so.
And what about those working for smaller or larger organizations? Their concerns are more around better benefits and compensation, respectively. Less pressing across the board were desires to relocate or a feeling of wanting something new.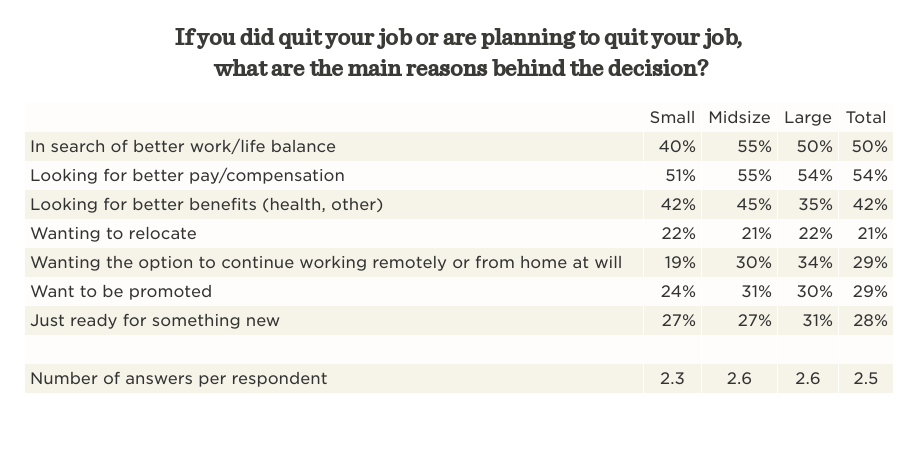 How can employers hang on to top talent?
With information comes action. How can employers, and specifically HR and L&D teams, take steps to make their workplaces more appealing? Here are a few places to start:
Motivate employees with hybrid work
It's clear that most people enjoy the flexibility and increase in work-life balance that hybrid work models can provide. This kind of freedom also sends the signal that employers trust their teams, which can add an extra layer of motivation.
Check in with employees
The best way to find out what's bothering someone is to ask them. Regularly using surveys to get the pulse of your teams and measure employee engagement will ensure you stay on top of changing sentiment, nip problems in the bud, and prevent overworking and burnout.
Managers and HR need to collaborate
The manager-HR relationship is instrumental in avoiding turnover. Managers are an HR team's eyes and ears during this transitional phase of work and are in the best position to guide HR on what might benefit their team's productivity and happiness.
Reimagine your office space
As more companies transition to hybrid work models, physical offices will come to be valued as places for socialization, get-togethers, onboarding, and team meetings. Think about how to facilitate these events in your physical office. They should also ensure in-office and remote employees can easily communicate with video conferencing software, more private meeting rooms for Zoom calls, or a "one person one screen" policy for group meetings.
Manage compensation and recognition the right way
Employees trust when their organization has a regular compensation management cycle. For instance, if your employees often incur business expenses, ensure you reimburse them on time. Similarly, make sure that people feel valued and recognized for their hard work. Continuous feedback can help make your employees feel valued and appreciated.
Don't just talk about DE&I, be about DE&I
It's simply not enough to "hire more diverse staff" or have "DE&I training." Employees will leave a company if their company culture makes them feel unwelcome or uncomfortable. Make DE&I part of your company culture and organization's DNA.
Provide opportunities for growth
Invest in your employees when it comes to career development and growth. If employees cannot advance in your organization, they will look elsewhere. Make sure they know about pathways for career advancement.
Use learning as an employee retention strategy
This last point is especially important and one that 360Learning explored in their own survey of 600 US employees. The research revealed that workplace learning was key to employee satisfaction—respondents rated the importance of learning opportunities to job satisfaction at 84 out of 100. In fact, 57 percent said they would consider leaving a job without enough professional development opportunities. This highlights just how important it is for employers to invest in their workforce's learning and development if they want to retain talented employees.

So, who do employees want to learn from? Managers and peers were at the top of the list. Another interesting finding? 77 percent of employees say they have untapped knowledge to share with their organization. This is a fruitful set-up: On the one hand, you have employees saying they'd like to learn more from their colleagues, and on the other, they're saying they have valuable information to share.
This is where a Collaborative Learning approach to L&D can really have an impact.
Recommended For Further Reading
Collaborative Learning answers employees' expectations
In a collaborative approach to learning, content creation is decentralized. Subject-matter experts themselves create content and share it directly with their peers. L&D teams stay on as facilitators and have more free time to focus on more strategic issues. Collaborative Learning takes a bottom-up approach and is driven by peer feedback. This, in turn, allows peers to analyze content and engage in easy and iterative content creation. It's an excellent method for incorporating more relevant, contextual peer-to-peer learning in a way that's time-efficient for L&D teams.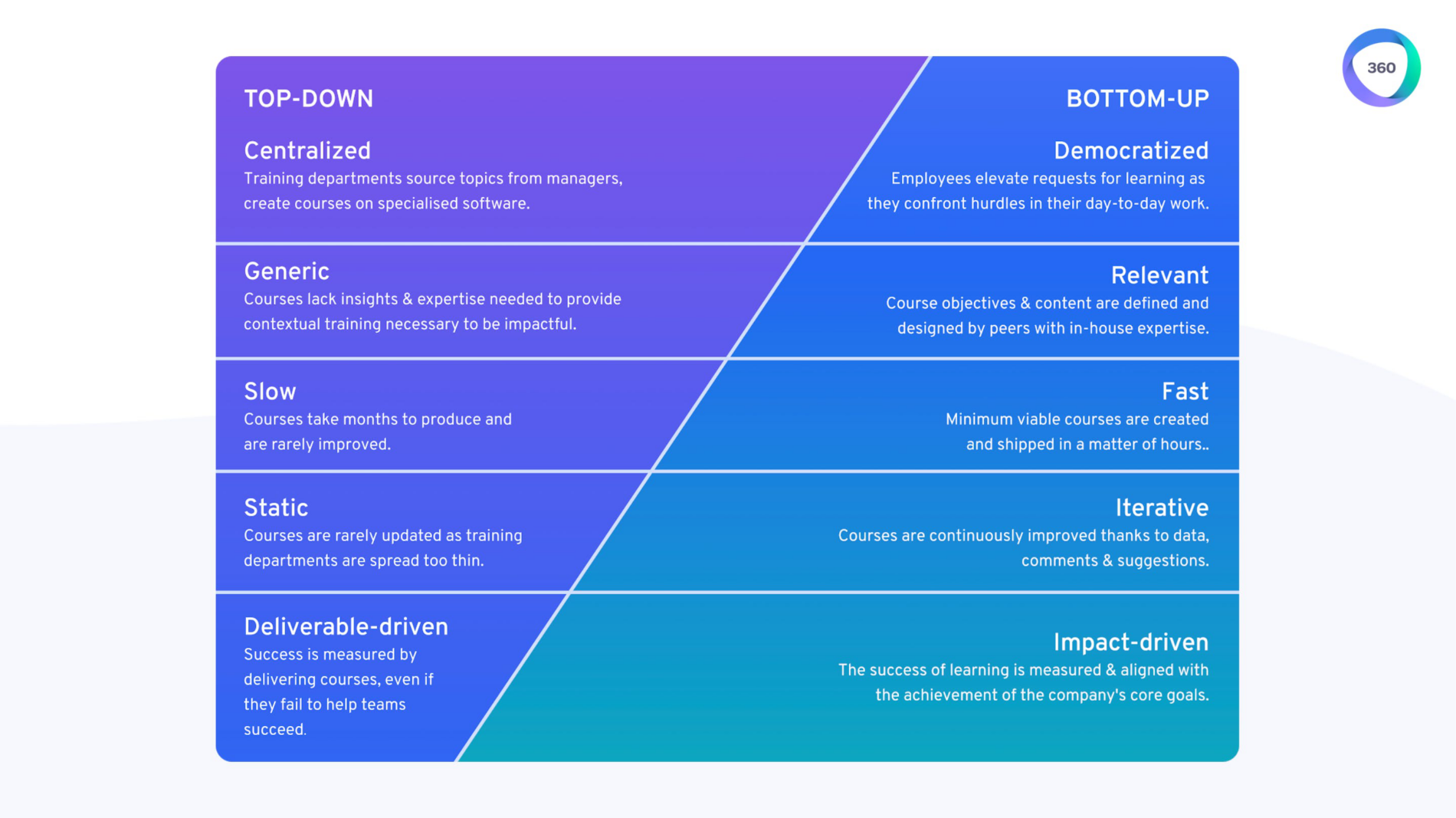 Final thoughts
The ripple effects of the Great Resignation aren't going away anytime soon. Employees are demanding more from their workplaces, and it's up to HR and L&D teams to accept this challenge. In a new world of work driven by flexibility, peer-to-peer interactions, and a bottom-up approach to learning, employers will have to rethink their old ways of motivating employees if they want to hang on to their top talent.
---
From Robin Nichols
Robin is the US Content Lead at 360Learning, a Collaborative Learning platform. Based in Paris, France, she writes about the intersection of technology and culture. In her spare time, Robin enjoys discovering new French cheeses to try, as well as traveling around Europe when possible.