'Tis the season to celebrate. We can feel it in the wind chill and our bank balances. After two years of scaled-back or canceled parties due to the pandemic, many companies plan to throw an extra lavish event this year. However, some companies have decided not to have a holiday party due to the current economic climate. A survey of 500 business owners and managers in the UK from the comparison site, NerdWallet, found that 36 percent of businesses are stripping back on their Christmas parties this year to save on costs, and 27 percent won't be having a party at all.
However your company plans to celebrate, it's always a busy time of year, with a lot to get done before you take some well-deserved time off. So, before you set up your "out of office," here are four ways that Bob can help you to ensure a successful holiday season for you and your people.
Ask your people how they want to celebrate
Not everyone celebrates Christmas. Some people observe different holidays at this time of year, such as Hanukkah and Kwanzaa, while others may not observe any holidays at all. Be mindful of DEI&B by referring to the "holiday season" rather than "Christmas," hanging multi-cultural office decorations, and not making attendance at the holiday party mandatory. This way, everyone can feel comfortable being their authentic selves.
Discover more about how your people feel about the holidays and how they want to celebrate at work by taking a quick poll using Bob's polls. You can also send out different polls to your different sites to get a more localized view of how people feel.
Create a poll and ask your people questions such as:
1. What holidays would you like to see recognized in the office?
2. What cultural celebrations are important to you?
3. Do you feel that the company celebrates the holidays in an inclusive manner?
4. What holiday gift would you like to receive?
By taking a poll, you are giving your people a voice to say what's important to them, and you can plan accordingly.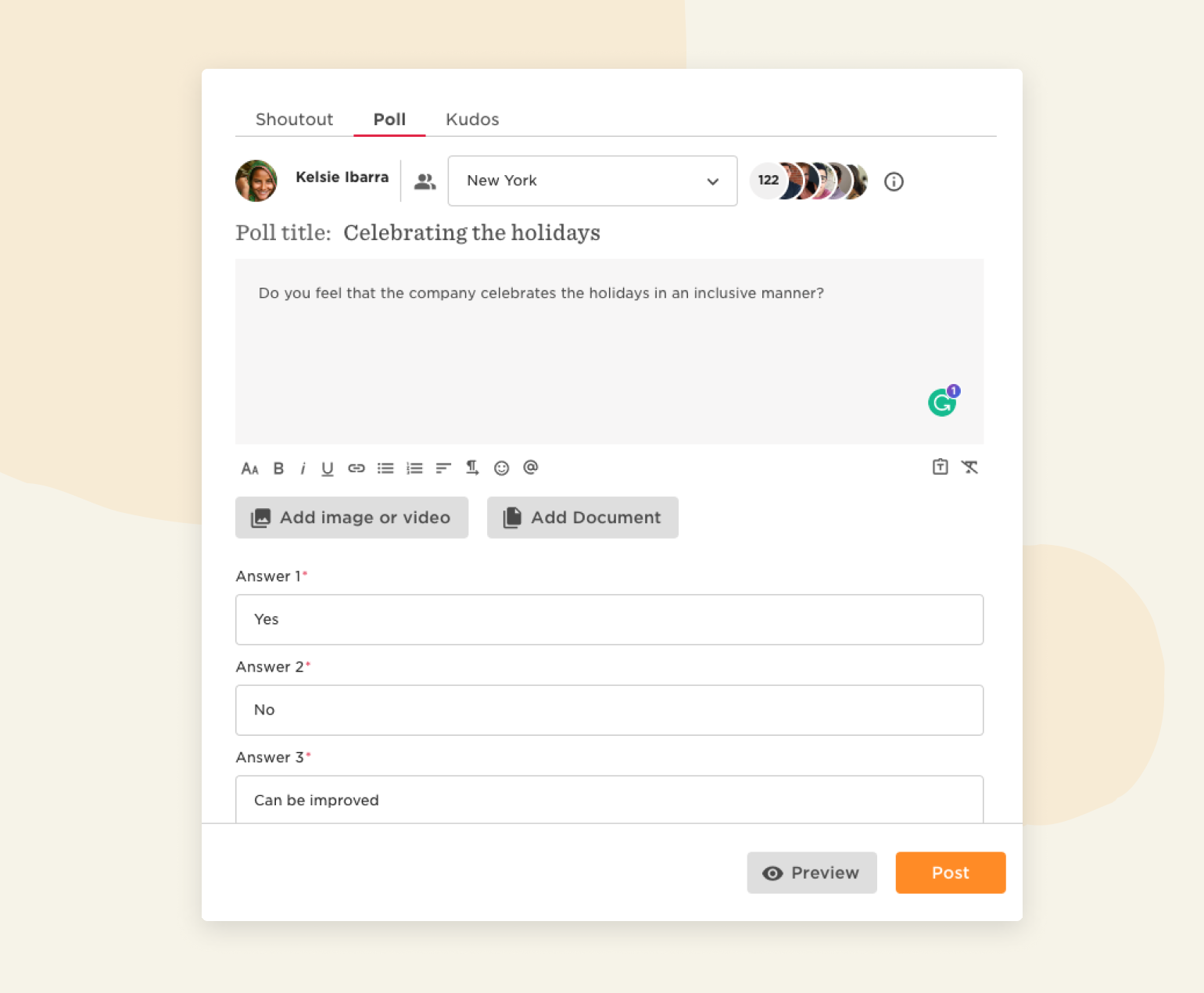 Celebrate different holidays and events
To ensure everyone's holidays are recognized, create an inclusive holiday calendar by spicing it up with rich content such as images, creative descriptions, and even attachments.
Add all the holidays your people celebrate or commemorate so everyone across your sites feels represented and is kept informed. Admins can also promote specific events, such as the holiday party, by uploading an image and description to help it stand out and provide more information. All events and holidays will appear on the calendar with a small calendar icon, and those with rich content attached to them will appear with a red dot inside the icon. Hovering over the icon shows the event in all its glory.
Want to have different events per site for your multi-national teams? No problem. You can mark different holidays and events per site, keeping them localized and relevant.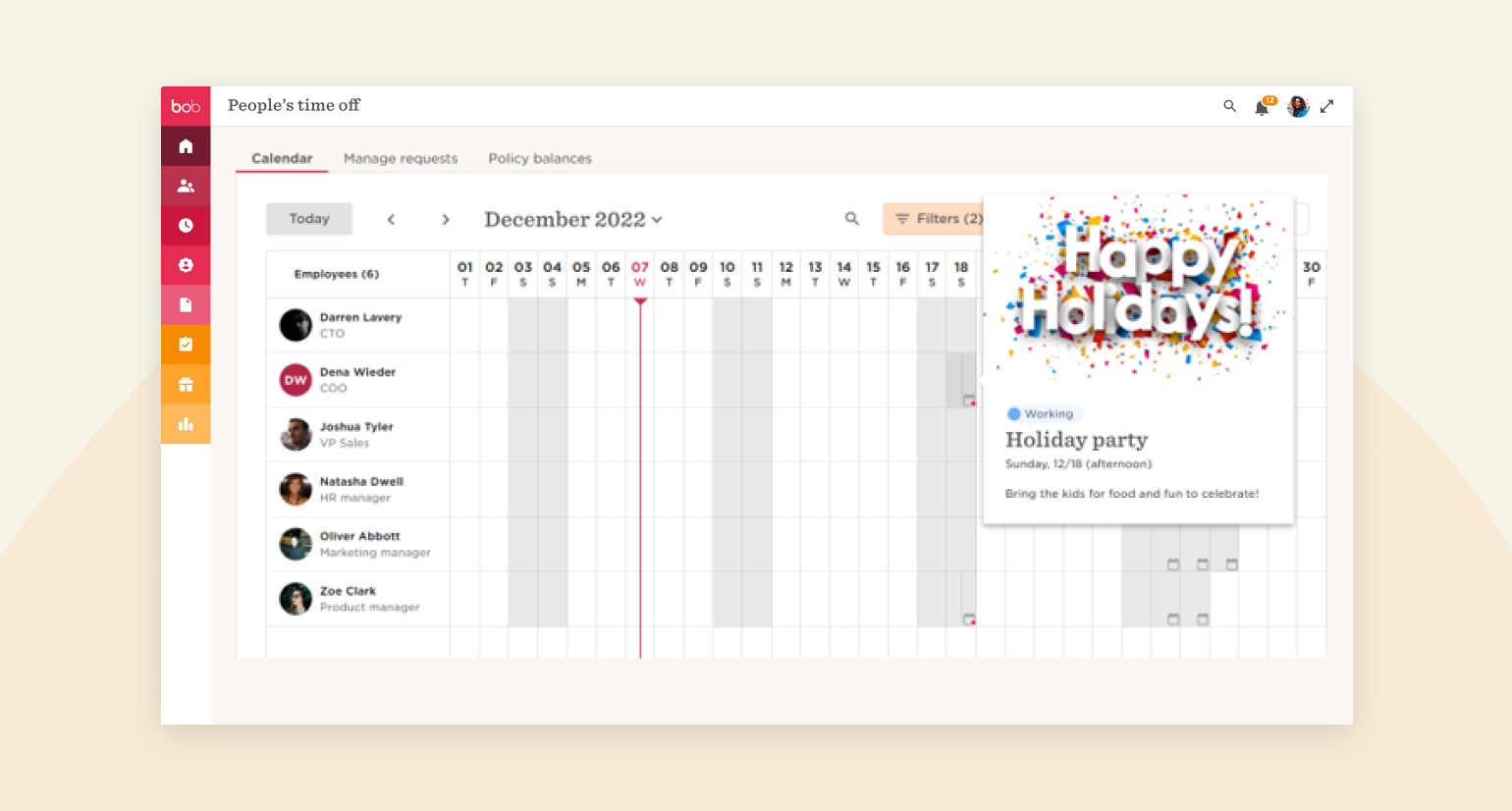 Make sure you're covered during the holiday season
As the end of the year approaches, many people across the company request to take PTO. That's great; we all need to take a break, but don't get caught with everyone out of the office and no one to provide cover.
Using the 'People's time off' calendar, managers and employees can see at a glance which of their team members are out over the holidays and for how long. In this way, managers can ensure that they distribute leave fairly so that everyone who wants to can take time off.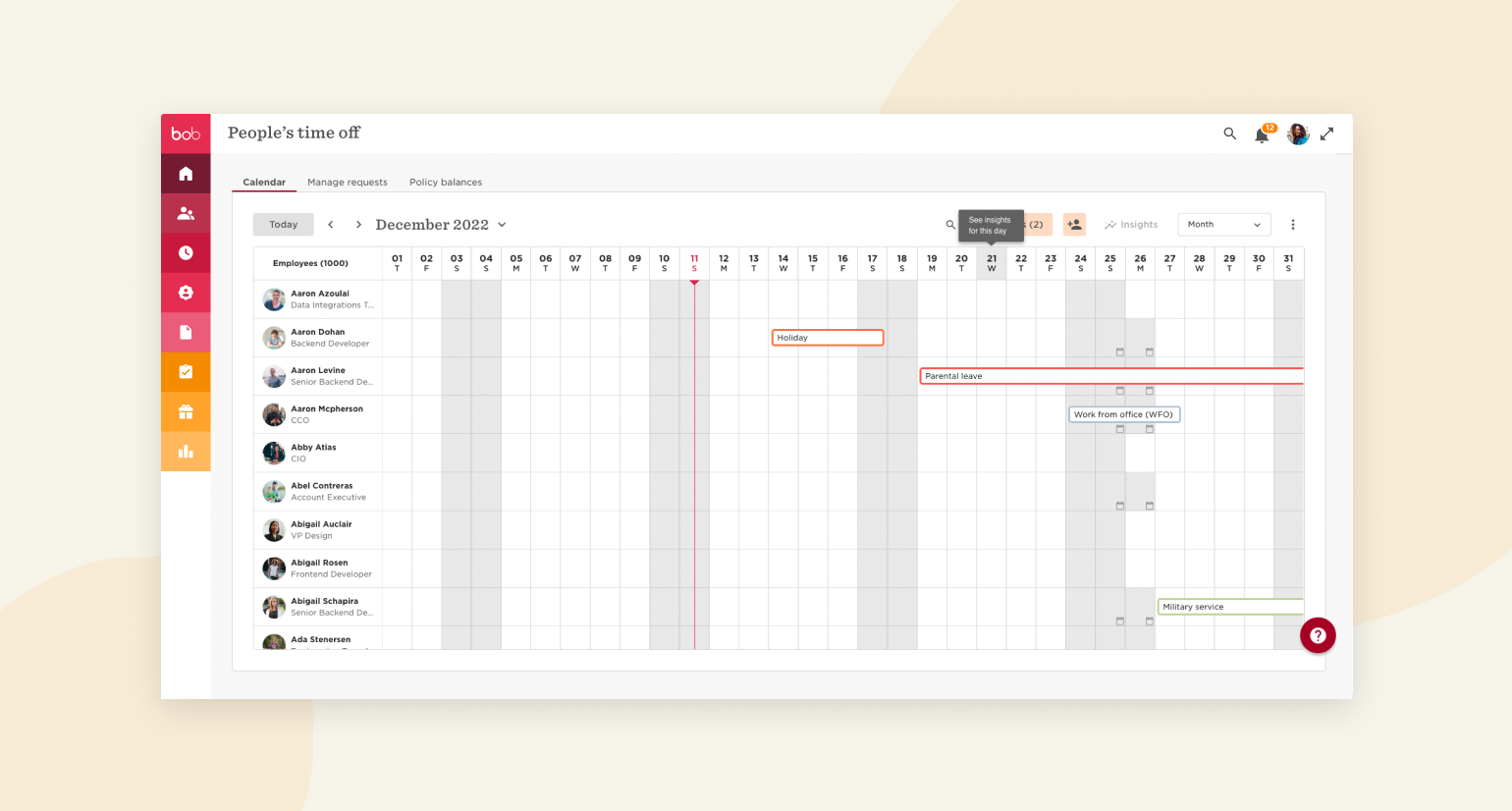 Schedule an end-of-year chat
The end of the year is an excellent time to check in with your people to see how they feel about work and in general. Bob's 1-on-1s allow managers to easily set meetings with their direct or indirect reports to discuss personal concerns, ongoing projects, or goals for the new year.
Bob's 1-on-1s include templates and talking points to guide the conversation for different types of one-on-one meetings, including regular check-ins, career growth and development, goal-setting, and year-end performance reviews. You can use these templates as-is or customize them to fit your specific needs. There is also space for writing notes before, during, or after your meeting—notes that are visible to both parties or private notes that are only visible to the manager.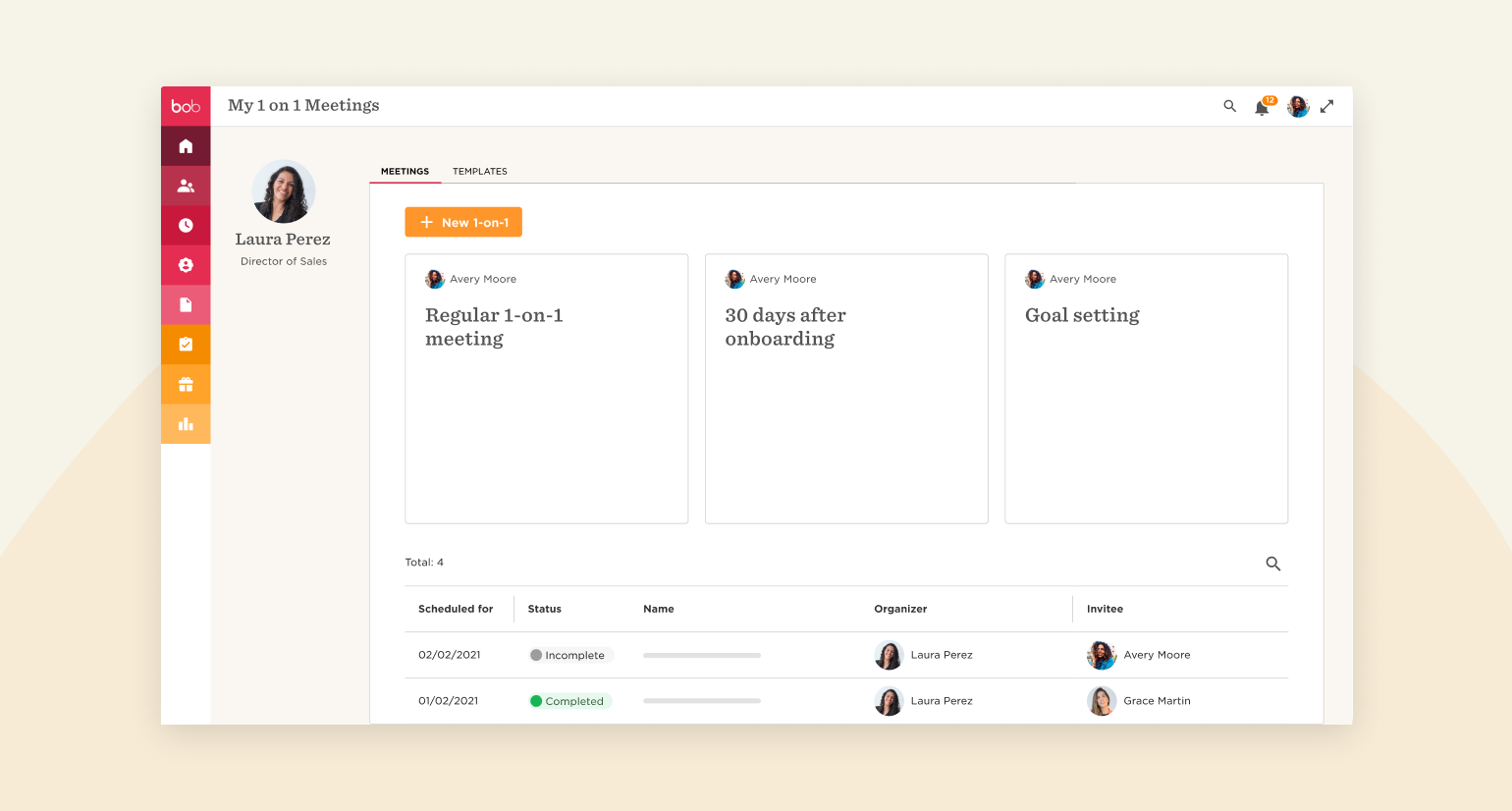 Let's make it a great 2023
The end of the year is a time for reflection and new resolutions. Let's start the new year with more empathy, inclusivity, and mindfulness, paying attention to the people around us and ensuring they have a positive experience in the workplace. Your DEI&B efforts will pay dividends for your company culture, retention, and the general wellbeing of your people.
---