As we are preparing to go back to work at the office, we are preparing to meet a new normal. When we were sent home months ago, either to work from home or to shelter-in-place, the world looked different—we commuted, we maybe even drank coffee at the cafe. Now, to bring back the world from the social and economic standstill, we need to get back to our offices in a new way. 
We were sent home for our own safety—and the new way of work is built to keep us safe and healthy at the office. To accommodate this new priority, companies need to adjust physical spaces and provide the supplies necessary to keep ourselves and our workplace clean.
While looking into the protocols for returning back to the office from work from home, we asked ourselves: how will our people prepare themselves for this return? After months of working from home, this return presents more than logistical challenges; it is also an emotional time for our people.
To understand how people feel about coming back, we surveyed 2000 Americans from across the country, at different organizations and levels of seniority, about their attitudes towards returning to the workplace. Taking this feedback into consideration will help us plan a move that strengthens our company culture while also creating a safer workspace.
The most important thing we learned from this survey is: your employees trust you, HR, to bring them back to work safely. They're expecting their company to know how to keep them safe in the physical office setting, from providing hand sanitizer to making sure desks are socially distanced.
1. On a scale of 1-5, how confident are you in your company's ability to overcome the operational challenges caused by COVID-19?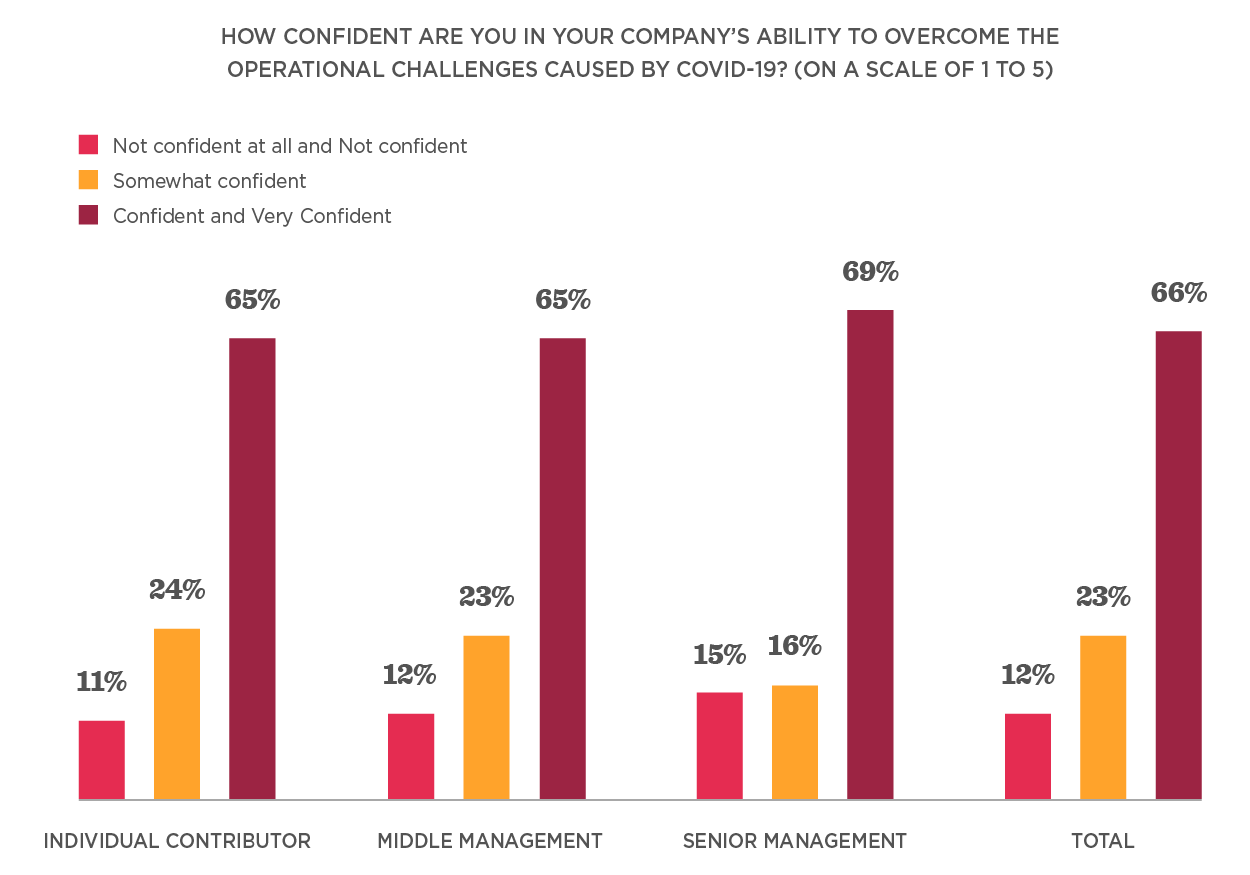 Most employees are confident that their company can overcome the challenges posed by returning to the office; however, there are 12% that are not confident and an additional 23% that are not sure. HR needs to be aware of the ones who are not and take care to communicate openly with them.
2. On a scale of 1-5, rate how informed does your company make you feel about changes and measures taken in response to COVID-19?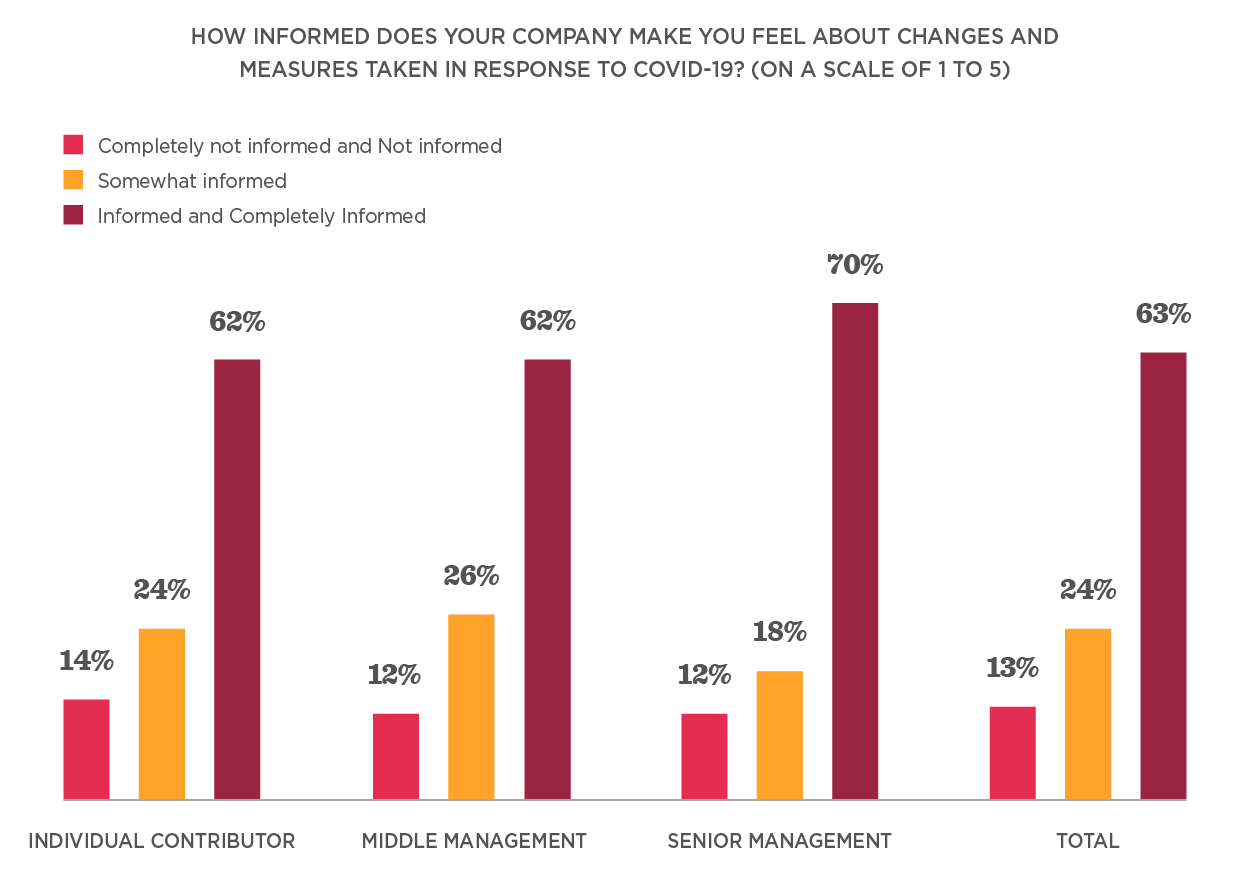 Again, most employees feel communication is good, but not all of them. In order to reach 37% of employees who feel that communication is lacking, take care to offer space and time to concerned employees who may need hand-holding during this period.
3. Do you believe your current tasks and priorities are well-defined?
Knowing which tasks and priorities are most important right now gives employees and managers clarity and confidence. Nearly half of employees surveyed felt that their tasks weren't clear enough, meaning that there's a disconnect in manager-employee relationships and communication.
While returning to the office, especially if this return is gradual or if the team will still remain partially-distributed, work with managers on project planning, streamlined communication, and asynchronous communication practices.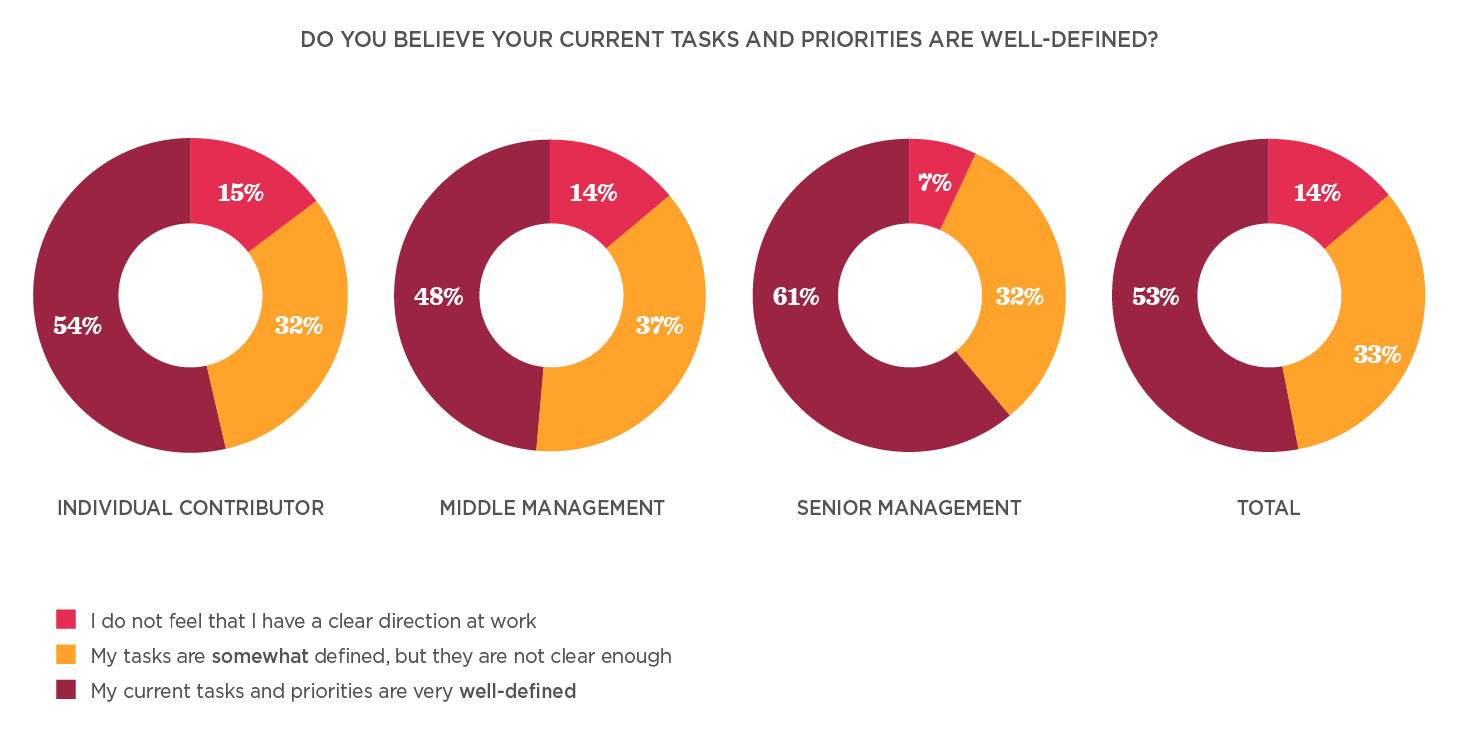 4. Are you able to communicate regularly and effectively with your teammates?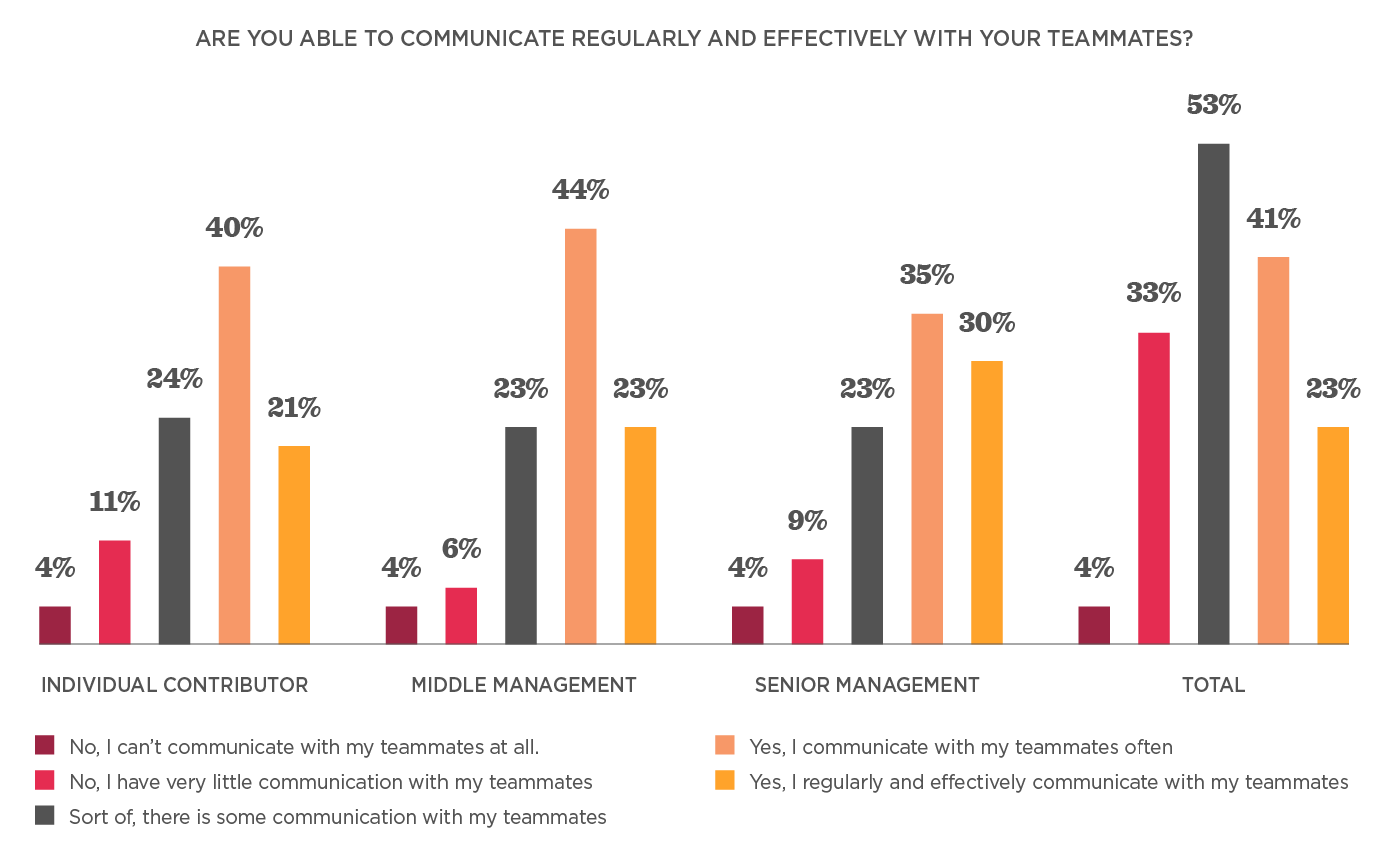 While 63% of employees feel they have been communicating well with their teammates, a very significant 37% say the opposite: that their teammates are hard to reach or unavailable. Understanding your teams' communication levels and patterns will help you plan your return to the office.
5. On a scale from 1-5, when the timing is right, how comfortable are you coming back to the office?

Comfort level coming back to the office is a very personal feeling, dependent on factors beyond age and seniority. We found it interesting that 62% of the younger employees age 18-24, along with employees aged 55+, are very comfortable coming back, while those aged 25-54 are significantly less so.
Another consideration for this question is where your offices are located.

It is clear that people living and working in Florida and California are more comfortable going back to the office than those in New York, New Jersey, and the Northeast Corridor. Acknowledging these location-based concerns will make returning to the office smoother and more positive.
6. Before entering the office you will have to check and report your temperature. On a scale of 1-5, how comfortable are you with this requirement?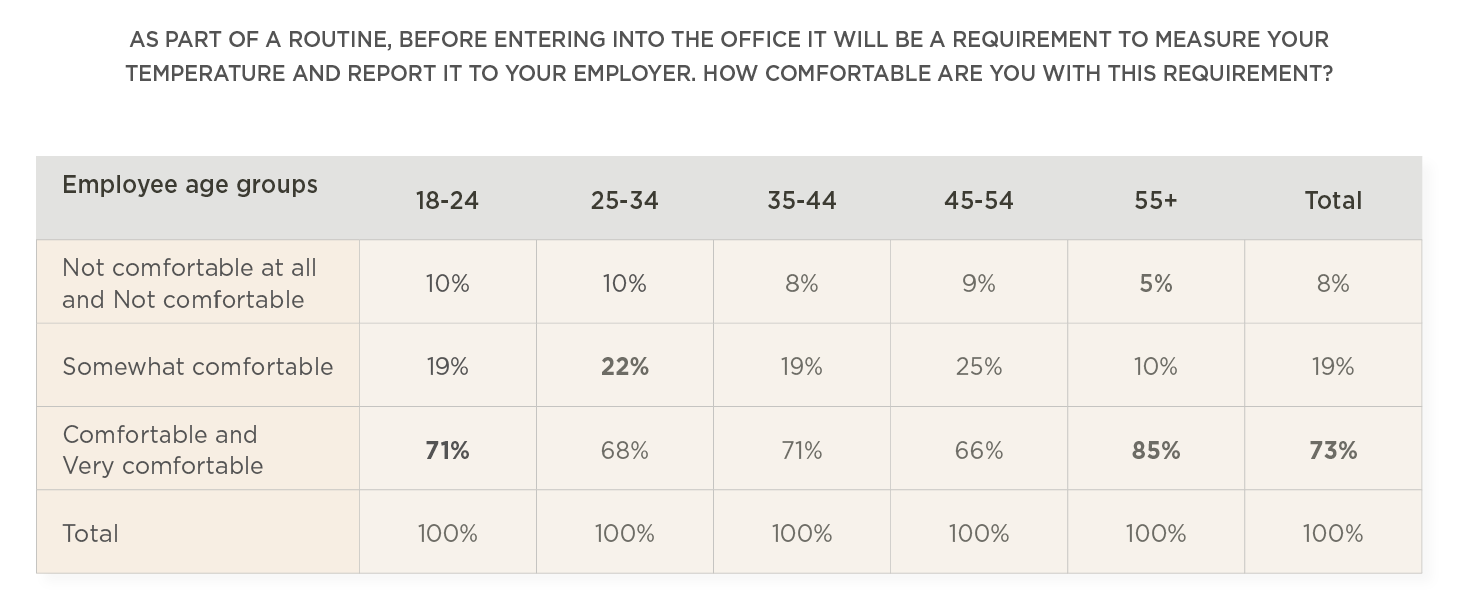 In general, employees understand and accept the requirement to check their temperature and are comfortable doing so. However, we need to take notice of the 27% who don't feel comfortable and make sure their privacy is respected, either by allowing them to continue working from home or coming to an arrangement with them.
7. When returning to the office, people may need to wear a face mask and disposable gloves and maintain a six-foot distance from coworkers. On a scale of 1-5, how comfortable would you be working under those conditions?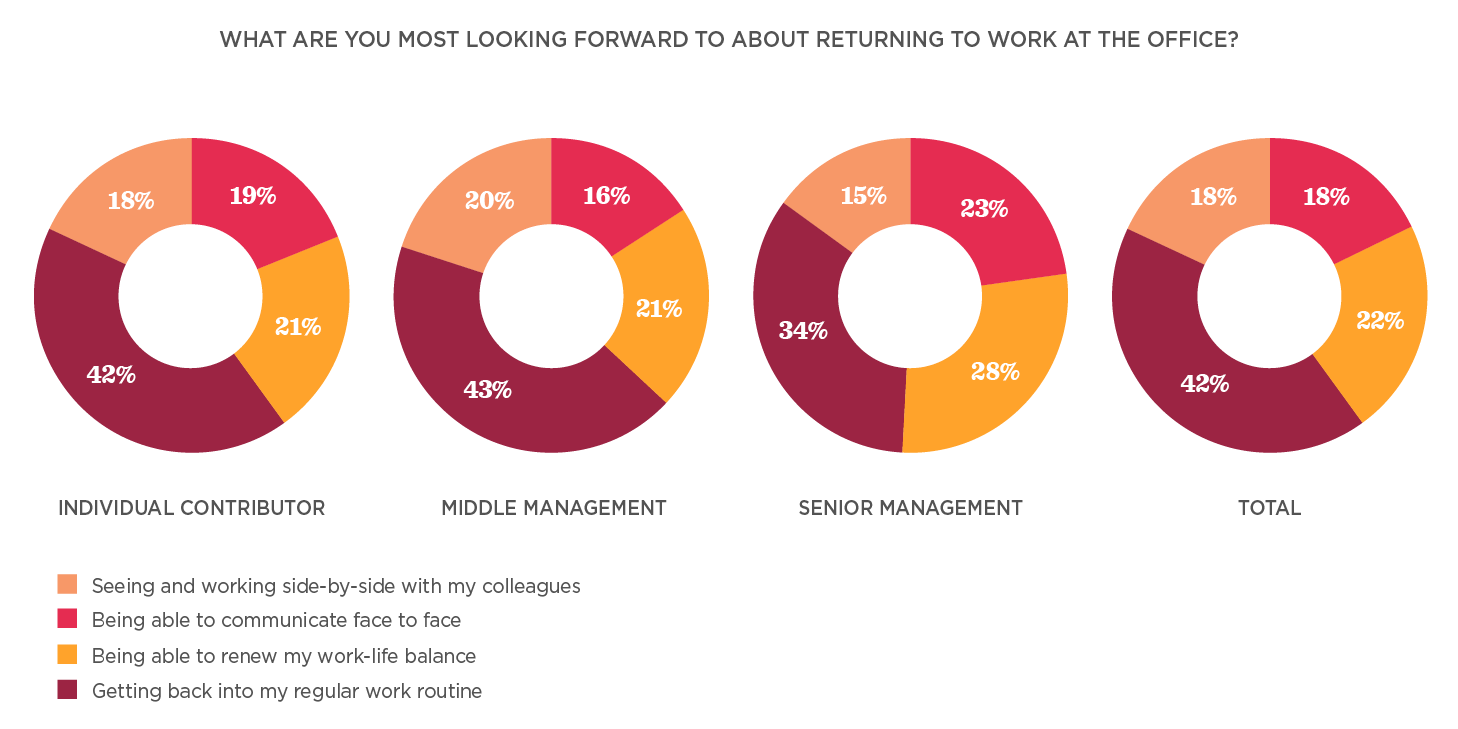 Again, different strokes for different folks. While in Florida and California only 10% find these precautions uncomfortable, in New York and New Jersey, 23% of the employees seem very uncomfortable with these requirements. We need to be aware that coming back to this new normal is not going to be a skip and a hop for many people, and to respect those who feel their productivity and mental state may be impacted by new requirements.
8. What are you most looking forward to about returning to work at the office?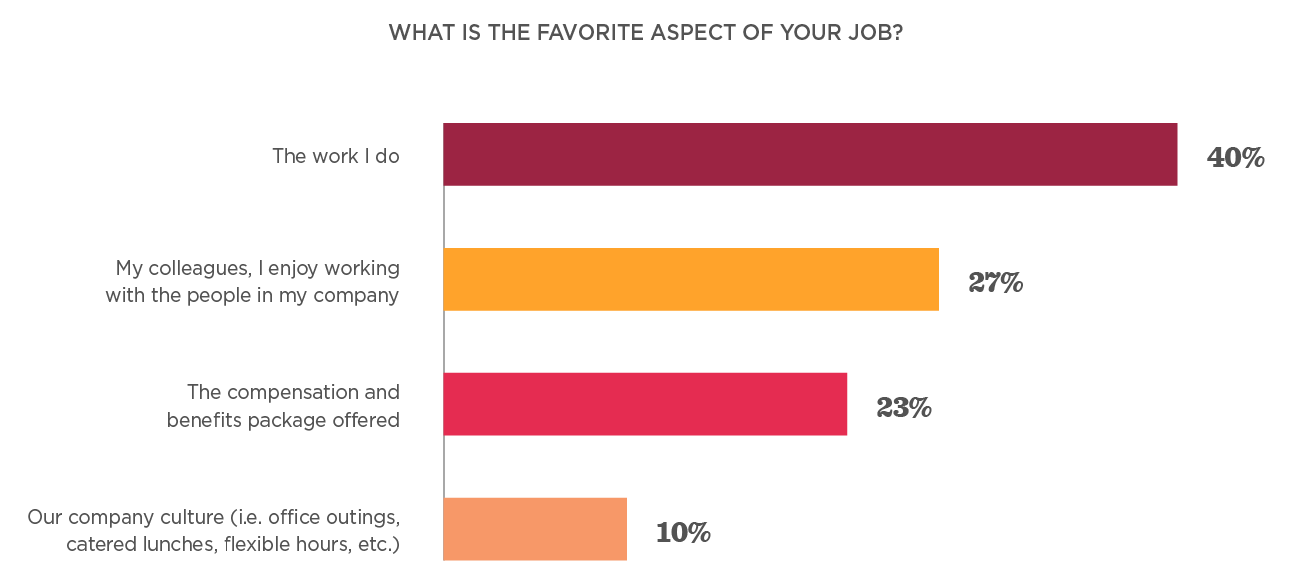 The value of the traditional, physical office setting rings differently across different levels of an organization, though the overall consensus is that the physical office is the most productive space. Employees across all organizational levels look forward to reclaiming their routines.
9. Would you prefer to return to the office or work from home?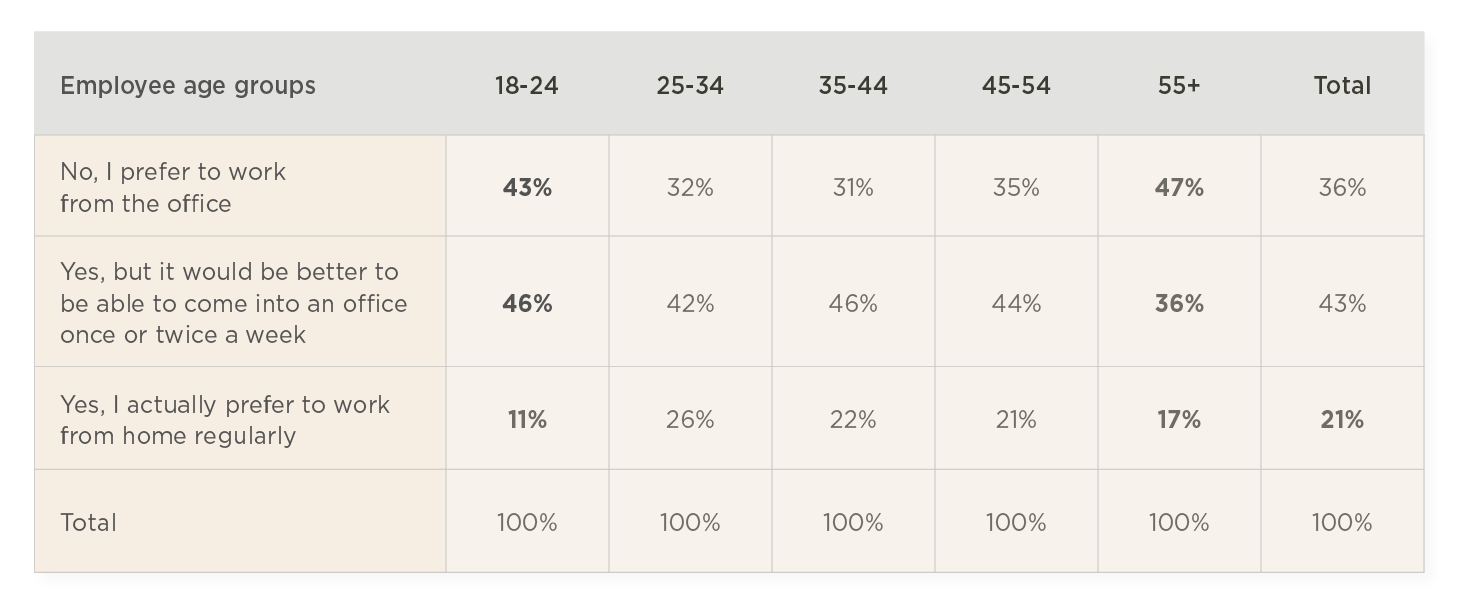 Individual contributors prefer to work from the office, while middle management would like to balance time spent WFH and time in the office, and more senior managers than others would like to work from home regularly. When coming back, we should be aware that some feel they would prefer to work from home and allow for that on an organizational basis.
From these nine questions, we've come to the conclusion that, well, there is no conclusion. There's no one unified response or process that will make this transition easy. The best solution is the one that fits your team. Now is the time to get to know your people, understand their attitudes, and build the plan that best serves their needs.
(Want to understand your people and their opinions? Check out Bob's surveys!)
The value of the traditional, physical office setting rings differently across different levels of an organization, though the overall consensus is that the physical office is the most productive space. Employees across all organizational levels look forward to reclaiming their routines.
---