Partner Overview
Visma Nmbrs is an Amsterdam-based HR and payroll software supplier for the Dutch and Swedish markets. With Visma Nmbrs, you are able to easily perform your payroll. However, you are also able to focus on your HR. By involving all key users – including the employee – we ensure that optimal HR services can be provided with minimal effort.
Easy payroll in a user friendly tool, which not only helps you as a payroll administrator and HR professional, but also supports your employees.
Key features include:
Automatic payroll – create a fitting workflow for your monthly payroll and automate standard tasks
Fast input – Process bulk-mutations in an efficient way through the fast input –
Standard settings – Make use of the collective labor agreements and standard salary tables
Run checker – All payroll mutations are checked with more than 190 professional checks
Digital file – Store employee digital files including their signed documents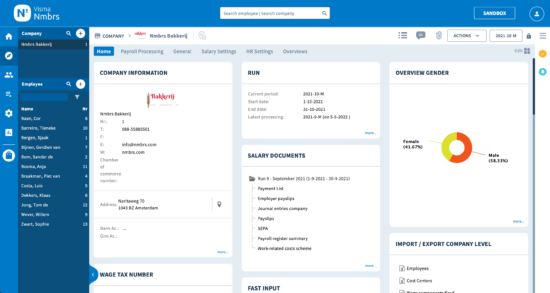 Customers are able to generate reports in Bob that contain the specific data required by Nmbrs, and then manually import it directly into Nmbrs.
The Nmbrs reports can be generated in Bob using one of the following options:
Payroll Hub or Scheduled reports.
The added benefit of using Payroll Hub rather than Scheduled reports is that you can map fields, so it will automatically generate the specific data required by Nmbrs. Visit the Help Center for technical support.