Partner Overview
Occupop is a beautifully simple recruitment software built for small and medium businesses.
Occupop helps businesses be great at hiring through their simple philosophy to make recruitment incredibly easy and accessible to everyone at work. So, businesses can hire the best people and build the best teams.
Looking for a less complex recruitment solution? Occupop empowers their customers to become great at hiring through their smart hiring technology and suite of solutions that almost anyone can use. So whether you're a team of five or fifty, it only takes a few minutes to onboard your team members, set permissions, and start recruiting.
Key features:
Job Posting
AI CV Scoring & Matching
Applicant tracking
Interview Scheduling
Contracts & E-signatures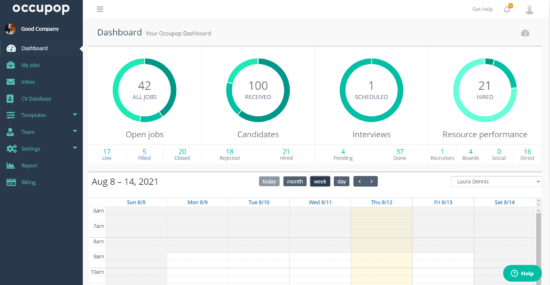 HiBob x Occupop integration:
Together, HiBob and Occupop give your future employees an exceptional experience from application to onboarding.
Our partnership will enable you to hire the best people faster and onboard accurately and easily with Occupop and HiBob. Support a smooth candidate and employee experience by pushing your new hire data directly into HiBob using this integration.
Click here for Technical Support.
To learn more or see this integration in action, click Let's Go below