There are many challenges facing today's workplace regarding recruitment and retention. Prospective employees demand higher salaries, better perks, and more flexibility, and many companies are adjusting their compensation packages to attract the best talent.
At the same time, these same companies must pay attention to ensuring that their tenured employees receive fair compensation that's on par with new hires or put themselves at risk of high employee turnover rates.
To retain employees, HR needs a compensation strategy that ensures pay equity across the organization and eliminates pay gaps based on gender, ethnicity, geography, or other factors. Using salary data from a reputable compensation benchmarking company that matches internal jobs with similar jobs in the market ensures that companies stay current and pay their people according to the market pay rate. Compensation benchmarking also considers geographic location, company size, years of experience, and education level, to ensure accurate and relevant data.
Companies can also use salary benchmarking data when calculating salary raises during compensation events and for internal mobility, workforce planning, and global hiring to ensure that they pay equitably and according to the market.
Announcing HiBob's strategic alliance with Mercer
At HiBob, we are dedicated to providing our customers with a modern HR platform that addresses the needs of the modern company and HR leader. With that in mind, we are ecstatic to announce a new alliance with Mercer that brings their compensation benchmarking data directly within our HR platform, Bob.
As the world's largest benefits broker and one of the largest investment consultants, Mercer has over 28,000 customers worldwide and is a globally trusted source for workforce data, analytics, mobility, and strategy. With data collected from over 115 million people worldwide across 130+ countries and updated every quarter, we are confident that by partnering with Mercer, we are providing our customers with the best global compensation benchmarking data tailored to their needs.
Customized benchmarking datasets for HiBob customer needs
Bob's Compensation Benchmarking Powered by Mercer, enables HR and compensation managers to drive smarter compensation cycles, workforce and budgetary planning, and competitive pay strategies for hiring directly within their flow of work.
Now you can seamlessly connect reliable pay data from Mercer to your critical HR workflows within Bob, streamlining the entire compensation management process and receiving all your salary-related data in one centralized location.
Bob's Compensation Benchmarking Data Powered by Mercer provides a customized, global benchmark dataset based on Mercer data that is sliced and diced to fit the needs of HiBob customers.
What does this mean?
Our data reflects the needs of HiBob customers in terms of company size and headcount.
Our data includes job sectors relevant to our customer base.
We've curated the data from tech-focused industries, including software/SaaS, internet/e-commerce, consumer tech, fintech, and more so that it's relevant for modern, fast-growing, global businesses.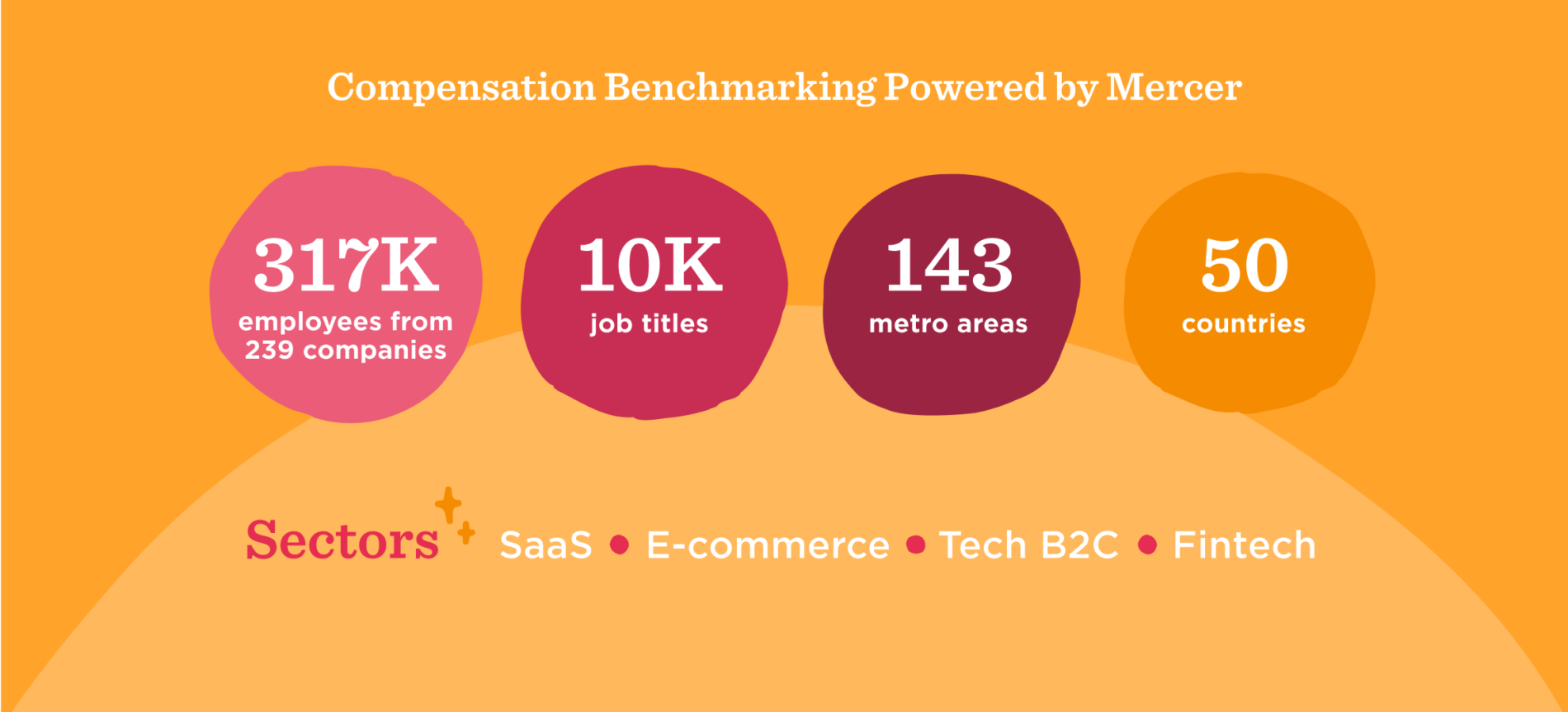 Getting started with Bob's Compensation Benchmarking Powered by Mercer
To get started, select 'Job catalog' in the People tab, and then click on the three dots and choose 'Export benchmarking data.' This will open a pop-up window where you can select the job functions, levels of seniority, and location for the roles you want to benchmark.
Filter the categories according to your needs to generate your report. For 'Major Function', open the drop-down and check the boxes for the job categories that are relevant to your search. Then click apply. Perform the same action for 'Job Level' and 'Geographic Location.' When you are done, you will see the number of records in your salary benchmarking report listed below.
Recommended For Further Reading
Stay current and build a powerful global compensation strategy
Today's job market is more competitive than ever before. Bob's Compensation Benchmarking Powered by Mercer, provides you with the salary data you need to stay up-to-date on current market trends and build a robust, global compensation strategy for your company and people. Built for modern, multi-national, mid-sized companies, Bob's Compensation Benchmarking Powered by Mercer provides you with the data you need when you need it, enabling you to make decisions quickly and accurately—within your flow of work.
Watch this space! We will add more features and functionality to our compensation benchmarking tool in the coming months.
To read more about Bob's Compensation Benchmarking Powered by Mercer, click here.
---
From Yoav Gur
Yoav is a business development professional passionate about revolutionizing the way modern companies engage with their talent. At HiBob, he focuses on strategic partnerships, M&A, geographic expansion, and other strategic initiatives. When he is not making PowerPoint slides, he can be found listening to history and politics podcasts.