Partner Overview
Verified First is a fast-growing tech company on a mission to deliver cutting-edge HR technology that transforms the way organizations protect their people.
Verified First offers a range of digitized services via our portal and browser integrations — including background checks, drug screening, employment and education verifications, and I-9 and E-Verify.
Verified First's free VF Connector allows users to integrate background screening with Hibob in less than 15 seconds — saving time and money. Robust enough to look like an integration, the VF Connector allows Hibob users to never have to leave the Hibob platform for background and drug screening needs! Some the Hibob / Verified First integration:
The VF Connector is a free integration with pay-as-you-go pricing and no annual contracts.
Candidate information pulls directly from HiBob to improve data accuracy and minimize paperwork.
Users can order a la carte screenings or set up custom packages.
Verified First provides the required disclosure and consent forms for FCRA compliance and PBSA accreditation.
Users can track verification status at each stage in the process, directly within HiBob.
Verified First is PBSA Accredited and committed to providing high-quality, compliant products and services.
Our integration makes vetting candidates easy, even for non-tech-savvy individuals! Users can get integrated in three quick steps.
Step 1: Find Verified First in your browser's web store and install and allow the browser extension.
Step 2
: Open the VF Connector in your HR solution and log in with your Verified First account. Don't have an account? Get started!
Step 3: That's right, you're ready to begin vetting! Vet employees/candidates through background screening, drug screening, verifications, and I-9/ eVerify. Just open the extension in HiBob, and you're good to go!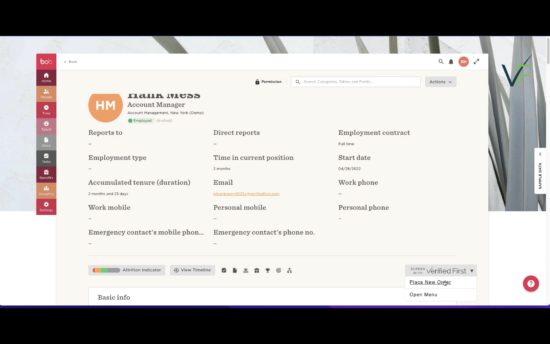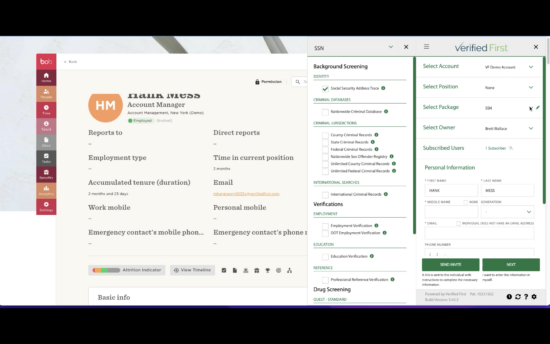 To learn more or see this integration in action, click Let's Go below!