Partner Overview
Meet PayCaptain… a complete SaaS Payroll service and Financial Wellbeing solution. CIPP's 2022 Software Product of the Year. FCA Registered. And the world's first Certified B Corporation Payroll Solution!
PayCaptain is a new standard in Payroll that radically improves the experience of getting paid. PayCaptain improves the payroll process and the employee payroll experience; by embracing the latest technologies, banking capabilities and the best strategies for employee financial wellbeing.
Working with innovative companies that understand the importance of good financial wellbeing in their workforce, PayCaptain offers an optimised, modern and flexible payroll process. Using the latest cloud-based and AI technologies, PayCaptain automates and streamlines processes, saving time and money as well as eliminating manual errors.
And for the employee, the process of being paid is a consistently seamless experience and personalised to them. Companies using PayCaptain can give their employees the power to take control of their pay, savings and charitable donations in the self-service PayCaptain Mobile App.
Key features:
Award Winning Cloud Payroll Solution
Full/Part Managed Service Offering
AI Exception Checking
Faster Payments Engine
Interactive Payslips + Multi Communication Options
Financial Wellbeing Tools
Funded "Emergency Cash"
Dashboard Reporting
Integrates seamlessly with best of breed HR, Scheduling, Accounting Platforms
Certified Payslip Option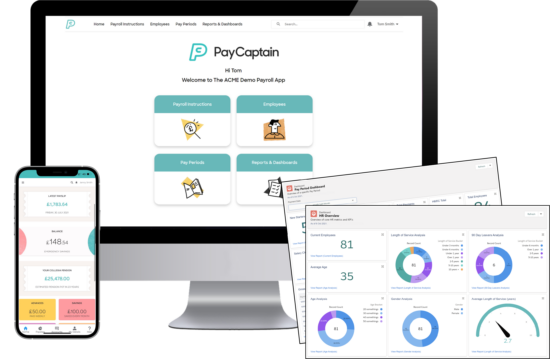 A seamless & intelligent integration with a real-time data transfer method that helps you pay employees in just a few clicks.
Not only does this integration help you ensure accurate payroll, it removes the need for double entry of data making it a big timesaver for your payroll team.
HiBob is a powerful and versatile HRIS solution that can help businesses of all sizes manage their people and processes more effectively. By integrating with PayCaptain, businesses have two best-in-class solutions that are seamlessly connected, keeping data totally in sync and accurate while providing tools to improve the HR/payroll function for both themselves and their employees.
Reduced manual data entry: When changes are made in HiBob (also known as 'Bob'), they're automatically reflected in PayCaptain in real-time. This eliminates the need for employees to manually enter the same information into both systems, saving time and improving accuracy.
‍Increased visibility: With seamless integration, businesses have a single source of truth for all of their HR data. This makes it easier to track employee information and make informed decisions about HR-related matters.
Improved compliance: By ensuring that all of their HR data is accurate and up-to-date, businesses can reduce their risk of non-compliance with HR and Payroll legislation.
Learn more about the HiBob x PayCaptain integration here: https://www.paycaptain.com/post/how-seamless-integration-between-hibob-and-paycaptain-benefits-businesses
If you have any questions about the HiBob x PayCaptain integration or require any support, feel free to get in touch with a PayCaptain Expert here: https://www.paycaptain.com/support