Partner Overview
Lano is a cloud-based compliance and payments platform for building and scaling global companies. From hiring remote employees all over the world to processing multi-country payroll, our platform gives global businesses the flexibility they need to quickly build and grow their international teams.
Coverage in 170+ Countries – Lano is a fully partner-powered platform, ensuring the most comprehensive country coverage on the market, which enables us to be take on even the most complex expansion projects.
Multi-entity coverage – We provide access to multiple entities within a single country, making Lano one of the most adaptable and flexible Employer of Record and Payroll Outsourcing providers in the market.
Highest Compliance Standards – Our partner network gives us access to local expertise and decades of experience in international hiring, keeping you compliant with local laws and regulations.
Key features:
Standardized, centralized, and automated global payroll data
Integrations ecosystem connecting Lano with all HR tools, ICPs, and Payroll SaaS
Granular payroll analytics with actionable insights
Embedded fintech for international payments
Product-first approach to scaling globally via EOR and Payroll solutions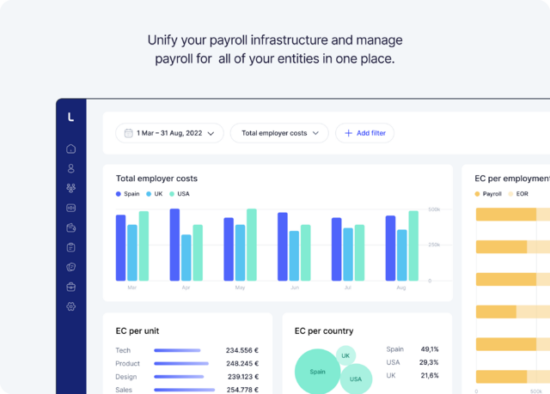 Lano integration allows companies to sync payroll-required information from HiBob automatically on an ongoing basis.
It replaces the need for manual data exports and data manipulation that's part of the Payroll Manager's life each month.
Add newly onboarded employees automatically and include them in the nearest payroll cycle
Sync all the updates on payroll necessary information for all the existing employees
Automatically include compensation change in the corresponding payroll cycle
Automatically include approved days off in the corresponding payroll cycle
Integration helps to automate the manual transfer of information between the company and Lano