London-based Paddle is one of the fastest-growing companies in the UK. Paddle helps software companies streamline their operations by bringing everything they need to sell software under one roof. Companies that use Paddle can focus on building products that scale their business, rather than wasting time on building and maintaining everything that's required to run and grow.
In a nutshell
Paddle enables software companies to sell their products and understand their business through their checkout, tax, licensing and analytics solution.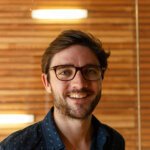 "With Bob, peer reviews have been centralized in one system, making it much easier to track who's taking which reviews, and when."
Gerry McHugh
Operations Manager
Paddle
The challenge
Paddle was using another HR management platform before Bob, but it couldn't keep up with the company's needs. "We went from 45 to 70 people in about two or three months. We needed more functionality than basic personnel tracking and time-off tracking. We started to think more about building out proper HR functions, and consolidating the different tools we were using for performance management, learning, and development," says Gerry McHugh, Paddle's Operations Manager.
Paddle really wanted to improve the way it was doing performance management. According to Gerry, Paddle, "…conducted its reviews using Google sheets and used Slack to get people to participate. Our people were being overloaded with reviews because we had no way of knowing how many reviews they'd already sent." This way of doing things was taking Paddle between four and six weeks to complete a 'snap' review. "We would start a review in one quarter, and complete it in another. This wasn't working," Gerry notes.
But Gerry and his colleagues were disappointed to find that for all the talk about customisability, major players in the performance management space were inflexible, and their support teams weren't responsive. According to Gerry, "their rigid platforms would've forced us to tailor our processes to their platforms: it should be the other way around."
Our solution
We centralized peer reviews for Paddle in one easy-to-use system that they could tailor to their needs – and, importantly, continue to refine as the company grows. In Gerry's words, "we're impressed with how quickly Bob develops and rolls out new features and upgrades. It's so nice to work with another company that's as committed to scaling-up as we are."
The results
Centralized reviews are easy to track, and employees are no longer bombarded with requests to take part in snap surveys.
Processes that used to take six weeks now take about two weeks.
Bob's Time Off feature allows Paddle to track things like unpaid and compassionate leave, and report this data to the board.
Managers can quickly find key employee insights and objectives to develop individual and team goals.